Asked about urban decay and homelessness, Trump offers senseless, babbling answer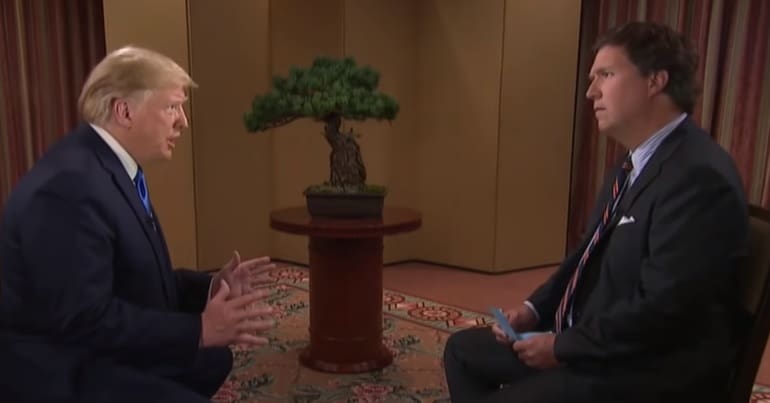 Donald Trump recently gave a remarkable response to a question about "filth" in US cities from Fox News host Tucker Carlson. In an interview that must be seen to be believed, Trump babbles incoherently when discussing the problem of poverty and homelessness.
The son of a billionaire started off by saying:
It's disgraceful. I'm gonna maybe – and I'm looking at it very seriously, we're doing some other things as you probably noticed like some of the very important things that we're doing now. But we're looking at it very seriously because you can't do that. You can't have what's happening – where police officers are getting sick just by walking the beat. I mean they're getting actually very sick, where people are getting sick, where the people living there are living in hell too – although some of them have mental problems where they don't even know they're living that way. In fact, perhaps they like living that way. They can't do that. We cannot ruin our cities. And you have people that work in those cities, they work in office buildings, and to get into the building they have to walk through a scene that nobody would have believed possible three years ago.
Trump proceeded to blame "the liberal establishment", without further explanation.
Trump: "It hurts our country" for foreign leaders to see poverty
Perhaps most tellingly, he said:
I had a situation when I first became president: we had certain areas of Washington DC where that was starting to happen – and I ended it very quickly. I said, 'you can't do that'. When we have leaders of the world coming in to see the president of the United States and they're riding down a highway, they can't be looking at that. I really believe that it hurts our country. They can't be looking at scenes like you see in Los Angeles and San Francisco.
Forget about government help
Trump went on to say:
[W]e're looking at it very seriously. We may intercede, we may do something to get that whole thing cleaned up; it's inappropriate. Now, we have to take the people and do something. We have to do something. And you know we're really not very equipped as a government to be doing that kind of work; that's not really the kind of work that the government probably should be doing.
Poverty is endemic in the US
According to the National Alliance to End Homelessness:
A total of 552,830 people were experiencing homelessness on a single night in 2018… (33 percent) are people in families with children.
That also doesn't include the 4.4 million people in poor households who were living with family and friends in 2017 (25% more than in 2007).
And according to the Institute for Policy Studies:
55 percent of Americans struggle to pay medical bills, 40 percent of adults have less than $400 in savings, and nearly half of renters can't afford housing costs
The sooner people accept that poverty is a political choice, the sooner we can start dealing with it properly.
Featured image via YouTube – Secular Talk
Since you're here ...
We know you don't need a lecture. You wouldn't be here if you didn't care.
Now, more than ever, we need your help to challenge the rightwing press and hold power to account. Please help us survive and thrive.
Support