Noam Chomsky backs Chris Williamson, and calls the antisemitism smear campaign 'an insult to the memory' of Holocaust victims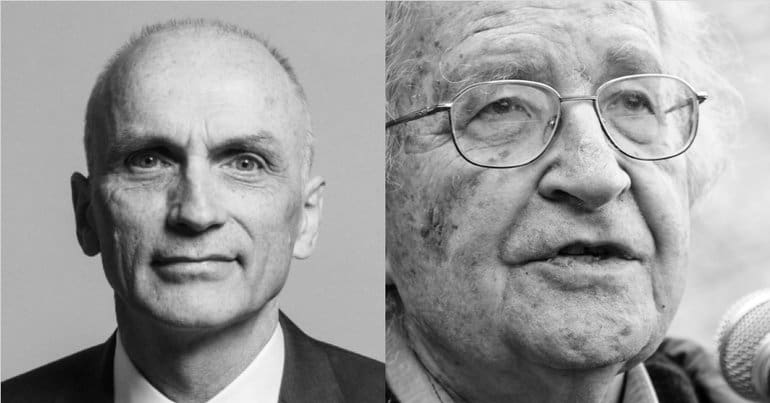 Leading Jewish intellectual Noam Chomksy has come out in support of suspended Labour MP Chris Williamson. When approached by independent journalist Matt Kennard for his views, Chomsky delivered a strong condemnation of the smears. He argued that false accusations of antisemitism are being weaponised to undermine the left. And he called the campaign "an insult to the memory of victims of the Holocaust."
The suspension of Chris Williamson
Williamson was suspended from the Labour Party and accused of being antisemitic for saying:
The party that's done more to stand up to racism is now being demonised as a racist, bigoted party. I've got to say I think our party's response has been partly responsible for that because in my opinion… we've backed off far too much, we've given too much ground, we've been too apologetic.
He added:
We've done more to actually address the scourge of anti-semitism than any other political party, any other political party. And yet we are being traduced.
In June, he was reinstated. This resulted in what Media Lens described as a 'propaganda blitz' to force Labour to reverse the decision:
This warning appeared in an ITV website article that also contained damning criticism from Labour MP Margaret Hodge, Labour MP Stella Creasy, Amanda Bowman, vice president of the Board of Deputies of British Jews, Gideon Falter, chief executive of Campaign Against Antisemitism, and anti-racism campaign group Hope Not Hate, with three pictured tweets highlighting and repeating their accusations. These six sources were not balanced by a single comment of any kind defending Williamson. This unarguably constitutes a form of extreme propaganda, rather than balanced journalism.
Those seeking Williamson's scalp got their way. And the Derby MP was suspended all over again making a mockery of Labour's disciplinary process.
Jewish voices
As many left-wing and anti-zionist Jewish people have reported, the media is pretending they don't exist. In efforts to make criticism of Israel antisemitic, those leading this smear campaign conflate Israel with Judaism. This is enormously offensive to Jewish communities who actively oppose Israel and reject Zionism.
Mainstream outlets reporting on this political conflict have deployed a particularly wicked tactic. They declare the Jewishness of those promoting the smear campaign but strip it from the Jewish voices who criticise it. Countless left-wing Jewish figures like David Rosenburg, Andrew Feinstein, Jackie Walker and others – have undergone this deeply racist treatment. Jewish commentator Harry Tuttle created a Twitter thread recounting dozens of the most egregious cases:
Okay. Here is goes. (1) Professor Norman Finkelstein, a jewish academic, both of who's parents were holocaust survivors, is apparently an antisemite and it was his cartoon which Naz Shah retweeted and which was falsely miscontextualised as antisemitic . https://t.co/Of9Zun10Ub

— Harry Tuttle (@arryTuttle) January 9, 2019
And now Noam Chomsky is throwing his weight behind these Jewish voices.
Noam Chomsky, the world's leading public intellectual and leftwing icon, comes out in support of Chris Williamson. See statement he just sent me below. Please share widely! pic.twitter.com/nuHeHGLybQ

— Matt Kennard (@DCKennard) July 5, 2019
There are numerous cases of gross antisemitism which we should and need to be fighting. So let's hope Chomsky's intervention helps bring to an end what is perhaps the most cynical and exploitative smear campaign in living memory and we can concentrate on opposing the very real antisemitism which is on the rise across Europe.
Featured image via Andrew Rusk (Flickr)/Chris McAndrew (Commons Wikimedia)
Get involved
You can sign the petition to reinstate Chris Williamson here.
You can nominate Chris Williamson for MP of the year here.
Fund our Investigations Unit
You can help us investigate corruption, expose injustice and uncover the truth.
As one of the only independent investigations units in the country, we work for you – but we need your help to keep going. We need to raise £10,000 to continue our groundbreaking investigations. Can you chip in?
Fund us