Last night, we missed another odious word choice from the PM. Ed Miliband certainly didn't.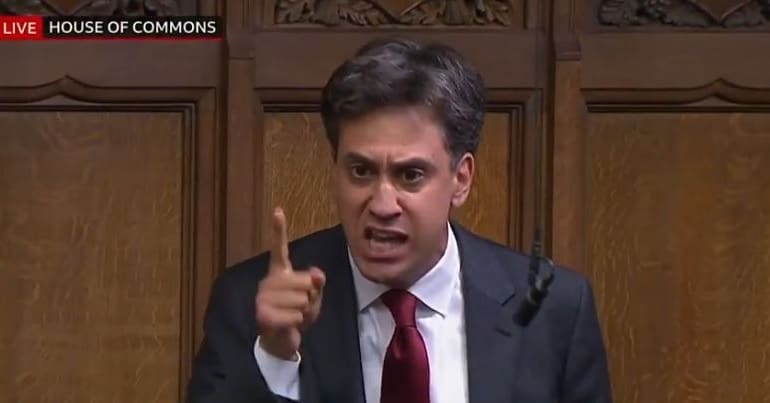 Boris Johnson has faced widespread condemnation for his choice of words in parliament on 25 September. But Ed Miliband spotted another odious comment from the PM during the session. And on 26 September, he called him out on it.
Safe?
Speaking in the chamber on parliament's return from his lawless prorogation, Johnson responded to criticism from MPs about his use of "dangerous" language like the "Surrender Act" in light of Jox Cox's murder. Of the MPs' concern, he said:
I never heard such humbug in all my life.
Cox was murdered by a right-wing extremist in June 2016. And as the Guardian reported, amid the anti-immigrant propaganda being peddled during the EU referendum campaign:
The passionate defender of immigration and the remain campaign was a legitimate target in his eyes.
Given this, Johnson's dismissal of MPs' worries over their safety went down like a lead balloon. But in all the hubbub over that comment, another one was largely missed. One where Johnson explicitly told MPs that the way to ensure they're "properly safe" is to "get Brexit done". It gives the PM's previous 'do or die' comment a whole new meaning.
"As someone who grew up with parents who were born in the shadow of war, we are not at war with Europe, and we are not at war with each other" – former Labour leader Ed Miliband critical of Boris Johnson's language in the Commons https://t.co/vdNDrsX5YO pic.twitter.com/NQCN8dvXMa

— BBC Politics (@BBCPolitics) September 26, 2019
We are not at war
As Miliband points out about Johnson's performance on 25 September:
He said this in answer to the honourable member for Hove, 'the best way… to ensure that every parliamentarian is properly safe, and to dial down the current anxiety in this country, is to get Brexit done'.

'Safe'. Mr Speaker, everyone in this house, I think, shares the frustration about the last three and a half years… but none of us can agree that the safety of members of this house should depend on the way they vote
The Labour MP called on Johnson to apologise for the 'disgraceful' comment. He continued:
Mr Speaker, this and the language of 'surrender' suggests we are at war, either with Europe or with each other…

as someone who grew up with parents who were born in the shadow of war – we are not at war with Europe, and we are not at war with each other.
Miliband also accused Johnson of trying to "divide an already divided country". But he argued that the strategy won't work, because the "British people are better than this".
Worse and worse
It is disgraceful that Johnson suggested the path to safety for MPs lies in what they choose to do in parliament. Much as their actions at times may appal us, their physical safety should not depend on it. Any leader worth their salt would do their utmost to tackle the threat, rather than demanding those in danger conform to it.
Yet again, Johnson shows how grotesquely unfit he is for the position of prime minister.
Featured image via screengrab
Fund our Investigations Unit
You can help us investigate corruption, expose injustice and uncover the truth.
As one of the only independent investigations units in the country, we work for you – but we need your help to keep going. We need to raise £10,000 to continue our groundbreaking investigations. Can you chip in?
Fund us