Theresa May's cabinet scrambles to disassociate from extremist think-tank tied to Donald Trump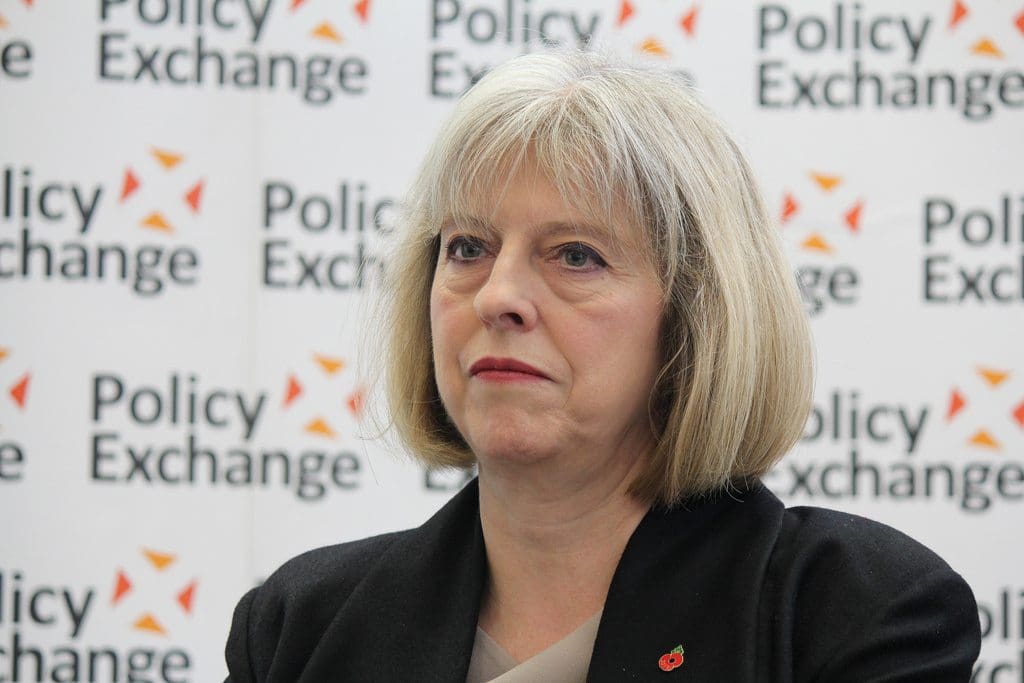 Support us and go ad-free
Several ministers in prime minister Theresa May's cabinet are senior members of a British think tank with ties to extremist US groups which inspired Donald Trump's call to ban Muslim immigration.
Or they were, until The Canary investigated.
May's predecessor, David Cameron, repeatedly attacked Sadiq Khan during his Mayoral campaign for sharing platforms with extremists – a charge eventually shown to be false. Yet May's own appointments reveal that the government's most senior ministers have shared platforms with extremist bigots.
Amber Rudd, May's new Home Secretary, has sat for many years on the Political Council of the Henry Jackson Society (HJS), the London-based neoconservative think tank best known for the anti-Muslim views of its associate director, Douglas Murray.
Joining her on the HJS Political Council are two other of May's cabinet appointments, Priti Patel, the secretary of state for international development, and David Davis, the secretary of state for exiting the European Union.
HJS' associate director, Murray, rose to notoriety after ConservativeHome editor Paul Goodman raised concerns in the Tory party about past speeches by Murray, where he called for banning all Muslim immigration to Europe.
But after The Canary challenged Rudd and Patel on their affiliations to Murray's think tank, they promptly declared they were no longer members.
Read on...
Britain's own Trump: ban all Muslim immigration to Europe
In one inflammatory speech before the Dutch Parliament in 2006, before he joined HJS, Murray said:
It is late in the day, but Europe still has time to turn around the demographic time-bomb which will soon see a number of our largest cities fall to Muslim majorities. It has to. All immigration into Europe from Muslim countries must stop. In the case of a further genocide such as that in the Balkans, sanctuary would be given on a strictly temporary basis. This should also be enacted retrospectively. Those who are currently in Europe having fled tyrannies should be persuaded back to the countries which they fled from, once the tyrannies that were the cause of their flight have been removed. Conditions for Muslims in Europe must be made harder across the board: Europe must look like a less attractive proposition. We in Europe owe – after all – no special dues to Islam. We owe them no religious holidays, special rights or privileges.
Deport bad Muslims who don't like our foreign policy
Murray also said that European Muslims who "take part in, plot, assist or condone violence against the west must be forcibly deported to their place of origin."
Defining "the west" as including both western countries and western troops, Murray said: "Where a person was born in the west, they should be deported to the country of origin of their parent or grandparent."
As Paul Goodman explained:
A reasonable reading of his words is that any British Muslim who opposed whatever war an allied government was waging at the time should be expelled from his home country. I was later shown his speech by other members of the Conservative front bench, who were extremely concerned about it.
In October 2011, after he had joined HJS as associate director, Murray claimed to have disowned the Netherlands speech "some years ago," as it was "poorly expressed".
But as Goodman pointed out, only the previous year Murray had defended the same speech in The Spectator:
What I advocated had been argued by members of the conservative party of Holland and was, and is, being argued by mainstream politicians across Europe […] I refused to change my opinions.
Murray admitted that he had become a "pariah" in the Tory party as a result.
Yet through May's cabinet appointments, his rancid ideas looked like they were being rehabilitated at the highest levels of the British government – particularly as May herself had endorsed the idea of deporting thousands of EU nationals.
I'm not racist but where are all the white people
More recently, Murray's anti-Muslim views have bordered on racism. In 2014, Murray wrote an article on why he thinks "white British people" are "losing their country".
He said London "has become a foreign country" in which "'white Britons' are now in a minority," and "there aren't enough white people around" to make its boroughs "diverse":
We long ago reached the point where the only thing white Britons can do is to remain silent about the change in their country. Ignored for a generation, they are expected to get on, silently but happily, with abolishing themselves, accepting the knocks and respecting the loss of their country. 'Get over it. It's nothing new. You're terrible. You're nothing.'
The principal cause of the abolition of "white Britons," Murray wrote elsewhere, is the "startling rise in Muslim infants". Thus, it appears that for Murray, the principal threat to white supremacy in London is the astronomical birthrate of non-white Muslims.
As The Guardian pointed out, Murray's chief concern was not "integration," but "skin colour."
Henry Jackson Society – funded by far-right Americans
That the views of the associate director of the HJS are so abhorrent is not surprising. The think tank has received funding from several US groups widely recognised as promoting hatred against Muslims.
Through Murray, HJS has a direct relationship with one of the most prolific anti-Muslim activists in the US, Frank Gaffney.
Gaffney is a former Reagan defence official who supported the 2003 Iraq War. The Southern Poverty Law Centre (SPLC) describes him as an "extremist" and "one of America's most notorious Islamophobes", who also courts racist white supremacists.
The Center for American Progress in Washington DC classifies Gaffney as an anti-Muslim "misinformation expert".
Gaffney's Center for Security Policy (CSP) was also included by the SPLC on its list of hate groups active in 2015.
However, Gaffney's biggest claim to fame is that he inspired Donald Trump's call to ban all Muslim immigration to the US – startlingly similar to Murray's earlier call for Europe.
To justify this proposed policy, the Republican presidential nominee cited an opinion poll conducted by Gaffney's own think-tank, the CSP. The poll has been dismissed by experts as "unscientific" and meaningless due to poor methodology.
Shortly after being cited by Trump, Gaffney was appointed as National Security Advisor by then-Republican presidential hopeful Ted Cruz. Cruz has also been outed for promoting shocking bigotry against Muslims, immigrants and black people.
HJS' Murray, who is close friends with Gaffney, last conducted a radio interview with the Trump-inspirer in September 2015, the audio for which is hosted on the CSP website.
During the interview, Murray was not interested in challenging Gaffney's track record of bigotry. Instead, he agreed with Gaffney's discredited views about "Muslim no-go zones" in Europe (which even Cameron described as idiocy), and endorsed the President of Hungary's commitment to ban Muslim immigration.
Murray has conducted six CSP radio interviews with Gaffney since 2013.
HJS has also worked closely with the Clarion Project, where Gaffney sits on the advisory board.
HJS and Theresa May
Several senior cabinet ministers appointed by May are either longstanding HJS members, or have a relationship with the group.
As of Tuesday, home secretary Rudd, Brexit minister Davis, and international development secretary Patel all sat on the HJS Political Council. Trade secretary Liam Fox has spoken at a HJS event on the Iran nuclear deal.
These four ministerial positions together encompass some of the most important positions in the cabinet, in terms of determining the future of British domestic and international policies.
The fact that four senior cabinet members appointed by May are affiliated to a think-tank with such brazen anti-Muslim affiliations is extraordinary. That one of those affiliations is Frank Gaffney, the man who inspired Trump's call to ban Muslim immigration to America, is especially alarming.
On Tuesday, The Canary asked the Home Office about Rudd's affiliations to HJS, and whether she agreed with the remarks made by Murray about Muslim immigration, "white Britons" and the "startling rise of Muslim infants" in Britain.
A Home Office spokesperson distanced Rudd from HJS and its views:
The Political Council of the Henry Jackson Society consists of a large number of MPs and peers from across party lines. While Amber Rudd shares a lively interest in openly debating issues of foreign affairs and security, the position was largely nominal.

On her appointment as Home Secretary, Amber Rudd reviewed her membership of any organisations that can be connected to the work of the department and she is no longer a member of the council of the Henry Jackson Society.
However, Rudd was still listed as a member of the Henry Jackson Society's Political Council on the HJS website until Tuesday. Her name was only removed from the website after The Canary's enquiry with the Home Office.
The Canary also asked the same questions of Patel and Davis. On Wednesday just minutes before 4pm, Patel's name was removed from the HJS website listing of Political Council members.
A spokesperson for the Department for International Development said:
As is standard practice, the International Development Secretary is currently reviewing her membership of organisations that can be connected to her work in Government and she is not a member of the political council of the Henry Jackson Society.
However, the spokesperson did not answer The Canary's questions concerning why Patel had joined the HJS despite Douglas Murray's notorious views, which had already led Tories on the front-bench to wash their hands of him.
The resignations of both Rudd and Patel from the Henry Jackson Society Political Council in the wake of The Canary's enquiries will be deeply embarrassing for Douglas Murray's organisation. The ministers' efforts to quietly distance themselves from the think tank show that the bigoted views of its senior management have no place in British society.
One minister, however, remains listed on the HJS Political Council: David Davis.
Davis failed to respond to multiple queries about his affiliation with HJS.
Which means that May's Cabinet is still tied to a think tank that works with the brainchild of Trump's proposed Muslim ban – and her senior minister in charge of Brexit has no intention of dissociating from  it.
Call to action!
If you agree that David Davis' affiliation with the Henry Jackson Society, given its associate director's shocking statements in support of anti-Muslim and white supremacist bigotry, is deeply inappropriate, you can tell him yourself.
Write to David Davis, secretary of state for exiting the European Union:
Image via Flickr/Policy Exchange
We know everyone is suffering under the Tories - but the Canary is a vital weapon in our fight back, and we need your support
The Canary Workers' Co-op knows life is hard. The Tories are waging a class war against us we're all having to fight. But like trade unions and community organising, truly independent working-class media is a vital weapon in our armoury.
The Canary doesn't have the budget of the corporate media. In fact, our income is over 1,000 times less than the Guardian's. What we do have is a radical agenda that disrupts power and amplifies marginalised communities. But we can only do this with our readers' support.
So please, help us continue to spread messages of resistance and hope. Even the smallest donation would mean the world to us.
Support us