Today is the start of a month dedicated to one of the most 'neglected' disabilities going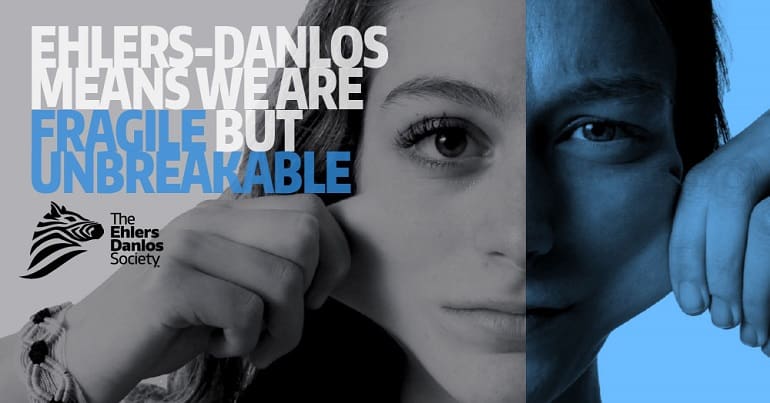 Support us and go ad-free
Tuesday 1 May marks the start of a month dedicated to raising awareness of an often misdiagnosed, misrepresented and misunderstood chronic illness and disability. It's Ehlers-Danlos Syndrome (EDS), and May is EDS awareness month. If you've never heard of it, read on. Because while it sounds obscure, it actually encapsulates many of the challenges facing millions of disabled people around the world.
EDS awareness month
Disclosure: my beautiful, brave, clever, and inspirational girlfriend Nicola Jeffery lives with EDS. Hence, in part, why I'm writing this. I'll recount to you some of her story throughout.
EDS is a group of chronic, genetic, hereditary disorders affecting around 1 in 5,000 people worldwide. Now, I could say 'here comes the science bit', and reel off the autonomic, dermatological, gastrological, neurological, rheumatological, and every other '-ological' functions that EDS has an effect on. Because that is the extent of the illness – it affects nearly every part of a person's body. But I won't. I'll keep it simple.
Bungee ropes not working
EDS is a connective tissue disorder, meaning that a person's collagen is defective. Collagen supports nearly everything in the body to keep it in place: eyes, bones, muscles, organs and so on. But in a person living with EDS, the collagen doesn't work properly.
Imagine a bungee rope that doesn't spring back up. Or a hair band that isn't taut. Maybe think of wallpaper peeling off the wall; the paste stretching out as it collapses. That's what EDS is like. Most parts of a person's body are not held in place correctly – so none of them work the way they're meant to.
Take Nicola. She's hypermobile (she would have been called a 'contortionist' years ago). She can bend her thumb down until it touches her forearm (go on – try it). This is because her bones, muscles and tendons are extremely stretchy as the collagen doesn't keep them in place. This also means she has mini-dislocations every day (subluxations). She also lives with a whole heap of stomach and bowel problems – because the upper and lower intestines can't move the food through her the way they should. And that's just three things for starters.
There are currently 13 types of EDS, although this seems to change on a near-yearly basis. Some are life-threatening, like vascular EDS. Others are less aggressive, like classical. Nicola has been given a preliminary diagnosis of the hypermobile subtype. But all are impairing in their own way.
Read on...
Support us and go ad-free
Countless symptoms
Many people living with any subtype of EDS are hypermobile. This in itself presents numerous problems; not least chronic fatigue. I'm not talking about the 'fatigue' that energy drinks manufacturers bandy around to sell their products. That's not fatigue; that's too many late nights. Fatigue for many people living with EDS feels like the worst bout of the flu. You literally can't move your body for the pain, and your brain can't think for the fogginess.
Other common symptoms include (but aren't limited to):
Easy bruising and scarring.
Constipation/diarrhoea.
Bacterial infections in the stomach and gut.
Subluxations.
Joint pain.
Vitamin and mineral deficiencies.
Cognitive impairment.
Lack of spatial awareness.
Visual impairments.
For Nicola, the worst symptoms of EDS are the chronic fatigue and gastrological complications.
Fatigue: she probably has one day a week where she can live what some people would consider a full life – go out, do housework, read a book – whatever. The other six days are generally marked by doing a little, then being incapacitated for the rest of the time.
Gastrological: digestion is a nightmare. You know the feeling when you're preparing to go to the toilet, and suddenly it feels like there's something in your lower bowel trying to force its way out of the wall of your gut? That sudden, sharp pain? Nicola has that every time she eats.
But the complications with EDS are not limited just to its symptoms. This is because EDS is part of a cluster of syndromes.
Cluster syndromes and symptoms
Most people who live with EDS also live with postural orthostatic tachycardia syndrome (POTS), a fault with the body's autonomic (unconscious functions) system. When a person with POTS stands up, the volume of blood going to the heart falls. This causes a person's heart rate to leap, and stay that way for a period of time. Symptoms include lightheadedness, fainting, flushing and anxiety.
People living with EDS often also live with mast cell activation syndrome (MCAS). This is where your body involuntarily thinks it's under attack from a foreign body or injury, and reacts accordingly. People experience shortness of breath, chest pains, allergy-type reactions, vomiting and fatigue. MCAS is triggered by anything from exercise, temperature and stress to certain foods.
All these are just the mainstream symptoms and cluster syndromes. There are numerous other impairments, illnesses and symptoms potentially related to EDS. These include idiopathic intracranial hypertension (IIH): a build up of pressure around the brain which can result in headaches, blurred vision, sickness and drowsiness. At the opposite end of the scale is cerebrospinal fluid (CSF) leak: a draining of the liquid that holds the brain in place, causing it to sag into the skull. Symptoms include headaches, seizures and hearing and visual impairments. Food intolerance is also common, not least gluten, carbohydrates, histamines, dairy and nightshades.
Nicola appears to be living with POTS, MCAS, CSF, and intolerance to carbohydrates, histamines and nightshade as well as EDS. So what can be done to treat EDS, its symptoms and cluster syndromes? Well, the first thing is a diagnosis.
Fighting for a diagnosis
Dr Rodney Grahame, a consultant rheumatologist specialising in EDS, said:
No other disease in the history of modern medicine, has been neglected in such a way as Ehlers-Danlos syndrome(s).
Nicola had symptoms from the age of five; she's now 32. It took her twelve years of fighting the medical system to actually get a diagnosis. This length is the norm for EDS patients; even quick.
She was told for five years it was 'all in her head' (even being sectioned under the Mental Health Act at one point because of this). Then she was 'parked' with a fibromyalgia diagnosis for seven years, until she finally managed to convince one consultant gastroenterologist that it was EDS. She was given a preliminary hypermobile EDS diagnosis a year ago by one of the world's leading specialists. But it's still not over. She hasn't had the subtype confirmed, nor has she been tested for any of the cluster syndromes.
That's not because she hasn't been pushing the NHS for it. It's because, through a combination of medical misogyny, medical incompetence and underfunding, trying to get anywhere with EDS on the NHS is a nightmare. Doctors don't understand, don't listen or, sadly, don't care. There are striking similarities between the medical profession's attitude to EDS and its attitude to myalgic encephalomyelitis (ME/CFS); not least the discredited PACE trial guidance the NHS still uses for the latter, but which is also applied to EDS patients.
But once Nicola eventually does get a complete diagnosis, then what?
Grieving for the life you once had
The cluster syndromes like POTS and MCAS can be managed with medication and diet. CSF isn't even recognised in the UK yet as a cluster syndrome of EDS – so we'll probably go outside of the NHS for support. But in terms of the EDS itself, there is no cure. You just have to learn to live with it. And it's that which has been the hardest part for Nicola.
She often talks to me about how coming to terms with a chronic illness and disability is a grieving process. Although born with it, EDS symptoms didn't develop until Nicola was older. So she knew a life before the EDS. This makes it all the harder, as everything you used to have doesn't exist anymore. A job, being an active mum, seeing friends and family, being a lover and a partner: all those things can die when the EDS is born, and a person grieves for their loss.
But, much like me (an addict), Nicola stripped herself back completely, put a fresh canvas on her easel and started painting her life again. That's what EDS awareness month is all about: raising awareness, communicating, encouraging people to tell their stories, raising the media profile of it, and calling on medical professionals to do more.
When you hear hooves…
The EDS society's motto for the month is "we're fragile but unbreakable". I'd argue Nicola is neither of those things, except in the physical sense. She is the consummate 'zebra', the animal that is the mascot for EDS and other rare, often invisible illnesses.
In medicine, the term 'zebra' references a rare disease or condition. Doctors are trained to think "that the simplest explanation is usually correct to avoid patients being misdiagnosed with rare illnesses". Doctors learn to expect common conditions. They learn that:
When you hear the sound of hooves, think horses, not zebras.
Nicola is no horse, though. She's a beautiful, rare zebra – like everyone living with EDS. So in EDS awareness month, expect hooves – and lots of them. But they certainly won't be horses' ones.
Get Involved!
– Find out more about EDS awareness month.
– Support Disabled People Against Cuts, fighting for disabled people's rights.
Featured image via the Ehlers-Danlos Society – screengrab
Support us and go ad-free
We know everyone is suffering under the Tories - but the Canary is a vital weapon in our fight back, and we need your support
The Canary Workers' Co-op knows life is hard. The Tories are waging a class war against us we're all having to fight. But like trade unions and community organising, truly independent working-class media is a vital weapon in our armoury.
The Canary doesn't have the budget of the corporate media. In fact, our income is over 1,000 times less than the Guardian's. What we do have is a radical agenda that disrupts power and amplifies marginalised communities. But we can only do this with our readers' support.
So please, help us continue to spread messages of resistance and hope. Even the smallest donation would mean the world to us.
Support us