Two-tier policing has allowed Dublin's inner city problems to 'fester'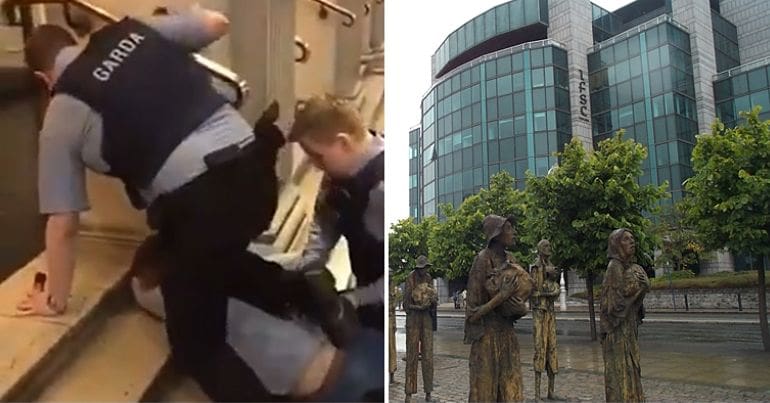 Support us and go ad-free
Previously ignored research into policing in Dublin makes for scandalous reading. Because it reveals a potentially "sinister" two-tier policing system operating in Dublin's north inner city. This system allows people with money to use their influence to get a better response from senior gardaí, whereas people without money can't do the same.
And the belief that "police don't give a fuck" about inner-city Dublin could hold some truth. Because five years after the publication of this research, An Garda Síochána's [Irish police force] still hasn't responded.
Former garda (Irish police officer) Eunan Dolan conducted this research as part of his 2016 professional doctorate in criminal justice at the University of Portsmouth. Dolan interviewed a broad selection of local people, politicians, and gardaí living and working in the inner city. And sadly, since completing his doctorate, he told The Canary "not a whole lot has changed".
Policing is not the solution to the problems of Dublin's north inner city. They're much more deep rooted. But the manner in which policing protects an already heavily resourced business community while allowing problems to "fester and develop" in its working-class community, is an outright scandal.
C district, the "defence of privilege"
Dolan's research roughly covers a 10km squared area of Dublin's north inner city. In policing terms, this is C district and its main garda station is Store Street. In 2016, it had a population of around 72,000 and is home to O'Connell Street, Dublin's main thoroughfare, and the International Financial Services Centre (IFSC). Dublin city has a population of just over one million people. The report notes that:
Within its boundaries all facets of modern urban life can be observed from extreme poverty to extreme wealth.
And while there were efforts to renew the poorer parts of this district, they were:
Read on...
efforts to sell the city for private investment
Which in turn:
could have an impact on how policing is carried out. The distribution of a public policing service in a deeply divided urban area presents police managers with choices.
This turned the north inner city into a:
city…(where)…that defence of privilege leads to the reactionary urbanisation of gentrification, involving the recommodification of previously working-class neighbourhoods for middle-class consumption…meanwhile, the city's working class… and homeless populations experience, a deepening villianisation…through interlocking scripts of violence, drugs and crime.
Community opinion
A community worker had a damning assessment, saying there was "selective policing", while a youth worker described it as "no policing".
The community worker also said:
It has become kind of endemic now by kids that are… two, three, four, five years of age – six…are looking at the damage that is being done on a daily basis by the thirteen, fourteen, fifteen-year-olds, and it has become a kind of cycle now, especially, in the Sheriff Street [working class part of C district] stretch.

You can do anything you want to do, to whoever you want to, what you want – there will be no comeback. There will be no charge either police wise or Dublin City Council wise… the attitude is a sure, ah fuck, it is only Sheriff Street… That police don't give a fuck!
An anti-drugs worker blamed the chronic heroin problem on a lack of policing in certain areas:
possibly because there is more political pressure being put on them (the Gardaí) to do certain things in certain areas
They also said the lack of registered voters allows politicians to neglect the area because:
nobody from the political perspective is going to drill down to find out what is going on
Two-tier policing
C district has large business and residential areas. There's an affluent and a working-class residential area. But here's the worrying part. There's a much closer relationship between gardaí and the business community than between gardaí and working-class residents.
In December 2013, the chief superintendent said gardaí carried out 13,904 drug-related stop and searches "in the O'Connell Street area". A Dublin city centre business association was then interviewed for an article which covered these figures. According to Dolan:
The thrust of the article was that due to all this Garda activity, O'Connell Street was a safe place to do business, as was reflected in the headline "O'Connell Street, one of the safest, says garda chief"
However, around that same year in Sheriff Street, two primary schools said:
The general level of lawlessness has reached an all-time high and drugs are being sold openly outside the school in front of the children. Each weekend stolen cars are burned out on the street and twice part of a wall and railings were rammed and demolished.
And despite the number of stop and searches, there were just 1,336 controlled drug offences detected. That's a detection rate of around 10%. So what purpose or who exactly are those stop and searches serving?
According to the research says, local residents believe policing in their area is much different to the financial district:
open drug dealing in the community was being ignored whilst issues in the IFSC were dealt with straight away
Community first
A city councillor said gardaí tolerate drug dealing and antisocial behaviour to monitor it and stop it spreading to other areas. Whereas a CEO of a local business organisation described policing in the area as "excellent" and "very successful". Another CEO described an operation on O'Connell Street to target drug dealers as "bloody marvellous". This difference in perception is striking.
Dolan told The Canary, that policing needs to attune itself to the needs of the community. But this mixture of police harassment and neglect is anything but attuned. And if resources exist to police the business community, surely there are resources to address the chronic needs of the working-class community.
And it gets worse
A long-time resident of the area said gardaí won't interfere with crime as long as it stays on working class streets and away from the financial district. They said:
I think because we are the back of the finance, keep them contained there, in that little street, as long as they don't go near the financial centre, you're okay. I have noticed that, in a lot of stuff, people who do stuff in the financial, they come after them, if they do it in Sheriff Street, it's okay.
A local school principal discussed how openly drug dealing happens. They said:
drug-selling is so open here… I was coming back from a meeting and a parent of one of the pupils in school, he said:' hi-ya [teacher's name] as he was selling drugs to somebody. …

I think there is a group kind of attitude by everyone in society that we [in Sheriff Street] should just be left; we are reckless, we are lawless down here. …

I don't think that would be happening in the better off areas…We are [on] prime real estate here… Is there something bigger at play?
A "sinister" development
An opposition TD (Irish MP) for the area said:
it seemed to me, just watching the scenario, there was a period of time, while An Garda Síochána stood away from the situation and allowed it to fester and develop, and then, an initiative was taken to move-in and clean up the area. I always had the sense, and I know it is reflected in this area that, it had more to do with business interests in the city, rather than, residents of the city.
Then, even more worryingly, they added:
I couldn't tell you the number of times people who live in that area would say, listen, there is a character down here dealing drugs. We see them, all the neighbours see them, the kids see them, and you could set your clock by them. They know their routine, yet the Gardaí are staying off them; this is in the mind of the community….

From a community perspective, they read the message as either, the Garda Síochána doesn't care or that they are prioritising other places, and other things they might be doing. Or – and this can be really the most sinister reading of all – what is the relationship then between these guys who are at this behaviour and the Gardaí.
It's about the land
Professional people working in the area also feel two-tier policing is at work. They believe because the land is so valuable, people in power are allowing the area to decline. This in turn would push out the community. A cleric said the aim is to:
slowly strangle the non-middle and nonupper- class to death and that big money is behind this
Moreover, a local youth worker said there's a concerted effort to allow the area to deteriorate so it will eventually be handed over to developers. Dolan attributes this to "core policies of neo-liberalism".
Another researcher described it as a:
new phase of capital accumulation in the city that excludes the working class on many levels, economic and social and cultural
Garda admissions
One civilian member of An Garda Síochána said even correspondence was divided because:
Correspondence from the businesses would go directly to the superintendent and they themselves would draft a reply, whilst other correspondence will be sent to a sergeant and the superintendent would not see it, unless it was about a particularly serious matter
They added:
because the business community have a louder voice
A garda inspector revealed why this bias towards business might exist when they said:
I come from a business background myself
While one garda believed policing in O'Connell Street was different because:
people from so-called good areas of Dublin or Ireland go through there, and people like that have the influence in the country, they don't want to see drug dealers or drug addicts hanging around in the streets. Whereas nobody has any real reason to visit Sheriff Street, nobody cares what goes on in there.
Another garda described the power of business people:
if they are unhappy with the policing in the area, they would go to the media and politicians, with whom they pack a fair punch…someone will say to me, if you can't do it, we will find someone who will
Extremely concerning
Finally, another garda told Dolan:
they expected to be sanctioned if they failed to police the "low-level low impact" issues on O'Connell Street, in the same way that they would be sanctioned for failing to properly investigate murders and serious crime in the residential area.
So in their eyes, responding to low impact crime in the business district is equal to responding to murder in a working-class area.
The Canary contacted An Garda Síochána for comment on all of Dolan's findings. A spokesperson said:
An Garda Síochána does not comment on third party materials.
Classist policing as normal
Over forty years Dolan was a garda, garda sergeant, and detective superintendent in C district. His research paints a "sinister" picture of profit before people. Yet when he submitted his doctorate to the garda research unit five years ago, he got no response.
So unless people attune themselves to this working-class community's needs, two-tier and neo-liberal policing will continue.
Featured image via YouTube – Tom O Mahony & Wikimedia – Kaihsu Tai
We know everyone is suffering under the Tories - but the Canary is a vital weapon in our fight back, and we need your support
The Canary Workers' Co-op knows life is hard. The Tories are waging a class war against us we're all having to fight. But like trade unions and community organising, truly independent working-class media is a vital weapon in our armoury.
The Canary doesn't have the budget of the corporate media. In fact, our income is over 1,000 times less than the Guardian's. What we do have is a radical agenda that disrupts power and amplifies marginalised communities. But we can only do this with our readers' support.
So please, help us continue to spread messages of resistance and hope. Even the smallest donation would mean the world to us.
Support us