It's 'Day of the Zebra'. But it's not just the animals that need our support.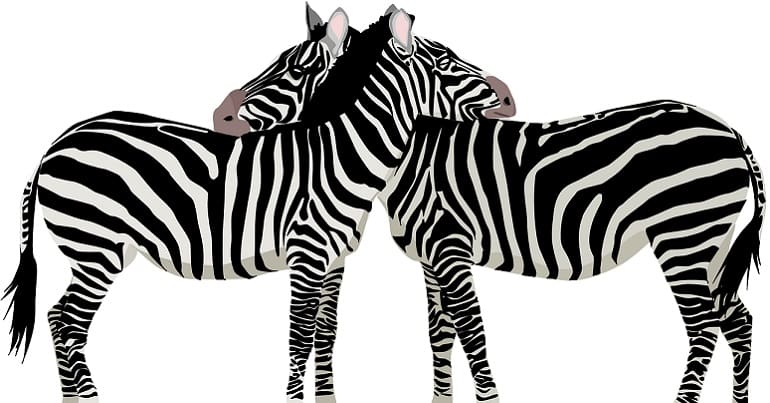 Support us and go ad-free
Sunday 31 January is International Day of the Zebra. It's a conservation tool to draw attention to these fascinating and beautiful animals. But 'Zebra Day' is also marked by a group of humans. And they need our support and solidarity as much as their animal counterparts.
Medical zebras
There's a phrase called 'medical zebra'. One patient group explained that:
"When you hear the sound of hooves, think horses, not zebras."

This phrase is taught to medical students throughout their training.

In medicine, the term "zebra" is used in reference to a rare disease or condition. Doctors are taught to assume that the simplest explanation is usually correct to avoid patients being misdiagnosed with rare illnesses. Doctors learn to expect common conditions.

But many medical professionals seem to forget that "zebras" DO exist and so getting a diagnosis and treatment can be more difficult for sufferers of rare conditions.
There are a lot of so-called 'rare' conditions out there. From chronic lyme disease to lupus and Crohn's disease – rare disease affects as many as one in 17 people. But two diseases in particular sum up the challenges faced by the 'zebra community'.
Read on...
Ehlers-Danlos syndromes
The Ehlers-Danlos syndromes (EDS) are a group of chronic, genetic, hereditary disorders. They are connective tissue disorders. This means that a person's collagen is defective. Healthline says:
Collagen is the most abundant protein in your body, accounting for about one-third of its protein composition.

It's one of the major building blocks of bones, skin, muscles, tendons, and ligaments. Collagen is also found in many other body parts, including blood vessels, corneas, and teeth.

You can think of it as the "glue" that holds all these things together.
But in EDS, a person's collagen doesn't work properly. Imagine a bungee rope that doesn't spring back up, or a hair band that isn't taut. That's what EDS is like. Most parts of a person's body are not held in place correctly – so none of them work the way they're meant to.
There are currently 13 types of EDS. Some are life-threatening, like vascular EDS. Others are less aggressive, like classical. The hypermobile subtype is the only one without a genetic marker. But all are impairing in their own way.
Multi-systemic
Joint hypermobility (what used to be called being 'double jointed') is a common symptom of EDS. Others that patients report include (but aren't limited to):
Fatigue.
Easy bruising and scarring.
Constipation/diarrhoea.
Bacterial infections in the stomach and gut.
Subluxations.
Joint pain.
Cognitive impairment.
Lack of spatial awareness.
Visual impairments.
But here's the thing with the supposedly 'rare' zebra EDS. It may not be as rare as doctors first thought.
'Rare' or 'rarely diagnosed'?
Recently, researchers did a new study in Wales. They found that the rate of EDS and the similar illness hypermobility spectrum disorder (HSD) was higher than previously thought. The research indicated a prevalence of 1 in 500 for hypermobile EDS/HSD. As it noted:
This suggests that hEDS/HSD, when considered together, do not meet the definition of rare conditions and have widespread effects across multiple body systems.
It would mean that EDS/HSD are as common as multiple sclerosis (MS). But for some zebras, it can take decades before a doctor diagnoses them. And recently, there's been growing concern over how GPs are dealing with potential EDS patients. The group Ehlers-Danlos Support UK, along with medical professionals, designed something called the EDS toolkit. This was made as a way for doctors to be able to understand EDS better. And the toolkit also gave GPs the knowledge to make EDS diagnoses.
Confusion mounting
However, in December 2020, the Royal College of General Practitioners (RCGP) said it was removing the toolkit from its website. This meant GPs wouldn't have access to it. Ehlers-Danlos Support UK said the RCGP told it that the decision was down to:
pressure on its limited resources as a result of the pandemic and contention around the toolkit from various sources as reasons for its decision.
People started a petition. And at the end of January, the RCGP backtracked. Dr Emma Reinhold was one of the lead authors of the toolkit. She tweeted that:
the #EDSToolkit… has a 6 month stay of execution!

There will be a caveat on the home page stating that the Toolkit is intended to apply only to adults. That is the compromise which we proposed this morning. Thank you @rcgp for reconsidering. I hope we can continue to work together
So it seems for the moment that doctors will, hopefully, not think horses when they hear EDS zebra hooves. But there's another illness which doctors often misunderstand or neglect. Although it is becoming more commonly known.
ME/CFS
Myalgic encephalomyelitis, commonly referred to as ME, is a chronic systemic neuroimmune disease. The latest research says it affects at least 65 million people worldwide and around 250,000 people in the UK. But the numbers could be underestimates. Some research puts the number of undiagnosed ME cases at 80%. Meanwhile, other studies show a prevalence rate in the population between 0.2% and 3.48%.
ME is also sometimes referred to as chronic fatigue syndrome (CFS) or ME/CFS. Some people believe the two conditions are different. There's debate about the definition, though, with it also being referred to as postviral fatigue syndrome. This article calls it ME unless otherwise stated.
Medical professionals generally claim there is no known cure. Some doctors have managed to make patients better. Yet only around 6% of people with ME have remission from the disease. The cause of it is often clear, because in around 50% of cases, people get ME following a viral infection. It's almost as if the virus never leaves them. Some studies have shown people with ME have an increased immune system response. It's like the person's body thinks it's constantly fighting a virus which isn't there.
More multi-systemic issues
While symptoms vary for every person, people living with ME often experience:
A worsening of symptoms brought on by physical activities, mental activities, or both. This is called post-exertional malaise (PEM).
Flu-like symptoms.
All-over pain.
Sleep disturbance / problems.
Cognitive impairments.
Impairments of the body's autonomic systems, such as nervous, digestive, and endocrine.
Hyper-sensitivity.
ME has been fraught with controversy. For decades – and often still to this day – the medical profession has not properly recognised it. People living with ME have been disbelieved, stigmatised, given incorrect treatment, or told it's 'all in their heads'. A medical study into treatment for ME has not helped this.
PACE trial and NICE
The controversial PACE trial's results were first published in 2011. It has driven doctors' approaches to ME. As The Canary previously reported, the results of the PACE trial claimed that:
people living with ME/CFS can improve their illnesses, and sometimes recover, by having cognitive behavioural therapy (CBT) and by using graded exercise therapy (GET).

The results of the £5m trial… [were] part-funded by the UK Department for Work and Pensions (DWP)… But they have been dismissed by many medical professionals and disabled people alike as damaging and ineffective.
US government agencies have either downgraded the reliability of CBT and GET or removed them as recommended treatments altogether.
The PACE trial's results have been widely disputed. One prominent ME doctor called it "scientific and financial fraud". An MP said it was potentially one of the "biggest medical scandals of the 21st century". Some of the trial's authors had conflicts of interest with private insurance companies. Its original authors disagree with the criticisms.
After pressure from patients and advocates, the National Institute for Health and Care Excellence (NICE) published its new draft guidance for the treatment of ME. It has removed CBT and GET as first response treatments. But some people think it didn't go far enough. This is because exercise therapy is still there, as is CBT – to support patients.
The coronavirus (Covid-19) pandemic has thrust ME into the spotlight. This is because of the emergence of so-called Long Covid. It's similar to ME, and already some people are linking the two.
EDS and ME: summing up medical zebras
There hasn't been much research into how many zebras have co-morbidities of EDS and ME. As the website ME-pedia said:
A 1999 case series by Dr. Peter Rowe of adolescents referred to his chronic fatigue syndrome clinic found 12 patients who also met the criteria for… [EDS]… He concluded that "Among patients with CFS and orthostatic intolerance, a subset also has EDS." He also found joint hypermobility… in 60% of pediatric ME/CFS patients… [versus] 24% of healthy controls.

A Swedish study of 234 ME/CFS patients meeting… found that 49% of patients had hypermobility and 20% met the criteria for hEDS.
And as filmmaker and disability rights activist Jennifer Brea tweeted:
Finally, it is estimated that 50% of #MECFS patients meet criteria for #hEDS or #HSD, https://t.co/Fz0kHpDaeC

Enough physicians are seeing connective tissue disease in #longCOVID, there's a new ICD code for it: https://t.co/5vxT8rI76q

— Jennifer Brea🦒 (@jenbrea) January 25, 2021
The point being that for medical zebras so much is still unknown. Doctors all too often neglect chronically ill and disabled patients. Research often misses vital clues to pathology. Or worse, some research makes life for the people affected even harder. And also, the crossover and links between these various conditions are sorely under-researched. Medical zebras need more research, more understanding, and more joining of dots between conditions. But moreover, they need people to just listen to them.
So, on International Day of the Zebra, let's remember all those living with supposed 'rare' conditions. Because in reality, they may not actually be as rare as we think. And moreover, zebras of all stripes deserve our solidarity and support.
Featured image via OpenClipart-Vectors – pixabay
We know everyone is suffering under the Tories - but the Canary is a vital weapon in our fight back, and we need your support
The Canary Workers' Co-op knows life is hard. The Tories are waging a class war against us we're all having to fight. But like trade unions and community organising, truly independent working-class media is a vital weapon in our armoury.
The Canary doesn't have the budget of the corporate media. In fact, our income is over 1,000 times less than the Guardian's. What we do have is a radical agenda that disrupts power and amplifies marginalised communities. But we can only do this with our readers' support.
So please, help us continue to spread messages of resistance and hope. Even the smallest donation would mean the world to us.
Support us