There's a war on its way, and it will make Iraq look like child's play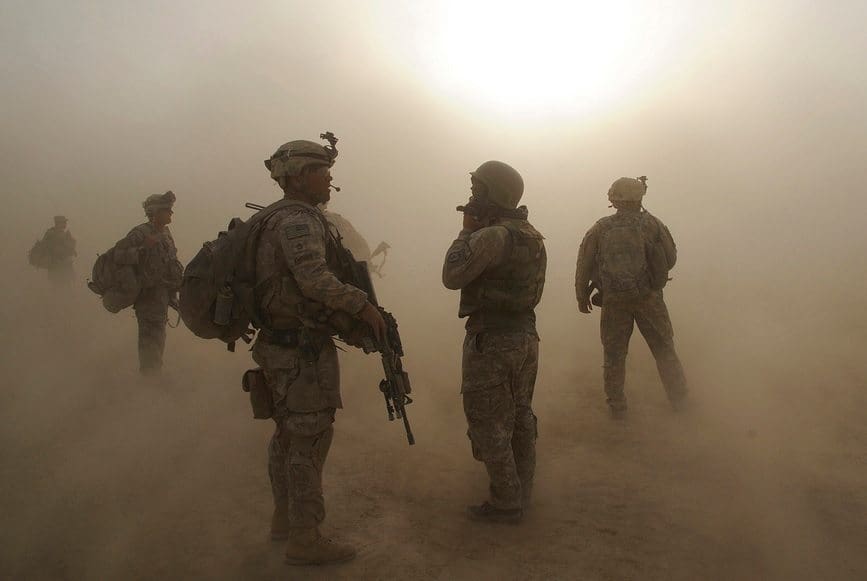 Support us and go ad-free
War is on many people's minds at the moment. But whilst most of the public are focused on wars of the past after the release of the Chilcot report, our leaders are plotting one for the future. And, if their rhetoric is anything to go by, it's going to be on a scale we have never seen before.
So, where's the media flurry? Or the political fire being shot across the Commons over the issue? It's nowhere to be seen. And that glaring oversight, or purposeful omission, could be what lets us sleepwalk into World War III.
The 'peacekeepers'
On 8 and 9 July the North Atlantic Treaty Organization (Nato) held a summit in Warsaw. As always for the military alliance, defence was firmly on the agenda. At the top of Nato's list of "challenges and threats" was Russia, billed even above the 'existential' threat of terrorism.
Russian aggression, according to Nato, is threatening the alliance's "long-standing goal of a Europe whole, free, and at peace". And so, in response, Nato has pledged to build up a hefty military presence directly on Russia's borders. As always, those at the helm claim more aggression (and money) is essential in the pursuit of peace.
But is it really peace that Nato is after?
Aiming high
Read on...
Support us and go ad-free
Nato was formed in 1949 in the wake of WWII. Initially, its primary focus was Russia, and the creation of an alliance capable of taking on the red 'bear' where necessary. When the Berlin Wall fell, and the Soviet Union dissolved, Nato needed to justify its continued existence. So, the alliance expanded and turned its gaze to other 'peacekeeping' missions, such as bombing Yugoslavia during the 1999 Kosovo war.
But as Nato was born from grand – and woefully dangerous – geopolitical conflict, it seems that is where it is now returning.
The US is one of the founding, and most influential, members of Nato. Understanding US military policy at any given time provides a useful lens through which to understand Nato actions. And, as The Nation recently reported, right now the US is thinking big.
The Nation notes comments made on 2 February by Secretary of Defense Ashton Carter. Attempting to justify a $583bn defence budget for 2017, Carter explained:
today's security environment is dramatically different than the one we've been engaged in for the last 25 years
For the last 25 years, Carter noted, US defence has largely focused on insurgent forces, like the Taliban or other extremist groups. But now the US is gearing up for "a return to great-power competition" with "high-end enemies", such as Russia and China.
The US Secretary of Defense now admits that the US is preparing for direct, large scale warfare with nuclear capacity countries.
And Nato has just pronounced it will build up a physical military presence which virtually surrounds one of those countries – in violation of a longstanding agreement with Russia.
This could have cataclysmic consequences. So, why on earth is it happening?
It's all in the game
Plenty of articles can be found in the western hemisphere detailing why such provocations are necessary. One of the primary causes often cited is Russia's annexation of Crimea. However, as we have previously covered, the unrest in Ukraine, which resulted in the annexation, is somewhat more complicated than 'Putin did it':
Russia's interference has been well documented in the media, but meddling by the West has received less coverage. Acclaimed journalist John Pilger, whilst writing about the recent re-emergence of fascism on his website, notes that 'the Obama administration splashed out $5 billion on a coup against the elected government [of Ukraine]. The shock troops were neo-Nazis known as the Right Sector and Svoboda. These fascists are now integrated into the Kiev coup government. On February 14, Parubiy [first deputy speaker and co-founder of Svoboda] announced he was flying to Washington get 'the USA to give us highly precise modern weaponry'. If he succeeds, it will be seen as an act of war by Russia.
Although pundits and politicians alike have condemned Putin for the unlawful annexation, those same people are conspicuously silent about the US' annexation of Guantanamo Bay in Cuba.
Another oft noted concern are the "large-scale snap exercises" and "provocative military activities" undertaken by Russia. While true, this is only half the story:
Rarely though, do we encounter such alarmist reports about our own aggression. The news of airborne military drills staged by Nato in 2015, which were the largest since the end of the Cold War, is calmly conveyed. The reporting on naval drills happening in September 2015, involving some 2,500 troops from 11 Nato-aligned countries, is scribed without even an exclamation mark. These exercises were in Ukraine, as were these, these and these. That's big news for Russia, even if it's not reported as such at home.
And as my colleague Sophia Akram recently reported, one such exercise was overtly Russia-centric:
Preparations for a new war with Russia are reflected in Nato's Anakonda 2016 war game, a massive military exercise involving some 31,000 troops and thousands of combat vehicles, and the BALTOPS 16 naval exercise in the Baltic Sea. Both exercises simulate a major conventional war with Russia.
There are faults on all sides – with each faction claiming reaction for any action they take. But in this tit for tat game, the stakes are quite literally nuclear. So, there is a desperate need for diplomacy, discussion and de-escalation.
Otherwise this could end in catastrophe, a notion that even Putin himself has openly acknowledged. Speaking to foreign journalists, the Russian leader said:
Your people in turn do not feel a sense of the impending danger – this is what worries me. How do you not understand that the world is being pulled in an irreversible direction?
As The Intercept recently reported, US President Barack Obama, appearing to understand the dangers, instructed US Nato commanders "not to start a war" with Russia over Ukraine.
But this was met with dismay from Nato Supreme Commander Phillip Breedlove, whose leaked emails suggest he was doing the opposite: plotting ways to overcome Obama's reluctance to escalate tensions.
No wonder the US is preparing for a "return to great-power competition" as, in this instance, the 'peacekeeping' alliance was pushing for exactly that.
The geo-strategic forces at play here are quite clear. Globalisation continues, but our world is becoming increasingly geopolitically splintered. On the one side there is the west, with its political, economic and military alliances. On the other is the east, involving the likes of Russia, China, Iran and Syria – with its own alliances.  These two giant forces are increasingly at loggerheads, with different factions pushing for dominance.
Whoever is ultimately 'right' or 'wrong', the outcome of continued provocation is crystal clear. Nato is eagerly skirting the precipice of a global conflict of nuclear proportions. And if the involved parties don't back down and engage more rationally, we will all face the devastating consequences of these actions.
The age of empires is over, no matter how large or small. And we desperately need our leaders, and military cheerleaders, to face this reality before they drag us into a conflict to end all wars. Our future depends on it.
Get involved!
Take action against the militarisation of our world with the Stop The War Coalition.
Show your support for Veterans for Peace, who are fighting for peaceful solutions to the world's problems.
Support The Canary so we can continue to bring you this news.
Image via ResoluteSupportMedia/Flickr
Support us and go ad-free
Do your bit for independent journalism
Did you know that less than 1.5% of our readers contribute financially to The Canary? Imagine what we could do if just a few more people joined our movement to achieve a shared vision of a free and fair society where we nurture people and planet.
We need you to help out, if you can.
When you give a monthly amount to fund our work, you are supporting truly independent journalism. We hold power to account and have weathered many attempts to shut us down and silence the counterpoint to the mainstream.
You can count on us for rigorous journalism and fearless opposition to an increasingly fascist government and right wing mainstream media.
In return you get:
Advert free reading experience
Behind the scenes monthly e-newsletter
20% discount from our shop
Fund us