Trump shut down federal government services because he wants to deport 800,000 people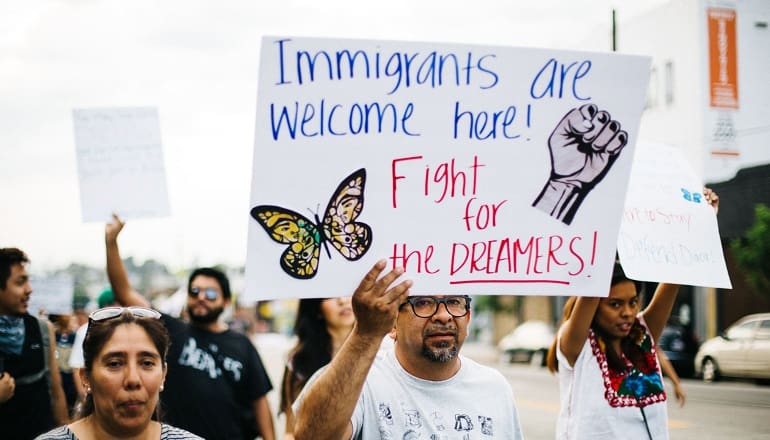 US federal government services were shut down from 20 January until 22 January because of a Senate stalemate. And the main issue that led to the breakdown in talks was immigration. In particular, the fate of around 800,000* immigrants who arrived in the US with undocumented parents is driving the divide.
The status of the so-called 'dreamers' (children of illegal immigrants) has been protected until now. But Donald Trump wants to remove their protections. And whether to legalise the status of 'dreamers', many of whom are now adults, is at the heart of the dispute.
The shutdown
Hundreds of thousands of federal workers were told to stay at home with no pay as the shutdown took place. Essential services like air traffic control were working, but those considered 'non essential' were not. National parks, attractions and local government services were all affected.
The shutdown came about because senators failed to agree on a temporary budget deal; which would have secured federal funding for the next couple of months. It lasted until congress was able to agree on spending plans.
White House spokesperson Sarah Huckabee Sanders accused Democrats of holding "our lawful citizens hostage over their reckless demands".
Continue reading below...
A "cruel" removal threat
The Deferred Action for Childhood Arrivals (DACA) programme was set up by President Obama in 2012 to provide protection from immediate deportation. Over 800,000 children brought to the US benefited from the programme. Now, they are being threatened with removal if Trump gets his way.
Even Facebook CEO Mark Zuckerberg has weighed in, saying:
The decision to end DACA is not just wrong. It is particularly cruel to offer young people the American Dream, encourage them to come out of the shadows and trust our government, and then punish them for it.
Democrats had vowed not to reach a deal unless dreamers were granted protection. But they eventually approved federal funding without honouring that promise.
The shutdown ended late on 22 January, but the dreamers' nightmare has just begun.
*CORRECTION: This article was updated at 9:56am on 24 January. It originally spoke of 80,000 people at risk of deportation. The figure is actually closer to 800,000.
Get Involved!
– Sign the petition to protect the Deferred Action for Childhood Arrivals.
Featured image via Molly Adams 
Since you're here ...
We know you don't need a lecture. You wouldn't be here if you didn't care.
Now, more than ever, we need your help to challenge the rightwing press and hold power to account. Please help us survive and thrive.
Support