When a 'ceasefire' in Gaza is barely a ceasefire at all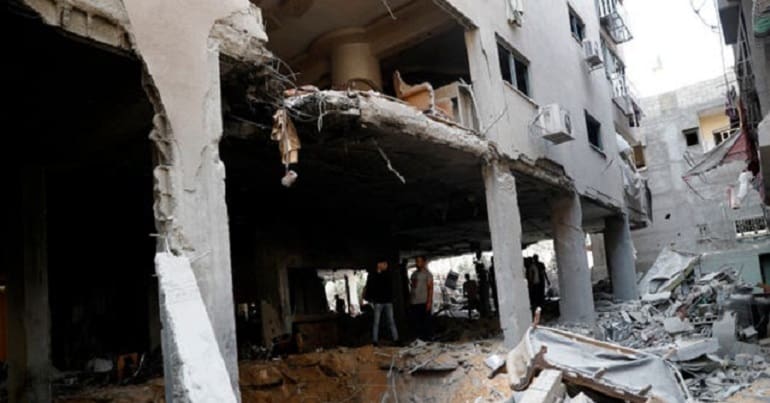 The Israeli government and Hamas have agreed to a ceasefire. It ends 11 days of violence. But when you look at the detail, the deal has left the situation in Gaza and the occupied territories on a knife edge. And moreover, it does nothing for Israel's illegal occupation.
11 days of carnage in Gaza
As PA reported, Israel accepted the Egyptian proposal after a late-night meeting of its security cabinet. Hamas quickly followed suit and said it would honour the deal. Egypt's state-run MENA news agency said the truce took effect at 2am local time. This was roughly three hours after the announcement.
Over 11 days, Israeli forces killed around 230 Palestinians in Gaza, including 65 children. They wounded a further 1,710 people. PA reported that 58,000 Palestinians have fled their homes. Many of them sought shelter in crowded UN schools at a time of a raging coronavirus outbreak. Save the Children said Israeli bombing damaged over 50 schools in Gaza. It has completely destroyed at least six. This will disrupt nearly 42,000 children's education. The World Health Organisation (WHO) said Israeli attacks also damaged at least 18 hospitals and clinics and destroyed one health facility. Gaza has run out of nearly half of all essential drugs. Meanwhile, in the occupied territories inside Israel, forces have killed over 20 Palestinians.
Israeli authorities said Hamas and other militant groups fired over 4,000 rockets at Israeli cities from Gaza. It reported that hundreds fell short and that its Iron Dome defence system intercepted most of the rest. Hamas rockets killed 12 people in Israel, including a five-year-old boy, a 16-year-old girl, and a soldier.
So, a ceasefire has been sorely needed.
British politicians speak
In the UK, politicians reacted with predictable obtuseness. PM Boris Johnson tweeted that:
I welcome news of a ceasefire in Israel and Gaza. Leaders in the region must now work to find a durable solution to the Israeli-Palestinian conflict that prevents terrorism, ends the cycle of violence and delivers a sustainable and just peace.

— Boris Johnson (@BorisJohnson) May 21, 2021
Johnson's passive words were echoed by Labour's shadow foreign secretary Lisa Nandy. She said in a statement:
Rocket attacks and indiscriminate violence spread terror and sustain enmity and distrust. Forced evictions and illegal settlements have made the prospect of a viable two-state solution an all too distant reality.
Both politicians painted a picture of a somehow equal situation – as if the nuclear weapons-holding, militarily superpower Israel was reacting to them. As The Canary reported, this was not how the current violence began. Meanwhile, the reality is that the situation in Gaza and the occupied territories remains precarious.
A ceasefire with no terms
As journalist Mairav Zonszein noted:
There are no terms to the ceasefire – it is just a mutual cessation of fire. Quiet for quiet. So it's actually once that goes into effect that things become in some ways even more tense. And if and what Hamas and Israel agree on is what will matter.

Hamas has demanded two things in this war: That Israeli forces stop incursions into the Al-Asqa compound and stop the forced evacuation in Sheikh Jarrah neighbourhood…

When you look at Hamas' demands – that Israeli forces stop incursions into Al-Asqa compound and stop forced evictions of Palestinians in Sheikh Jarrah, they are entirely rational.
In other words, this ceasefire is a halt to both sides' immediate military operations, but with no concessions from either side. So, the slightest incident could send things spiralling out of control once more. And what the ceasefire also fails to do is change the long term situation in Gaza and the occupied territories.
No end to the illegal occupation
As Double Down News tweeted:
Ceasefire Declared after 11 days

Blockade on Gaza: 14 years

Occupation of Palestine: 54 years

The Silent War Continues…

— Double Down News (@DoubleDownNews) May 20, 2021
It remains to be seen how long the ceasefire will hold. It's highly likely that Israeli settlers will continue with their illegal evictions of Palestinians. And by 12pm on Friday 21 May Israeli forces had already stormed Al-Aqsa mosque:
BREAKING: Israeli forces storm Al-Aqsa Mosque compound launching tear gas and stun grenades at worshipers. Back to square one?

— Arwa Ibrahim (@arwaib) May 21, 2021
So, violence will probably resume. Far from being welcome news – the ceasefire is really little more than a pup being sold as progress. Because Israel's continuing illegal, apartheid occupation of the Palestinian people in Gaza and the West Bank looks set to continue unabated into the future.
Featured image and additional reporting by PA
Fund our Investigations Unit
You can help us investigate corruption, expose injustice and uncover the truth.
As one of the only independent investigations units in the country, we work for you – but we need your help to keep going. We need to raise £10,000 to continue our groundbreaking investigations. Can you chip in?
Fund us