The week in satire Vol. #2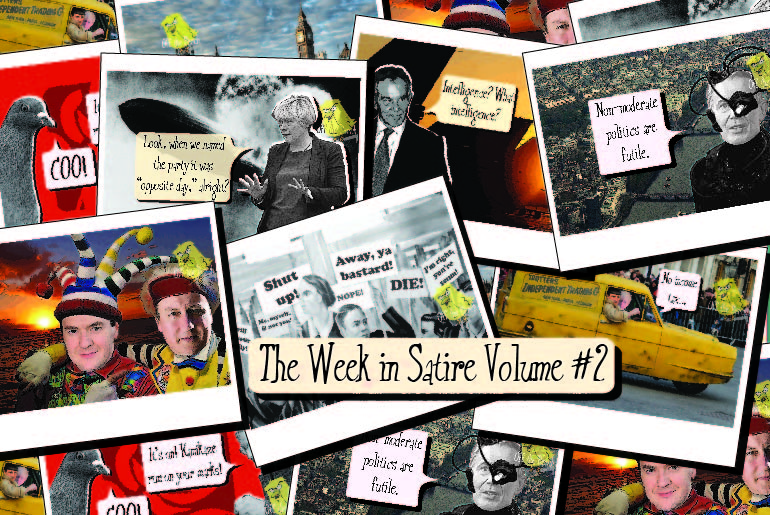 Support us and go ad-free
And what a week it was!
A week which saw the demise of Boris Johnson's political ambitions, the rise of Michael Gove's political treachery, and the flat-lining of tactical thinking in the Parliamentary Labour Party.
But what else happened?
Let's look back and see:
Boris seen frantically Googling 'what happens if we leave the EU?'
by John Shafthauer
Read on...
Support us and go ad-free
As Brexit began to look more and more like a distinct possibility last night, Google Trends reported a 250% spike in people searching for the term 'what happens if we leave the EU.'
What Off the Perch can now reveal is that almost all of these searches were carried out by Boris Johnson, as the potential PM had apparently failed to formulate any sort of post-Brexit strategy.
We spoke to one of the interns that Boris has roped in to help him come up with a plan – one Larry Lastminute:
LL: "We've all been there, right? It's like when I got stuck up a tree that time, and I thought – 'well I'm not into this' – so I just fell backwards out of it and hoped for the best."
OTP: "What – like immediately? You didn't try to work out if there was a safe way of climbing down?"
LL: "Waste of time. And anyway, I knew that there were quite a lot of people underneath the tree, and that one or more of them would cushion my fall. In the end, it was six and a half of them."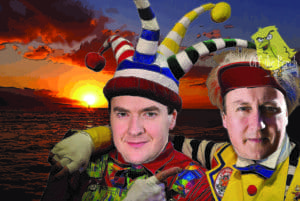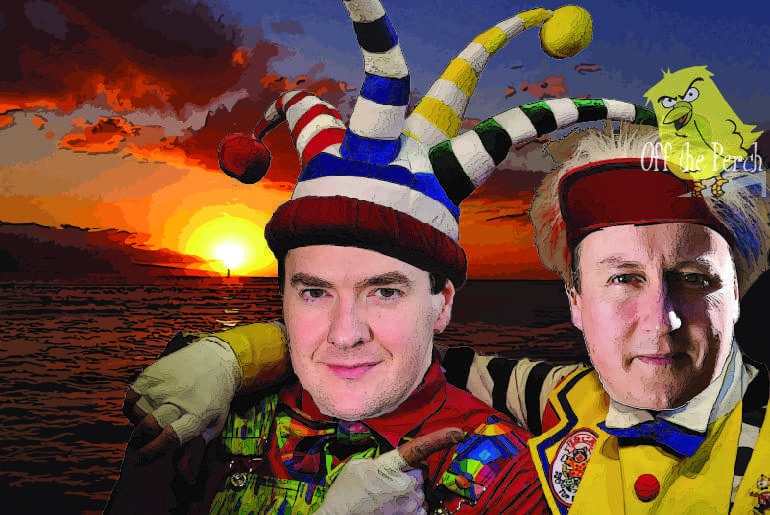 Cameron and Osborne are plotting post Brexit careers, and Off the Perch has a few suggestions
by John Shafthauer
And so David Cameron and (probably) George Osborne are gone – the result of a referendum that Cameron called himself – a lengthy and undignified spectacle which unfolded like a man slow-motion punching himself in the crotch.
But what's next for the derelict duo?
Here are some of our top suggestions:
SCARECROWS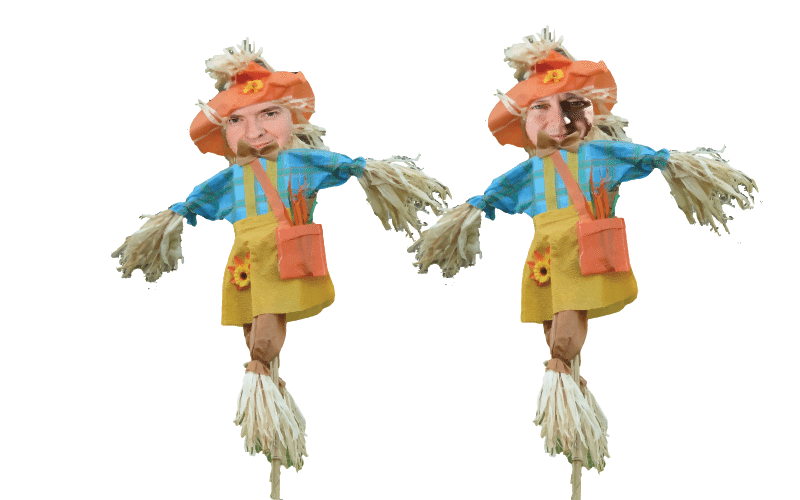 Although their ability to scare away birds is likely to be minimal, this referendum has shown that they do repel one group, and that's voters. As such, George and Dave could could get a cushy job as scarevoters – the idea being that politicians would prop these two up in front of their enemies' campaigns to ward off the electorate.
You might think that this sounds like a bit of a silly notion, but remember that people have been doing it with Tony Blair for years.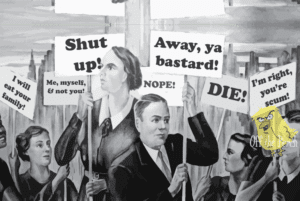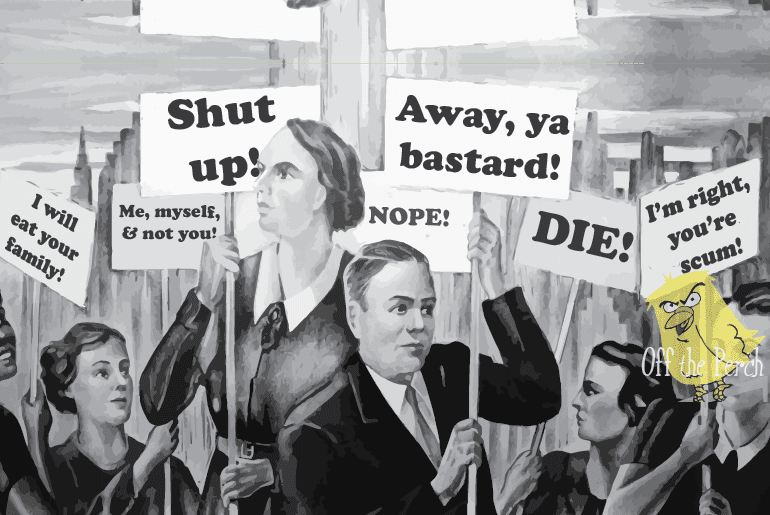 Individual UK residents want independence from each other next
by John Shafthauer
Following a successful Brexit campaign, voters on either side of the referendum campaign woke up on Friday feeling like they still weren't quite independent enough.
Within minutes of the Brexit announcement, there were already calls for the United Kingdom to be broken up. Initially these came from Scotland and Northern Ireland, but later Sadiq Khan began trying to assess if London could secede from the country too.
Sadiq Khan:
It's weird, because I did actually vote to remain, but after I saw the results I thought to myself – 'I don't want to live in this country anymore.'

And so that's it – see-ya, England – London's joining Europe, so you'll have to find somewhere else to send all of your most annoying people to live.
The rot didn't stop there, however, and not long after that, several other prominent regions called for independence from the UK. The current theory is that the hate-filled campaigns led by Cameron and Farage were so divisive that people are fed up to the point that they simply can't stand the sight of one another.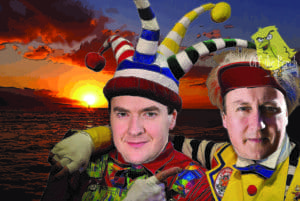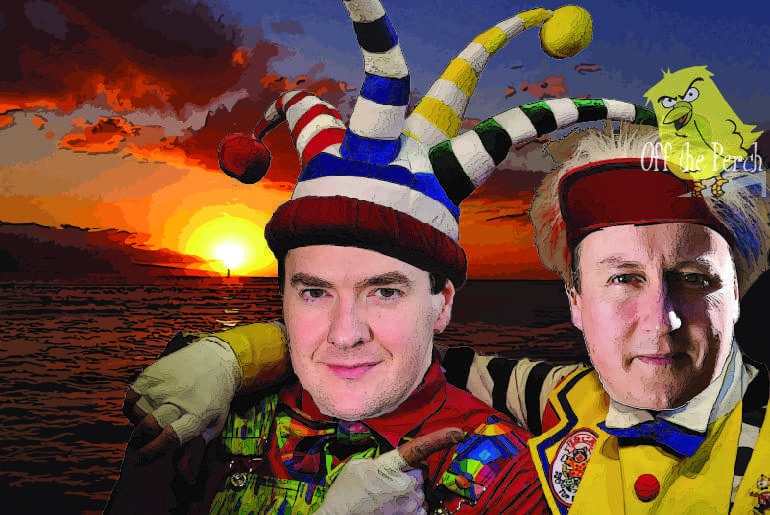 George Osborne found slumped in Camden pub after 48 hour post-Brexit disappearence
by Kerry-anne Mendoza
After a 48 hour disappearance following the Leave vote in the EU Referendum, UK Chancellor George Osborne has been found slumped in a Camden pub.
Mr Osborne had not been seen in public since the night of the EU vote, and the subsequent resignation of his long term political ally David Cameron. Mr Osborne was slated to have replaced Cameron as Prime Minister in the event of a Remain vote. But in the wake of the choice to Brexit, his political career lay in tatters. Having released just two tweets since, concerns were growing about where on earth the Chancellor had absconded.
Theresa Fogg, landlady of the Twisted Thistle pub in Camden, told Off The Perch:
I didn't realise it was him at first, what with the bermuda shorts and vest he was wearing. It was only when he started swearing at the telly when that SNP woman (Nicola Sturgeon) came on this afternoon that I put two and two together."
Mrs Fogg put a call in to Conservative Headquarters immediately, but by the time his team arrived, the pub was filled with press. Mr Osborne was slumped over at a corner table, the remnants of his lager shandy soaking into his vest.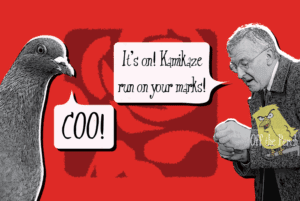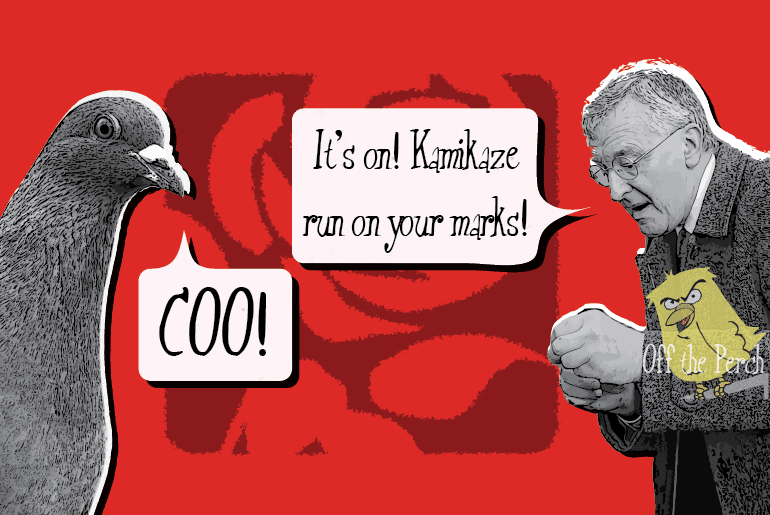 Claims the Labour coup was accidentally triggered by a pigeon
by John Shafthauer
Reports are coming in that the coup that's wafting through the Labour party like a fart in a job interview was triggered accidentally by a cooing pigeon.
The chain of events began when Hilary Benn was sitting at home listening to his recording of The Most Rousing Speech of the 21st Century™ – a speech which he himself had given in support of the Syrian war.
"I wonder what ever happened with all that?" Benn asked his aide – unaware that the case for war was quickly exposed as being 50% lies and 50% bullsh*t, and that ultimately we just bombed some empty fields a few times and then stopped talking about it.
Before his aide had a chance to answer, however, Benn heard the sound of a pigeon outside his window.
"Coo," it called. "Coo."
"It's happening," Benn shouted – his fingers tightly gripping the arms of his chair. "It's happening!" – and before his aide could explain that it was just the errant call of a local sky-rat, Hilary was off.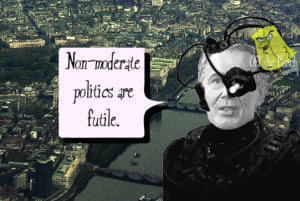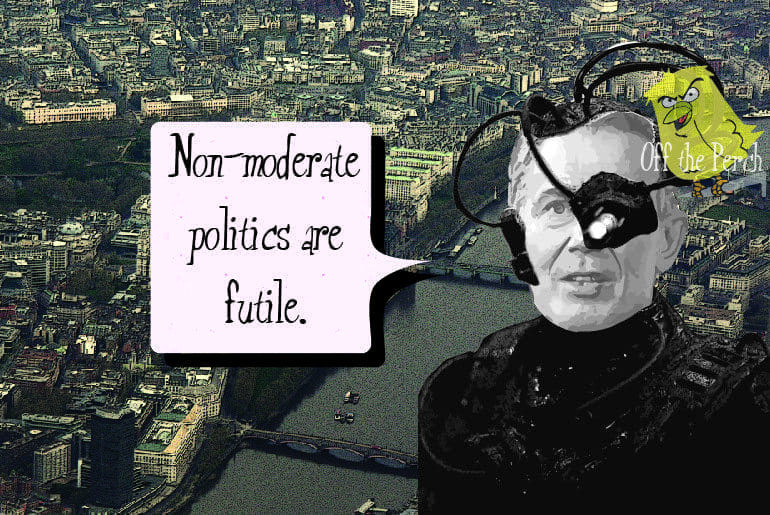 Thinking your politics are 'moderate' is like thinking you have no accent, study finds
by John Shafthauer
A recent study has deduced that thinking your politics are 'moderate' is similar to thinking that you have no accent – ie it's patently wrong and actually just a little bit dim.
Here's the head researcher from the study with more:
Firstly we began by looking at some of the politicians who have been described as 'moderates' over the years.

The most obvious example was Tony Blair – the man who reasonably plunged us into decades of unnecessary debt by using PFIs to fund infrastructure – the man who level-headedly dragged us into an illegal war to impress an idiot – and also the man who sensibly and practically went on to make millions of pounds lecturing people on why they're doing a terrible job of cleaning up his mess afterwards.

What we noticed, however, when we removed the adverbs 'reasonably', 'level-headedly', 'sensibly', and 'practically', was that none of those things were moderate at all – they were all in fact batsh*t bonkers.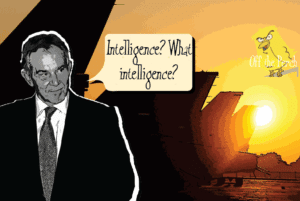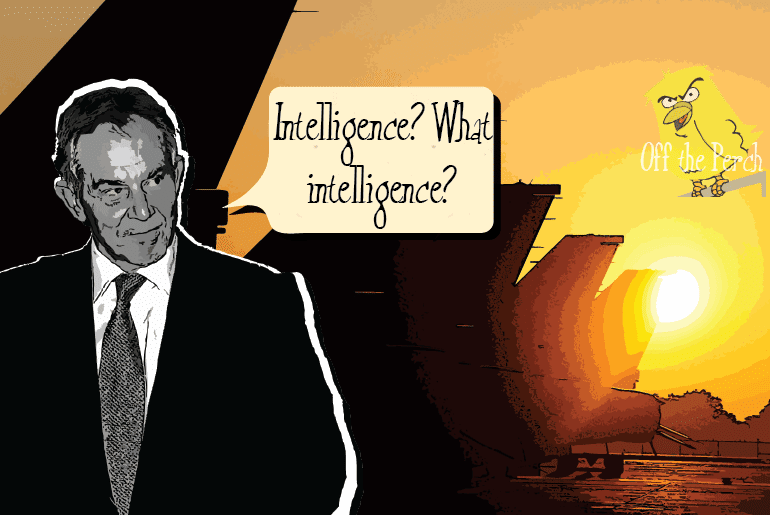 Tony Blair seen practicing symptoms of memory loss
by John Shafthauer
As the attempted Labour coup seems to have only enraged and enlarged the party's membership, Tony Blair has been left in a precarious predicament this week, as we enter the 7-day countdown to Chilcot.
The Chilcot Inquiry into the Iraq War is likely to point the finger at Blair, and from what we hear it won't simply be the one finger either – the full report allegedly thrusting multiple digits in his direction – as well as a few toes and some other extremities.
The main problem for Tony, however, is that Labour are currently afflicted with a leader who would like to see Mr Blair treated like the war criminal he's already sort of come close to admitting he is:
I'm accused of being a war criminal for removing Saddam Hussein – who by the way was a war criminal.
The problem with Tony's logic is that it isn't legal to perpetrate crimes against people based on what sort of criminal they are, as the English legal system is based on justice rather than irony.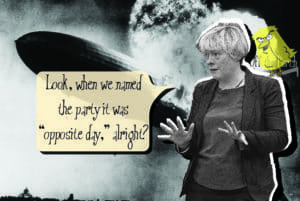 "We're not here to represent the labour movement," claim Labour MPs
by John Shafthauer
The MPs of the Labour Party have come together in solidarity this past week to demonstrate once and for all that they're not here to represent the interests of…
…the labour movement…
…err..
Although this sounds oxymoronic, the move does support the idea that whilst under the stewardship of Tony Blair, the party giddily bleached its roots to death with the unthinking abandon of a trainee hairstylist.
Many believe that this was Labour's move to become part of the permanent political class – said class being a perpetual-motion machine of neoliberal horror that sustains itself in the vortex between politics, business, and the media by limiting the scope to argue for anything better.
If you want a simpler explanation of what the permanent political class is, there's an episode of The Simpsons in which they realise that the power to the Kwik-E-Mart hotdog machine has been turned off, and that the hotdogs are spinning round as a result of the chemical power generated by their own foulness.
The permanent political class is a lot like those hotdogs.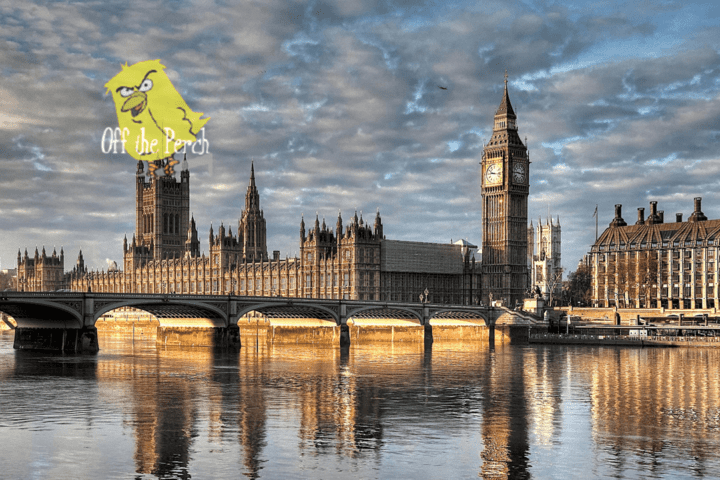 Houses of Parliament to be converted into luxury flats
by John Ranson
Off The Perch has learned that a radical solution is being proposed for the maintenance crisis at the Houses of Parliament. The whole site is to be sold for development, and the people who supposedly run the country are just going to have to make their own arrangements.
A joint Russian-Qatari consortium has purchased the entire Palace of Westminster estate, for a single British pound –  and a promise from England not to send a football team to the next two World Cup finals. The consortium will be responsible for all development and maintenance costs moving forward.
Robinia Blynde, a spokesperson for the consortium, informed Off The Perch that they expect to recoup the costs of redevelopment within about two years, given the ridiculous state of the London property market. The repair bill is also likely to be lower than first thought as:
Given the expected slashing of EU red tape, we should be able to get away with leaving all the asbestos where it is.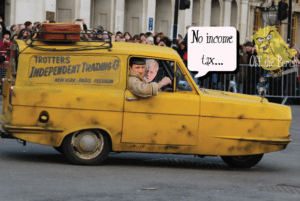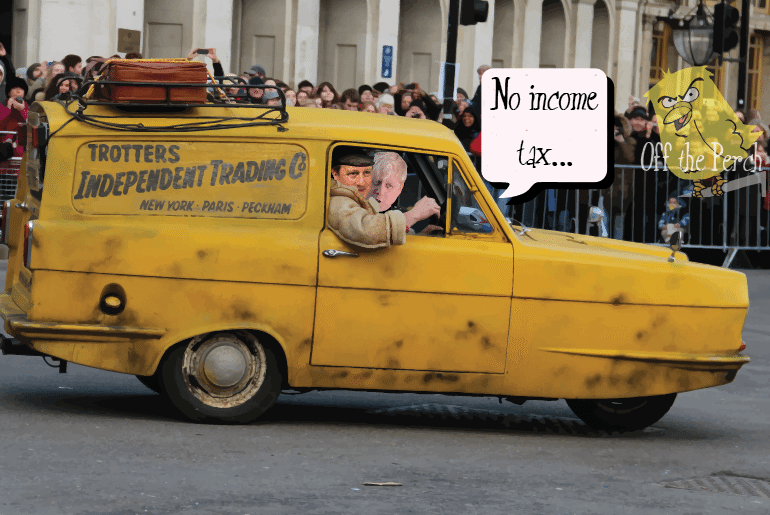 Cameron & Boris to star in 'Only Fools and Horses' reboot
by John Shafthauer
Having found themselves unexpectedly out of work as a result of their own short-sighted pig-headedness, David Cameron and Boris Johnson have been pondering what the future holds for them next.
They didn't have to wait long to find out, however, as an offer has already come in from their good friends at the BBC – an offer for the hapless conmen to feature in a reboot of 'Only Fools and Horses.'
We spoke to the BBC's Head of Insidious Tory Agenda Promoting Programming to find out what to expect:
What people are crying out for right now are fresh, new ideas that go against the establishment. With that in mind, we decided to remake an old programme and fill it with figures from the establishment. Our logic is that if people love to be anti-establishment, then they'll really love being anti-anti-establishment. – probably at least twice as much.

The new series will be a lot like the original – with the Trotters pulling off a series of obvious and fruitless cons, only instead of working from a tower block, they'll be running the country, and instead of driving a Robin Reliant into the ground, it'll be the NHS.
Images in story and featured image via Flickr / Flickr / Flickr / Wikimedia / Flickr / Wikimedia / Flickr / Flickr / Flickr / Flickr / Flickr / Flickr / Flickr / Flickr / Wikimedia / Flickr / Flickr / Flickr / Flickr / Flickr / Flickr /  Flickr
Support us and go ad-free
We know everyone is suffering under the Tories - but the Canary is a vital weapon in our fight back, and we need your support
The Canary Workers' Co-op knows life is hard. The Tories are waging a class war against us we're all having to fight. But like trade unions and community organising, truly independent working-class media is a vital weapon in our armoury.
The Canary doesn't have the budget of the corporate media. In fact, our income is over 1,000 times less than the Guardian's. What we do have is a radical agenda that disrupts power and amplifies marginalised communities. But we can only do this with our readers' support.
So please, help us continue to spread messages of resistance and hope. Even the smallest donation would mean the world to us.
Support us