Mexico offers to build the USA four walls and a ceiling if Trump wins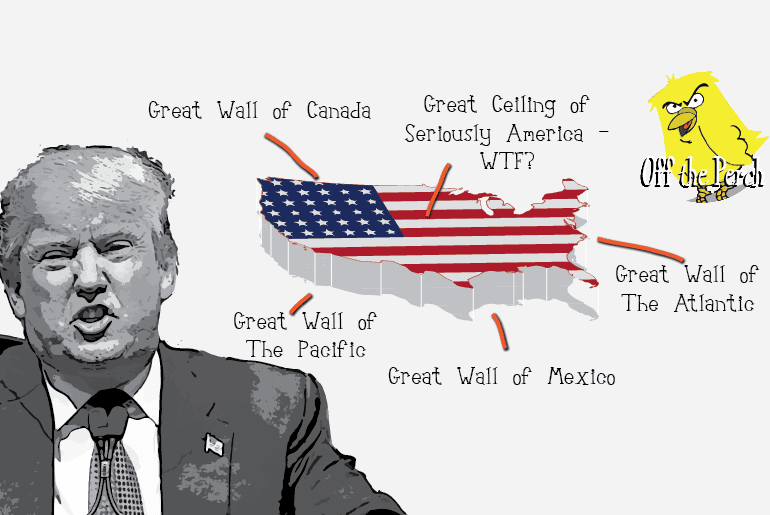 Support us and go ad-free
Although initially hesitant, Mexico has finally agreed to build the 'Great Wall of Donald' that will prevent Mexicans from entering America. Quite why Trump felt that the people he'd accused of being conniving rapists were the best people to take care of constructing America's safety barrier is unclear, but here we are.
Beyond this first construction, Mexico has also announced that with the backing of over a hundred countries, it will also be able to build the US three more walls. And a ceiling.
Some Trump supporters were wary of the offer, as can be evidenced by the words of a young gentleman we interviewed in Texas:
If there are walls on every side and a ceiling on the top, then there'll be… I don't know. But that seems like it will be a lot of walls! Will the sun be under the walls with us, or will we have to get a new one?
Mexico reassured Trump supporters with the following statement:
You know what you get from the East and West coast? Waves. You know what you get from above you? Solar rays. You know what you get from every direction? Wind. You know what all these things have in common? They're all renewable energies. And do you know who invented renewable energy? Barack Obama. Mmm hmm. Do what's right, people. Make America pitch black and walled-in again.
Some Trump supporters were surprised to learn that President Obama had invented the sun:
Read on...
Support us and go ad-free
I thought I remembered there being sunshine when I was younger, but with all the immigrants and the solar panels, I guess I could have gotten confused. Probably it was just the moon, and back then the moon came out during the day, and it looked exactly like the sun. Goddamn Obama – give us back our moon!
But Trump supporters were less surprised to discover that Obama holds dominion over the wind:
I was at the beach one day, and I felt a gentle breeze coming in from over the sea. That was when it hit me of course – that if the wind was coming from the Pacific, it must have travelled to America from the East. A second later, I realised that my body was filled with treacherous foreign air, and all because the Democrats refuse to build a giant fence in the middle of the sea to stop it. Obviously I had no choice, and so I held my breath to prevent it getting inside of my body. I was in a coma for 6 months. Goddamn Obama.
The President has of course denied that he is a master of the elements, but his assertion has not been enough to convince Donald Trump:
This guy – this Obama. How do we know that he can't control the weather? Where's his certificate to say that he doesn't command the tides? I know that we've all got certificates to confirm we're not sky warlocks, so where's his? I myself have got such a great certificate – I can't even say. Just a really great certificate. Like really. Top notch. Just great.

*EXCITED WHOOPING FROM THE CROWD*

Can you see my certificate? Well it wouldn't be very smart of me to show you my certificate, and I'm a smart guy. If you were a smart guy, you'd understand that too. You know who isn't a smart guy, though? Obama. And that's why we need to see his certificate. Where's his certificate?

*RAPTUROUS APPLAUSE*
It's unclear when and if Trump finished his speech, as the Mexican government completed construction of the Great Concrete Dome of America while he was carrying on with himself.
Hillary Clinton has since complained that she could have won the presidential race, and that she almost certainly would have been "less worse" than Trump. It was agreed, however, that she wasn't quite "less worse" enough. So yeah – soz Hillary. Maybe try not being so terrible next time.
Featured image via Flickr
Support us and go ad-free
Fund our Investigations Unit
You can help us investigate corruption, expose injustice and uncover the truth.
As one of the only independent investigations units in the country, we work for you – but we need your help to keep going. We need to raise £10,000 to continue our groundbreaking investigations. Can you chip in?
Fund us