The week in satire Vol. #51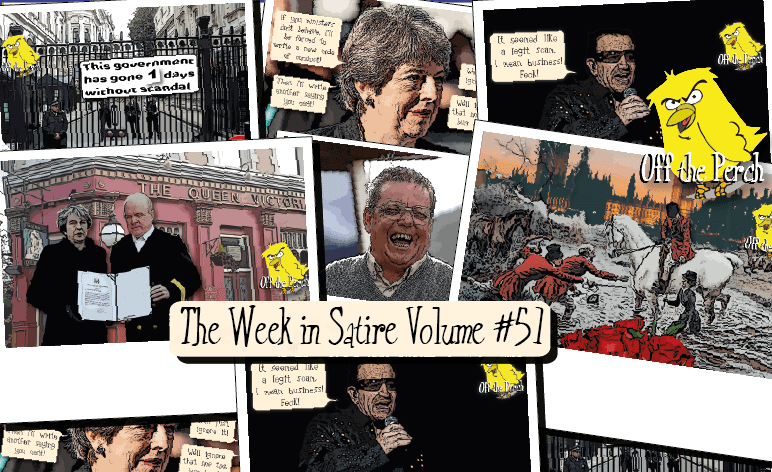 Support us and go ad-free
And what a week it was!
A week in which a smiling Priti Patel was allowed to resign from her job! A week in which a smiling Boris Johnson was allowed to keep his! And a week in which a gurning Theresa May was forced to carry on being PM by whoever's holding her final horcrux!
But what else happened?
Let's look back and see!
Tax avoidance is 'perfectly legal', gloat people who make the law
As another tax avoidance scandal is breaking out, people are once more being reminded that the practice is perfectly legal. A fact which has prompted many people to ask:
Err… why is it legal again?

Read on...

Support us and go ad-free
Tory tax
The Tory donor and 48th in line to the throne, Lord Trough-Gorger, made a statement on the matter:
The idea that I'm not paying anything is ridiculous. I have to donate regularly to the Tory Party for one, and that's sort of a tax. I certainly wouldn't get away with as much avoidance if I didn't give them a taste!

I also worked jolly hard for that money. I mean, I personally didn't. But the people I employ did. Or at least the people under them anyway.
Royal flush
Even the Queen has been implicated in the latest scandal, which forced her to say:
Do you really think I'm able to keep track of what all my money is doing, you spiteful little peasants? It's only £10m, for god's sake – that's less than I spend in a year on temporary tattoos.
The Queen showed off her latest tattoo at that point, which depicted popular crooner Bryan Ferry.
She also added:
What did you think 'God Save the Queen' was about if not sparing me from the taxman?
Reform
When asked if the party would reform tax avoidance rules, a Tory spokesperson said:
Of course! We can't wait to betray all of the donors who only give us money because we keep the system rigged in their favour.

Oh, man – did I just say that out loud? There are too many scandals today.
Expect them to announce something soon. Just like they announced something after the last avoidance scandal. And the one before that. Etc, etc.
Bono shocked to learn the Lithuanian shopping centre he invested in was a bit dodgy
This week, folks were surprised to learn that many of the richest people are avoiding paying tax. Although obviously, by 'surprised' I mean 'not surprised at all and really fucking angry'. With the only person who's actually claiming shock being Bono.
Rock and roll
Bono explained his innocence on MTV (if MTV is still even a thing?):
Look, I know it looks weird that I'm an investor in a Lithuanian shopping centre. But it isn't. Okay?

This is standard rock and roll stuff. It's where the saying 'sex, drugs, east-European infrastructure, and rock and roll' comes from.

I ended up getting into it after a three-day investment bender I went on with Sting and Bob Geldof. It was wild! Sting ended up becoming a majority shareholder in an Albanian pork rendering plant: Geldof bought a minority stake in the Transylvanian power grid.

It was a real legendary session. I could feel the ghosts of Jimi Hendrix and Jim Morrison there with us.
Stuck in a moment
Of course, the real victims of the Paradise Papers are all the innocent multi-millionaires who simply had no idea what their money was doing. The wealthy men and women who handed their finances to some sleazy accountant or other and said:
Here you go. Turn this money into a shit-load more money, please – no questions asked. HAHAHAHAHAHAHA.
The poor fuckers.
Well, not 'poor', obviously. As there's still no danger of them suffering financially.
Just 'rich' fuckers basically.
Tories on horseback are set to assist police in the removal of homeless people from city centres
by Steve Topple
In the wake of another startling rise in the number of rough sleepers, the government has announced that Conservative Party members will be assisting the police with the removal of homeless people from city centres.
RELEASE THE HOUNDS!
Any Tory with hunt experience has been instructed to saddle up and get ready to 'release the hounds'. But the move will prove controversial, as the dogs involved will require costly training to be ready to bay for human blood.
Announcing the policy, Secretary of State for the Clearing of the Underclass, No-Good'uns, and Tramps (The Canary has chosen not to print the acronym), Lord Flashheart of Killemoff said:
Many of us were born into hunting, so it seems like only a natural progression that we assist police in clearing the homeless vermin from city centres. The homeless population needs controlling, and hunting with hounds is the fastest and least cruel method. Shooting could always injure rather than kill, and snares are indiscriminate. Old or ill homeless people are more likely to target easy prey for cash, like liberal students. But in turn, they are the most likely to be caught by hounds.
Tally-ho!
Off The Perch spoke to one young Tory, Tarquin Snortalot. And we put it to him that some people, and also possibly readers of The Guardian, may be outraged by the thought of hunting homeless people:
People don't understand that homeless people are pests. There's been a lot of argument that homeless-hunting is cruel, but it depends on your definition of cruelty. Shooting a rough sleeper can leave it in pain and distress, but when the hounds get it, it's dead pretty quickly.
More cereal cafes, please
The hunts are going to begin in the London Borough of Newham, where one in 25 people are now homeless. It is hoped that by clearing the rough sleepers from city centres, businesses like breakfast cereal cafes and yoghurt knitting shops will be encouraged to move in.
But with conservative estimates now putting the number of homeless people in England at nearly 300,000, the Tories will have their work cut out. Meanwhile, foxes everywhere are breathing a sigh of relief.
Ministers taking full advantage of May's inability to fire them
The government is so weak it could be toppled by a light breeze. In fact it's so weak it could probably be toppled by a light spray of Febreze. And the only thing holding it together is Theresa May's refusal to fire anyone.
The problem is that her ministers are realising how much power this gives them. And they've smelled blood.
Silly season
Off The Perch managed to sneak into 10 Downing Street, and what we saw there shocked us.
The new Defence Secretary Gavin Williamson had instructed the PM to hold up a dart board while he threw fried chicken at it. Although the chicken made for a poor projectile, Williamson didn't seem to care. It's "finger-licking funny" he shouted – in between taking hits off some sort of narcotics pipe.
Liz Truss, meanwhile, was drawing giant penises on the PM's curtains and giggling. Jacob Rees-Mogg was making everyone tea, but using the mid-morning teapot instead of the late afternoon one. This was, apparently, an incredibly rude thing to do. Although not as rude as what David Cameron was doing. The former leader had swung by to gloat about May stealing his record for being the shittest Prime Minister ever.
That wasn't the rude thing he was doing of course, but the less said about that the better.
Inhumanity
We spoke to a human behavioural scientist to find out more:
I usually only work with humans, but Tories are quite similar in some regards.

You've got to remember that many of these people were raised apart from their families by boarding schools and wolves. They have no sense of community, but they do have a keen eye for weakness, and they're ready to pounce on it like a Labrador on a dropped sausage.
National interest
It's quite clear that we can't have a government that is 90% scandalous. It's even more clear that such a situation is made worse by the government in question being a Tory one. Because these people can always – always – get worse.
Theresa May's government has just landed a role in EastEnders as its new, dysfunctional family
by Steve Topple
BBC One soap opera EastEnders has announced the arrival of a new dysfunctional family in Albert Square. And in a move to win the ongoing 'ratings war' with ITV's Coronation Street, BBC bosses have taken a bold move: they're introducing the 'Conservative Cabinet' family.
Anyone can fall in love…
The Cabinet will be led by matriarch Theresa. Her character, a battle-worn mum-of-three will be the archetypal EastEnders female. With a JPS Superking hanging limply from one corner of her mouth and her hair in permanent rollers, producers say she'll be known for her beige cardigans and handiness with a frying pan. But, as one producer told Off The Perch:
As soon as the Cabinet arrives on Albert Square, viewers will quickly see that Theresa's matriarchal image is little more than a facade. Unable to control her children, and the product of years of living in a loveless relationship with second-hand car salesman 'Call Me Dave', her family quickly begins to crumble around her. With betrayals from the uncle, an out-of-control estranged daughter-in-law, and sons who think of no-one but themselves, Theresa's strong and stable image soon begins to collapse…
Sun and rain; joy and pain…
BBC Gossip Editor Laura Kuenssberg reported that producers are mulling over numerous story lines, including:
The family's father figure, Philip, offering to bail out Mick Carter from his £60,000 debt at The Vic with money from an offshore tax haven.
Oldest son Jeremy poisoning Dot Cotton's All Bran in an attempt to get her into a private care home.
Younger son Damian getting caught by long-suffering wife Amber with Hot Thai Anal Brides streaming on his work iPad. Allegedly.
Damian's twin brother, David, persuading the Taylor family to do free work trials at the Minute Mart, in return for (literal) peanuts.
'Uncle' Boris getting caught up in a racism row, after telling Norwegian nanny Ingrid Solberg she's "taking British jobs".
Estranged daughter-in-law Priti making an explosive return after holidaying in Israel for six months.
Rees-Mogg, the Cabinet's self-important cat, becoming embroiled in a cross-breeding scandal with the Carter's pet dog, Lady Di.
Doof, doof…
EastEnders was unable to tell Off The Perch when the family will make their first appearance on our screens. But producers did say that they were waiting for the British public to "wake the fuck up and boot the actors out of their current jobs of fucking up the country".
Doof; doof; doof, doof doof, doof doof doof doof…
Government celebrates 1 entire day without fresh scandal
Theresa May's government has little to celebrate these days. In fact, if her government was a tub of Celebrations, it would be one in which the chocolates had been replaced with cat turds.
As such, May is being forced to celebrate even the most minor of achievements.
Huzah!
Appearing outside Downing Street, May told the gathered press:
A lot of people said we could not do it. But to them I say we have! We have gone a full day without a fresh scandal being exposed!
A journalist interjected at this point and asked if this was only because May had all her MPs tied up and held captive at Number 10:
"Preposterous!" May said in response, while laughing nervously.
 Unfortunately for her, a Tory big-beast managed to escape at that very moment – jumping out of a first floor window while gagged and without pants.
"Bloody hell," May grumbled, before updating the sign to read '0 days without scandal'.
Scandaland
Of course, it's important to remember that they only went one day without a fresh scandal.
Because pretty much every arm of this government is scandalous.
From the Health Secretary who wants to change the 'S' in 'NHS' to 'swindle; to the Trade Secretaries you wouldn't trust to go out and buy milk; to the Prime Minister who couldn't lead a conga line without heading straight for the nearest cliff like a lemming.
Get Involved!
– For more satirical news, you can also follow Off The Perch on Facebook and Twitter.
Featured image via Wikipedia / Pexels / Pixabay / Pixabay / Wikimedia / Wikimedia / Wikimedia / Wikimedia / Wikimedia
Support us and go ad-free
We know everyone is suffering under the Tories - but the Canary is a vital weapon in our fight back, and we need your support
The Canary Workers' Co-op knows life is hard. The Tories are waging a class war against us we're all having to fight. But like trade unions and community organising, truly independent working-class media is a vital weapon in our armoury.
The Canary doesn't have the budget of the corporate media. In fact, our income is over 1,000 times less than the Guardian's. What we do have is a radical agenda that disrupts power and amplifies marginalised communities. But we can only do this with our readers' support.
So please, help us continue to spread messages of resistance and hope. Even the smallest donation would mean the world to us.
Support us