The week in satire Vol. #58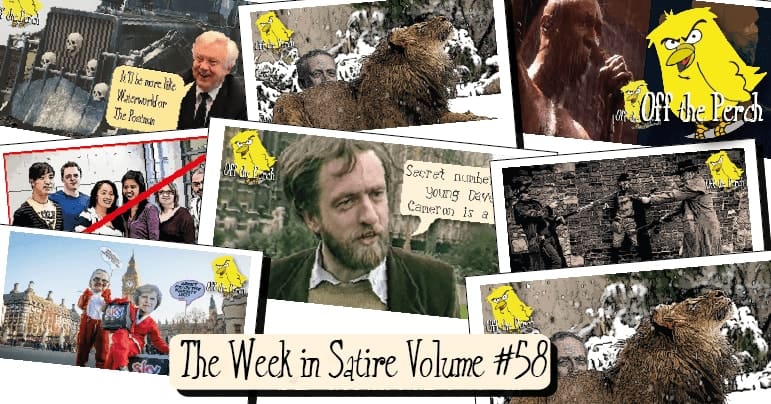 Support us and go ad-free
And what a week it was!
A week in which the Tories and right-wing media conspired to smear Jeremy Corbyn with some fantasist, cold war nonsense! A week in which Tory MP Ben Bradley had to apologise for spouting such piffle under the threat of libel! And a week in which the press complained that Corbyn threatening to sue the politicians who libel him is everything wrong with British politics!
But what else happened?
Let's look back and see:
Tories to solve tuition fee problem by just banning poor students outright
The government has admitted that tuition fees are disproportionately affecting lower-income students. And yet, despite the Tories' best efforts, these poorer students are still enrolling.
As such, the Tories have been forced to "ban the plebs altogether".
Read on...
Hard lessons
A Tory education minister told Off The Perch:
Teach a person some dubious statistics, and there's a good chance they'll vote for us. Teach them how to think independently, though, and they'll never vote Tory again.

This means that mass education is very bad for us. We tried discouraging the poor from enrolling with exorbitant fees, but they just signed up anyway.

It's almost like they're eager to learn and better themselves. Although I suppose that makes sense as, unlike us, these people aren't born perfect.
 The minister then excused himself to go and help Boris Johnson, who had allegedly got his arm stuck in a vending machine. Again.
We don't need no…
Of course, there are some instances in which commoners need to be educated. You wouldn't want the IT technician who wipes your browsing history to be an ignoramus, for instance.
As such, the government has proposed the following educational alternatives:
Pay as You Go Learning – basically using catchy branding to make people pay for their own on-the-job training.
Cigarette Learning – with lesson plans for bachelor degrees being given out with fag packets. Although it's unlikely that anyone other than 40-a-day smokers will ever complete a course, as material from a variety of subjects would be disseminated randomly.
Matrix Learning – with information being uploaded straight into people's brains. This has been put on hold, though, as it turned out it's not as simple as sticking a USB cable in someone's ear.
Reverse engineering
It shouldn't be too hard for the Tories to work out what went wrong with tuition fees. They're the ones who made such a mess of it, after all; and logically, they just need to work backwards…
Ideally to when they weren't in power.
The complete list of every secret Jeremy Corbyn leaked to the Soviets
The British tabloids have bravely reported that Jeremy Corbyn was a Soviet collaborator. And we say bravely, because no one else was courageous enough to report the accusations of a former spy who claimed to have arranged Live Aid on behalf of Czechoslovakia.
But what secrets did Corbyn sell?
What secrets did Britain even have?
A new leak has shed some light.
Dossier
Comrade Corbyn is alleged to have told Czechoslovakia the following:
Young Davey Cameron is a pie (they didn't know who this was).
Although potatoes can be good, ostentatious fun, it's worth remembering that they don't count towards your five-a-day.
Thatcher used the milk she stole from children to feed her army of genetically-perverted flying monkeys.
Walking is good exercise, but you have to do a lot of it.
Birmingham isn't real. It was invented in 1967 as a means of repelling tourists from the secret training facility of our Olympic curling team.
The government's attempt to grow a Tory super-politician went awry when the petri dish of genetic material was repeatedly contaminated with rat faeces and glue. As a result, PROJECT BORIS JOHNSON was deemed to be a failure.
UB40 was an MI5 front for smuggling Branston Pickle into Jamaica.
We do actually drive on the right side of the road. We just pretend not to when tourists are around for a laugh.
Yorkshire tea isn't even grown in Yorkshire.
Conspiracy
Some people are saying this comprehensive list of leaked secrets isn't very credible, as it was handed to the tabloids by a man who was wearing his underpants on his head. A spokesperson from The Sun responded by saying:
Where else would we get news from?
Brexit Britain 'won't be anything like Mad Max', claims Davis
by John Ranson
Brexit Secretary David 'Dave' Davis has confirmed that the UK after Brexit will have nothing whatsoever in common with the Mad Max films.
This comes as no surprise given that the series originated on a shoestring budget and was characterised by everyone pulling together to create something truly special.
Instead, Davis has indicated -in a rare moment of clarity, that Brexit Britain will more closely resemble such follies as Waterworld and The Postman. They stand as testament to the vanity of rich men and were characterised by everyone getting in a pickle and producing something truly woeful and unnecessary.
Briefing
Off The Perch understands that Davis's use of film metaphors stems from a classified briefing paper. Officials at the Department for Exiting the European Union (DExEU) wanted to summarise the impact assessments in a form Davis could actually understand. So they produced a list of possible outcomes:
OK, so admittedly it's an absolute liberal luvviefest, but everyone muddles along OK in a terribly British way. And the UK prime minister is actually free to stand up to the US.
Although the single market option seems to be papering over the cracks, there's a constant suspicion that all's not well and a choice made in the past could have terrible consequences.
Rather Hard Brexit – The Beach
As Boris and Liam cavort around the world hoovering up free trade deals, everything seems rosy. But then, perhaps because of the unstable characters involved, it all goes to shit. Which brings us to:
The No Deal scenario beloved by bluekippers soon sees cannibalistic gangs roaming the irredeemably fucked land. Most people, once they've eaten their blue passport, just want to die.
No wonder Dave was shy with the details.
Theresa May caught passing information on to a hostile, foreign agent
The tabloids have recently suggested that Jeremy Corbyn was selling secrets he didn't have to Czechoslovakia. It now turns out that another political figure could have been up to similar shenanigans, as Theresa May has been pictured with a hostile, foreign agent.
Treason!
Rupert Murdoch owns The Sun and The Times newspapers. He's also an Australian-born American citizen/scumbag.
According to one source, the PM allegedly told Murdoch the following secrets:
I'll do whatever you want for some good press.
I'm out of my depth. I have absolutely no idea what I'm doing.
Did you know there's a Northern Ireland?
Some nights I wake up crying.
I've lost all the respect of my party and staff. A pigeon got into Number 10 the other day, and when I asked a member of staff to shoo it out, he told me to 'put a sock in it'.
I'm thinking about taking up heroin. I tried golf, but I just don't have the follow-through.
This is the longest I've talked without someone looking annoyed in months.
Nonsense
The Conservative Party has denied the allegations. A spokesperson for 10 Downing Street said:
These claims are preposterous. They're hardly secrets, are they? Everyone knows she's out of her depth.
Murdoch, meanwhile, said the claims were "bonza", and that:
If you think my influence is bad now, just wait until I'm zapping my bile directly into your brains.
When May was asked if she agreed with Murdoch's plan to invade our minds with his evil, Australian technology, the PM said:
I don't know. I'll have to ask him.
Theresa May loses majority after her own fake news unit convicts 12 Conservative MPs
Theresa May lost her parliamentary majority in the 2017 general election. Only a deal with the DUP's ten MPs allowed her to form a wafer-thin majority government. But after the prime minister's own fake news unit convicted and unseated 12 of her own MPs, the May government has collapsed.
Fake news
The 12 Conservative MPs made claims on personal blogs or in media interviews, which investigators later found to be untrue. The following MPs will lose their seats:
Sir Aiden Beckett, North Bridgwater: claimed a member of staff in the House of Commons canteen was a Daesh (Isis/Isil) agent attempting to kill him. Investigators found Beckett's claim was vexatious, and motivated entirely by an aversion to tabards.
Anthony Parker-Jones, Edinburgh East: claimed shadow chancellor John McDonnell was the fifth Beatle, in an effort to highlight his poor judgement. John McDonnell is not the fifth Beatle.
Boris Carruthers, Mayfair: claimed striking NHS junior doctors were "sent by the Chinese" to destroy capitalism. They weren't.
Charles Whett-Whistle, Hayle: claimed to have been assaulted by Momentum supporters. CCTV footage from parliament showed Whett-Whistle sustaining his injuries in a fall down the stairs after a long night in the Strangers' Bar.
Eleanor Somerville, Canterbury: claimed Jeremy Corbyn once collaborated with Russian agents in a plot to assassinate a royal corgi.
Elizabeth Habberdebloom, Chelsea: claimed left-wing vandals repeatedly uprooted her hollyhocks (English garden flower). Footage taken by activists showed Habberdebloom frantically digging up the beds herself, while shouting: "They'll never turn my blue blood red!"
Francis Napier, Orkney: claimed responsibility for ABBA.
Hugh Whippington-Smythe, Dorset North: claimed a Polish immigrant stole his ministerial car. Investigators found the car in a garage on the Whippington-Smythe estate.
Henry Osbourne, Surrey Downs: claimed Diane Abbott sat on his teacup Yorkshire terrier. Investigators found Osbourne doesn't have a dog of any kind.
Javinder Patel, Birmingham South East: claimed the disabled hosts of Channel 4′s The Last Leg were faking it for sympathy.
Thomasina Whitlaw, Farnborough Central: claimed the rise in homelessness was due to Russian agents posing as rough sleepers.
Zara Picasso, Tunbridge Wells: claimed to be human. Investigators could find no evidence to support the claim.
Game over
Theresa May left Downing Street in the prime ministerial car for the last time this morning, without comment. Shortly afterwards, the Queen accepted Labour leader Jeremy Corbyn's offer to form a government. Bunnies began to dance in the wheat fields, singing:"Ding dong, the witch is dead!"
Editor's note: Watch out, the unit's still running til the end of the week.
Victory for the tabloids, as Corbyn unable to prove he didn't visit Narnia
The claim that Corbyn sold secrets to Czechoslovakia took a blow recently. Namely, because it transpired that the Labour leader was in Derbyshire when he was supposed to be selling secrets in the House of Commons.
This was a shock, as the former Czech spy who made the claims had been incredibly reliable up until this point. Particularly when he claimed to have:
Organised Live Aid on behalf of Czechoslovakia.
Wrote the hit song Whoomp! (There It Is).
Made love to several bigfoots (bigfeet?).
There are some accusations that Corbyn has been unable to refute, however. Possibly because they're true. Possibly because it's difficult to comprehensively disprove the ramblings of a compulsive shite-mouther.
Fantasy
Previously, the tabloids' flimsy narrative might have gained traction. In the age of social media, though, such nonsense is casually disproven within minutes of publication. In the case of front-page headlines (which are previewed the evening before), they've often been ridiculed for a good half a day before they even hit the shops.
Facing irrelevancy and diminishing credibility in a fast-paced world they no longer understand, the editors of the tabloids decided to claim that Jeremy Corbyn:
Is a witch.
Sold state secrets to Narnia.
Signalled to the Klingon homeworld that Brexit might not even happen – thus harming our chances of securing a favourable trade deal with them.
Change is coming
When a 'journalist' from The Sun asked Corbyn if he'd ever visited Narnia, the Labour leader stared at him with a mixture of confusion, pity and amusement.
This was later reported as 'proof' that Corbyn is against a free press.
The rest of the UK looked on with a mixture of confusion, pity and amusement.
Theresa May just spat back at Stormzy with her own 'D-Street' freestyle rap
by Steve Topple
Theresa May has hit back at Stormzy and his freestyle criticism of her response to the Grenfell Tower tragedy. On Wednesday 21 February the grime artist took the PM to task at the BRIT Awards. But in a response that a Conservative insider described as "sick" (good), the PM spat back at Stormzy with her own freestyle.
Money for Grenfell?
At the BRITS, Stormzy asked May:
Theresa May, where's the money for Grenfell? Just forgot about Grenfell, you criminals, and you got the cheek to call us savages, you should do some jail time, you should pay some damages, we should burn your house down and see if you can manage this.
He also told The Daily Mail to "suck his"… presumably "Mr Whippy with a double Flake in it".
Comin' for you, Stormzy
So in a speech outside Brixton Jam, where she was on a "youth language" fact-finding mission with new Tory fringe group 'The Blue Wang Clan', May threw down the gauntlet to Stormzy:
Yo, yo, yo, yo, YO! Bless up, Tory fam and much love to the Eton massive! So, that fool Stormzy was cussing this beyatch in HER endz last night. Her OWN fucking endz. Word. Aah-woo! Damn. Now dis beyatch is mad. Y'all think Stormzy got skillz? Y'all ain't heard me spit. So Stormzy – I is coming for you. Check dis shit OUT!
In what can only be described as 'pandemonium', May was then engulfed by dry ice. Presented like a throwback to the East Coast, late 90s era of hip hop, the PM was suddenly surrounded by gyrating men in silver PVC hot pants, inflatable bottles of Cristal, and Boris Johnson suspended by a zip wire holding a watering can over May's head.
Then, as Michael Gove flicked some switches on a mixing deck (still with the Cash Converters label on it), May began her D-Street Freestyle:
[VERSE ONE]
Wagwan Stormzy

Congrats on dat Brit award

I heard u were asking about da money for Grenfell

Well, look here, I ain't forgotten it u fool

We need da dust to settle before we socially cleanse it all

You see it's good for the economy to socially cleanse

Make way for our Russian and Chinese friends!

We want a city of investors, bankers not pimps

We don't want the likes of u getting too rich

So, sadly for ur crew

There's no money left, what u savages can do:

[CHORUS]

Go whistle (Tally ho!)

Go whistle (Tally ho!)

Grind that in ur rizla and go whistle

Go whistle (Tally ho!)

Go whistle (Tally ho!)

Lick on my fanny flaps and go whistle
[VERSE TWO]
So Stormzy,

I'm sorry dat ur really pissed

But u must have been high coz u do seem to have missed

Da point. To us, poor people don't matter

Especially if they're black, gay or mad as a fucking hatter

Coz our money's ours, it's not to share

Tower blocks? Safety? We really don't care!

Fuck stairs; sprinklers? Clad it everywhere!

Da rich can't have their garden views impaired.

So, sadly for ur crew

There's no money left and what you savages can do is:

[CHORUS]
[VERSE THREE]
Yo Stormzy,
Look, ur rhymes are rather nice

But u and ur grimey friends should listen to my advice

and it's dis. Stick to grime. Leave the politics to me.

We fiddled that election fair and square. And da feds agree.

I've got bankers to impress

Corporates to address

Our goal is to oppress

There's nothing for da rest

So, sadly for u,

The power is with da few. So you know what you savages can do:

[CHORUS REPRISE UNTIL FADE]
There was rapturous applause from the bussed-in chinless young people dressed in tweed. Although the applause was slightly muffled by the fox leather gloves they were wearing to conceal their partially-webbed fingers.
Meanwhile, a young man who served Off The Perch in the Thornton Heath branch of McDonald's said:
I heard that most of the Grenfell residents still haven't been rehomed and that there's still 296 tower blocks across the country that have the same cladding that killed all those people.

But I LOVE Puff Daddy, and Theresa May sounds just like him! I'm SO downloading that track on iTunes! It's sick! Straight bit! Fuck Stormzy!
After her performance, May was heard muttering something about "Get me the latest youth polling. But NOT from council estates…"
D-Street additional lyrics by Nicola Jeffery
Analysts predict every single American will be embroiled in a Mexican standoff by 2050
American gun-obsessives have claimed that the only thing that stops a bad guy with a gun is a good guy with a gun.
As such, the only logical argument is to make sure everyone is armed and hope the good guys outnumber the bad. Analysts predict this tactic will lead to every single American citizen becoming embroiled in a Mexican standoff by 2050.
Out of hand
Trump and the National Rifle Association (NRA) are currently advising that teachers arm themselves to stop high school shooters. Of course, this will inevitably lead to a teacher losing their cool and shooting a pupil. And as a result, the children will need to be armed to protect themselves from the teachers.
This chain of events will degrade to a point at which everyone needs to be armed – a situation which will be one disagreement away from a mass Mexican standoff.
NRA
The NRA has disputed this claim whilst privately planning for it. According to one leaked report, the NRA is instructing the US senators it owns to:
Change the name of 'Mexican standoffs' to 'freedom standoffs' to increase their appeal.
Teach citizens how to perform basic actions with their feet so that they're able to carry on working despite holding multiple guns.
Insinuate that getting shot is a proud American tradition in the vein of great men like Abraham Lincoln, JFK, and Martin Luther King Jr.
Money
If there's one group that couldn't be happier, it's the people who sell guns.
100% ownership may not be enough to satiate their appetite for gun sales though, which is why they're working on guns that fire tiny guns instead of bullets.
But will that be enough to prevent gun violence?
Only time will tell.
Get Involved!
– For more satirical news, you can also follow Off The Perch on Facebook and Twitter.
Featured image via Wikipedia – Cumminsr (image was altered) / screengrab / Wikimedia / Pixabay / Flickr – Denis Defreyne / Flickr – Avaaz Times (image was altered) / YouTube screengrab / Wikimedia – Chris McAndrew (image was altered) / Wikimedia – Meghan Murphy (image was altered) / Guardian News/YouTube and Guardian News/YouTube / Wikimedia – Martin Soulstealer (image was altered)

We know everyone is suffering under the Tories - but the Canary is a vital weapon in our fight back, and we need your support
The Canary Workers' Co-op knows life is hard. The Tories are waging a class war against us we're all having to fight. But like trade unions and community organising, truly independent working-class media is a vital weapon in our armoury.
The Canary doesn't have the budget of the corporate media. In fact, our income is over 1,000 times less than the Guardian's. What we do have is a radical agenda that disrupts power and amplifies marginalised communities. But we can only do this with our readers' support.
So please, help us continue to spread messages of resistance and hope. Even the smallest donation would mean the world to us.
Support us