Brexit going as well as expected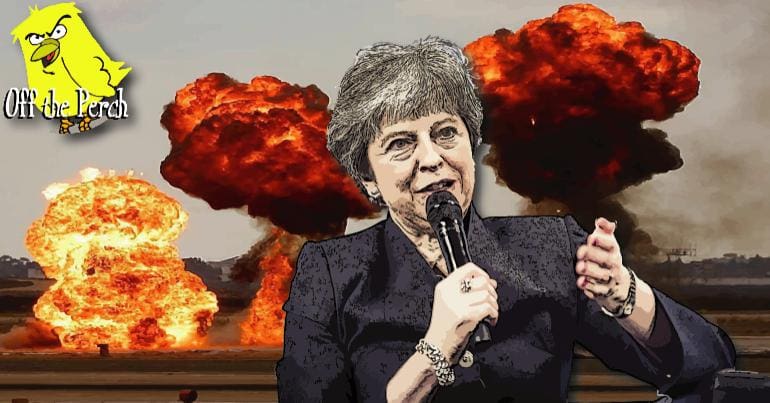 Many people predicted that trying to implement Brexit would be chaos. Although WWIII hasn't transpired, the shit has definitely hit the fan.
Chaos with Brexitland
The Tories have mishandled Brexit so gravely that even the media is questioning if the 'strong and stable' party is actually just a bit shit. The worst Tory of all is Theresa May – a woman we knew was terrible, but sailed into office on a raft of compliments like:
"Safe pair of hands."
"Proper, grown-up politician."
"Unlikely to drive the country into a maelstrom of piss."
Now May spends all day hiding around Westminster – leaping out at unsuspecting MPs and screaming:
SUPPORT MY DEAL!? SUPPORT MY DEAL!?
Her fellow Tories and DUP sidekicks can't support her deal, though. We've reached a point at which their hatred of one another is outweighing their hatred of everyone else.
"I SAY WE ENACT THE WORST BREXIT POSSIBLE!" you'll hear one of them screaming.
"I DEMAND WE GO ONE WORSE THAN THAT!" someone will reply.
"NO! YOU'RE ALL FUCKING IDIOTS! THE ONLY PLAN WORST ENOUGH IS MINE!" shrieks another.
The fall
There's a scene at the end of Return of the Jedi when Darth Vader – following several decades of genocide and child murder – looks at Emperor Palpatine and thinks:
Fuck this – if I can't get my own way, I'm gonna throw this cunt down a hole.
This is basically the mindset of a significant number of Tories right now. In other words, expect imminent implosion.
Featured image via pixnio / Kuhlmann MSC – Wikimedia
Since you're here ...
We know you don't need a lecture. You wouldn't be here if you didn't care.
Now, more than ever, we need your help to challenge the rightwing press and hold power to account. Please help us survive and thrive.
Support