Celebrity centrists and Katie Hopkins unite to attack left-wing Jews on Twitter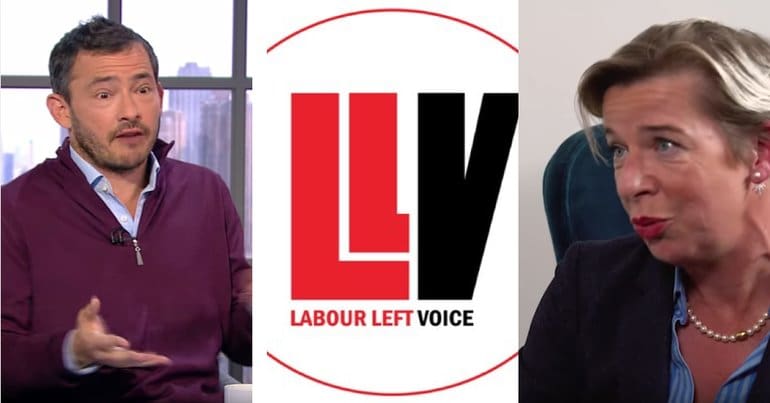 Celebrity centrists have united with far-right hate preacher Katie Hopkins to attack a Jewish, left-wing Twitter account, for blocking them. They whipped up an entire antisemitism-related conspiracy theory about it. The reality was quite different. But the case says a lot about the sense of entitlement among the UK's celebrity centrists. They believe even those they abuse owe them their attention. And they're willing to engage in antisemitic conspiracy theories to get it.
A Twitterstorm in a teacup
The Labour Left Voice account is a widely-read, left-wing Jewish voice in UK politics. Some love it, some hate it, some have never heard of it. Sally Eason, the account founder, spoke to The Canary. She described her ethnic origin as "coming from a Near East line of Sephardi daughters. I am very proud of my Iberian Jewish origins".
The account has come under attack from Jewish and non-Jewish zionists for criticising apartheid Israel. And it has been supported by Jewish and non-Jewish anti-racism campaigners on the same basis. Judaism – as a religious, cultural or ethnic identity – is not the issue here. This is politics.
Labour Left Voice used Twitter's Blockchain app to protect themselves from ongoing harassment. Madness ensued.
Food critic Jay Rayner kicked things off. He 'noticed' he was blocked by a Twitter account he claimed never to have heard of. Perhaps this came after noticing the general noise from the accounts harassing Labour Left Voice in the first place. This likelihood increases when we see he immediately assumed this was an act of antisemitism.
Curious. I have no recollection of ever interacting with @LabLeftVoice, but they've blocked me anyway. Clearly they don't want one of those pesky Jews looking at their tweets.

Read on...

— Jay Rayner (@jayrayner1) June 17, 2019
The thing is, it would make sense that Corbyn supporters would mute or block Rayner. Because he has a history of branding them antisemites.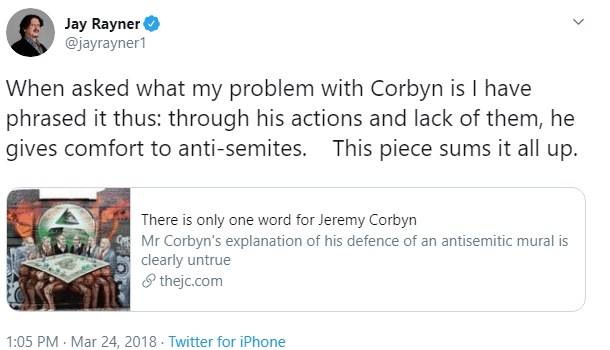 Labour Left Voice even put out a clear statement on their blocking policy, which they are under no obligation to do.
Statement from Labour Left Voice regarding Jay Rayner's tweet… pic.twitter.com/T3G0GqeQgK

— Labour Left Voice 🔥 (@LabLeftVoice) June 17, 2019
Centrist meltdown
But no one seemed to care about the truth. Centrists spent the rest of the day declaring their outrage on the #NotJewish hashtag. Celebrity centrist after celebrity centrist queued up to complain:
I've discovered that @LabLeftVoice has blocked me, even though I've never previously heard of it or contacted it. Pity. Maybe I've committed some kind of thought-crime.

— John Simpson (@JohnSimpsonNews) June 17, 2019
Never followed them.
Never mentioned them.
Never interacted with them.

Strange then that pro-Corbyn @LabourLeftVoice would block me.

Surely it's can't be because I'm.. Jewish? https://t.co/0NtK3iO49F
Thanks to all #NotJewish allies standing against Antisemitism! pic.twitter.com/z1vXIkuXxx

— Michael Dickson (@michaeldickson) June 18, 2019
I was brought up by lapsed Jews, didn't get barmitzvahd (or however the fuck you spell it), don't believe in God, don't have a big nose, can't read Hebrew, married a shikse. But I just tried to look at @LabLeftVoice and, phew! It turns out I AM Jewish. (Do i put #NotJewish now?) pic.twitter.com/yN7HzuhmKe

— Giles Coren (@gilescoren) June 17, 2019
Jewish News even ran a story on it:
Hundreds stand in solidarity with the community after pro-Corbyn account @lableftvoice blocks members of the community on social media. #NotJewish https://t.co/DH3iMSvu0y

— Jewish News (@JewishNewsUK) June 17, 2019
But the case peaked with the intervention of one Ms Katie Hopkins, who's anti-racism credentials are precisely zero. Hopkins regularly engages in hate speech. She refers to migrants as "cockroaches", channelling the racist propaganda of the Third Reich. So who's side did Hopkins come down on? Have a wild guess.
Leftist Jewish Agencies and organisations in bed with the Islamists starting to be called out by their own.

Well done my lovely Jewish friends. These apologists and appeasers are working against you. They see the next Holocaust coming but refuse to speak its name #NotJewish

— Katie Hopkins (@KTHopkins) June 17, 2019
Hopkins was able to use a made-up conspiracy about left-wing Jews to promote hatred against not only left-wing Jews, but Muslims too. All thanks to centrists; once again gifting the far-right a racist narrative legitimised by so-called 'liberals'.
This is a running crisis, with prominent left-wing Jews being denounced by the usual suspects. In the same week, we heard this from writer and campaigner Andrew Feinstein:
When I mentioned my family history as below, a rabbi from Washington on Twitter suggested that my mother must have been one of those Jews who collaborated with the Nazis. It's the most hurtful thing anyone has ever said about the suffering my family endured in the Holocaust https://t.co/i9mYaRu9PF

— Andrew Feinstein (@andrewfeinstein) June 17, 2019
Not Alone
But solidarity from the left came thick and fast. Jewish and non-Jewish left-wingers flocked to support Labour Left Voice.
Solidarity with @LabLeftVoice!

I know what it's like being called a "Self-hating Jew" & an "Antisemite" by people who are #NotJewish, just because I oppose racism and apartheid.

Well, I #AmJewish, and I'll stand for Palestinian rights even if you abuse me! pic.twitter.com/EgOujE8Dzo

— Joss Sheldon (@JossSheldon) June 17, 2019
Dear @Jayrayner1,
You once tweeted Corbyn "gives comfort to antisemites".
I received horrific abuse from followers of Riley, you and other celebrities after revealing my Jewish family were murdered in the Holocaust.
Because I'm on the Left.
Please do not act the innocent.
Tom https://t.co/1lfIARBSYE

— Tom Pride (@ThomasPride) June 17, 2019
Oh no, John Simpson, the liberator of Kabul, https://t.co/6JKmK9tmHG has been blocked by Labour Left Voice. This can only mean one thing: Jeremy Corbyn is the leader of the Taliban and he's hellbent on revenge! https://t.co/xfT8jfbawZ

— Jews Sans Frontieres (@jewssf) June 18, 2019
Enough
Shall I tell you what I did when I found out a random Twitter account I'd never heard of blocked me? Absolutely nothing. Because no one is obligated to consume my Twitter musings. It's how most grown adults without a planet-sized sense of entitlement would react.
This entire tantrum was fuelled by the idea that the blue-tick specials of Twitter are owed our attention. So let us be perfectly clear. No one is entitled to anyone's attention. And no one should be forced, through threat of public attack, to suffer a daily barrage of abuse. End of story.
We're a thorn in the side of the establishment, but we can't do it without your help
Your fight is our fight. But as many of you will know, speaking truth to power has never been easy, especially for a small, independent media outlet such as the Canary. We have weathered many attempts to silence our vital opposition to an increasingly fascist government and right-wing mainstream media. Now more than ever, we need your support.
We don't have fancy offices, and our entire staff works remotely. Almost all of our income is spent on paying the people who make the Canary's content. So your contribution directly supports our team and enables us to continue to do what we do: disrupt power, and amplify people.
But we can't do this without you. So please, if you appreciate our work, can you help us continue the fight?
Support us