The corporate media's failures on Iraq – and now Iran – aren't 'mistakes'. They're part of its DNA.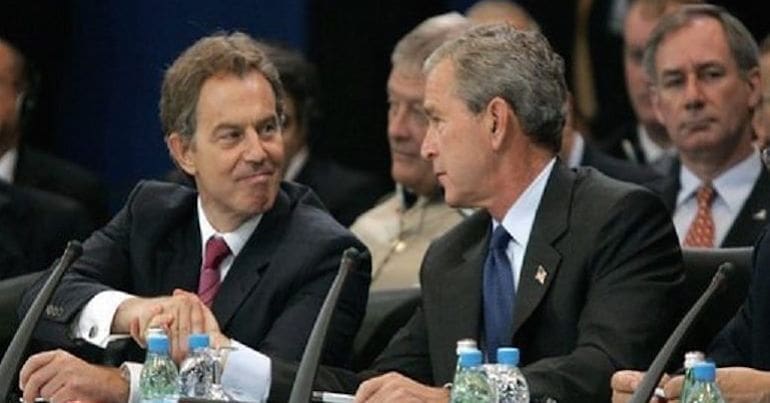 In the months and years following the 2003 invasion of Iraq, the Western media became filled with hand-wringing attempts to excuse its support for a crime of aggression predicated on lies. Today, as the US turns its imperial gaze to Iran, many are concerned that the corporate media is making all the same 'mistakes' again. But are they really mistakes? Or is this simply what the mainstream media does?
As journalist Mehdi Hasan asked in June, "Have we learned nothing from the Iraq war?" He explained this question by adding that:
the U.S. media appears to be falling into a familiar pattern, providing a sympathetic platform for the administration without fundamentally questioning its premises.
A more serious interrogation would go one step further, though. If the corporate media promotes US-led imperialism by design, for example, it is structurally unwilling or incapable of 'learning its lesson' from Iraq. In other words, the constant push for war in the Middle East is not a chink in the corporate media's armour, but an inborn feature. And we need only peel back the layers of propaganda on Iran to see how media support for US aggression is business as usual.
Iran, and 'violating the nuclear deal'
On 1 July, for example, the Guardian claimed that Iran had 'broken the nuclear deal':
It explained that Iran had breached its limits on uranium stockpiles, which:
Read on...
follows the US withdrawal from the deal last year and frustration in Tehran that EU states have been unable to do more to counterbalance the results of US sanctions.
There are two major issues here. Firstly, Iran's actions are in line with the Joint Comprehensive Plan of Action (JCPOA, also known as the Iran nuclear deal). Because Article 26 of the deal states that Iran will react if the US re-imposes sanctions, which is what happened in August 2018. The joint plan reads:
The U.S. Administration… will refrain from re-introducing or re-imposing the sanctions specified in Annex II that it has ceased applying under this JCPOA, without prejudice to the dispute resolution process provided for under this JCPOA. The U.S. Administration… will refrain from imposing new nuclear-related sanctions. Iran has stated that it will treat such a re-introduction or re-imposition of the sanctions specified in Annex II, or such an imposition of new nuclear-related sanctions, as grounds to cease performing its commitments under this JCPOA in whole or in part. [emphasis added]
The second major issue is the Guardian's use of language. Note how the US 'withdrew' from the Iran nuclear deal, while Iran 'breaks' it.
Iran also 'violates' the deal in the New York Times, while the US "withdrew":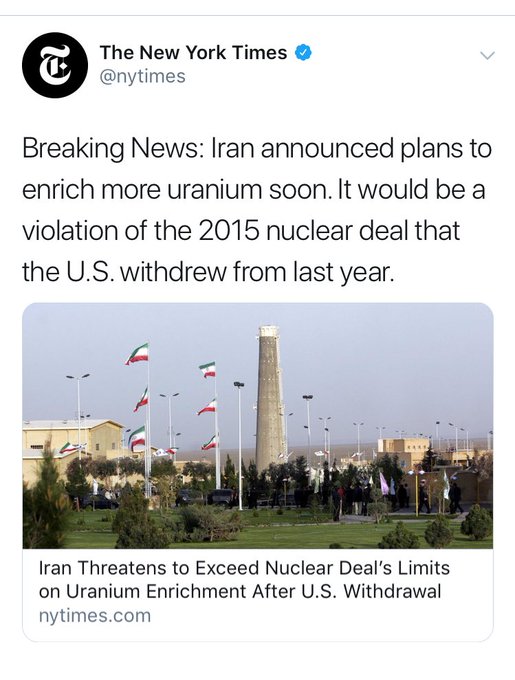 In short, mainstream media outlets portray the US government's actions as non-threatening, and somehow a consequence of Iranian policy. Since the US originally broke the deal in 2018 by announcing the re-imposition of crushing sanctions, this is a clear inversion of cause and effect.
Iran: guilty until proven innocent
On 1 July, the White House released the following press statement: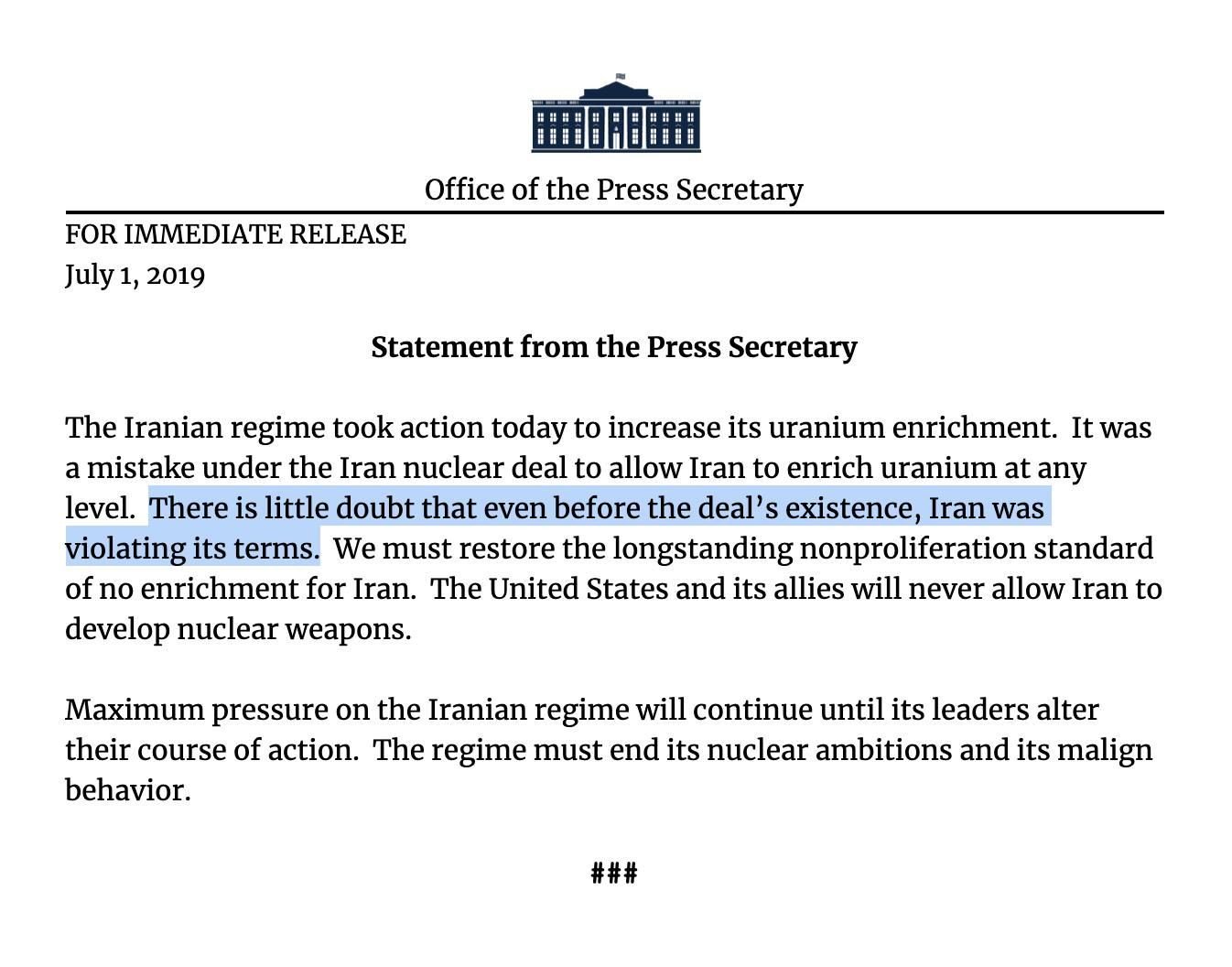 In no uncertain terms, the statement holds Iran guilty of violating a deal which didn't even exist. Holding Iran de facto guilty ('Iran did something bad, because Iran') has become a recurring theme throughout the corporate media too.
On 13 May, the New York Times published a lengthy article detailing US "military plans against Iran". It claimed that Iran might "accelerate work on nuclear weapons", despite the absence of evidence that Iran had any nuclear weapons programme at all. It then released the following cartoon, which shows an Iranian hiding a nuclear bomb while a woman and child go hungry in the background:
What's next for Iran's nuclear program? https://t.co/EAt0Fm3MtH pic.twitter.com/z4pJoQjWyg

— New York Times Opinion (@nytopinion) May 14, 2019
The cartoon thus suggests that a non-existent nuclear weapons programme – and not crippling US sanctions – has replaced the family's food.
The "North Korea Law of Journalism"
Such reporting reflects what journalist Adam Johnson calls the "North Korea Law of Journalism". This is where "editorial standards are inversely proportional to a country's enemy status".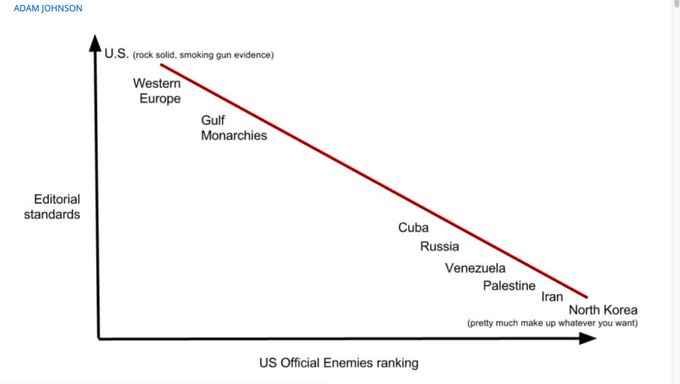 And after a relentless drip-feeding of fact-light, propaganda-heavy articles about the 'Iranian threat' (many of which come from the same journalists who advocated war in Iraq), we arrive at headlines like the following:
US bombers conduct first mission in response to Iran https://t.co/C8g3c45Ui4 pic.twitter.com/0r75ZGJQG4

— The Hill (@thehill) May 13, 2019
At this point in the propaganda cycle, Iran doesn't actually need to have done anything. Its name apparently suffices as evidence of its inherent evil.
US 'bumbling into war', again
The Donald Trump administration is packed with neo-conservatives who've been salivating for war with Iran for decades. Yet somehow, for large sections of the corporate media, the US seems to have no agency over preventing conflict with a country some 7,000 miles away.
For the Telegraph, the US is either "sliding into war" or "stumbling into an unwanted war". For Reuters, "the two arch foes could stumble into a conflict". For Newsweek and the BBC, the US might be "bumbling" into another war. And Foreign Policy went as far as advising on "how to prevent an accidental war with Iran".
As psychological tests consistently show, language holds enormous power over the ways in which we process and understand the world around us. And by sterilising evidence of US aggression while demonising its target through linguistic sleight of hand, the corporate media is consistently manipulating our understanding of global power mechanics.
Failing by design
If the Trump administration ultimately decides to attack Iran, many corporate journalists may later claim that they opposed war. Yet war is not a singular event. It's a process which begins with narrative control aimed at garnering public support for conflict. As such, corporate journalists that carry water for war narratives become complicit in the act.
We mustn't fool ourselves into thinking the corporate media is structurally or institutionally capable of 'changing' in a way that would seriously challenge US-led imperialism. It 'failed' us on Iraq. It's 'failing' us on Iran. And for as long as it continues to operate according to the propaganda model outlined by Edward Herman and Noam Chomsky in Manufacturing Consent, it will keep 'failing' by design.
We must therefore stop assuming that the corporate media will learn from 'mistakes' that are written into its DNA (we would not, surely, expect an elephant to climb a tree). Instead, we must change our own relationship with the corporate media.
We're a thorn in the side of the establishment, but we can't do it without your help
Your fight is our fight. But as many of you will know, speaking truth to power has never been easy, especially for a small, independent media outlet such as the Canary. We have weathered many attempts to silence our vital opposition to an increasingly fascist government and right-wing mainstream media. Now more than ever, we need your support.
We don't have fancy offices, and our entire staff works remotely. Almost all of our income is spent on paying the people who make the Canary's content. So your contribution directly supports our team and enables us to continue to do what we do: disrupt power, and amplify people.
But we can't do this without you. So please, if you appreciate our work, can you help us continue the fight?
Support us