In just one article, Sky News raised its pro-Theresa May propaganda level to 'critical'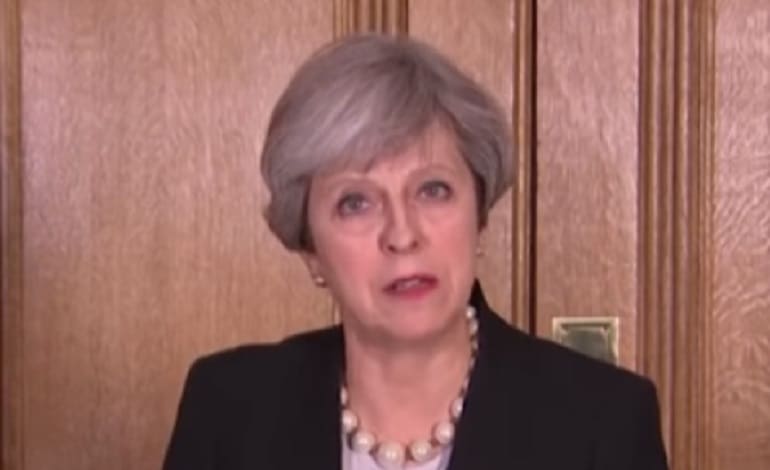 Support us and go ad-free
An article from Sky News Chief Political Correspondent John Craig has taken the meaning of 'propaganda' to a whole new level. Because it is nothing short of an ode to Prime Minister Theresa May. Even though the Conservatives have suspended general election campaigning.
"Dramatic"
Craig was analysing the PM's response to the Manchester bombing on 23 May. In his article, published on 24 May, he said that the PM "has delivered decisive action on national security". He said this came about after "a dramatic late-night statement inside 10 Downing Street after the Manchester bomb attack". And he noted that May had "both declared war on terror and changed the rules of the game". But from here, Craig went into unabashed propaganda.
A "declaration of war"
He claimed that the PM:
Putting armed troops on the streets and deploying them at major events like this Saturday's FA Cup Final is a declaration of war against terrorists who want to kill and maim sports fans or concert goers.
But as May herself said, this was not her idea. She told the same "late night" press conference Craig mentions that:
the police have asked for authorisation from the Secretary of State for Defence to deploy a number of armed military personnel in support of their armed officers.
This fact didn't deter Craig. He went on to say:
Read on...
Support us and go ad-free
And raising the threat level from "severe" to "critical"… means the Prime Minister has spectacularly changed the rules.
Wait, what…?
But the PM did not make the decision to raise the threat level. It was made by the Joint Terrorism Analysis Centre (JTAC), which is independent from the government. So May had not, in fact, "spectacularly changed the rules". The JTAC had.
Craig then went on to say that, while May's opponents were calling her "weak and unstable", he believed she "could not have acted more decisively or swiftly":
Here, on terrorism, she talked tough and acted tough, with the steel and unflappability she so often deployed as home secretary…
Another interpretation would be that her response was 'knee-jerk' owing to the fact that, after her party cut 20,000 police officers, she knew she had to do something, and quickly.
May's "character"
But Craig continued with his conjecture, saying:
this Prime Minister – true to her character – has decided to take no chances with the safety of the public.
It is debatable just how far posting troops outside Downing Street, the Houses of Parliament and Buckingham Palace will go in protecting the public's safety. It will free up armed police to go to other sites. But it doesn't detract from the fact [paywall] there are now half (5,500) the armed police officers there were 15 years ago.
"Deeply moved"
Craig went on to speculate that May must have been "deeply moved" by her "harrowing and distressing" visit to Manchester Children's Hospital, entirely guessing at her emotions.
He concluded by getting in a dig at Labour, saying:
Theresa May won't welcome comparisons with Tony Blair and his "war on terror".
And the PM might not welcome the comparison (even though she backed Blair's invasion of Iraq wholeheartedly). But all Craig's statement serves to do is nod firmly to where his loyalty lies in the general election. Without any reasoning behind it.
Unabashed propaganda
The entire article seems like little more than an advert for May's much-professed "strong and stable" leadership campaign. Nowhere was the piece marked as 'opinion', meaning that, in theory, many Sky News followers may have read it as fact. And Craig's analysis doesn't stand up to any kind of scrutiny, which, for a national broadcaster, is shoddy at best. But at worst, it's pure propaganda from the Rupert Murdoch-part-owned broadcaster – which is, sadly, something we have now come to expect.
Get Involved
– Read more from The Canary on media bias.
– Join The Canary to support fearless independent journalism.
Featured image via screengrab
Support us and go ad-free
Fund our Investigations Unit
You can help us investigate corruption, expose injustice and uncover the truth.
As one of the only independent investigations units in the country, we work for you – but we need your help to keep going. We need to raise £10,000 to continue our groundbreaking investigations. Can you chip in?
Fund us