Chuka Umunna has finally revealed what he thinks 'progressive' policies look like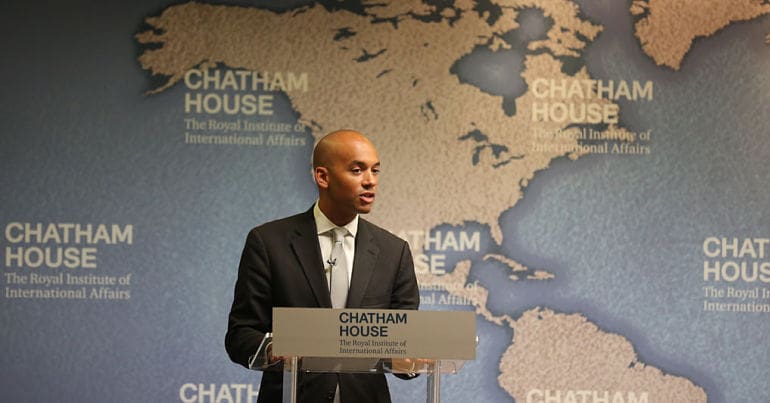 People have criticised the recently formed Independent Group (TIG) for not having any policies. We now have some idea of what the group may stand for. Namely, because the group's spokesperson has released a pamphlet titled What are Progressives for?
THREAD: Today I'm launching the 'What are Progressives for?' pamphlet with @UKProgressive, in which I give my personal contribution to the debate about the future of progressive politics in Britain and where we go next. (1)

— Chuka Umunna (@ChukaUmunna) March 8, 2019
Reading it, you'll discover that 'progressives' are for privatisation, tuition fees, and national service. There are also some ideas and discussion which may surprise people, but there's no firm commitment to anything.
Vagueries
In the opening to the pamphlet, Umunna writes:
Read on...
We believe it is time to dump this country's old-fashioned politics and create a new politics that does justice to who we are today and gives this country a politics fit for the 21st century not the last one.
Arguably, what comes next doesn't so much 'dump' the UK's "old-fashioned politics" as tweak them slightly. He's also quick to point out:
the ideas contained herein should not be considered a manifesto or the official policies of our group.
And, furthermore, that he's happy to abandon these ideas if they're not popular:
this pamphlet… may lead to different avenues being pursued to those described herein. Perhaps some will feel the ideas are too radical, too timid or that in practice they might not have the intended affect.
Ideas
In an 'executive summary' that he begins by quoting himself, Umunna throws several ideas out there. These touch on:
Health care: "we must resolve to properly fund the NHS and social care – potentially through a [specific] tax".
Migration: "Now is also the time for an honest debate about immigration. Lags in public funds can cause legitimate concerns about pressure on public services… We need to do more to stop undercutting in the labour market by raising the minimum wage, and we need to invest in domestic skills so firms are not dependent on migrant labour. Above all, though, we must better integrate newcomers… A good starting point would be through the introduction of national citizens service for young people where they would mix with others from different backgrounds".
Voting: "Our first-past-the-post system is undemocratic and deprives the voter of choice and impact. We should adopt the additional member system, a type of proportional representation".
The Electoral Reform Society describe this additional member system as keeping "some of the worst aspects of Westminster's electoral system", and potentially creating, "two classes of MPs".
Democracy: "the House of Lords should immediately be transformed into an elected chamber. We should experiment with Citizens' Assemblies, so that those who are impacted by policy have a role in shaping it. And, to ensure our politics isn't tainted by big money, whether from big trade unions, big business, or the wealthy, we should look at state funding for political parties".
Values
After describing what Britain means to him (a list including James Bond and Mr Bean), Umunna goes on to set out six "key values and principles". These are largely as vague as what TIG has previously promised, and include:
A "United" Kingdom.
Reciprocity: "If you work hard and play by the rules, the economy should ensure you are rewarded. Every actor in the economy – companies, banks, trade unions etc – understands they stand in a reciprocal relationship with others".
Work: "Work not only provides us with the means to prosper economically but it has a value in and of itself that gives purpose, identity and mission in life".
Family and community.
Democracy: "Everyone should have an equal voice and a say in how society is run… this is about giving each an equal degree of power over her or his life and community. That requires decisions to be taken at the lowest possible level. The default should always be devolution".
Patriotic internationalism: "As progressives we are unapologetically patriotic".
Big issues
After admitting Britain is unbalanced, Umunna lays out some key ideas that TIG could potentially pursue (or not). They include:
Public Ownership: "Public dissatisfaction with many of the state-owned services sold off by the Thatcher government of the 1980s is running high… Labour's 2017 manifesto committed to an old-school renationalisation… Not only is the price tag for traditional renationalisation huge, but those industries' borrowings would become part of the national balance sheet… A radical alternative would be to pioneer an entirely new form of company. The Big Innovation Centre has launched a debate on "Public Benefit Companies"… An incoming progressive government could legislate to force companies providing key public services to write the provision of public benefit into their constitution, taking precedence over profit-making."
The problem is that privatised companies are already supposed to provide a decent service. The other problem is that companies have a tendency to end contracts when their profits suffer. There are also situations in which the public has had to bail these private companies out when they've got in trouble.
Tuition Fees: "Labour's manifesto in 2017 pledged to scrap all fees – a superficially attractive policy and certainly an easy sell but clearly one that comes with a huge price tag… Scrapping all fees, for all students may be an easy vote getter but implementing it would not produce the progressive outcomes of attracting and supporting more poorer students into our universities… Which is why, rather than scrapping fees altogether, we should favour means testing fees and reinstating maintenance grants…".
By maintaining fees, there is always the risk they will just increase again – as happened when the coalition government came in. Umunna argues that free university costs too much, but people have argued otherwise.
New issues
Citizen Service: "Say the words "national service" and most groan as images of endless sitcoms spring to mind… But as progressives we should be prepared to get beyond visions of the past and create a version of national service that succeeds for today's world in achieving the one thing that those who actually undertook it are pretty much agreed on: that it brought together people from an array of different backgrounds and different parts of the country in a way like no other. This is not a call for compulsory military service… Instead this is a call to look seriously at developing a programme of national service that will have the effect of bolstering social cohesion for generations to come".
The details of what any 'citizens service' would look like would be the product of a "national conversation". France is implementing something similar following an election pledge from President Macron. The French version will see, "all French 16-year-olds… wear a uniform and salute the flag".
More to come
There's a lot to pick through in Umunna's not-a-manifesto. But in some ways, it shows how much the national debate has changed in the past few years. In 2015, Umunna was seen as pro-austerity and in favour of more cuts. He writes in his pamphlet:
On its own terms, Tory austerity has failed. It has caused untold stress and misery for millions but was imposed in the name of higher growth and lower debt… The slow recovery has shown how right the Keynesians were: the British government should have spent more to raise demand in the times of slow growth.
In other ways, the Umunna pamphlet is exactly what you'd expect – calls for a 'radical' change while doing nothing but tinkering around the edges.
Featured image via Chatham House – Flickr
We're a thorn in the side of the establishment, but we can't do it without your help
Your fight is our fight. But as many of you will know, speaking truth to power has never been easy, especially for a small, independent media outlet such as the Canary. We have weathered many attempts to silence our vital opposition to an increasingly fascist government and right-wing mainstream media. Now more than ever, we need your support.
We don't have fancy offices, and our entire staff works remotely. Almost all of our income is spent on paying the people who make the Canary's content. So your contribution directly supports our team and enables us to continue to do what we do: disrupt power, and amplify people.
But we can't do this without you. So please, if you appreciate our work, can you help us continue the fight?
Support us