Trade unionist speaks out against Washington's tightening chokehold on Nicaragua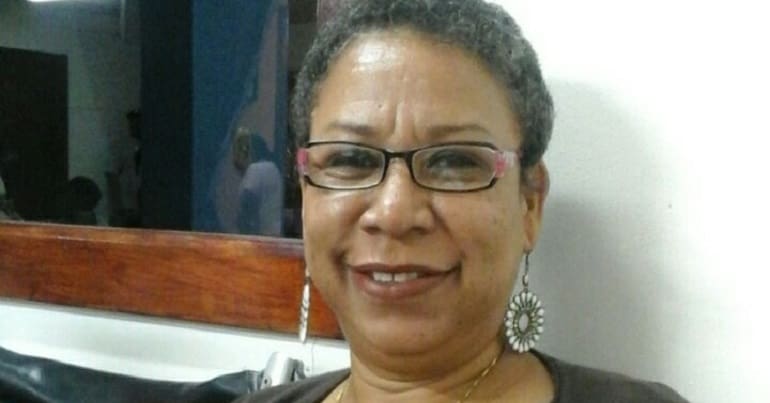 Support us and go ad-free
The US recently imposed sanctions on Nicaragua. This was the Trump administration's latest attack on independent governments in Latin America, and part of a systemic ramping up of tensions in recent months and years. And as usual, the corporate media's coverage of US hypocrisy and aggression has been heavily biased and distorted.
To fight back against Washington's hostility and the one-sided media narrative, a Nicaraguan trade unionist has now spoken to The Canary. And she explained why her country is not a 'threat' to the US.
Targeting a country already on the ropes
Although Nicaragua has been one of Latin America's poorest countries for many years, the current centre-left government has recently overseen "notable progress in poverty reduction". It shot into the news earlier this year, however, due to what the president called a "coup attempt" backed by Washington – during which both anti-government protesters and pro-government forces faced accusations of murder and abuses. International media coverage, meanwhile, involved alleged data manipulation and heavy anti-government bias. Numerous academics, journalists and activists accused the Guardian in particular of "wildly inaccurate coverage" – partly as a consequence of its collaboration with a highly compromised 'novice reporter'. Although there are legitimate criticisms of the government, the one-sided nature of the international coverage was shameless.
Florence Levy – a trade unionist, doctor, and MP who leads a permanent commission on "issues concerning indigenous peoples and Afro-descendants and autonomy" – recently spoke to The Canary. And she explained how this year's unrest and US hostility have affected Nicaragua. In particular, she described hundreds of millions of US dollars of economic losses:
252 buildings and universities destroyed, 209 km roads destroyed, 278 maintenance machines destroyed, 389 vehicles vandalised, economic losses of US$231m, transport US$525m, social security US$2.4m due to job losses from private sector losing their social security attention, gross income was 9% less than projected, and tax revenue lost was US$384.4m. The poorest are always the ones who lose the most.
Nicaragua is not a 'threat'
To justify his sanctions on Nicaragua via the 'NICA Act', Donald Trump called the country's democratically elected Sandinista (FSLN) government "an unusual and extraordinary threat to the national security and foreign policy of the United States".
But as Levy insisted:
Read on...
The US needs to stop seeing us as a threat and respect our political constitution, which gives us – the people of Nicaragua – self-determination and sovereignty. Leave us to reconcile as families and communities according to what we are stating in the proposed state policy for reconciliation and peace that includes: ongoing social protective programs; dialogue within families, schools, and communities; and increasing action for a change of attitude and culture of violence to solve the conflict situation.
She also referred to the violent sections of the opposition involved in the alleged coup attempt; and she called on the US to:
Stop labelling criminal acts as political. If you destroy your country, rape, kill, you must be prosecuted and give account for what you did just as in any other country…
And she stressed:
By working within a model that is socialist and in solidarity with others, we are doing no harm. So if this sharing with the less fortunate (the so-called 'poorest') is what annoys you, then what should we do? I will continue what I believe is my calling – loving and serving.
The real reason for US hostility?
As Levy suggested, "sharing with the less fortunate" is not high up on Washington's list of priorities. And she gave more information about what the Nicaraguan government has achieved in recent years, saying:
Poverty was at 42.5% in 2009 but decreased to 24.9% by 2016. And extreme poverty went from 14.6% to 6.9% in the same period of time. Economic growth was an average of 4.7[%] over the last 10 years, duplicating our gross national product and was the third country in Latin America with a rapid increase. The IDB [Inter-American Development Bank] highlighted Nicaragua for reducing poverty indicators in a sustainable way by implementing around 40 social programs.

The FAO [the UN's Food and Agriculture Organization] recognised Nicaragua for decreasing the number of people going hungry from 50% to 16%, also seeing the country's integral nutrition school program as one of the four best food initiatives of the world.
UNICEF confirmed that Nicaragua reduced the infant and neonatal mortality on time, and PAHO [the Pan American Health Organization] recognised Nicaragua as a leader in the region in vaccine coverage, certifying 98-99% of children under five as vaccinated.
UNESCO declared Nicaragua free of illiteracy in 2009.
The Global Gender Gap Report placed Nicaragua number six worldwide, with more than 81% of the gap closed – the best in the Latin America and Caribbean region.
Water and sanitation will reach 96% of total coverage by 2021 (if allowed) with the support of the Kingdom of Spain.
Electricity coverage in 2017 reached 94% of the population based on public and private investment, including hydroelectric, geothermal, wind, and solar power.
"A bad example for other countries"
Considering the above, Levy summarised:
The US sees our president doing a lot of good for people with few resources, looking at their basic needs and demands as our rights instead of commodities. So I believe they think we are a bad example for other countries.
Something else the US may not like is that trade unions are right behind the government. As Levy said:
Trade unions are very supportive of the government. Some of them are not even Sandinistas, but they support them because the collective agreement that is included in the national budget is in benefit of the workers; and I also think because the government has implemented and continues to implement programs that protect workers and their families. They listen too; and they allow unions to participate in political spaces as well.
And to put it simply, it seems like there's currently no real alternative for people who care about workers' rights. As Levy argued:
The opposition is weak, since they are divided into factions according to the personal interests of their leaders. And I don't know what they would do differently, because they haven't made any serious proposals. They're usually more concentrated on being against everything the government is doing.
Personal commitment to the government
Levy is a proud member of the current government. And she explained why, saying:
I was brought up in a Christian family, learning from very early on about sharing and serving others. So when I was 15 years old, the FSLN came to my region (this was in 1979) and the first thing they did was organize us and train us as Young Voluntary Heath Workers. That allowed me to serve in the rural villages as a health promoter. After, we had the literacy campaign in Spanish and in our Miskitu language as well…
She continued:
But then, we had the Reagan administration from the US financing a counter-revolution [via the 'contras'] that put us brothers and sisters to kill one another. My region was very affected by this war, with friends dying, part of our people displaced, our villages from the Rio Coco destroyed. Yet still, with all this, I saw how the Sandinista government improved health care and education and provided me with a full scholarship to go to Managua and study medicine at the UNAN. So all of these actions made me decide to be part of a party that was undergoing a difficult situation but was still seeking ways to develop our region and improve our standard of living.
And she said:
When the FSLN lost the election in 1990, I saw how our situation deteriorated and the improvements we were having with regards to our basic human rights, health, education, water and sanitation, housing, food security etc. stopped. So I see the FSLN as the party that is committed to the fight against poverty.
Government needs to "continue to listen and promote dialogue"
The Canary also asked Levy about areas for improvement in the government. And she didn't shy away from giving suggestions. She said, for example:
We need to continue to fight against poverty. This means we need more jobs or income-generating socio-productive programs. And sure, we could update strategies, plans and programs according to the broader context we need to deal with. We should also continue to listen and promote dialogue and alliances.
She also argued that:
The young and old party members should be working together more.
And regarding the indigenous and Afro-descendant communities she is responsible for, she explained that:
I believe that all efforts have been toward the reinforcement and development of our autonomy, although we have challenges – starting with being less ethnocentric among ourselves. We still have a lot of internal discrimination among ourselves: Miskitu, Sumu Mayangnas, Creoles, Rama Creole, Mestizos Costenos. [There are allegations of repression around invasions of indigenous lands by 'settlers' from the Pacific Coast] and we now have 14 communities under [Inter-American Commission on Human Rights – IACHR] precautionary and provisional measures.

The government formed a joint commission with the people who placed their demands before the IAHRC. And it does periodical on-site visits and reports on the attention given to displaced people. Efforts are now to get our Miskitu brothers and sisters back to their communities.
The US should stop singling Nicaragua out
As Levy argued, the US should stop seeing Nicaragua as a threat. Its government may present a challenge to Washington's longstanding political and economic domination in Latin America (or at least in Nicaragua); but it poses no threat to the US people's 'national security'.
Washington has been sending millions of dollars to controversial organisations in Nicaragua for decades to fight for US interests there. And the current government has gained and maintained popular support in spite of this. Meanwhile, US interference and support for repressive regimes in neighbouring countries – notably Honduras – has recently seen large numbers of refugees fleeing towards the US. They are not fleeing from Nicaragua – which, while very poor, has been more stable than its neighbours in recent years. They are fleeing from a right-wing coup regime which the US has supported and propped up.
Renowned scholar Noam Chomsky recently called blatant US foreign policy hypocrisy (in Latin America in particular) an "incredible charade". And Washington's recent singling out of Nicaragua, which seems more likely to be a result of the country's political achievements than this year's unrest, is simply the latest act in this charade.
Always demand context
Levy's words provide an important picture to combat increasing US hostility and interference in Nicaragua. Of course, all governments are imperfect; and Nicaragua faces some serious allegations in relation to how it responded to this year's crisis. But the international media has clearly taken sides – failing once again to give objective coverage of crises in countries which the US has clearly targeted for intervention. And by doing so, it is (intentionally or not) playing into an aggressive and anti-democratic regime-change agenda. It's not only doing its readers a disservice; it's also failing to serve the innocent civilians who get caught in the middle every time imperialism rears its ugly head.
We deserve better. And we must demand better.
Featured image via Florence Levy
We know everyone is suffering under the Tories - but the Canary is a vital weapon in our fight back, and we need your support
The Canary Workers' Co-op knows life is hard. The Tories are waging a class war against us we're all having to fight. But like trade unions and community organising, truly independent working-class media is a vital weapon in our armoury.
The Canary doesn't have the budget of the corporate media. In fact, our income is over 1,000 times less than the Guardian's. What we do have is a radical agenda that disrupts power and amplifies marginalised communities. But we can only do this with our readers' support.
So please, help us continue to spread messages of resistance and hope. Even the smallest donation would mean the world to us.
Support us