Exclusive: Presidential frontrunner's advisor discusses Ecuador's crucial election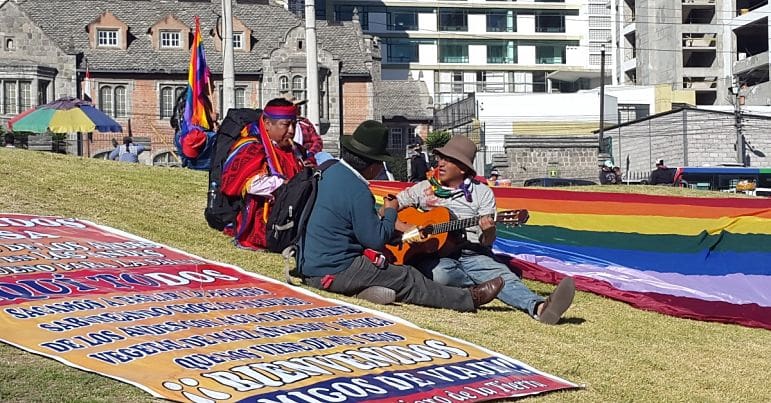 Support us and go ad-free
Amauri Chamorro is a strategist in political communications, who has worked closely with former Ecuadorian president Rafael Correa and is currently advising socialist frontrunner Andrés Arauz.
With the left on the verge of returning to power, Chamorro spoke exclusively with The Canary about Arauz's political vision, the forces trying to stop him, and the legacy of neoliberalism in Ecuador. The interview has been edited in part for clarity.
To begin, can you explain your role as advisor to socialist presidential candidate Andrés Arauz, as well as your work with former president Rafael Correa?
With Andrés, I've been his communications adviser – I work directly with him and I'm now working with him as part of the election campaign. With ex-president Correa, I was handling his communications, and managing his international agenda and campaigns… and accompanying him all over the world.
I want to speak a bit about outgoing Ecuadorian president Lenín Moreno, who's leaving office with around 92 percent unfavourability – his party also won less than two percent of the vote in the first round of this election. Why is Moreno so incredibly unpopular in Ecuador?
Two principal factors. One is ethical, the other is political. He was the continuity candidate with Correa; he was supposed to continue the political direction of the Citizens' Revolution, to deepen this political movement.
But he made a pact with the banks, with the ambassadors of the US. He totally flipped, and instead advanced an absolutely neoliberal project. So Ecuadorian society – not only those who voted for him, but in a general sense, see him as a liar and a traitor. Betraying is the worst thing you can do, and he betrayed the Ecuadorian people who voted for him.
At the same time, he's managed everything badly – the economy, the pandemic, social conditions. His government has generated serious problems – an unprecedented economic crisis, the worst of the worst economic crises in recent Ecuadorian history, which has deepened the crisis generated by the coronavirus pandemic. Here in Ecuador we have one of the worst death rates per capita in the world. It's terrible.
Can you speak about the various attempts to block Arauz's candidacy, as well as the campaign of legal warfare (lawfare) in Ecuador against Correa and others. What was the political climate like in the run-up to the election?
What happened? In 2008, the new Ecuadorian constitution, voted for by the population, did not permit the return of a neoliberal model. Constitutionally, the functions of the state were created via a popular vote that wouldn't permit neoliberal policies.
Read on...
When Moreno made his pact with the right, to infiltrate our ranks, in order to institute neoliberalism, he had to do two things.
Firstly, he had to break up state control by dismantling the Ecuadorian constitution. In line with this, the US regained a military presence in Ecuador, unconstitutionally. He also offered up Julian Assange to the US and Britain. These are some of the best-known examples of how Moreno destroyed the constitution of Ecuador.
On the other hand, politically, he had to destroy the political forces which could stop this neoliberal turn. So what did he do? He started a process of political persecution, initially against former vice-president Jorge Glas, and then Correa. All of this persecution had to do with implementing the project of neoliberalism – of getting rid of the progressive forces that could stop this from happening.
Then there was a process to try to stop the Citizens' Revolution from participating in the election. Finally, in December, the electoral tribunal said Arauz can run in the election. Only one month before the election, Arauz was officially put on the ballot. And even then, all these forces reacted to try to stop him winning.
Yet Arauz still managed to win in the first round.
Indeed, Arauz won by a clear margin in the first round with 33 percent of the vote, but it was not enough to win the presidency outright, meaning it will go to a second round run-off. Can you speak about Arauz's political platform – what does he want to do domestically, and what are his plans for regional integration in Latin America?
Arauz has spoken for a long time about the implementation of a plurinational state, which is enshrined in the Ecuadorian constitution. In Ecuador, we have many Indigenous groups – the constitution demands respect for distinct idioms and cultures. What Arauz says is that Ecuador should become not only a plurinational state in constitutional terms, but also function as a plurinational state.
In regional terms, he speaks a lot about regional integration via UNASAR, CELAC, which allow Latin America to create connections that overcome political differences between governments. By creating a large economic bloc, Latin America has the power to enter into commercial negotiations with Europe, with the US, with Asia.
Imagine, what is the power of Uruguay, of Paraguay, of Honduras, of El Salvador, of Ecuador, alone against the European Union, the US, or Canada? Then imagine the power of Latin America and the Caribbean as one unitary bloc negotiating with them. It changes everything.
In Latin America, we have the world's second-largest reserves of petroleum, the biggest reserve of drinkable water, a huge reserve of gold, of minerals, gas, et cetera. We have the Amazon, we have biodiversity – we have everything that the world needs. We're a key producer of raw materials – to have regional integration, that's what Arauz wants, and that's exactly what the US and Europe don't want [emphasis added].
But there are other aspects, like transport. Europe has freedom of movement, but Europe is only the size of Brazil. Latin America is ginormous. So we want to achieve integration of movement, and integration of education so that students from Brazil can finish their degree in Mexico; so students in El Salvador can finish their studies in Argentina.
Just weeks before the election, outgoing president Moreno visited Washington, and met with political officials and leaders of the International Monetary Fund (IMF). Now, we're seeing accusations of electoral fraud and unfounded allegations that Arauz's election campaign was financed by Colombian guerrilla group the ELN. Are we seeing the seeds of a coup here, and do you see Washington's hand behind it?
Ever since the US was established as an independent nation, it has operated to influence the internal politics of Latin American countries. It also supports governments that do its will – as was the case with Mauricio Macri in Argentina, with Lenín Moreno here, with Iván Duque in Colombia. And now with Jair Bolsonaro in Brazil.
In the case of Moreno, he became very close to the Donald Trump administration. The ambassador of Ecuador in the US is called Ivonne Baki. She is a personal friend of Trump – they're friends. They go to each other's houses.
When Trump lost the election, things changed – some of the people in the Joe Biden administration are friends of Arauz. They studied with Arauz in Michigan; while Arauz lived in the US, he made connections with many people there, people in the Democratic Party.
This generated fear among the Moreno government – they worried that the Joe Biden administration would not defend it. And that generated the visits to the US. However, it's very sure that the US is in the process of connecting with the Moreno government to do whatever possible to stop Arauz from winning.
We also saw these accusations in the Colombian newspaper Semana, claiming that the Arauz campaign had received money from the guerrilla group, the ELN.
But let's go back to 2008 when the Colombian government assassinated Raúl Reyes, a commander of [Colombian guerrilla group] the FARC, who was living illegally in Ecuadorian territory. Colombia invaded Ecuador, bombed Ecuador, assassinating him. They took a series of computers, and apparently on these computers there was evidence that the FARC was financing Correa's campaign. It's exactly the same script now. 13 years later, it's the same story.
And this is all very serious. The Colombian attorney general travelled to Ecuador to personally deliver the alleged proof. This is obvious interference in the electoral process in Ecuador.
I mention all this because it's important to note that there's an international operation to destabilise and affect the electoral process against Arauz. The clear objective is that people in Ecuador think that Arauz took money from the guerrilla, and decide that they don't want to vote for him. That's the intention of all this.
Many of the allegations of electoral fraud are coming from third-place candidate Yaku Pérez. Here in the global north, he has some support from NGOs like Extinction Rebellion, as well as connections with the US government. What does Pérez represent? Is his environmentalist platform genuine?
Yaku Pérez, whose birth name is Carlos Perez, changed his whole image as part of a process of political marketing. He is of course Indigenous, his family is Indigenous, he came from a poor family, and he worked hard and became a lawyer.
But politically in the last elections Pérez supported [second-place presidential candidate and banker] Guillermo Lasso. He publicly supported the campaign of ultra-neoliberalism in Ecuador. Someone who publicly supports ultra-neoliberalism in Ecuador cannot be a big defender of the environment. It's like being an environmentalist and voting for Donald Trump. It's contradictory.
Second, Yaku Pérez is anti-Evo Morales [former Bolivian president]. He's said it in videos in which he attacked Morales – he said that Morales destroyed the environment and didn't protect his country. In this case, Pérez attacked Morales, who symbolises the maximal representation and power of Indigenous peoples in the Americas. And he said all of this recently.
The second round of the vote to decide who becomes president will be in April. What do you think is likely to happen between now and then? An intensification of the lawfare campaign against Arauz? More interference from the US?
There's an important issue here. The Indigenous movement has already organised a large march. It is the strongest and best organised social movement in Ecuador. They've called for resistance because Yaku Pérez didn't pass to the second round. So there'll probably be some chaos in the country and this will generate a lot of instability before the second round.
Second, there will be legal challenges to the decisions by the National Electoral Council (CNE) regarding the vote. This will slow down the electoral process. I don't believe they'll manage to postpone the second round of the vote, however, which will be on 11 April.
But obviously there'll be legal efforts to try to stop Arauz's candidacy. They can launch this process through the false claims that he received funds from the ELN.
It's important that Arauz is careful, that he doesn't waste too much of his time with these false accusations, and keeps campaigning in the streets and meeting people. Because obviously these accusations are lies – we'll be victorious.
Featured image via pxhere
We know everyone is suffering under the Tories - but the Canary is a vital weapon in our fight back, and we need your support
The Canary Workers' Co-op knows life is hard. The Tories are waging a class war against us we're all having to fight. But like trade unions and community organising, truly independent working-class media is a vital weapon in our armoury.
The Canary doesn't have the budget of the corporate media. In fact, our income is over 1,000 times less than the Guardian's. What we do have is a radical agenda that disrupts power and amplifies marginalised communities. But we can only do this with our readers' support.
So please, help us continue to spread messages of resistance and hope. Even the smallest donation would mean the world to us.
Support us