Decentralised government in Britain and Ireland? One new party thinks it's the answer.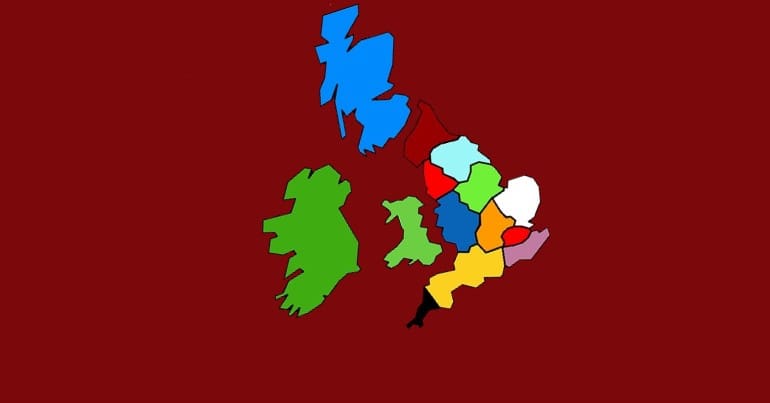 Support us and go ad-free
A new party is calling for devolution of power in the UK. But, it's not quite what you may think. Because the group is advocating for England to be divided up and turned into a federalist state. Oh, and it supports the reunification of Ireland, too. Interested? Then read on.
Federalist theory
The website tutor2u says federalism is:
principally the theory by which political power is divided between a national and state government, each having their own clear jurisdiction. One of the main focal points of federalism is that… of decentralisation
The most well-known example of federalism is in the US. There, the main (federal) government makes laws. But each state makes its own laws, too. So, what would that look like in the UK? The Progressive Federalist Party of Britain and Ireland (PFP) has an idea.
The Canary caught up with its founder Harry Brennan. He's a final year history PhD student at the University of Glasgow, and a dual Irish-British citizen. We discussed the idea of federalism, what it could look like, and the direction the PFP will take. 
"Exhausted"
Brennan formed the PFP in early 2021. The party is currently in its infancy, but it has a website under development and is looking for people to join its ranks. Brennan told The Canary that he took the plunge to form his own party after the pandemic began:
Like so many, I think that moment came around March/April 2020, just after Covid hit Europe. I've had one eye on politics for years. I grew up with the post-2008 'Great Recession' and Tory/coalition austerity. And I was part of the first year of students to pay £9k in tuition fees. But we never talked about politics at home or in school. So, like many voters I spent years trying to work out who left of the Tories was worth voting for. Anyone under the age of 30 in particular has been tossed from one party to the next. And I think we're all exhausted. The potential of Corbyn's movement is gone. And the cautious optimism around Starmer has completely evaporated.

Read on...

Support us and go ad-free

So, the catalyst for all that coming to a head was definitely the first lockdown in 2020. It forced me to sit back and think about just what I'd want to see a better Britain look like. From what I can tell, that's an experience an enormous number of people have had.
So, Brennan bit the bullet and began planning the PFP. First he turned his attention to our democracy.
Power to English regions
The issue of British and Irish federalism is central to Brennan's idea. He told The Canary:
First, we want to reform the whole structure of government within Britain. That means proper local power; not over-centralisation in Westminster which hamstrings local councils. We want a local and regional focus for politics, communities, and culture across Britain. This will allow towns and cities neglected since the Thatcher era to help themselves.

For England, that means scrapping Westminster entirely. We'll create a new English Parliament, with a regional system of federal 'states'. Think of it like Germany. It's a single nation. But its federal government structure recognises and supports its distinctive regions. For England, that would mean a Yorkshire Parliament, a Cornish Senedh, an expanded London Assembly, etc. We'd replace the antiquated and inefficient Houses of Commons and Lords with a single house. It would be elected by proportional representation and held accountable by a proper written constitution.
The independence question
But it's not just England that's PFP's focus. Brennan told The Canary:
For Scotland and Wales that means national independence, which we fully support. For Northern Ireland, that means working toward reunification. That's why we describe ourselves as the PFP 'of Britain and Ireland'. We want to bring both islands into the same conversations while also recognising their distinct needs. Northern Ireland is completely ignored by 99% of Westminster and British voters. That needs to change. Ireland has many of the same issues as Britain. But it also provides a lot of inspiration for positive changes we could make in Britain.
The PFP is already thinking policy and electoral options:
We've developed a whole range of progressive policies. These include an Intersex Persons' Rights Act; high-speed rail plans, a detailed carbon tax and flying levy plan; changes to policing; rent controls and changing school holidays. On top of all that, our other stand out aim is building a progressive electoral alliance. We want to work with like-minded parties to overcome the issues of First Past the Post [FPTP] voting. But we also want to get candidates into Westminster to bring about change now.
But would the idea of a federal England, independent Scotland and Wales, and a reunified Ireland wash with the public?
Selling a bold idea
As The Canary previously reported, polling is starting to show growing support for independence in other nations apart from Scotland. But this isn't entirely the same as what PFP is calling for. So, Brennan summed up the idea for Britain and Ireland to The Canary and how he'd explain it to someone with little knowledge of the idea:
For someone living in England, I'd point to Scotland, Wales and Northern Ireland. They have an entire layer of representation that England just doesn't get. English residents need their equivalent to Holyrood. This isn't a new idea. The Yorkshire Party, for example, have been arguing for this kind of thing.

But these proposals have always been isolated, or the term 'federal UK' gets tossed around without any serious planning. We are the first movement to lay out a detailed model for a federal England. It's one which celebrates regional identity, empowers your corner of England with money and political autonomy, and envisions a progressive English state and identity. It might sound like a big departure from what we know. But if Germany manages it just fine – why can't we?
"Wholesale independence"?
He continued:
We all know Westminster is isolated from the rest of the country. And there's no sign of it changing for the better anytime soon. It doesn't even serve most of London that well. So, how is it supposed to address deprivation in Cornwall, the Black Country, or Northumberland? You can't reform that. You need to replace it.

There are also some groups arguing for wholesale independence for London, Cornwall, Mercia. If that's you, federalism is going to make that a lot easier logistically. But for everyone else, it doesn't make that inevitable or necessary. Federalism empowers English regions and local areas. But it also keeps England as a meaningful political geographical unit.
But federalism is not the only potential shift in the political landscape on the horizon.
Shifting political sands
As The Canary has been documenting with our #MeetTheMovement series, new political parties are coming to the fore. And Brennan thinks that now is the time for an alternative to the establishment parties; not least Labour:
Labour has had its day as a fixture of British politics. It's Scottish and Welsh bases have eroded. And its ambiguity about Brexit has hurt its standing in London too. While the 'Red Wall' language trotted out in 2019 is loaded, it's certainly true that Labour has done little to engage voters since 2019. What was Europe's biggest political party under Corbyn failed to build on the 2017 general election result. And it completely failed to get the press onside for 2019.

It's had to act as this broad church trying to wrangle everyone left of the Tories together. That has been a nightmare for it, ever since its creation. We've spent the 2010s trying to corral neoliberals, socialists and progressives into a single party. But it just doesn't work. What we need is a range of parties that appeal to people's varied needs and beliefs. And we also need a way to get these parties aligned and working in parallel. They can't get in each other's way. But that doesn't mean agreeing on everything. It means working in geographically concentrated, strategic ways which can work amid FPTP. We need to turn these differences into a strength, and stop them being a weakness undermining a monolithic national party.
Embracing smaller movements
Moreover, Brennan has a fairly clear message for people disillusioned with the mainstream left-wing parties that currently exist:
We shouldn't have to settle for one or two deeply flawed parties just because we're desperate for anything more progressive than the Tories. There are already smaller local movements doing great work. There's the Preston model, new local co-operatives and so on. We deserve true political choice. Honestly, while we're proud of our manifesto, we would also advise voters to check out groups like the Harmony Party UK and Breakthrough Parties on a national level. And people can also look for local independents in their council.

Yes, politics requires compromise. But that shouldn't mean everyone left of Jacob Rees-Mogg being crammed unhappily into one or two parties. Joining a political party or movement currently feels daunting or alienating to many. It doesn't have to be this way. We shouldn't have to put up with transphobes in Labour and the Greens, or the policy U-turns of Nick Clegg in 2010 and Keir Starmer in 2020.
With that in mind, the PFP has a clear roadmap of what the short-term will look like for it.
A "progressive alliance"?
Brennan told The Canary:
We need to get the different groups, movements, and parties springing up around Britain in touch with each other. We all need to get on the same page. That means a 'progressive alliance'. But not the kind which failed miserably in recent elections. Far too many use that term as shorthand for 'vote Labour or Lib Dem, maybe Green and anything else is unacceptable and makes you a splitter'. Under FPTP, we can achieve victories with a wide range of parties. But only if we co-ordinate and concentrate support geographically.

Most constituencies are won with something like 35,000 votes. Yet the English Greens got over 800,000 votes in 2019. A local group doesn't need anywhere near that amount to make a substantial change. It happened in Wyre Forest in the 2000s. Claire Wright got incredibly close to unseating the Tories in East Devon in the 2010s. By 2024, we need a system of progressive primaries. This would be where constituents use "approval voting" to choose a single anti-Tory candidate. It'll take a lot of work to organise that. But [the think tank] Compass are working on this kind of thing. And it's absolutely necessary to work around FPTP.
Building a federalist alternative
The PFP is building a fascinating alternative. But it's currently small in number. So the party and Brennan are looking for people to get involved. He told The Canary:
It's very early days for the PFP. At the moment, it's still run by me alone, with only a few others able to give a little of their time. But if anyone likes what we're doing and would like to help, please get in touch.

We need feedback from more people across England on the finer details of our federal map. And in general we need feedback on our policy proposals. I'm a final year PhD student, so I don't have a lot of time free to contribute right now. I've spoken with Alex Mays of the Breakthrough Party (who is doing some great stuff). And I'm also reaching out to others to start knitting these new groups and parties together. We should do more of that in 2021. The website should be done soon, and that'll make sharing PFP policies far easier as well. So – join us.
The idea of a federalist Britain and Ireland is certainly intriguing. But it's also PFP and Brennan's notions around alliances which are equally promising. For such a small group, the prospects so far are positive. Now, the PFP needs more people to engage to be able to truly see where this new movement could lead.
Featured image via the Progressive Federalist Party
Support us and go ad-free
We know everyone is suffering under the Tories - but the Canary is a vital weapon in our fight back, and we need your support
The Canary Workers' Co-op knows life is hard. The Tories are waging a class war against us we're all having to fight. But like trade unions and community organising, truly independent working-class media is a vital weapon in our armoury.
The Canary doesn't have the budget of the corporate media. In fact, our income is over 1,000 times less than the Guardian's. What we do have is a radical agenda that disrupts power and amplifies marginalised communities. But we can only do this with our readers' support.
So please, help us continue to spread messages of resistance and hope. Even the smallest donation would mean the world to us.
Support us