The week in satire Vol. #15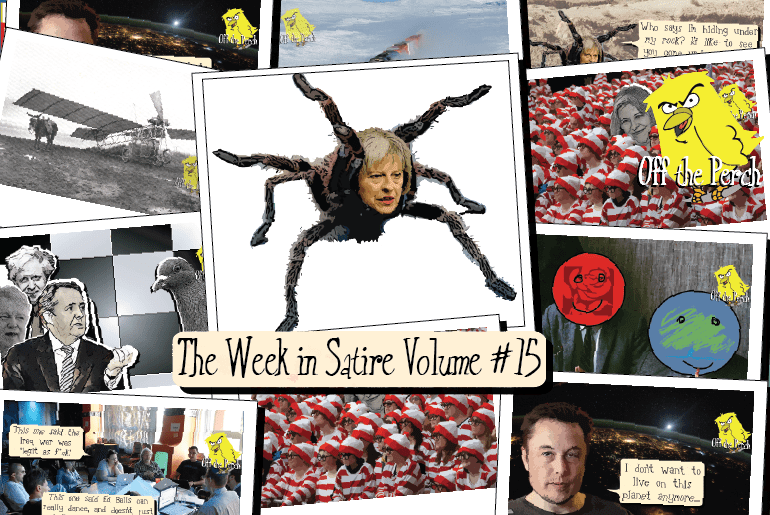 Support us and go ad-free
And what a week it was!
A week which didn't see Owen Smith (Owen "who?"), didn't see Theresa May (did she get trapped in a wardrobe or something?), and still didn't see concrete signs of what Brexit might be.
But what else didn't happen?
Let's look back and see: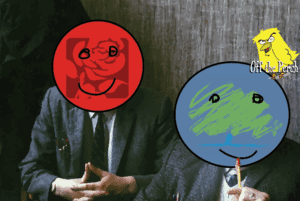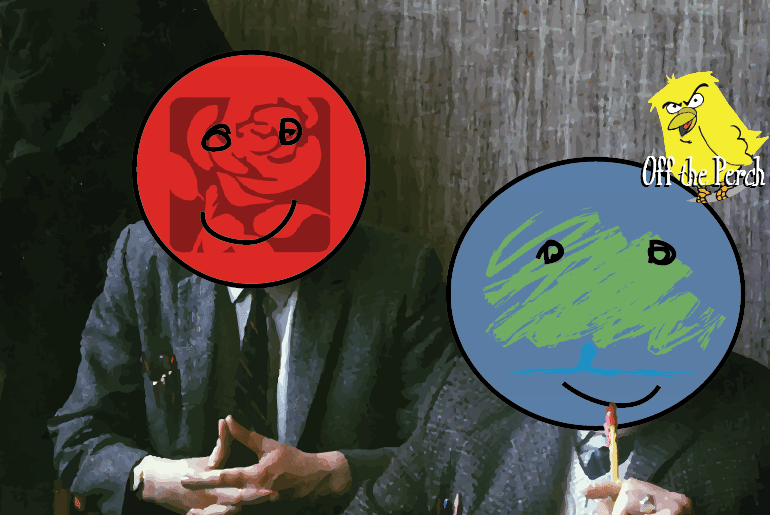 If UK political parties were school teachers – a satirical analogy
Read on...
Support us and go ad-free
Now obviously the first thing you're probably thinking is:
So you're comparing voters to toddlers? Isn't that a little bit patronising?
 Yes – this analogy is very problematic. Although I'm not going to explain why it's problematic until the very end.
For the time being, please just be assured that the analogy "works" in that politicians are supposed to explain politics to the masses in the same manner that teachers are supposed to impart knowledge to infants.
The Beginning
To begin with, we start with a class of several infants and two teachers – Mr Conservative and Mr Labour (who I have gendered identically to avoid the suggestion that right or left-wing politics are male or female traits).
From the get go, Mr Conservative and Mr Labour have very different ideas about how to run the class. As the two teachers cannot agree which approach is best, it's decided that whoever can attract the most children will get to set the classroom's agenda.
Mr Conservative believes that individuals should be encouraged to concentrate on their own development, and that those with the greatest talents should receive the most support. The rationale for this is that students with the greatest aptitude will provide the greatest benefit to society, and so nurturing these people will advance society more quickly, and ultimately lead to a greater quality of living for everyone.
Mr Labour believes that all of the students should be given equal attention, and that everyone's skills should be weighted equally. The rationale for this is that a society in which people are rewarded equally is a society in which everyone has a vested interest, and therefore everyone reaps the benefits that come from striving for progress.
Although both of these philosophies sound like they have some merit, the problem is that neither Mr Conservative nor Mr Labour really believed in them.
Mr Conservative was given his position at the school because he was friends with the shareholders, and as a result his main concern was always to keep the progeny of his backers satisfied – regardless of whether or not they were academically superior (or in some cases, whether or not they could even spell/not torture cats). Mr Labour attained his position through genuine struggle, and although he still held out hopes of providing benefits for all, the more that he struggled with the school board, the more jaded he became.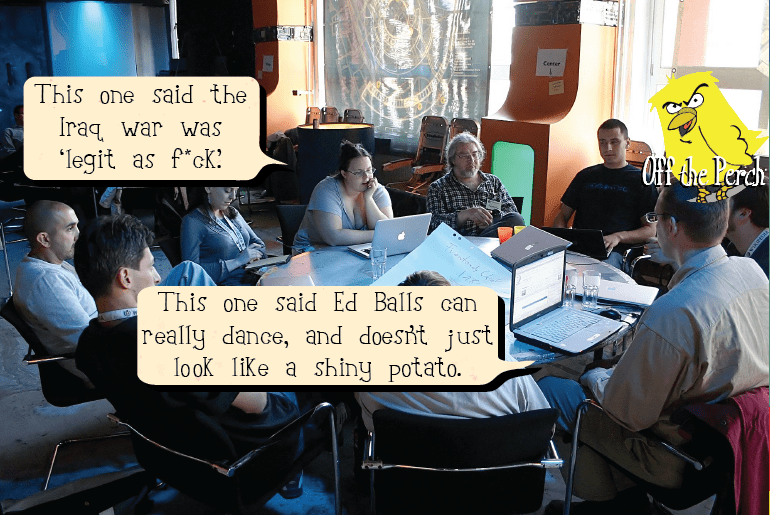 Lib Dems block #GoodbyeLabour entryists for supporting another party online
Several ex-Labour members have been blocked from joining the Liberal Democrats after it was discovered they had supported another party online.

We spoke to the Liberal Democrats' purge-meister general to find out how this latest drama unfolded:

Well obviously, when a person attempts to join our party, we look into their history and make sure they've never supported another party before ours. Or ever even mentioned another party. Or used the word 'green' in a sentence. Or displayed an interest in Foo-Fighter-in-chief Dave Grohl – a man who brazenly formed his own band despite once having been in a different band.


We don't tolerate that bullsh*t, thank you very much!


Of course, it does make it very difficult to win over voters when you're fundamentally opposed to the idea of voters being won over, but – well…


Err…


What was our logic again?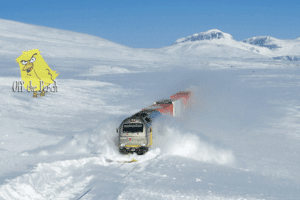 UK's snow shovel salesmen going full tilt following annual Snowmaggedon forecast in Express
by John Ranson
Monday 26 September has been confirmed as 2016's D-Day for the UK snow shovel industry. Up and down the nation, wholesalers, opportunists and assorted Del Boys will be dumping vast stocks of flappy, brittle bits of plastic on sticks onto supermarkets, garden centres and garage forecourts.
And we'll all be thrilled to have bought one when the heaviest snow anyone can remember paralyses the country from November until March. Because that's what's coming, and that's why the preparation starts today.
Bookmakers are already taking bets on when 2017's snow panic will officially begin. The date is determined each year by the publication of Nathan Rao's article in The Daily Express, in which he informs us that four months of snow are on the way. This year's piece has appeared unseasonably early – in 2015 Rao didn't spill the beans until 3 November – leading some to predict logistical difficulties in the snow shovel supply chain.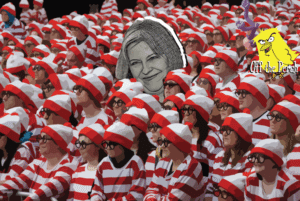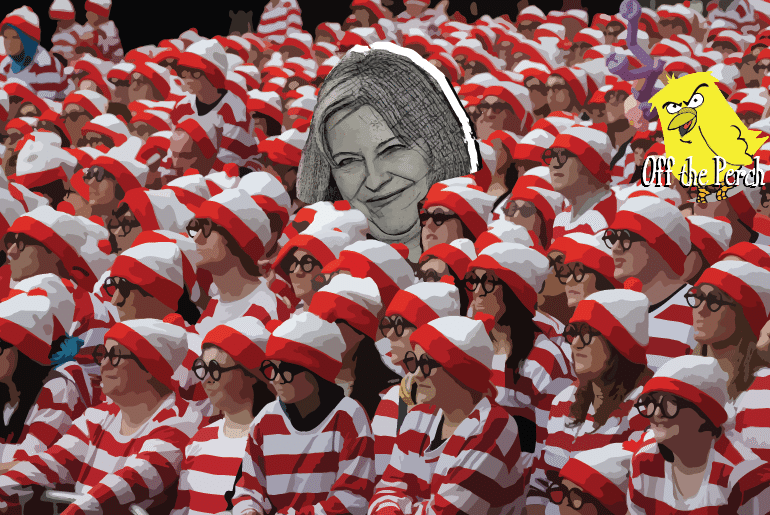 Prime Minister May avoids criticism by not doing or saying anything
Following that awkward first week back from the summer break, Theresa May has worked out a way of avoiding all criticism – namely by refusing to say or do anything which could be criticised.
Or by saying or doing anything which could be praised.
Or indeed by saying or doing anything at all.
We spoke to one of the PM's senior advisors to find out who came up with this latest Tory masterstroke:
Theresa used to look at David Cameron and think 'crikey – if gammon face can handle it, being PM must be a piece of cake.' That's why she spent her summer break not planning anything – thinking she could just come back and zing that Corbyn chap with some top jokes and chill.

What she failed to realise, however, is that 'gammon face' did so well because his skin is so incredibly thick. Almost as if it actually is made out of gammon.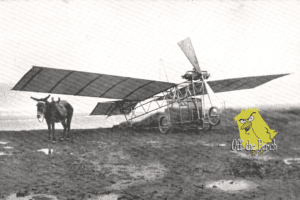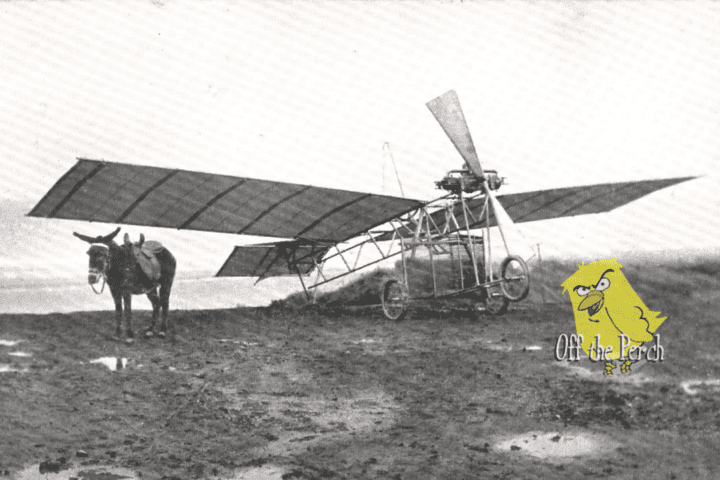 Brexit Tories bring back Age of Empire with new Royal transport
by John Ranson
Prominent Brexit Tories, including Boris Johnson and Michael Gove, have decided that nothing says 'Good old-fashioned British values' like toadying up to the Royal Family. And nothing says 'pointless, gratuitous, sick-inducing, over-the-top Royal extravagance' like a Royal Yacht. And of course nothing says 'Brexit' quite as much as reheating mid-20th century jingoism.
In fact, some commentators who've been wrestling with the thorny question: "If Brexit means Brexit, what does Brexit mean?" are beginning to suspect that the answer is: "Brexit means giving the Queen her boat back".
But of course these are difficult times for splashing the cash. Unlike in 1953 when the nation was awash with all the money saved by setting up the NHS and building hundreds of thousands of council houses, the UK economy is now feeling the inevitable pinch caused by spending hardly anything on public services for six years.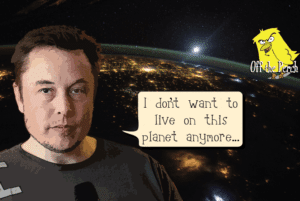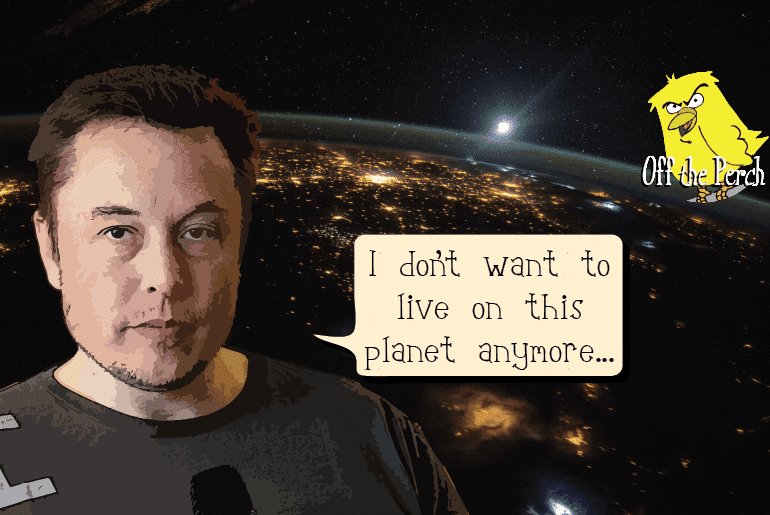 Elon Musk to abandon Earth and take all the experts with him
The world-famous inventor Elon Musk has announced plans to flee from planet Earth like a super-smart rat from a moronically sinking ship.
Musk was coy about his intentions at first – claiming that our dispersion throughout the stars was simply the best means of ensuring that our species endures. But since witnessing the latest Trump-related fiasco (the one in which the Donald accused Clinton of personally murdering Harambe the gorilla with her witch magic), the inventor has come forward to admit that planet Earth is just f*cked:
When the internet first came out, I thought it would be a great resource for disseminating information and understanding. Unfortunately, it also turned out to be an excellent means of sharing nonsense and butt-hurtery.

Who could have predicted that barely two decades after Google and Wikipedia gave us the means to research political candidates, we'd be faced with a choice between Donald Trump or Hillary Clinton? Or that many voters would actually find themselves in favour of one of these absolute horror-bastards?

This planet… this planet isn't working.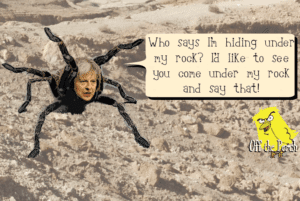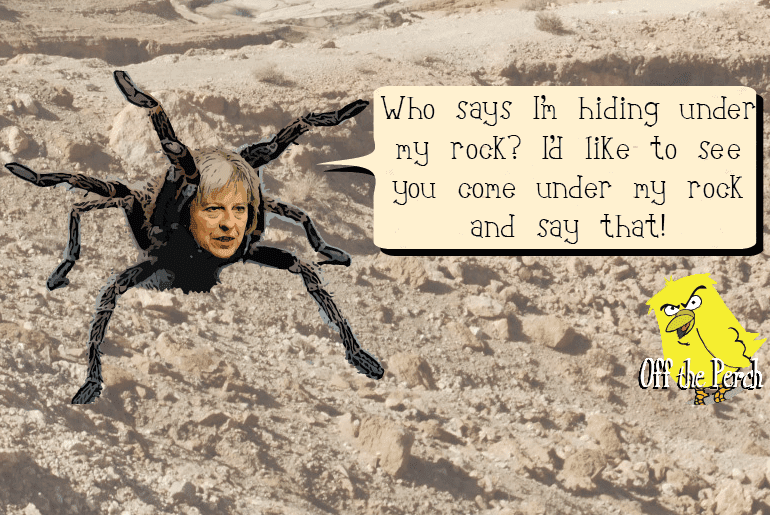 Tarantula May forced to decamp from under her rock to strike at Ken Clarke
Tarantula May, a.k.a. the Prime Minister of Great Britain, was forced to decamp from under her rock this morning, so that she might strike out at one of the many creepy-crawlies she surrounds herself with.
The creepy-crawly in question was Ken Clarke (who in fairness is one of the less creepy ones – probably best described as some sort of stinkbug as opposed to the party's more usual leeches, ringworms, and parasites). Clarke had drawn attention to himself by accusing Tarantula May of having no policies whatsoever. He also suggested that, since getting into power, the PM had primarily been skulking under a rock – waiting for easy political capital to walk past so that she might quickly overwhelm it.
This is what Clarke had to say:
Sure – having a terrifying, eight-legged nightmare as PM seems impressive. As soon as the opposition realised that her only tactic is to hide in one place though – waiting for unsuspecting victims to come to her – the fear was obviously somewhat diminished. That's why Labour have been able to stay out of Tarantula's reach and pelt her with facts and ideas.

You can say what you will about David Camer-worm – he may have been politically blind and had a head that was identical to his arse – but at least the fellow wriggled about the place a bit.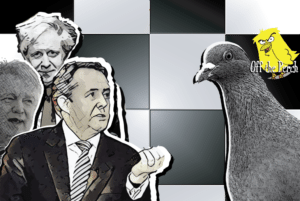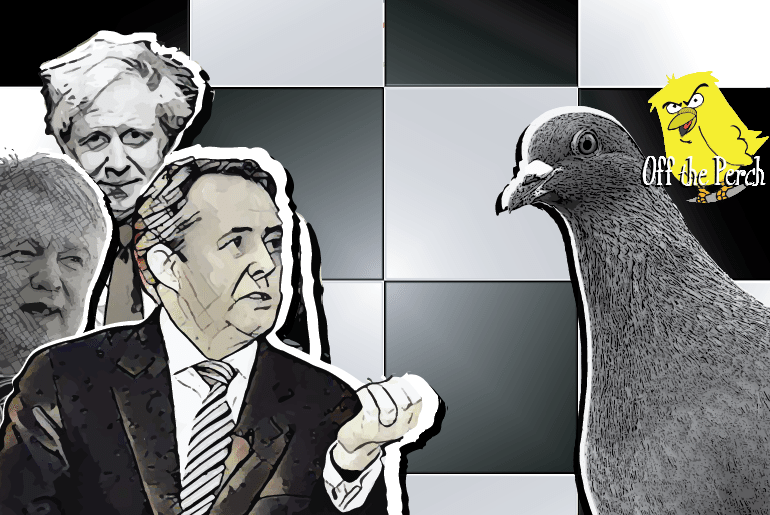 The Brexit Bunch beaten at chess by a pigeon
The 'Brexit Bunch' (i.e. Boris Johnson, David Davis, and Liam Fox) have admitted that they were beaten at chess by a pigeon this week. Although they did assure us it's only the fifth such game that they've lost.
The trio have been warming up for the several years of brisk and unpredictable negotiating which will ensue as soon as Theresa May gets around to enacting Article 50. Unfortunately, they were unable to find an animal with a comparable level of cunning to themselves, e.g. a flatworm or a pile of bricks. Instead, they were forced to make do with the wiliest of not very wily birds – the pigeon.
https://twitter.com/hourlyterrier/status/781449164693659648?ref_src=twsrc%5Etfw
The following is a transcript of their game:
JOHNSON: "I'll take the first move if you don't mind, chaps? And I'm going to move the bishop straight behind the king and stab it in the back."
DAVIS: "Chess doesn't work like that, Johnson. You shambling cacophony of arse!"
JOHNSON: "Okay, Mr Clever Clogs – how does it work then?"
DAVIS: "Chess works like chess. And these aren't clogs as you bloody well know – they're traditional British loafers, which just happen to be made out of mahogany!"
FOX: "Traditional British mahogany loafers? What does that even mean?"
DAVIS: "Traditional British mahogany loafers means traditional British mahogany loafers. Any more questions Fox? You scattershot sprinkler of pish!"
FOX: "Yes – what tactics are we going to use against this infernal slum-buzzard?"
JOHNSON: "I was thinking we could start off by insulting its ancestral heritage, follow up by writing a limerick in which we accuse it of making rushed and sweaty love to a goat, and then finish off by joining its team whilst secretly hoping it will lose."
FOX: "That's a terrible plan, Johnson, and you're a massive jam sandwich."
Featured image via Flickr / Wikimedia / Wikimedia / Flickr / Flickr / Flickr / Flickr / Wikimedia / Flickr / Flickr / Pexels / Flickr / Flickr / Flickr / Flickr
Support us and go ad-free
We know everyone is suffering under the Tories - but the Canary is a vital weapon in our fight back, and we need your support
The Canary Workers' Co-op knows life is hard. The Tories are waging a class war against us we're all having to fight. But like trade unions and community organising, truly independent working-class media is a vital weapon in our armoury.
The Canary doesn't have the budget of the corporate media. In fact, our income is over 1,000 times less than the Guardian's. What we do have is a radical agenda that disrupts power and amplifies marginalised communities. But we can only do this with our readers' support.
So please, help us continue to spread messages of resistance and hope. Even the smallest donation would mean the world to us.
Support us