The week (and a bit) in satire Vol. #27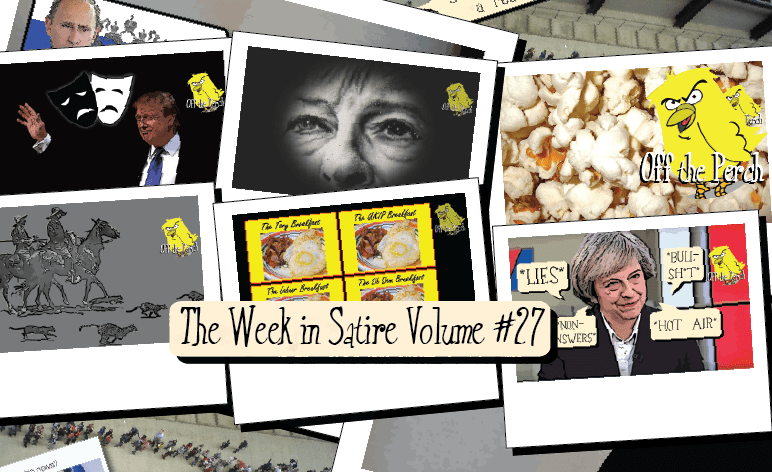 Support us and go ad-free
And what a week (and a bit) it was!
A week in which the NHS wrecking-ball that is Jeremy Hunt resurfaced from under his rock! A week in which the NHS human time-bomb that is Jeremy Hunt slithered back under his rock! And a week in which the NHS privatisation turd that is Jeremy Hunt hung a sign on his rock that says 'DO NOT DISTURB UNTIL THE NEXT CRISIS'.
But what else happened?
Let's look back and see:

The UK's EU ambassador resigns for a quiet life herding cats
Sir Ivan Rogers, the UK's ambassador to the EU, has resigned. Primarily to retire to a quiet cottage in the American tornado belt where he intends to herd cats.
It could be worse
At first, many assumed Rogers was making a joke. A joke which highlighted the absurdity of the slowly deflating whoopee cushion that is Brexit. The problem with Brexit being that everyone wants very conflicting things.
Read on...
Support us and go ad-free
Michael Gove, for instance, wants to get his own way so that he can rub his enemies' faces in it on Twitter. His expert enemies, meanwhile, want to be listened to so that we can avoid the economy sinking like the famous movie-flop Titanic 2: The Iceberg Strikes Back.

Britons already queuing up to call Radio Farage and tell him what they think
When LBC Radio gave a job to Katie Hopkins, AKA the second worst person in the country, Britons sarcastically asked:
Oh wow, great move, LBC. Why not just just give air-time to a rabid pit bull? Or a disturbed hornets' nest? Maybe a toilet bowl filled with rats on amphetamine? Or even worse, Nigel Farage!
And unfortunately for the world, LBC doesn't seem to have picked up on the sarcasm.
Although, to be fair, the disturbed hornets' nest was busy. And the toilet bowl filled with rats didn't want to work alongside Katie Hopkins.
'Friends of Israel' accuse Russia of hacking Israeli diplomat's mouth
An Israeli diplomat has been filmed trying to undermine British politics. A scheme which involved setting up and influencing various UK-based 'Friends of Israel' groups. And yet now the members of these groups have come forwards to deny these claims. Namely by suggesting that the diplomat's mouth had somehow been infiltrated by "bad Russian spies".
RUSSIA! RUSSIA!
Now, most people are obviously thinking:
But how could they even potentially… possibly…?
To find out, Off The Perch (OTP) spoke to a member of Conservative Friends of Israel – a gentleman who asked to remain anonymous. Which is why we'll be referring to him as Lord Rat-Traitor (LRT).
The interview
OTP: "So, Lord Rat-Traitor. You've claimed that the diplomat's mouth had somehow been infiltrated by bad Russian spies. So my question to you is this: are you on or off drugs? And what can I do to help you get back on or off them before you do yourself a mischief?"
LRT: "Come on, is it really that difficult to believe? Just look at America. All the evidence over there points to the fact that the Russians could have been responsible for hacking. And if Vladimir Putin's smirk is anything to go by, I think we can say with some conviction that they definitely are. But what do we have on Israel? It's just some video of a diplomat consistently and consecutively admitting to being involved in an attempt to sway British politics in his own nation's favour. It's hardly much to go on is it!"

May's plans to create 'Scared Society' hit by spelling mistake
by John Ranson
The UK's ditherer-in-chief Theresa May has started 2017 with a bang by announcing that, up to now, it only looked as if she wasn't doing anything. In fact, she and her Downing Street functionaries have been fiercely busy. They've been working on a new blueprint for the nation. May laid the foundations during her reign of terror at the Home Office, with the introduction of draconian snooping powers and nonsensical gibberish such as public space protection orders.
As a result, May is now able to unveil… "The Scared Society". This new world, suffused with a red, white and blue Brexit glow of nostalgia, will be one in which everybody knows their place. The rich will understand that it's their job to run things. The poor will realise that no help is coming their way and they might as well accept it. And the folks in the middle will have it hammered into them that while they shouldn't entertain too many hopes of becoming rich, they'd absolutely better not dare to become poor.
Business leaders have had a hand in the discussions. They're particularly keen on the "Don't Rock the Boat" slogan campaign which Amber Rudd will be fronting. Expect tonnes of Keep Calm and Carry On style merchandise.

Trump quits Presidency to become the 'world's greatest actor'
Donald Trump has been engaged in politics for over a year now. A length of time which is actually longer than most of his business ventures lasted for. The ill-fated 'Trump Steaks', for example, having lasted only one year. Almost as if people don't want to think about his tangerine face and road-kill haircut while eating.
As such, it's not surprising that Trump would grow bored of politics. A boredom which has led him to quit the Presidency completely and take up acting. Which will finally allow him to show Meryl Streep who the greatest actor of them all is.
[!!!SPOILER ALERT!!! – It's her]
Audition reel
As a means of attracting a part, Trump has recorded an audition reel of himself. In it, he can be seen performing lines from some of history's greatest productions. Although, as per usual, the former steak-monger has struggled to stay on script.
Hamlet
"To be or not to be? That is the question. Seriously? That is the question? I could come up with a much better question. Like $2b or not $2b – how much am I worth? You see? I'm a smart guy; I have all the best questions. This Will-I-Am Shakespeare guy was a bozo."

On the Brexit menu today – dumbing down the nation and single-policy politics
It's official. UK politics have all but ceased to concern everyday matters, or a range of policies/attitudes. No longer are they a complicated mire of subtleties and compromise; what one might describe as Fifty Shades of Grey (but without the leather and gimp masks). Now it's arguably more Four-and-a-half Shades of Sh*t-stain. Because party alignment is now about one singular issue.
Breakfast.
Sorry… Brexit.
(One hopes the British public didn't experience the same confusion at the voting booth.)
We do like the analogy, though. A greedy, neoliberal, greasy-spoon owner has decreed to his staff in the 'bollocking room' at the back of the kitchen:
Don't let the customers concern themselves with anything else. They all get semi-cooked breakfast, right? Set menus only.
The staff (our politicians) have panicked. They have scattered like bemused lemmings, fearful at the proposition of losing their own employment as gatekeepers to our bacon and eggs. So they've humbly done as decreed, and scrapped pretty much everything else on the menu.

Nation in shock after Theresa May actually answers a question
Great Britain was left in shock today, after Theresa May actually answered a f*cking question.
Surely not!

Theresa May has built up a bit of a reputation at this point. Well, actually she's built up several reputations – none of which are particularly flattering. And yet, it's her reputation for never answering a question that she's becoming most famous for.
Which is why people who force themselves to watch Prime Minister's Questions were dreading her return. Because the whole deal has now taken on the following pattern:
CORBYN: *ASKS QUESTION*
MAY: *FAILS TO ANSWER AT LENGTH*
VIEWER: *WINCES*
CORBYN: *ASKS QUESTION*
MAY: *FAILS TO ANSWER AT LENGTH*
VIEWER: *REACHES FOR THE BOOZE*
CORBYN: *ASKS QUESTION*
MAY: *FAILS TO ANSWER AT LENGTH*
VIEWER: *THROWS EMPTY BOTTLE AT THE TELEVISION*
CORBYN: *ASKS QUESTION*
MAY: *FAILS TO ANSWER AT LENGTH*
VIEWER: *PANICS BECAUSE THE SOUND IS STILL COMING OUT OF THE TELEVISION SPEAKERS*
CORBYN: *ASKS QUESTION*
MAY: *FAILS TO ANSWER AT LENGTH*
VIEWER: *GOES TO FIND THE SLEDGEHAMMER*
CORBYN: *ASKS QUESTION*
MAY: *FAILS TO ANSWER AT LENGTH*
VIEWER: *TAKES OUT WHAT'S LEFT OF THE TELEVISION/LIVING ROOM*

Vladimir Putin seen buying a metric tonne of popcorn
The Russian leader, Vladimir Putin, was spotted on 12 January buying a metric tonne of popcorn. And it's being speculated that he bought it so that he might enjoy a light snack while watching the chaos that is US politics. Because regardless of whether or not he caused it, you can bet your bottom rouble he's loving it.
Off you pop!
Putin was first seen leaving the Kremlin early on in the day. A bystander detailed the sighting to one of our reporters:
At first, I didn't even realise it was him; he had such a spring in his step. As he came closer, I could hear that he was singing Back in the USSR. He was really getting his groove on, too – drumming out the beat on trashcans and car bonnets.

When he passed me, I couldn't help but ask him. 'Did you do it, Vladimir?' But he didn't say. He just winked and tapped his finger on his nose. And then he did a quick drum solo on the water melon I was carrying. He got a really good sound out of it, too.
Get Involved!
– For more satirical news, follow Off The Perch on Facebook and Twitter.
Featured image via Flickr / Twitter / Flickr / Flickr / Wikimedia / Flickr / Flickr / Wikimedia / Flickr / Flickr
Support us and go ad-free
We know everyone is suffering under the Tories - but the Canary is a vital weapon in our fight back, and we need your support
The Canary Workers' Co-op knows life is hard. The Tories are waging a class war against us we're all having to fight. But like trade unions and community organising, truly independent working-class media is a vital weapon in our armoury.
The Canary doesn't have the budget of the corporate media. In fact, our income is over 1,000 times less than the Guardian's. What we do have is a radical agenda that disrupts power and amplifies marginalised communities. But we can only do this with our readers' support.
So please, help us continue to spread messages of resistance and hope. Even the smallest donation would mean the world to us.
Support us