The week in satire Vol. #52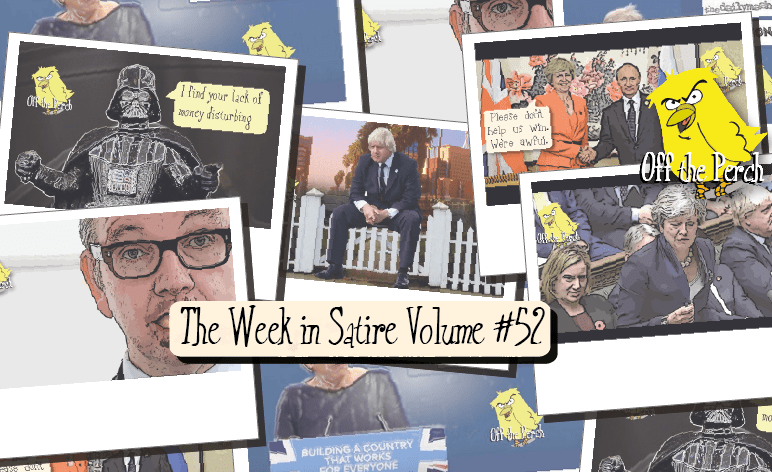 Support us and go ad-free
And what a week it was!
A week in which the government managed to avoid collapsing in on itself like a rotten mango! And… that's about it. That's what's classed as a good week now.
But what else happened?
Let's look back and see!
Johnson and Gove described as 'the worst reunion since Bob Geldof and music'
Boris Johnson and Michael Gove were always an odd couple. Not because they were dissimilar – both men being serial deceivers and incompetents. Just because they're both quite odd.
The pair fell out after Gove knifed Johnson in the back. Although to be fair to Gove, Johnson was only friends with him in the first place because of their shared love of treachery.
Read on...
But having put the past behind them, the two men have now reunited. And it's going down about as well as eel-flavoured ice cream.
Rehash
One prominent detractor said:
Johnson and Gove were the worst pairing since northern Europe and the Black Death. This latest event is what I'd call the worst reunion since Bob Geldof and music.
The reunion has even confused some former fans – including arch-Brexiteer Lord Fagin:
I was a big fan of the early stuff – like writing lies on buses, winning the EU referendum, and immediately backtracking on every promise they'd made. This new stuff is a bit avant garde for me, though. They seem to be trying to ensure that a British citizen remains locked up in Iran for no discernable reason?

It's just weird. Give us a hit!
Hard Brexit
Fans have perked up slightly after learning that the pair has also been making demands of Theresa May regarding hard Brexit. The pair allegedly wished the news hadn't been released so soon, though, as this scheme is still in the demo stage.
If all goes well, they're hoping to hatch a brand new plot in early 2018. The working title of said scheme being Appetite for Destruction.
'Russia to blame for this terrible UK government', claims the Prime Minister
People have accused Russia of meddling in Western elections for a long time. The evidence that Vladimir Putin is continuing this trend is increasingly apparent. But even if it wasn't, the way he's always smirking is a dead giveaway.
The UK government has now explicitly said that Russia meddled in elections. It also apologised, saying:
We're really sorry about this. We wondered how we'd managed to stay in power, too.
Interference
Putin has since come clean about his activities. Appearing topless and on bear-back, the Russian leader told reporters:
You know how these things go. I was sitting up one night, discussing the collapse of bourgeois Western hegemony, when a junior minister says he can maybe make these things so.

I not take him seriously, as he is what you call computers boffin. I authorise him to go ahead, though, because I have too much to drink. Unbeknownst to me, this man goes away and claims Facebook for Mother Russia.

One year later, I hear about Russian interference for the first time. At first I laugh it off. Then I find out it was us.

Increasingly, this joke is not so funny. I mean – it's still pretty funny, but wow – this shit is a mess.
Brexitannia
Russia has claimed responsibility for Trump, Brexit, and the Conservative government. All three things will be continuing, though.
Some people have complained about this, saying it's not really 'democracy' if it's open to influence by malign and powerful forces.
If you're one of these people, you should maybe Google the 'history of Western democracy'. Because there's nothing new about democracy being broken. The only development is that it's now #broken too.
Spoof news sites announce they will no longer publish articles about Theresa May
Spoof news sites The Onion and The Daily Mash have announced they will no longer publish articles about Theresa May. The sites claim the Prime Minister is "beyond parody".
Beyond parody
Daily Mash Editor-in-Chief Hoxton Topknot told Off The Perch that May has become Britain's first post-ironic prime minister. Speaking from a loft in Dalston, Topknot said:
The purpose of parody is to take a bad situation to the extreme, using the comedy of that extreme to make a serious point. But this prime minister is beyond parody. We've had an uptick in writers taking sick leave due to stress. They're literally working themselves to exhaustion trying to out-shit this government.
According to a spokesperson at The Onion, the problems run even deeper. Jelly Bae Fagin told Off The Perch:
Six times in the last month, our parody headlines have ended up happening for real. Our writers spend weeks crafting ever more absurd ways for Theresa May to fuck up, and she beats them every time. She either actually does it, or she does something so arse-clenchingly awful that our minds can't even conjure it.

This has been crushing for team morale. Some people are even starting to confuse us with a real news outlet because our parodies keep coming to life.

Sometimes, you just have to know when you're beat.
No news is good news
When Off The Perch attempted to reach May's office for comment, the call was answered by a parrot. The bird screeched the phrase "Nothing has changed!" repeatedly until our reporter ended the call.
The Tories are revolting! Also, some of them are rebelling.
Theresa May wants to enshrine in law the day that we'll leave the EU. Because as we all know, the problem isn't that we have no idea what we want from Brexit: it's that we don't know the precise moment in time we'll crash out with no deal.
Some Tories are revolting, though. This has split the Conservatives into two camps:
Those who think that leaving the EU will enable them to better screw the poor.
Those who think that staying in the EU will enable them to better screw the poor.
To the death!
Traditionally, there is only one way for the Tories to settle this matter. That's through a 'Royal Rumble' style battle to the death in parliament.
Although obviously, the Tories won't be fighting each other. Why would they do that when they can just have their servants and interns do it for them?
Never ones to miss out on an opportunity to gouge people for cash, this death match will be broadcast live via pay-per-view. Make sure to tune in to find out which side we'll be losing out to – the Brexit Tories or the Remain Tories.
Revolting
On the one hand, we have MPs like John Redwood. An MP who supported Brexit for the alleged good of the country, and yet advised investors to shift cash out of the country (presumably in order to then come back and buy UK infrastructure for cheap once the economy tanks). The Tory battle-servants on this side will be armed with straight bananas and empty promises.
Facing them, we have Tories like the now insurgent newspaper editor George Osborne. Tories who believe that the best way to screw the poor is to use the EU flag as a veneer of liberalism while simultaneously bludgeoning people to death with austerity. The melee-interns for this faction will be brandishing rolled up copies of The London Evening Standard, and double standards.
Oh, and you've also got May refereeing. A supposed leader who may or may not have an opinion about which option is best, but is at least very clear about the fact that she's very clear about things.
Winners take all
If you're worried that the Tories on the losing side may miss out, you can stop now. When you're rich enough, you can ensure that you come out on top no matter what. Which is why most of them are betting against their own death match interns. Just like they're betting against us on the chance this whole Brexit thing goes tits up.
Star Wars Battlefront II players are selling their parents on Ebay to try and unlock Darth Vader
by Steve Topple
Video game company EA has just released its latest game in the Star Wars Battlefront series. But the newest addition to the franchise has sparked controversy, after it emerged young players were being forced to sell their parents on Ebay in an attempt to get enough credits to unlock the game's characters.
It's only a kidney!
Star Wars Battlefront II hit the shops on 14 November, for a cool £49.99. But players were dismayed to find the game contained an algorithm which meant every time you logged on via your Xbox One, it required you to hand over 30 pieces of silver to pick up where you left off.
This was not, however, the end of EA's inbuilt charges. For example, if players wish to explore the post-Return of the Jedi Star Wars universe in a TIE fighter, the game requires them to put down a kidney or other vital organ as a security deposit. In fairness to EA, the process is made easy by an inbuilt microtransaction with a Nigerian doctor called Frank.
You simply scan either your left or right kidney via the game's built in MRI function. Send the details plus your blood group and a 10 Naira deposit via Western Union and Bob's your Uncle. You're free to fly Iden Versio around the galaxy to your heart's content. Unless it's your heart that's the security deposit, obviously.
And while most players were happy with this, the amount of credits needed to unlock the Darth Vader, Luke Skywalker and Kylo Ren characters has caused uproar.
One mother or two?
With half-decent characters originally priced at 60,000 credits, EA suggested young players could put their entire school class up for sale on Ebay. It provided a template where you can list the sewing machine abilities, sleep, food and fluid intake requirements and socioeconomic statuses of your fellow classmates for various EA-approved sweatshops in Vietnam.
But players are angry. One told Off The Perch:
This is all very well, but EA obviously haven't thought this through properly. Look, I don't give a shit about selling off my school mates, but that opens up another problem: if they're all gone, who am I supposed to play with in 40-player Galactic Assault mode?
So EA backtracked, and slashed prices by up to 75%. This means that you now only have to sell your parents to unlock Star Wars' most famed characters:
Darth Vader: one mother or two step-relatives (whichever is the greater).
Kylo Ren: one father or two step-relatives and six pet hamsters.
Luke Skywalker: both parents or the Albanian family from across the street.
Star Wars Battlefront II marks a welcome return to raking in the cash for EA. But the result is that parents everywhere are now looking nervously at the children's Christmas lists. The Bank of Mum and Dad could be be pretty overdrawn by January.
Boris Johnson has been spotted sitting on a fence in Zimbabwe
by Steve Topple
Boris Johnson has responded to the crisis in Zimbabwe, where what may or may not be a military coup has been taking place to oust President Robert Mugabe. And the Foreign Secretary didn't mess about, as he promptly boarded a private jet to the troubled African state, found a fence to sit on outside the British embassy and took it easy while watching some dust settle.
Tut, tut
Johnson was setting out the Foreign and Commonwealth Office's (FCO) position on the developing situation in Zimbabwe. On Wednesday 15 November, after military tanks rolled into the capital Harare, Mugabe was placed in a doll's house and ordered by the military not to come out until:
We have decided who is best placed to run the most crack-pot and brutal dictatorship in the country's history.
He was also reportedly told to sit on the tiny 'naughty step' in the house, and "think about what he'd done". Meanwhile, the country's media reported to the public that the situation was:
Business as usual countrywide!
And:
There's been NO military takeover!
While armed secret police held AK-47's to the reporter's heads.
Hedge trimming
Johnson, however, was advised by the FCO's Chief Civil Servant, Sir Handley Wringworth, that it would be "prudent" to "hedge his bets" and not say "anything for or against either side" at present. One FCO source told Off The Perch that ministers had privately said:
As longs as those fucking diamond mines are safe, Johnson can say as many racist fucking remarks as he wants…
But it seems that, for once, Johnson appears to be toeing the government line. Pictured wearing a fedora, with a can of Special Brew in one hand and some pork scratchings in the other, he told reporters:
We are monitoring this situation very closely and our embassy is running a book on who's going to win this smackdown. At the moment it's very fluid and it's hard to say exactly how this will turn out. Everybody wants to see someone take charge; frankly, we don't give a fuck who it is as long as the backdoor to deals remains open. We're appealing for everyone to join in this hedge betting bonanza, because currently the odds are too close to call.
Meanwhile, former International Development Secretary Priti Patel was spotted scaling the barbed wire into the Mugabe doll's house. Let's hope Theresa May doesn't find out.
Get Involved!
– For more satirical news, you can also follow Off The Perch on Facebook and Twitter.
Featured image via Wikimedia / Flickr / Kremlin / YouTube / YouTube / Pexels / Wikimedia / Flickr / Wikimedia
We know everyone is suffering under the Tories - but the Canary is a vital weapon in our fight back, and we need your support
The Canary Workers' Co-op knows life is hard. The Tories are waging a class war against us we're all having to fight. But like trade unions and community organising, truly independent working-class media is a vital weapon in our armoury.
The Canary doesn't have the budget of the corporate media. In fact, our income is over 1,000 times less than the Guardian's. What we do have is a radical agenda that disrupts power and amplifies marginalised communities. But we can only do this with our readers' support.
So please, help us continue to spread messages of resistance and hope. Even the smallest donation would mean the world to us.
Support us