The week in satire Vol. #101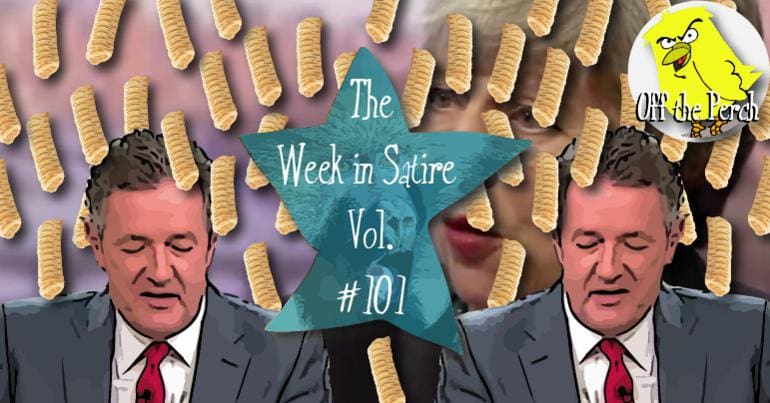 Support us and go ad-free
And what a week it was!
A week in which ordinary people returned from their well-deserved Twitter breaks! A week in which politicians returned from their undeserved Christmas breaks! And a week in which VEGAN SAUSAGE ROLLS!
But what else happened?
Let's look back and see:
Off The Perch understands that home secretary Sajid 'The Saj' Javid and transport secretary Chris 'Failing' Grayling are due to make a joint announcement concerning the hot news topics of the festive break. In a move that one insider called "two birds with one stone", the government will be hiring rigid inflatable boats from cross-channel people traffickers and using them to transport vital supplies from the continent when Brexit goes arse up.
Plan
Javid cut short a family holiday to return to his role as custodian of the nation's safety by explaining that everyone should feel less safe. Grayling, meanwhile, stopped doing whatever he was doing to return to his role as grovelling apologiser-in-chief by explaining, once again, why everything he runs is a total disaster.
Read on...
But it seems they've come up with a joint plan. It'll solve Javid's 'problem' of "absolutely loads" of people getting trafficked across the channel. And it'll solve Grayling's problem of that really dodgy sounding 'ferry company' not being an actual ferry company.
Goods before people
Someone from Liam Fox's international trade department met us in an underground car park. She spoke on condition of anonymity and with the assurance that we'd edit what she said so it sounded less ridiculous:
Although we've got Sajid and Chris up in front of the cameras, this whole show is actually being run from Liam's office. Or East India 2.0 as we call it. The scheme's a quadruple win.

One: Chris can now show that he's dealing with people who own real boats. Everyone can see that – the boats have been on TV 24/7 for the last week. OK, they're quite small, but there are plenty of them. Well some. Well, a few, but they can go back and forth very quickly. Two: the start-up companies that run these boats will get handsomely rewarded. Proof once again that this government is on the side of small businesses and entrepreneurs.
She continued:
Three: Sajid solves his 'migrant problem' at a stroke. There won't be any because it'll be worth more to the boat owners to shift red wine, Polish Viagra and stock for Aldi. Four: most importantly, we're putting the government's 'goods before people' policy into practice. The PM doesn't like to talk about it openly but it's been the only word in Whitehall since 2016.
In related news, the BBC insists its blanket use of the word 'migrants' is due to "overzealous" spell-checking software which the corporation brought in to replace all the sub-editors it laid off over the last ten years. Apparently, it should say 'people'.
Following news that China has landed a spacecraft on the far side of the moon, Donald Trump is reportedly making plans to build a factory there. If all goes according to plan, the plant could be cranking out 'Trump 20' tat by the end of the year.
Business pressures
Off The Perch met a Trump aide in a gap behind some bushes in the White House garden. Unfortunately, a rather dishevelled-looking Sean Spicer was also in there, but he didn't bother us too much. The aide, Terry Chestnuts, explained the move into the extra-terrestrial property market:
The Donald obviously isn't running his businesses while he's POTUS, thanks to the rules, but he sometimes passes messages to friends of friends and various relatives to make sure things tick over. He's been wondering for a while how to get his 2020 merchandise produced at a decent price. The last lot was made here in the States but that's getting harder now we've cracked down on the illegals. We might have to go back to using China.
Control costs
Chestnuts had a quick look left and right, then continued:
But The Donald knows, because he's a smart guy, that making product actually in China could hit him at the polls. Hell, he could even lose. So he had to think clever. Here's what he told me: 'So China is on the moon. They've done it. They've gone to the dark side [he meant far side] of the moon before anyone else. Even before the USA. They're bad people. But they're clever people. And clever people know you have to keep things quiet. You have to not be seen. The dark side is perfect. You can do whatever you want there. The regulators aren't there. No one is there. No one is saying you can't do this and you can't do that. The regulators there can't even say it's climate change.' And then he laughed for ten minutes.
He added:
When he'd recovered, he said: 'I'm going to build a factory there. I'm going to speak to some good people I know in China and we're going to do this. It's going to be great. There's no gravity. We can build tall. Let's make it gold so it shines some light on that dark side. The small gravity will make shipping cheap. You can't charge big shipping for something that weighs nothing.
By this stage, we thought it might even be worth seeing if Spicer had something to say that would be less ridiculous. But then we remembered everything he'd ever said.
Brexit voters thought the referendum would return us to a semi-mythical past. A past in which useless men were venerated for merely existing – a past in which smoking in pubs wasn't just legal but mandatory – a past in which the 'British Empire' wasn't a dirty word because they washed it in the tears of the people we fucked over.
But Brexit won't return us to that, because young people don't want all that shit. They want something else entirely.
Vegan sausage rolls
People want the past to come back, but it won't. It can't, in fact. And no matter how many Brexits people vote for, the slow march of progress will continue.
In a recent poll, the government asked people what they thought about Gibraltar. Most people under 30 answered:
Who?
The poll also asked what valuable commodities people would like to see maintained after Brexit. The under 30's answered:
Vegan sausage rolls.
Not Piers Morgan.
Full-blown socialism.
Trainers.
A climate.
Dogs.
Homes for homeless people.
Prison for corrupt politicians/bankers/whatever Nigel Farage is.
Glitter.
More dogs.
As such, the government is doing the only sensible thing it can do in this ridiculous situation. It's going to trade Gibraltar for a year's supply of vegan sausage rolls.
That is, after all, what people voted for. I mean – it might not be – but we'll never know, as no one clarified the fucking options.
After cancelling her Brexit vote, Theresa May scurried back under her rock for the festive period. As you'd expect, she's used her time away to do absolutely fuck all. With no new answers, she needed an easy first day back.
That's why she agreed to be questioned by the man who is to interviewing what a gopher is to interviewing – Andrew Marr.
Rigorous debate
The interview between TM and AM went largely as you'd expect:
AM: So, prime minister – would you like to tell us about how awesome Brexit is going?
TM: *LOOKING SLIGHTLY PANICKED BY THE UNEXPECTEDLY TOUGH QUESTIONING* Brexit means Brexit!
AM: Yes it does, prime minister. Now would you like to give us an update on the NHS? Some of the usual complainers have been suggesting it's not quite up to snuff.
TM: Well, the problem is that people keep getting sick. I mean… umm… we're making record investments. Brexit means Brexit!
AM: Question?
TM: I'm sorry?
AM: You know – just a general 'question'.
TM: Should I answer that however I like?
AM: And without interruption – this is the Andrew Marr show after all!
The pair began laughing, but as they did, a young woman who'd previously identified as a socialist came into Marr's view. The interviewer immediately stood up on his chair – the hairs on the back of his head standing up. He then proceeded to bark at the socialist woman until she went away.
AM: WOOF! WOOF! WOOF! WOOF! WOOF!
Still, we did learn one thing during the interview. Namely that Marr in 2019 is likely to be just as useless as Marr in 2018.
Featured image via Flickr / Pixabay / NeONBRAND on Unsplash / Wikimedia / Pexels / screengrab (images were altered)
We know everyone is suffering under the Tories - but the Canary is a vital weapon in our fight back, and we need your support
The Canary Workers' Co-op knows life is hard. The Tories are waging a class war against us we're all having to fight. But like trade unions and community organising, truly independent working-class media is a vital weapon in our armoury.
The Canary doesn't have the budget of the corporate media. In fact, our income is over 1,000 times less than the Guardian's. What we do have is a radical agenda that disrupts power and amplifies marginalised communities. But we can only do this with our readers' support.
So please, help us continue to spread messages of resistance and hope. Even the smallest donation would mean the world to us.
Support us