The week in satire Vol. #106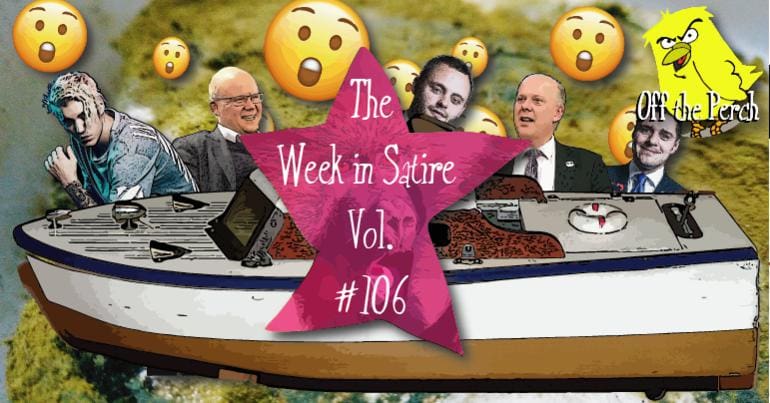 Support us and go ad-free
And what a week it was!
A week in which children protested against climate change! A week in which idiots complained about children protesting against climate change! And a week in which someone on Twitter looked at all this and screamed, 'BUT WHAT ABOUT BREXIT!?'
But what else happened?
Let's look back and see:
The recent book Dangerous Hero exposed Jeremy Corbyn as someone who once got into debt for… personally funding a Holloway community centre.
Umm…
Read on...
Some people are concerned that the revelations in Dangerous Hero don't really make Corbyn look that 'dangerous' – more just kind of nice. Not to worry, though – a new book has some revelations that will blow your woollen socks off.
Perilous champ
The book has tantalising anecdotes like these:
One woman said Corbyn visited her house, but only petted one of her cats:
I've got three fucking cats, Jeremy – do you think the other two will just pet themselves?
A shopkeeper said Corbyn bought a suspiciously large quantity of beans from him:
I told him I'd ordered too many and it had really dented my finances. Jeremy said he could help me out. I asked if he could get through so many beans by himself, and he just laughed and said, 'Is socialism for the many, not the few? Yes. Yes it is.' He then opened one of the tins Popeye-style and necked it in front of me.
A former aide claimed Corbyn's distrust of Europe was obvious:
I asked him if he'd be watching Eurovision, and he said he had some charity night to go to. I knew right then he'd one day wriggle himself into a position of power and fuck us.
Terrifying
The people reading these books about Corbyn are rightfully terrified. Largely they're terrified that, in retrospect, their fears about Corbyn may have been a tad hysterical.
Britons are shocked today, because a Tory has finally admitted to doing something wrong. Amber Rudd conceded that Universal Credit might have increased foodbank use. Before you get too excited, however, it's worth pointing out two things:
The issue was already widely accepted by everyone but the Tories.
It's just the tip of the Universal Credit shitberg.
Liar, liar
Off The Perch caught up with the Department for Work and Pensions (DWP) boss, Amber Rudd, to ask more:
OTP: So you've admitted to something that everyone already knew.
AR: Thank you – yes – I do deserve praise.
OTP: Yeah… that's not really what we're saying. Although we are wondering if you'll also admit to all the other things the DWP is doing wrong?
AR: It's pronounced 'right'.
OTP: Ha ha. No. We're talking about the sanctions regime; the fit-to-work fiasco; the 'grave' and 'systematic' violations of disabled people's human rights.
AR: Ah, you're talking about the UN reports? Those reports were all a bit political, I'm afraid.
OTP: Well, I mean, yeah… it's a political operation; you're a political party; the result of your actions is politics.
AR: No, I mean it was political in a biased way.
OTP: You mean it gave more weight to disabled people's rights than your right to systematically abuse them?
AR: Well, I wouldn't phrase it like that, but basically, yes. I don't really know what the UN's problem is. The British media is generally pretty balanced on these issues.
OTP: They are in the sense you mean, yes. I wonder if that's why you're admitting to the increased foodbank use – confessing to the most outwardly obvious issue to distract from the underlying horror beneath?
AR: For the last time, there is no underlying horror at the DWP!
OTP: Oh really? So how come you smell of sulphur since you took the job?
AR: It's an… experimental deodorant. Now if you'll excuse me, I need to go and change people's lives.
OTP: For the better?
Shit and run
Rudd left without answering the final question. Despite her earlier claims to the contrary, she exited via some sort of hell-mouth that opened beneath her. She later denied it being a 'hell-mouth' – referring to it as an 'ordinary mouth'.
by John Ranson
The continuing Groundhog Day re-enactment that is Theresa May's handling of Brexit may be part of a wider strategy, Off The Perch understands.
Enemy at the gates
Over drinks at a floating restaurant, we spoke to Letitia Febreze, the Conservative Party's 'Head of Blue Sky':
One of our roles in the BS unit is what we call 'horizon scanning'. And right now the horizon is full of Corbyn's Labour absolutely trouncing us in a general election. I mean obviously there's going to be an election soon. Even Tory MPs can't keep biting their tongues to save their careers for much longer.

We know that most young people are going to vote Labour. Why wouldn't they? All we've got are those Turning Point liabilities and Liz Truss's weird cult for entrepreneurs. If people want that they'll just go on The Apprentice right? And we're not touching that again, not after Katie Hopkins.
Appeal
Febreze suggested that May will have to fight any snap election herself "because no one else would be stupid enough to do it". And so she's working on cultivating the sympathies of students:
This whole frazzled 'Oh god, there's not much time' schtick that Theresa's pulling now is all careful choreography. On 27 March, a plumbing disaster will destroy all her notes. On 28 March, she'll come down with something that's 'possibly bird flu'. And at around 4.30 on the afternoon of the 29th, she'll email Michel Barnier and ask for an extension. This will all be so relatable for students they'll take her to their hearts.
Will it work?
Ken Chisel, from the Institute of Criticism, was pretty scathing:
Beyond pretending that Brexit will be doable, this is possibly the most stupid thing that May has ever done. And that includes the racist vans. She could spend three years doing a degree in Instagram Studies at De Montford University and still not have any appeal to people under 40.

Corbyn appeals because he's got vigorous far-reaching ideals. And also, let's be honest, because he resembles exactly the sort of tutor who'd give you an extension if you had a good reason. May's more like those insufferable types who fail all their exams because they spent the whole spring term trying to get elected as president of the Classics Society. And then lost to Jacob Rees-Mogg anyway because he can dream in Latin.

May doesn't deserve to succeed and she doesn't deserve an extension. All she deserves is being thrown off the course or, in real life, out of office.
On top of everything else, it turns out that Theresa May eats mouldy jam: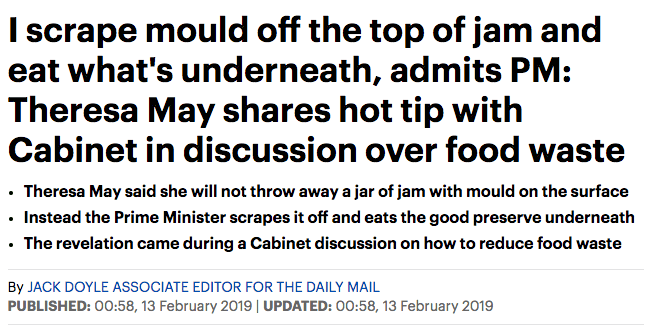 In a passage which stretches the use of the word 'good', Mail Online reported:
It is advice which could have come from a Good Housekeeping guide
But why?
Well, it turns out it's not about the jam at all.
Breaking the mould
It's often been a source of mystery where young Tory MPs come from. The few that exist – like Ben Bradley here – don't seem quite normal. They seem almost single-celled in their intelligence: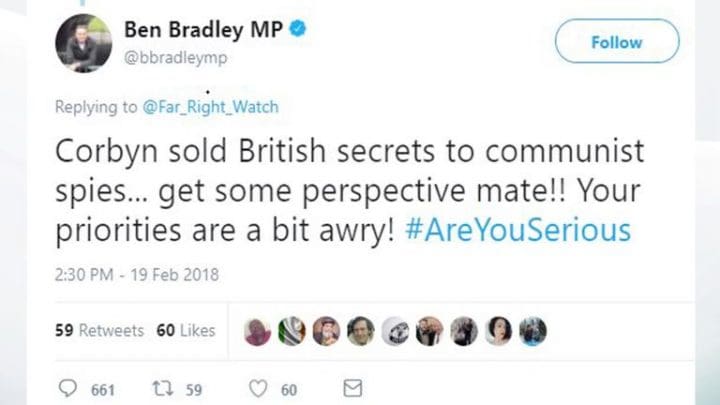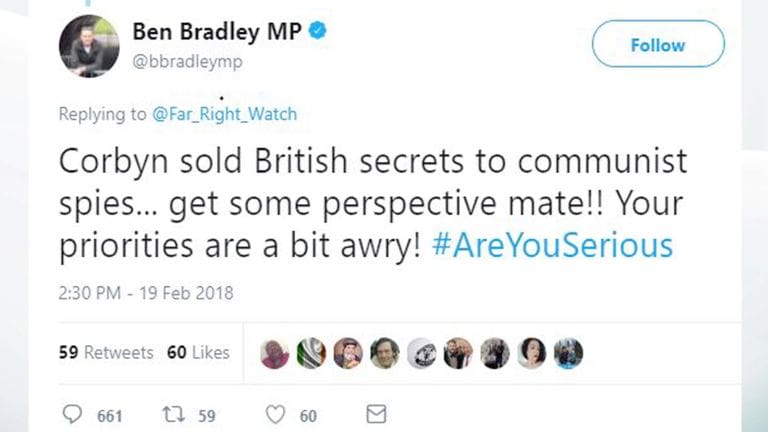 Off The Perch can now exclusively reveal that the PM has been spawning these little weirdos using her gone-off preserves. In a statement to us, May said:
And I would have got away with it too, if it wasn't for you meddling twats!
We asked exactly what she would have got away with, as these mould-spawned MPs were neither use nor ornament. Her answer was pretty predictable:
Jam means jam!

In defence
Some people have defended eating this horror jam:
Unpopular opinion, but this is fine? https://t.co/JnyDsVMwd7

— Jasper Jackson (@JaspJackson) February 13, 2019
There are obviously a few problems with this line of thought:
No it isn't.
If you love jam so much that you'll poke through mould to get at it, but not so much that you'll eat it before it sours, something has gone wrong.
Unless you're seven, you're too old to be eating jam anyway. Get yourself some herring or porridge like a normal adult.
If you yourself have mouldy jam in your cupboards, do us all a favour and toss it before it evolves into the next foreign secretary.
Chris Grayling has a history of incompetence so profound it feels like he's auditioning to be the next Mr Bean. He recently gave a ferry contract to a company with no ferries, only for the deal to sink unexpectedly. This meant he quickly had to acquire a million pounds' worth of ferry – a challenge he's sort of followed through on.
Sink or sink
Speaking before parliament, a sweaty Grayling said:
I realise some people might poke fun, but we got a pretty good deal actually. Bought individually, these toy ferries would have cost £1,000,050 – I got them for £50 less than that.
When it was pointed out that life-size humans couldn't cross the sea in toy-size ferries, Grayling continued:
Yes, well it's very easy to criticise, but it's a lot harder to come up with solutions.
When asked if this meant he had a solution, the transport secretary said:
Umm… I suppose we could… err… beavers? We could dump the toy ferries into a river, and see if beavers gather them into one, great mega-ferry?
The hopeful expression on Grayling's face peeled away when he saw how people were looking at him. He then fled from parliament and climbed into his Land Rover. As he'd bought his car from the same website as the ferries, this proved to be somewhat amusing to watch.
Thoroughness
Theresa May has assured the country that 'due diligence' was performed on the latest ferry deal. When asked to clarify what 'due diligence' meant, May attempted to flee in her car. As it had been purchased by Grayling, watching this proved to be…
In contradiction to international law, America has stripped Justin Bieber of his citizenship. Because he was in England at the time, that means he's our problem now.
As you would imagine, the sort of people who think we can strip our own people of citizenship are furious to discover the issue can work both ways.
Forethought
Since becoming stateless, Bieber has been scrambling around the Cotswolds – singing his terrible songs at anyone who comes close.
Obviously, we Brits shouldn't have to put up with this bullshit. As such, the British Embassy (BE) contacted the USA via a now-leaked Snapchat:
BE: Yo – wtf?
USA: ????
BE: You can't just strip your worst people of citizenship and expect someone else to clean up the mess!
USA: Oh no? Isn't that exactly what you did with all your people who went to fight for ISIS?
BE: …you know that's different…
USA: How so? Were they not born in the UK?
BE: …they were born here…
USA: Oh, so they're like dual-citizen?
BE: …no…
USA: No? so what's the difference?
BE: Don't make us say it. You know these Snapchats get leaked all the time.
USA: You need to say it bro, cuz I ain't getting it.
BE: The ones we banished are brown people, okay? We can make them other brown people's problem because that's how it works. Now, are you going to come and get Bieber or what?
USA: Nope lololololol xxoxoxox
At large
Brits are being warned not to approach Bieber, as he's already gone feral. The official advice is to throw your sandwiches at him from a distance.
Still, although having Bieber on the prowl may be irritating, at least you can be proud to live in a country which shirks its global responsibilities like a deadbeat dad.
On 15 February, children across the UK protested against government inaction on climate change. The collapse of the planet would be quite a nuisance – certainly more of a nuisance than missing one day of school. Unsurprisingly, the people who disagree are all the usual idiots:
toby young does not understand what a strike is https://t.co/ZWbOADN2Jt

— Hannah Jane Parkinson (@ladyhaja) February 15, 2019
Around 2,000 sixth formers who bunked off school have been protesting in Parliament Square have now wrecked the newly planted grass. And they are worried about climate change? What about the lawn?

— Christopher Hope (@christopherhope) February 15, 2019
FFS
Scientists have deduced that man-made climate change will lead to many people being dead/incredibly thirsty. This would render any knowledge that people acquired as children useless. The right wing can't have people out protesting things, however. As such, they need to pretend climate change doesn't exist (or that it's somehow caused by discarded rubbish):
In today's @Spectator, I take issue with this idiotic, self-important schoolchildren's climate change 'strike' https://t.co/jzevHRXO4j pic.twitter.com/4sGv2Hnckc

— Toby Young (@toadmeister) February 15, 2019
Young later said:
I'm not saying climate change is or isn't real. Although if I had to stake my reputation – of which I have none – I'd say it doesn't. But even if it does, how are the adults of the future going to deal with it after missing literal minutes of education? What if the solution to carbon emissions was revealed in period four RE, and these little twerps missed it? When you look at it like that, I'd say these children are more responsible for climate change – which doesn't exist – than Esso.
The soft-headed parade
With so many idiots trying to draw attention to themselves, Dan Hodges struggled to stand out. In the end, he went for some textbook whataboutery:
Climate change is apparently a Left wing vs Right wing issue, according to Dan Hodges. No, Dan. It's scientific evidence vs mindless denial. It is young people seeking to protect their future vs sad reactionaries. You decided to pick a side, Dan, but got it wrong. So wrong. pic.twitter.com/JN2jFUyENt

— (((Snigdha))) (@snigskitchen) February 16, 2019
Hodges later doubled-down on his take, arguing:
Sure – the death of all life on the planet would be bad, but is it not equally bad for these children to be chanting 'Dan Hodges has shit for brains'?
Featured image via Chris McAndrew – Wikimedia / pxhere / WorldSkills UK – Flickr / YouTube – Euronews / JESHOOTS.COM on Unsplash / Chris McAndrew – Wikimedia / Chris McAndrew – Wikimedia / Sonali Thimmiah – Wikimedia / Joe Haupt – Flickr / British Embassy Tokyo – Flickr / Fae – Wikimedia / Sebastian Vital – Flickr / Raj Curry – Wikimedia / Lorie Shaull – Wikimedia  (IMAGES WERE ALTERED)
We know everyone is suffering under the Tories - but the Canary is a vital weapon in our fight back, and we need your support
The Canary Workers' Co-op knows life is hard. The Tories are waging a class war against us we're all having to fight. But like trade unions and community organising, truly independent working-class media is a vital weapon in our armoury.
The Canary doesn't have the budget of the corporate media. In fact, our income is over 1,000 times less than the Guardian's. What we do have is a radical agenda that disrupts power and amplifies marginalised communities. But we can only do this with our readers' support.
So please, help us continue to spread messages of resistance and hope. Even the smallest donation would mean the world to us.
Support us