Protests a 'bit inconvenient' claim people who'll love climate change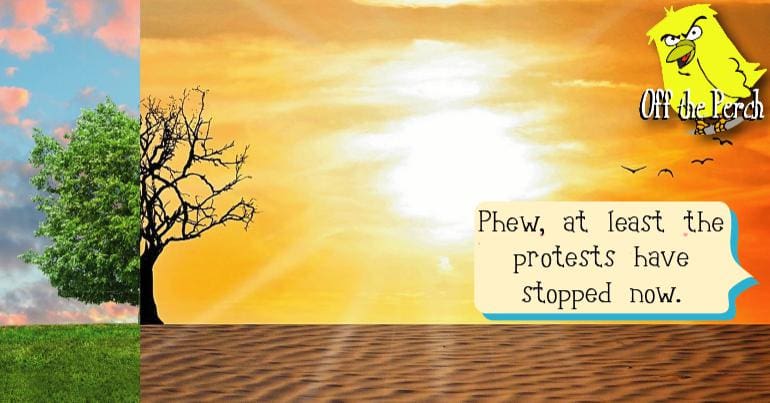 Climate change. That's a thing. They used to call it 'global warming', but it didn't convey the cataclysmic fuckery we're unleashing. They've actually stopped saying 'climate change' now, and instead, use 'extinction event'.
If we don't act now, we're fucked, basically.
F – U – C – K – E – D.
But still – BEST NOT MILDLY INCONVENIENCE ANYONE WHEN PROTESTING ABOUT IT.
Proportionality
The protest group Extinction Rebellion has been closing down parts of London. Or, as elements of the media are putting it:
Being a big, flipping nuisance for some reason or other – probably just for the attention.
Some protesters with more patience than saints have pointed out that climate change could result in outcomes as progressively catastrophic as:
Millions of people dying.
Entire countries failing.
Billions of people dying.
Entire continents failing.
Everyone fucking dying.
The entire planet becoming a desolate lump of misery on which the only surviving life is rats, mould, and Nigel Farage.
The complainers have responded by whining:
How will making me seven minutes late to work fix anything?
Or:
Obviously someone needs to do something, but why can't it be somebody else, and why can't what they do be nothing?
And:
I'm still not convinced it's real – let's wait and see. If it completely kills all life on the planet, then I'll concede I was wrong.
Revolting 
The climate protests are just that – PROTESTS.
PEOPLE AREN'T SUPPOSED TO FUCKING LIKE THEM.
THE POINT IS TO CREATE INCONVENIENCE TO DRAW ATTENTION TO SOMETHING IMPORTANT.
AND IF THE PEOPLE COMPLAINING THINK THEY'RE INCONVENIENCED NOW, JUST WAIT UNTIL THEIR HOUSES ARE SUBMERGED IN FUCKING SEA WATER!
Featured image via Pixabay
Since you're here ...
We know you don't need a lecture. You wouldn't be here if you didn't care.
Now, more than ever, we need your help to challenge the rightwing press and hold power to account. Please help us survive and thrive.
Support