Tommy Robinson begs Trump to make him the UK ambassador to the US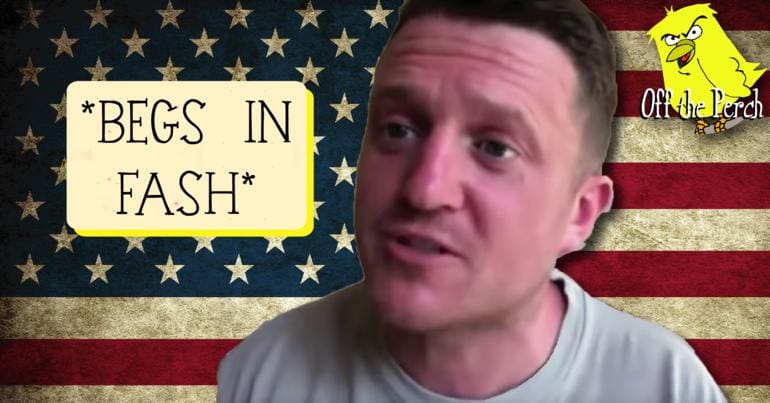 Stephen Yaxley-Lennon (aka Tommy Robinson) has 'begged' Trump to give him political asylum. When people made fun of him for his previous stance on asylum seekers, Yaxley-Lennon had a better idea. He's now asking:
Please Mr Donald, sir, president, pal – make me the UK ambassador to the US!
International man of mockery
The timing has worked out well for little Stevie. Trump is currently refusing to speak to our man in Washington. This came about after a leak revealed the ambassador thinks Trump is something of a clueless, incompetent orangutan. Trump replied by saying:
No one calls Ronald J. Trump incontinent!
Yaxley-Lennon claims to have all the skills needed to be the UK ambassador. Or at least all the skills that Trump would like in a foreign country's representative, anyway. He doesn't seem to understand that the ambassador is there to serve us – not kiss the president's arse on our behalf. Although it's easy to see why he'd be confused given the way the government humiliates itself for Trump's amusement.
Desperation
In his message to Trump, Yaxley-Lennon said:
If you make me ambassador I'm willing to do the one thing you want from an underling: that's whatever you ask, no matter how embarrassing it is. Please – don't let them bang me up! The prisons every right-winger says aren't harsh enough are actually fucking horrible!
Trump has yet to respond to Yaxley-Lennon's request. Other people have, though. Most of them are saying:
Ha ha ha!
Fund our Investigations Unit
You can help us investigate corruption, expose injustice and uncover the truth.
As one of the only independent investigations units in the country, we work for you – but we need your help to keep going. We need to raise £10,000 to continue our groundbreaking investigations. Can you chip in?
Fund us