Dear Haters, The Canary isn't antisemitic, you just don't like our politics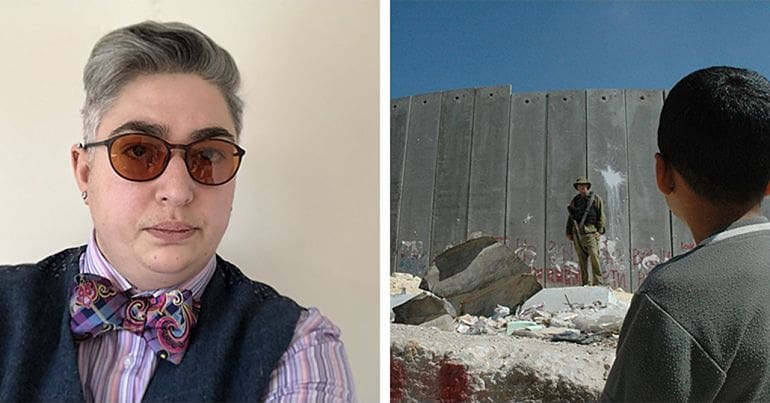 Support us and go ad-free
I'm a co-founder of The Canary and I'm a Jew, firmly opposed to antisemitism. I am not, however, a political Zionist.
There, I've said it before and I'll say it again, and I'll keep saying it, because it's important. Since day one, The Canary's team has been committed to fighting racism and fascism wherever it occurs, including in Israel.
You might think I'm writing this because The Canary is being dragged into the row over antisemitism in the Labour Party, or because of a campaign to get our advertisers to ditch us. If you do, you are partly correct. But I also want to write about my personal experience of all of this, as a Jewish person.
Canary editor Emily Apple, who is also Jewish, has previously described her experiences, here and here.
The Canary is not an antisemitic publication
The casual accusations of antisemitism here at The Canary are not new. We have taken a position of solidarity with the Palestinian people, and therefore are critical of the Israeli government and of the Zionist project. For some people that, in and of itself, constitutes antisemitism. I don't agree.
We have also been slammed for employing journalist and activist Steve Topple, who has in the past held antisemitic views. Steve wholly and publicly changed his position in 2015, prior to working for us, and reaffirmed this in 2016. He said:
[I] didn't involve myself in politics until 2013, so I had a lot to learn – and I learnt some things which I now appreciate are vile… I got sucked into an extremely unpleasant part of the internet which I renounced as soon as I understood what was so wrong with it… I unreservedly apologise for my historically disgraceful views.

Read on...
In 2016, we released a video in support of Steve when accusations of antisemitism resurfaced, based on a misunderstood tweet he published in January 2015.
What does antisemitism look like?
The International Holocaust Remembrance Alliance (IHRA) definition of antisemitism has been controversial, with the person who drafted it actually condemning the way it's been used. Jewish Voice for Labour has laid out what it considers to be antisemitic misconduct (and what is not to be considered antisemitic), which is closer to reflecting my views and experiences.
But, to be clear, I'm not talking about the IHRA definition of antisemitism, or anyone else's. I'm talking about the lived experience of Jewish people – I'm talking about my own lived experience.
Picture this: I'm 12-years-old, taking the school bus on a Monday morning, already traumatised by life experiences, already bullied for years, and some kid, unprovoked, yells from the back of the bus: "Hey, you! You should have been gassed with the rest of them!" That's what antisemitism looks like.
I arrive at school with a note for my form tutor (who taught Religious Education) because I was absent the Friday before (due to the stress of being a gay, Jewish, gender non-conforming kid, with an unusual surname from rural Somerset). My mum's handwriting is virtually illegible, so I have to help my teacher read it. She says: "Oh, isn't it funny, I was at university with a Jewess and she had bad handwriting too!" That is linking negative characteristics with being Jewish. That's what antisemitism looks like.
My form tutor goes on to tell me how lucky I am to be Jewish because Jewish people are so good at business. She thinks she's being nice, but she's perpetuating a stereotype that quickly turns into "Jewish people have way too much control over…". That's what antisemitism looks like.
Later I attend a Craft, Design and Technology (CDT) lesson. I'm rubbish at CDT, but I try hard and I quite enjoy chatting to the teacher during practical sessions. It comes up in conversation that I'm Jewish and he says "Okay, well that explains a lot!". He knows I'm a weird kid and now he thinks I'm weird because I'm Jewish. That's what antisemitism looks like.
Stop hijacking my experiences
Honestly, I'm getting sick of non-Jewish people hijacking and misrepresenting my experience for their own gain. These days, that seems to be mainly for political gain against Jeremy Corbyn's Labour Party.
What nobody seems to get is that this political nonsense is, in and of itself, antisemitic. In this narrative, I'm reduced to a faceless minority, and as Jewish people we're to be kept small and incapable. It's paternalism gone bonkers, and it was never designed to genuinely help us live free from discrimination and hate.
In case you're in any doubt, what the critics of Corbyn are doing with antisemitism is absolutely not what being an ally looks like. Being an ally means lifting people up, perhaps giving up a little privilege, and certainly not diminishing or patronising us.
Just to be really clear: The row over antisemitism in the Labour Party is actually fuelling antisemitism, whilst simultaneously weakening the term as it's applied to genuine antisemitism. And it seems it was never really meant to be of service to Jewish people, anyway, so nobody gives a damn what impact it has on us. That is a very frightening development, for me.
How can a Jew oppose Israel and not be antisemitic?
What I really want to talk about is the elephant in the room: how can I, as a Jewish person, oppose the existence of a state of Israel? The short answer is that it's a position I've come to over many years of learning and soul searching and by spending time with other Jewish people from across the political spectrum.
The fact is that Israel has become an apartheid state and the divisions are on ethnic, not religious, lines. And Zionism is a colonial project that began at the end of the 19th century, long before Hitler came to power in Germany, and before so many Jewish people were killed in the Holocaust. Zionist settlements have been popping up in Israel for nearly 150 years. Zionism didn't suddenly appear in 1945, but some people would have us believe that.
This short video clearly explains the difference between antisemitism and anti-Zionism:
"Anti-Zionism is not the same as anti-Semitism."

Here's why conflating the two could be "problematic" pic.twitter.com/Buio3l6Adk

— Middle East Eye (@MiddleEastEye) February 14, 2019
Roll on to 2018 and the Israeli government has succeeded in passing a bill that makes Israel an official Jewish state. Under this law, the right to self-determination as an Israeli is only for Jewish people; Hebrew is the official language (and Arabic is downgraded from being an official language); and it actively encourages further settlement of Palestine by Jewish people from around the world.
At The Canary, we've had the nerve to point at Gaza, for example, and say: look, there are 1.8 million people living in an open prison, their only crime being that they are brown. We've written about the racial apartheid and fascist practices that had Ethiopian Jewish women put on birth control without their consent or knowledge; and we question the imbalance of power between Israeli settlers and Palestinian people, and the control, in Israel, of land ownership, employment, education, and more, by mainly white North American and European Jews.
An empty sandpit and a birthright
My mother was born into a liberal Jewish family just after the second world war ended. Israel was being established as reparation for the millions of Jewish people killed or traumatised by the actions of a fascist political movement called Nazism. She was taught that Israel was previously an empty sandpit that nobody was using. Through cutting edge technological developments, the Jewish people who settled Israel were to turn the sandpit into something resembling southern California.
We are told that it's our birthright, as Jewish people, to occupy this new paradise.
Just let that sink in for a minute: occupying Palestine is considered a birthright by many Jewish people.
Jewish teenagers go on 'birthright tours' to Israel from the US and the UK.
If you can prove your Jewish heritage, it's pretty easy to become an Israeli citizen, wherever you were born.
But in the same breath as creating Israel as a haven for Jewish people who have been oppressed throughout the world, an estimated 750,000 Palestinian people were made refugees between 1947 and 1949 and lost everything. Their homes were bulldozed to make way for the settlers. And now those Palestinian people have no right to return or to self-determination. Those who remain in the area now live in a vast, walled, open-air prison. Their rights to move around, to work, to own property, even to have access to enough food, are controlled by a government intent on making Israel white.
As a human being, I find it almost impossible to live with atrocity after atrocity and be told that they are committed in my name. As a Jew, I'm fundamentally offended and shaken.
My family is not very observant, but I find myself turning back to our Haggadah – the book used during a ceremonial meal called a Seder, to mark Passover – at times like this. It acknowledges that Jewish people believe in a birthright to live in Jerusalem, but also says (p57, Second Edition):
Always remember that you were slaves in the land of Egypt…You shall not subvert the rights of the stranger or the orphan.
This is a teaching that seems to be entirely absent from the current narrative over the Jewish state of Israel. And that, more than anything, as a Jewish person, makes me weep.
Featured image via The Canary / Wikimedia – Justin McIntosh
We know everyone is suffering under the Tories - but the Canary is a vital weapon in our fight back, and we need your support
The Canary Workers' Co-op knows life is hard. The Tories are waging a class war against us we're all having to fight. But like trade unions and community organising, truly independent working-class media is a vital weapon in our armoury.
The Canary doesn't have the budget of the corporate media. In fact, our income is over 1,000 times less than the Guardian's. What we do have is a radical agenda that disrupts power and amplifies marginalised communities. But we can only do this with our readers' support.
So please, help us continue to spread messages of resistance and hope. Even the smallest donation would mean the world to us.
Support us