Over a year after Corbyn's resignation, the antisemitism smear campaign isn't going anywhere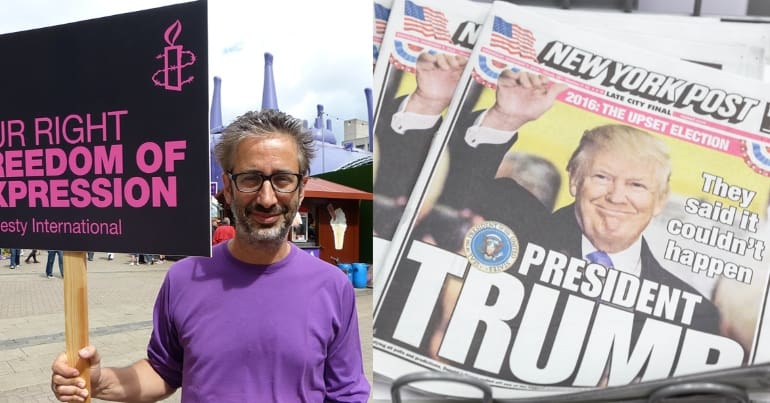 Support us and go ad-free
As The Canary extensively reported, throughout Jeremy Corbyn's leadership of the Labour Party, the corporate-owned press, Tories, and the Labour right alike targeted him with a vicious and protracted smear campaign. This campaign employed bogus accusations of antisemitism to try to derail his radical political project. This was one of the factors that led to Labour's defeat in the 2019 UK general election, which in turn led to Corbyn's resignation as party leader. But even now that he's stepped down, the antisemitism smear campaign shows no signs of abating. Indeed, it has now morphed into a wider movement to attack the left more broadly. This includes, in particular, critics of Israel's crimes against Palestinians.
The latest instalment in this sorry saga is a column in a right-wing US newspaper penned by a British comedian. It both represents a new low and highlights how the left will be the continual target of false accusations of antisemitism for the foreseeable future. We must continue to stand up to these pathetic and spurious attacks if we have any chance of rebuilding a movement for radical change.
The US equivalent of the Sun
On 18 September, the New York Post published a column about the left's purported antisemitism problem by David Baddiel. Baddiel is a US-born British-Jewish comedian who is perhaps best known for his stand-up comedy and television work alongside TV personalities such as Frank Skinner. The article is preposterously titled, The progressive left now sees antisemitism as an 'acceptable' racism.
This should come as no surprise given that the New York Post is a right-wing tabloid owned by media tycoon Rupert Murdoch. Naturally, it has an editorial style and political orientation similar to Murdoch's major paper in the UK, the Sun. Like its British counterpart, it has frequently courted controversy with incendiary headlines and sensationalist reporting.
A good start, then all downhill…
The article actually starts off well enough, stating:
some… think that Jews and Israel are basically the same thing. They aren't, and to assume so is racist.
This is certainly true. And as The Canary has argued previously, assuming that all Jews support Israel is not just racist but factually false and even defamatory. In fact, some of Israel's major critics are themselves Jewish. They include academic experts on the Israel-Palestine conflict Ilan Pappé and Norman Finkelstein.
Read on...
Sadly, however, after making this worthwhile point, the article takes a sharp turn for the worse. Baddiel claims that: "The conversation around the Middle East and antisemitism has changed of late, and disturbingly so". And to support this argument, he employs a steady string of emotive anecdotes such as cases of pro-Palestinian protesters holding antisemitic signs or shouting antisemitic slogans.
…only to get worse
Certainly, antisemitism should always be condemned. But as The Canary has argued before, taking the actions of a small fringe of protesters and then falsely presenting them as representative of Palestinian solidarity activists as whole is a highly dishonest tactic. It slanders the vast majority of pro-Palestinian activists who are not motivated by antisemitism but rather by outrage at Israel's actions.
And as The Canary has also argued, the fact that participants in the antisemitism smear campaign feel the need to engage in this deceitful tactic is itself revealing. Because it shines a light onto how desperate they are to defend Israel and/or smear friends of the Palestinian people like Jeremy Corbyn. It also demonstrates how little they have in substantive criticism of pro-Palestinian campaigners' actual arguments.
Relying on anecdote and generalisation, with good reason
Baddiel then continues:
As I describe in my new book, "Jews Don't Count," antisemitism is elusive: It often unfolds in unconscious codes and tropes and assumptions. One of my readers on Twitter said he was surprised by how much he had fallen into some of the traps my book outlines, commenting, "It's the racism that sneaks past you." But that placard doesn't sneak past you.
There are two important things to note with this paragraph. First, the title of his book makes an outrageous generalisation. He's essentially saying that the left as a whole doesn't see antisemitism as real racism. This is obviously absurd given the many Jewish supporters of Corbyn's leadership. In February 2019, the BBC reported: "A network of Jewish Labour members has backed Jeremy Corbyn over claims the party has become "institutionally anti-Semitic" under his leadership". And second, he relies solely on an anecdote about a (conveniently unnamed and therefore unverifiable) Twitter user to support his argument.
Turning reality on its head
But moreover, the reality is that research has shown that antisemitism is in fact much more prevalent on the political right than the left. This reality is also evidenced by the fact that the vast majority of antisemitic crimes in the US have been committed by far-right extremists. In parts of Europe, meanwhile, it has overwhelmingly been far-right populist/nationalist figures like Hungarian prime minister Viktor Orban who have made antisemitism mainstream again.
Speaking of Orban, in May he met with British prime minister Boris Johnson. And as The Canary argued at the time, whereas Corbyn would surely have been pilloried by the corporate-owned media had he done so, Johnson largely got a free pass when he welcomed Orban into 10 Downing Street. And this reality fits within a much larger pattern within British media.
Double standards, Islamophobia
During the 2019 UK general election campaign, for example, Johnson again largely got a free pass on this issue just as the antisemitism smear campaign against Corbyn went into overdrive. This is despite Johnson having written a novel with some suspiciously antisemitic-seeming tropes. The media also largely ignored the fact that Tory figures, including Johnson and then-prime minister Theresa May, took part in the unveiling of a statue of Nancy Astor, who was openly antisemitic. (Needless to say, had Corbyn done any of these things we surely would have never heard the end of it from the major British media outlets.)
And as if this weren't enough, some of these very same Tory figures have made flagrantly Islamophobic remarks with practically zero consequence. Johnson for example, described Islamophobia as a "natural reaction" and said that "Islam is the problem". He also once quipped that Muslim women who wear burkas "look like letter boxes". In November 2019, meanwhile, the Guardian reported:
Twenty-five sitting and former Conservative councillors have been exposed for posting Islamophobic and racist material on social media, according to a dossier obtained by the Guardian that intensifies the row over anti-Muslim sentiment in the party.
In short, whereas the left gets pelted with often spurious accusations of antisemitism, Islamophobia appears to take place in the Conservative Party in an atmosphere of near total impunity. And this in turn highlights the incredible hypocrisy and venality of those who orchestrated the antisemitism smear campaign against Corbyn.
Manipulative rhetoric
Toward the end of the piece, Baddiel concluded the following about his motley assortment of unverifiable anecdotes:
Thus, huge increases in hate crimes against Jews during the period of the Israeli/Palestinian conflict — a 600 percent rise in incidents in the UK alone — have been met with a shrugging sense that there's something appropriate about that. Attacks on Jews during these conflicts are seen not just as understandable, but excusable.

Somewhere in the hive mind, certainly as you can hear it buzzing on Twitter, is the sense that Jews who experiencing violent pushback, wherever they are, whatever their views, is fitting.
Notice the vague language such as "met with a shrugging sense" and "somewhere in the hive mind… is the sense". He talks a lot, in other words, about what he 'senses'. And I believe this is deliberate. It serves to manipulate his readers by smearing a deliberately loosely-defined left without naming anyone specifically. Notice also the use of the passive voice: "Attacks on Jews during these conflicts are seen not just as understandable, but excusable". (Seen by who, exactly?)
Together, these duplicitous and cowardly rhetorical sleights of hand have a double benefit. First, they allow him to subtly communicate the notion that large sections of the left are antisemitic without saying it quite so directly. And second, they provide him with a degree of plausible deniability should any specific individual complain at having been characterized this way.
We shouldn't be surprised, though. This kind of intellectual dishonesty is neither new nor clever. It's just another garden variety version of an underhanded smear to attack the left and provide cover for Israel's ongoing crimes. With such tactics evidently not going away, we must redouble our efforts to fight back against this shameless, politically-motivated smear campaign.
Featured image via Wikimedia Commons and Flickr – Marco Verch
We know everyone is suffering under the Tories - but the Canary is a vital weapon in our fight back, and we need your support
The Canary Workers' Co-op knows life is hard. The Tories are waging a class war against us we're all having to fight. But like trade unions and community organising, truly independent working-class media is a vital weapon in our armoury.
The Canary doesn't have the budget of the corporate media. In fact, our income is over 1,000 times less than the Guardian's. What we do have is a radical agenda that disrupts power and amplifies marginalised communities. But we can only do this with our readers' support.
So please, help us continue to spread messages of resistance and hope. Even the smallest donation would mean the world to us.
Support us