Lowkey has dropped the most important album of the decade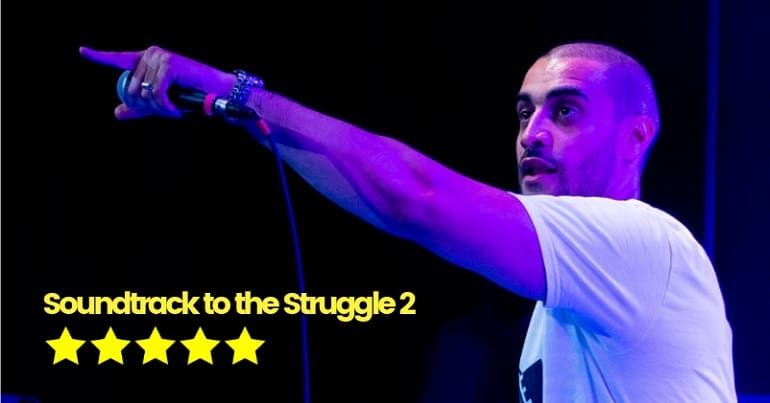 Support us and go ad-free
Musician and activist Lowkey's latest album has lit up social media and streaming sites since its release on 5 April. Rightly so, because as an overarching project, it could be the most important albums of the decade.
Lowkey joins #ToppleUncaged…
Lowkey rose to prominence in 2008 with the release of his first album Dear Listener, propelling him onto a worldwide stage. The follow up, Soundtrack to the Struggle, cemented his status as one of the most powerful forces in UK music.
Now, Soundtrack to the Struggle 2 marks the critically acclaimed artist's first full album release since 2011. Lowkey is also currently in the midst of a tour. So, I caught up with him for the #ToppleUncaged podcast. We chatted about the political and social content of the album, his journey since 2011, Grenfell, and more. You can listen to the full interview below:
The first Soundtrack
It's hard to know where to begin describing Soundtrack to the Struggle 2. Musically sweeping, it demonstrates some glorious genre-smashing. Vocally authoritative, it still displays vulnerability. And overall, the album marks a pointed change in Lowkey's artistry since 2011's first 'Soundtrack'.
Soundtrack to the Struggle (referred to here as Soundtrack 1) was a distinctly angry affair, albeit one of particular genius. Effortlessly blending genres, Lowkey showcased his ability to create music that was food for both the ears and mind. Lyrically, the album's themes and Lowkey's thoughts were raw and honest – painting a picture of a man at a place in his life where 'enough was enough'. It was like Lowkey put everything that filled his mind into Soundtrack 1. It worked and was a watershed moment for UK music.
Read on...
But this is where Soundtrack 2 is different. Simply put, it's different because it's infinitely more masterful.
The return
As with Soundtrack 1, Lowkey is joined by the gorgeous vocals of Mai Khalil on many tracks. And while his musical style hasn't changed much since 2011, the introduction of some bang-up-to-date sounds seems an intentional move.
The Return of Lowkey, which has amassed nearly a million views on GRM Daily's YouTube channel alone, sets the musical tone for the album. It deftly mixes styles and genres to appeal to the broadest range of listeners. The track is solidly grounded in grime. Its signature swooping bass propels it along. The use of synth choral vocals and effects adds to the slightly unnerving feeling. There are nods to drill/trap, with the rattling hi-hats and cymbals and synth samples keeping it fresh. But Lowkey's smartest move is his rapping. With an instantly memorable chorus and even a chant you can join in with, it's of little wonder it blew up on GRM Daily:
Musical ingenuity
Lowkey's musical ingenuity is summed up on Islamophobic Lullabies. It's a staggeringly accomplished piece of work with musical content that feels like it should be at odds with its lyrics.
It's a slick RnB track that reminds the listener of Mariah Carey/Snoop Dogg's Crybaby. A lazy bass guitar sidles in from the outset. It nods at grime with its offbeat drums. But with its doo-wop backing vocals and hypnotising piano, it firmly sticks in the genre. Lowkey creates stunning lyrical content about the Islamophobia 'industry' in what seems to be a ballad for his young son. Along with its stripped back video, Islamophobic Lullabies catches the listener completely off guard and delivers an unflinching emotional punch:
But along with musical inventiveness, Lowkey delivers some stellar tracks on more familiar ground.
Pure neo-soul
While he's grounded in hip-hop, his music is broadly more neo-soul. It was interesting with Soundtrack 1 that he used Lauryn Hill samples on two tracks. But with this album, the neo-soul elements are perhaps Lowkey's most accomplished musical moments.
The Death of Neoliberalism is an awesome, 70's soul/90's hip-hop throwback track. Hitting you in the face immediately with a sharp, anthemic gospel choir while crashing drums give urgency to the track. The combination of a drawn-out then offbeat bass and a walking piano keep the track moving. Nearly out of earshot are an improvising Hammond organ and running strings. And Greg Blackman's effortless vocals tie the piece together.
Heroes of Human History is pure neo-soul, mixing numerous musical influences into one, gorgeous track. The recognisable hip-hop use of the kick and snare drums are present throughout. Acoustic and electric guitars bring a Latin element while Khalil's vocals have a distinctly Middle Eastern feel, with elements of chanting going on behind Lowkey's rhythmic, persistent rap. This is matched with what sounds like a ney flickering behind the scenes; a cabasa's rattling presence, and occasional chimes tinkling at the end of bars.
Vocal development
What's also noticeable in Lowkey's development as an artist since 2011 is that his vocal ability has been properly let loose. Gone is the angry, incensed 24-year-old, echoing the feelings of millions of disenfranchised people. In its place is a man, and a father, whose voice immediately commands your attention. It demands that you listen to it, stirs your mind, but also moves you with its vulnerability. As he introspectively reflects on Neoliberalism Kills People:
How can I do a 'Fire in the Booth'

When I'm trying just to maintain?

And since June

Don't hear the word fire in the same way?

Heard screams, splutters and them gasping for air;

That's not bars in the booth,

It's so hard to compare.

If I use fire as a metaphor,

Does that disrespect the people that are never more?

How does that bomb sound sound to those that bled in war…
This moving display of soul-searching is just one example of what sets Lowkey's voice apart from so many others.
Rapping gymnastics
As a rapper, he now diversifies the pitches at which he operates. From a rumbling near-bass to a rattling near-tenor, he grabs your interest and holds your attention even more. His tone has admittedly deepened with time. Tracks like the superb 80's soul/world music hybrid Lords of War show this. He puts his ability to use spoken word to haunting effect.
The album's most vocally skilled track is Goat Flow. OK, so it won't politically set the world on fire. But that's kind of not the point. Lowkey reminds the listener that aside from everything else, he is one of the greatest rappers of his generation. Across a grime backdrop, he displays his vocal abilities – using at least 14 different rhyming patterns and getting up to a spit rate of 10 syllables a second at one point:
Hip-hop ballads
But Lowkey is at his musically most powerful when delivering hip-hop ballads.
When he released the haunting 2016 single Ahmed, it touched a nerve with many people, being at the time the so-called 'refugee crisis' was hitting the headlines. The combination of Lowkey's gradually rising rapping pitch; an interpolation of Roxette's Listen To Your Heart, and Khalil's mournful vocal riffs set the standard for the rest of the album. The video, with the peerless GlobalFaction, gave the track over 1 million views:
Lowkey repeatedly hits the standard of Ahmed with tracks like the soul-touching Sunday Morning. And another single, the all-encompassing, blunt, dignified, but brutal Ghosts of Grenfell are some of the finest conscious hip hop ballads of recent times:
For the children
But for me, one of the standout tracks is Children of Diaspora. It's chilling in its simplicity. A resampled vocal laces in with Khalil's powerful response that answers Lowkey's rap. The bass guitar is persistent, following a regimental rhythm. The piano matches this, with a group of octave-jumping chord sequences on repeat. Synths add to the sense of something impending. Overall, the stripped back arrangement and production are what helps amplify Lowkey's message.
It's one we disagreed on slightly in the interview. He's not as happy with the track now as he was when he wrote it. But for me, the discussion on how colonialism is still present is an important one in the context of Soundtrack to the Struggle 2.
Because of the way Lowkey has crafted the album and released its lead singles to a younger generation who may not be politically switched on, Children of Diaspora delivers a crucial message. It's one that they certainly won't hear in schools. Nor will they hear it from most other urban artists. But to understand the rest of the album it's one they need to know. And the track, therefore, also sums up what makes the album one of the most important of recent times.
Philosophy for 2019
The masterstroke from Lowkey, unparalleled even by the most respected conscious artists, is when you view Soundtrack to the Struggle 2 as the sum of its parts.
Two of the greatest thinkers of modern times bookend the album: Noam Chomsky on the title track and Naomi Klein on Neoliberalism Kills People. Sandwiched in between this are tracks aimed at Lowkey's already established audience. Then, he drops tracks which could easily sit alongside grime and drill bangers on YouTube. Overall, the creation is one for the politically conscious, but one that is accessible to those who aren't. This is the point.
Lowkey has created a project that will switch on young people's minds, where other music won't. The Return Of Lowkey will grab their attention. Goat Flow will cement their interest. Then, tracks like Children of Diaspora will begin to help them understand the world. If they listen to Chomsky, then the album is truly a stroke of genius.
What also stands out with Soundtrack to the Struggle 2 is that Lowkey has refined his political and social messages. Gone is the explosion of ideas. In its place are clearly defined themes of corporatism, racism, Grenfell, and abuse of power. And all these ultimately have one root: the neoliberalism he repeatedly refers to.
Credit must also be given to Khalil, who's consistently intuitive and powerful vocals compliment Lowkey's perfectly.
Etched onto our consciousness
For many of us, life has been a struggle for countless years. People who think differently, act differently, or are just 'different' according to the system are sometimes left on the fringes of society, floundering. Yet it's often these people who could hold the key to changing our world for the better. In 2011, Lowkey amplified our anger, fear, and voices. Now, with Soundtrack to the Struggle 2, he's given us hope, resilience, and emotional succour. He's also potentially helped conceive the next generation of world-changers.
His fearless philosophising on the world coupled with his musical ingenuity will set it apart as one of the albums of the decade. It may not ever be recorded in mainstream music history. But for every person fighting for common humanity, Lowkey and Soundtrack to the Struggle 2 will forever be etched onto their consciousness.
Featured image via Covered PR
CanaryPod: #ToppleUncaged meets… Lowkey presented, produced and edited by Steve Topple
Sound engineering by Gav Pauze via Pauze Radio
All tracks via Lowkey/Mesopotamia Music except 'Refuse to Kill' via Going Underground – YouTube
Get involved
Stream Soundtrack to the Struggle 2 via Spotify
We know everyone is suffering under the Tories - but the Canary is a vital weapon in our fight back, and we need your support
The Canary Workers' Co-op knows life is hard. The Tories are waging a class war against us we're all having to fight. But like trade unions and community organising, truly independent working-class media is a vital weapon in our armoury.
The Canary doesn't have the budget of the corporate media. In fact, our income is over 1,000 times less than the Guardian's. What we do have is a radical agenda that disrupts power and amplifies marginalised communities. But we can only do this with our readers' support.
So please, help us continue to spread messages of resistance and hope. Even the smallest donation would mean the world to us.
Support us