Major Tulsi Gabbard says Assange's arrest is designed to send a 'dangerous' message to the press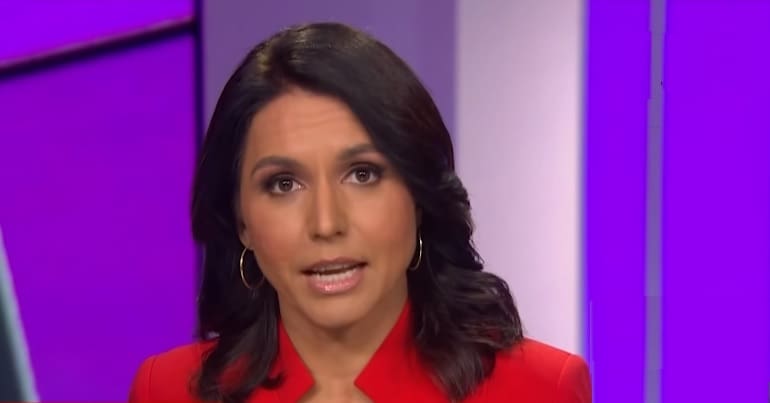 Tulsi Gabbard has accused those involved in arresting Julian Assange of trying to send a  "message" to "the people, especially journalists". Gabbard, a major in the US Army National Guard and an Iraq veteran, told CNN:
I think what's happening here is some form of retaliation coming from the government, saying 'hey this is what happens when you release information that we don't want you to release'.
"Be careful, be quiet, and fall in line"
Gabbard emphasised that the arrest of the transparency activist and publisher is:
a dangerous and slippery slope; not only for journalists, not only for those in the media, but also for every American, that our government can and has the power to kind of lay down the hammer to say 'be careful, be quiet, and fall in line, otherwise we have the means to be able to come after you'.
WikiLeaks exposes unjust behaviour
CNN's Jake Tapper asked Gabbard about claims that WikiLeaks disclosures could have resulted in harm to US military forces in Iraq and Afghanistan.
In a video clip that has since gone viral on Twitter, Gabbard stressed that no evidence has been shown of any harm coming to US forces as a result of WikiLeaks disclosures. Gabbard went on to explain that:
What we have seen is that so much of the information that's been released has informed the American people about actions that were taking place, that they should be aware of. They provided transparency around issues both related to civil liberties as well as actions that our military was taking in the Middle East that they should not have been.
The purpose of arresting #JulianAssange is to send a message to the people, especially journalists, to be quiet and don't get out of line. If we, the people, allow the government to control us through fear, we are no longer free, we are no longer America. pic.twitter.com/2sedynREP9

— Tulsi Gabbard (@TulsiGabbard) April 11, 2019
'Criminalising' journalism
Veterans for Peace UK (VfP UK) also released a statement on 12 April denouncing Assange's arrest, saying that the "release of the Iraq War Logs and The Afghan War Diaries revealed the true human cost of our wars in the Middle East". They also said they "oppose the extradition of Julian Assange to the United States and are deeply concerned that journalism and whistleblowing is being criminalised by the US and actively supported by British authorities". VfP UK said they "believe the authorities are seeking a show trial for the purpose of revenge and to intimidate journalists"; and that US "persecution" of other whistleblowers proves that people like Assange "will not receive a fair trial in the US court system".
Bucking the Democratic Party establishment
As The Canary reported, Gabbard – who hopes to become the Democratic Party's 2020 presidential candidate – has made opposition to 'regime change' wars a key part of her 2020 campaign. She is also a member of the establishment invite-only thinktank the Council on Foreign Relations (CFR). And she recently called out fellow CFR member journalist Fareed Zakaria for "trying to goad Trump into war [with] Russia".
Gabbard, who has surpassed the 65,000 individual donors necessary to participate in the Democratic Party 2020 debates, ended her tweet by saying:
If we, the people, allow the government to control us through fear, we are no longer free, we are no longer America.
Unfortunately, Gabbard stands largely alone among Democratic Party 2020 hopefuls in seriously taking on the US 'national security' establishment.
Featured image via screengrab – YouTube
Since you're here ...
We know you don't need a lecture. You wouldn't be here if you didn't care.
Now, more than ever, we need your help to challenge the rightwing press and hold power to account. Please help us survive and thrive.
Support