Julian Assange's father lays into Hillary Clinton and co for smearing his son as a 'Russian asset'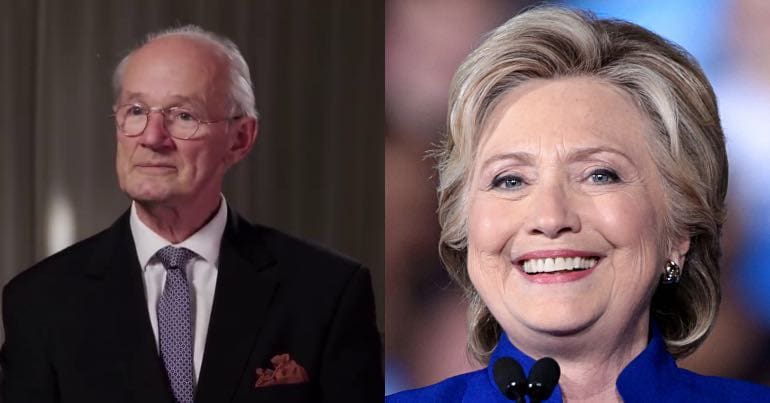 Julian Assange's father, John Shipton, has dismissed the idea that his son is a "Russian asset". He made the comments during an interview with Tara Brown on 60 Minutes Australia on 28 April. He also attacked Hillary Clinton for blaming her 2016 presidential loss on his son. Shipton, who is 74 and last saw Assange at Christmas, said that his son now "looks as old as me". But in spite of this, he said Assange is "fine" and his "fighting spirit" is still there.
The Metropolitan Police arrested Assange on 11 April. He is currently in Belmarsh Prison while awaiting an extradition hearing.
A "Russian asset"?
During the interview, Brown asked Shipton if there was a chance his son:
was used — set up — by a foreign nation to destabilise a democratic process?
Shipton replied:
Absolutely most certainly not. Good god. Can you imagine? I mean, what a mad idea!
When Brown put it to him that his son might be a "Russian asset", Shipton let loose, saying:
Oh for god's sake. Russian asset? I mean… spare me… just ridiculous. It just fits their need, you know: 'well, we lost the election because of the Russians; not because we're klutzes; not because we called half the population of the United States 'deplorable'; not because I was the worst candidate in 40 years to stand for election; not because I destroyed Libya and giggled like a madwoman seeing a bayonet stuffed up Gaddafi's arsehole.' I mean, really?!?
Hillary Clinton herself has said Assange "must answer for what he has done".
Getting Assange and sending a message
Shipton also argued that the US is out to get Assange. He told Brown:
The United States was determined to ruin his life for whatever reason.
But he went further, explaining what his son's arrest really means:
They want to demonstrate that publishers and whistleblowers will be destroyed.
He also touched on the stories of Assange's alleged bad behaviour while he stayed in the Ecuadorian embassy in London:
They're just smears. There've been millions of them.
The future of journalism
In closing, Shipton said that his son has given up "almost everything". Assange had lived in the Ecuadorian embassy since 2012 after Ecuador granted him asylum. He had sought asylum to avoid potential extradition to the US. Assange was facing allegations of sexual assault from women in Sweden at the time. The most serious case is currently inactive, but Swedish authorities are reportedly considering reopening it. Assange's lawyer has insisted that "Julian has never been concerned about facing British justice, or indeed Swedish justice". It is "American injustice", she said, that concerns him.
Journalists should be free to report on the abuses of power by individuals and governments. But with the US targeting Assange for exposing such abuses, the future of journalism does not look pretty.
Featured image via 60 Minutes Australia – Screenshot / Wikimedia Commons – Gage Skidmore
Since you're here ...
We know you don't need a lecture. You wouldn't be here if you didn't care.
Now, more than ever, we need your help to challenge the rightwing press and hold power to account. Please help us survive and thrive.
Support