Anti-arms protesters take action saying, 'these people arm occupiers, so we are occupying them'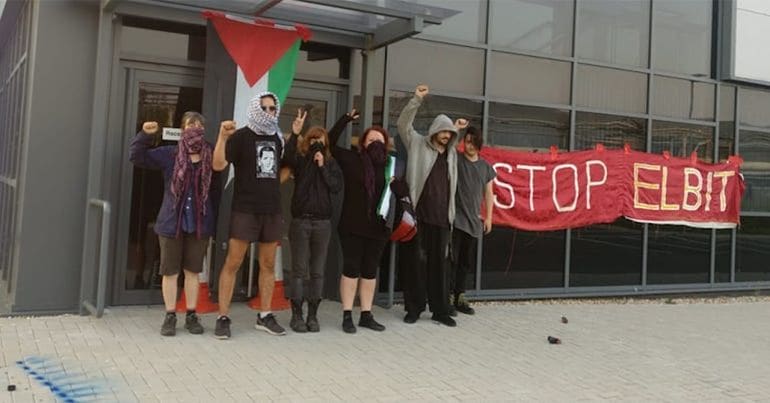 Anti-arms protesters have shut down an Israeli-owned arms factory in Kent. The factory belongs to Instro Precision, a subsidiary of Elbit Systems, which is a "private Israeli weapons company". It's also "one of the world's biggest arms companies" that supplies "to some of the worst military regimes around the world".
"A
rms dealers live in comfort, profiting from murder"
Activists occupied the factory gates early on 27 August.
Activists have come prepared to shutdown #Elbit factory Instro Precision for days.
All gates D-locked. One person locked to gate, another person glued to gate.
Police now outside compound fence.#StopArmingIsrael pic.twitter.com/XnuLYmnsfW

— Block the Factory (@blockthefactory) August 27, 2019
They also called for people to take action against the Kent business park where the factory is based:
Funnily enough @DiscoveryPark_ have blocked us . . they obviously don't like all this publicity about the Israeli arms company on their site but are more than happy taking rent off them.
We're sure they'd be happy to hear your thoughts . . . 01304 614060 pic.twitter.com/RyEDM2wgzL

— Block the Factory (@blockthefactory) August 27, 2019
Justine, one of the protesters who's currently locked on to the factory gates, told The Canary:
We've occupied and barricaded Instro's grounds to try to stop the company from making weapons which kill our friends in Palestine. I'm disgusted that arms dealers live in comfort, profiting from murder.
James, another activist, said:
These people arm occupiers, so we are occupying them.
As The Canary reported, protesters also occupied two Elbit factories in July:
We said we would be back! #Elbit's arms factory Instro Precision @DiscoveryPark_ #Kent is now locked down & occupied! #StopArmingIsrael pic.twitter.com/nT0gfsbVOC

— Brighton BDS (@BrightonBDS) August 27, 2019
"End… the racist occupation" 
Elbit's products, including drones and security systems, have been widely used by Israeli forces against Palestinian people in the occupied West Bank and Gaza. It's also been accused of:
trying to increase its profits from its experience of intensifying Israel's siege of Gaza.
As Justine said:
I have been to Palestine. I met a ten-year-old boy from Gaza who was shot in the eye by an Israeli sniper. The bullet came out of his brain. I've seen old people being humiliated at apartheid checkpoints and I've seen Israeli soldiers crouch on street corners with live ammunition waiting to shoot Palestinian youths. We will continue to blockade the arms companies for an end to the racist occupation and for a free Palestine.
Profit from arms
As Corporate Watch noted, Elbit Systems is "Israel's largest privately-owned arms and 'security' company". Elbit advertises its products as "mature and battle-proven". The multi-billion-dollar Israeli company reported pre-tax profits of $306.7m in the last quarter of 2018.
Investigate reported that:
Elbit manufactures several… weapons… considered controversial under the laws of war because of their inability to distinguish between combatants and non-combatants – a core tenet of international humanitarian law. These include weaponized white phosphorus, cluster bombs, and flechette projectiles.
The company also sells products around the world to countries with far-right governments and appalling human rights records. This includes Turkey, the Philippines, Egypt, and Syria. In 2014:
it used its experience providing electronics to the West Bank and Gaza apartheid walls to win a contract with the US to develop surveillance towers on Arizona's border with Mexico.
Stop Arming Israel
This action comes ahead of the Defence and Security Equipment International (DSEI) arms fair. This takes place every two years at London's ExCeL centre. Elbit's also exhibiting at this year's event:
DSEI 2019 exhibitors & Israeli drone makers Elbit Systems have been occupied by campaigners from @blockthefactory in Kent this morning! #StopArmingIsrael #StopDSEI https://t.co/r2HPHzQjcV

— Stop The Arms Fair! (@StopTheArmsFair) August 27, 2019
Activists on the ground told The Canary that they've barricaded all gates at the Kent factory. They've officially squatted the site and plan "to stay for as long as they can".
Solidarity to all involved.
Featured image via Block the Factory used with permission.
Get involved
Support Block the Factory.
Stop the Arms Fair is organising protests from 2 September against DSEI – one of the world's biggest arms fairs.
Support Campaign Against Arms Trade (CAAT).
Fund our Investigations Unit
You can help us investigate corruption, expose injustice and uncover the truth.
As one of the only independent investigations units in the country, we work for you – but we need your help to keep going. We need to raise £10,000 to continue our groundbreaking investigations. Can you chip in?
Fund us