A radical author talks revolution in his latest book, 'Spark'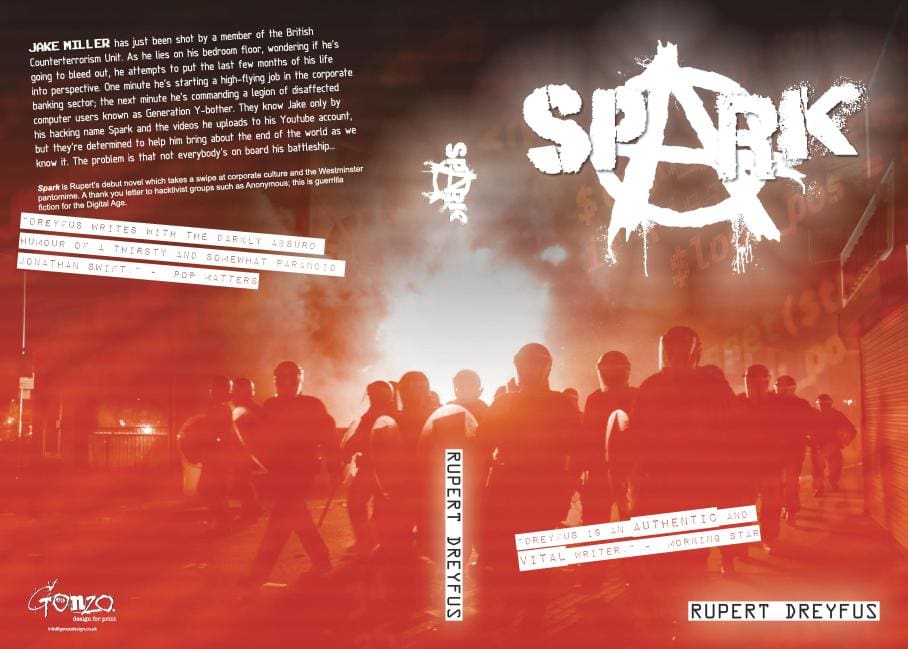 Support us and go ad-free
A radical author is talking about a revolution in his latest book, Spark. And for anyone who's a fan of rebellious, in-your-face literature, it's a must-read.
Rupert Dreyfus' debut novel Spark was originally released as an ebook last year. But following rave reviews, Dreyfus has released it in paperback. He describes it as:
taking a swipe at corporate culture and the Westminster pantomime. A thank you letter to hacktivist groups such as Anonymous, this is guerrilla fiction for the Digital Age.
Inspired by the 2011 riots
Spark's central character is Jake Miller. The novel opens with Jake just having been shot by a member of the British Counterterrorism Unit. As he lies on his bedroom floor, wondering if he's going to bleed to death, he attempts to put the last few months of his life into perspective.
One minute, he's starting a high-flying job in the corporate banking sector. The next, he's commanding a legion of disaffected computer users known as Generation Y-bother. They know Jake only by his hacking name 'Spark' and the videos he uploads to his YouTube account. But they're determined to help him bring about the end of the world as we know it. And so "the end of the world" begins.
The Canary spoke to Dreyfus about the inspiration for the novel. He said that it started with the 2011 English riots. Events which Dreyfus says were portrayed in the media as "mindless violence". But in labelling them as such, he says they missed the point of what happened. And they also gave him the premise for Spark:
[the media] spectacularly failed to address the concerns of so many disaffected people who had decided to cause total mayhem. But like Bakunin once said: the passion for destruction is also a creative passion. Simply put: they weren't rioting for no reason. So the idea was to give a voice to the disaffected. In this instance it was a low-key computer hacker who deep down knows that this system is pretty awful for most of us but who struggles to articulate it. He ended up a great vehicle to get something said about Tory Britain.

Read on...

Support us and go ad-free
Dreyfus says that in some ways Jake is very similar to him. He notes:
Especially his struggles with corporate life and how soul-destroying and hostile it is. I even have an 'I Hate Mondays' mug in my office.
The day-to-day life of Jake Miller reflects that of probably many people. Most notably in the humdrum world of corporate work.
Political humdrum
Dreyfus' political views are far from humdrum. He grew up in an industrialised northern town. This, he says, allowed him to see the devastation meted out by Thatcher's policies first hand. He has always taken an interest in politics as a result. His childhood home probably reflects that of many working class people. He says his parents were "political enough to view the Labour Party as the good guys and the Tories as the bad guys. So that was an okay starting point."
But he really became politically engaged in his late teens. Dreyfus discovered "radical politics", and says he has always followed that trajectory:
When you develop a political conscience which goes beyond the narrow constraints of party politics, the current system begins to look increasingly anti-democratic. So you start to look for solutions. I eventually found my solution in the school of anarchism born out of the Enlightenment. It's had a bad reputation owed to dishonest media coverage. But a highly organised society based on the principles of philosophical anarchism is what real democracy looks like.
He's unimpressed with modern day, mainstream politics. As Dreyfus told The Canary:
So these days it seems to me that mainstream politicians are delaying the process of our species transitioning to something closer to real democracy. In fact, mainstream politics is the longest running scam of all time. It's paid lip service to plurality, but neoliberalism wins every time. Like Alfie Khan [a fellow hacker of Jake's] says in Spark: "it's time for something else".
Virtual loneliness
The desire for "something else" is a major theme in Spark. As is the sense of resignation to the doomed current system and the vapidness of the neoliberal world. The book is extremely contemporary in style and structure. The language is in-your-face urban and at times the sentence count is frantic. But this reflects the unfolding pace of events well. Structurally, it reads almost like a screenplay. Each chapter encompasses what could be a "scene". A feature which serves to enhance the book's accessibility.
Dreyfus captures wonderfully the drudging banality of the corporate business world. The neglected office plant. The wide-eyed, overly-eager company virgins. The "parking space prestige" nonsense and the vacuous, non-jobbing 'corpora-speak' of Jake's insipid superior, Colin.
The other major theme which is explored is that of loneliness. Specifically in the disconnected, globalised and 'virtual' world we now live in. The pointers are there throughout the book: Jake's nemesis Vinnie and the 'victims' of his online dating scams; the use of fraudulent personas in speed dating as a sort of therapy; cyber anonymity, and Generation Y-bother's willingness to submissively follow the commands of strangers, just to feel "part" of something. All explored in detail by Dreyfus and with telling clarity.
All this captures the main thrust of what Dreyfus' intention was with Spark. He says:
I hope to capture the absurdity of life in the 'Digital Age' in literary form. I also want to provide a decent anti-establishment alternative for those people who are bored of the same old, same old.
An irrelevant media
Dreyfus cites his literary influences as Kafka, Patrick McGrath, Irvine Welsh, William Burroughs and, "as predictable as it is", George Orwell. He says his worldview was shaped by the likes of Noam Chomsky, John Pilger and Howard Zinn. When asked about his attitude towards the mainstream media, he doesn't hold back:
People are beginning to realise that the mainstream media has been an effective propaganda tool for too long now. It has trained us to be passive spectators of political affairs instead of active participants which we should be. Their values have also largely been at odds with the sort of society many of us want to live in: the cult of celebrity; worshipping at the altar of capital; the blunting of critical faculties etc. There are some decent journalists in the mainstream, but not enough to defend its existence.
He doesn't happily admit it, but Dreyfus is also an accomplished journalist. He contributes regularly for the independent news site Consented. When asked his thoughts on the future of the media, he appears somewhat at odds with the vision he outlines in Spark. That is, "the absurdity of the digital age":
The internet has allowed people to create their own media and it's now replacing the mainstream. On balance this is to be encouraged because it takes the power out of the hands of some ghastly institutions which have too often patronised their readers. The next vital step is to make sure that future journalistic values are reflective of the sort of society we want to live in; values that place an emphasis on critical thinking, diversity, solidarity and suchlike. It's a massive shift and a difficult one after years of indoctrination, but it's vitally important.
Blossoming revolution?
But maybe Dreyfus is making the point that while the internet has its place, it needs to be free of corporate control. And it's only complementary to more traditional methods of activism. Movements like "Occupy" and "15M" have become prominent since the 2008 financial crash. But Dreyfus thinks these and the internet are only steps in the right direction:
[Protest movements] can at least highlight core problems and bring about some level of solidarity. They can also be a hotbed of ideas. But protest movements are only the baby steps towards a long process of change. The next step is to bring about unity among all factions while resisting the counterproductive squabbling which plunges movements into obscurity and allows neoliberalism to continue. I was saying to a friend recently that if the Spanish anarchists had broadband, their revolution would've probably been successful. Our generation is comparatively embarrassing. We need to sort it out.
Dreyfus tackles more of these issues in his most recent work, The Rebel's Sketchbook. A collection of 13 short stories which, on the face of it, varies wildly in tone and style. But dig deeper and a running theme appears. That of the intensifying war that is being waged on the working and underclass by both the Establishment and corporations. It was named one of The Morning Star's "Books of 2015", something which Dreyfus should be rightly proud of.
Given his anarchist tendencies, Dreyfus probably isn't the best person to ask about UK party politics. But, when tentatively probed, he says of Jeremy Corbyn:
I'm strictly non-partisan but I think Corbyn is a decent, principled fella and is the best option to lead Labour. I also appreciate his positions on most things; especially pushing for nuclear disarmament. How anyone can support building weapons which are solely designed to cause the mass, indiscriminate killing of human beings is beyond me. His opponents make out that people like Corbyn are dangerous when the opposite is true.
Spark: a mirror on the world?
In Spark the end of the world doesn't begin with nuclear weapons. It's started by something much more everyday, yet plausible. And that's what makes Dreyfus' novel such compelling reading. He makes ferociously well-utilised references to Pop Culture. From "Java Street", the fictional location of Jake's home, to knowing nods to David Icke, Tor and Anonymous, via swipes at 24 hour rolling news, and even a suckerpunch to Boris Johnson. All these make Spark 'feel' plausible; of the 'here and now'.
Aside from being a thoroughly enjoyable and engaging read, Spark stands as a stark analysis of our generation. Dreyfus portrays the insidious rise of the banking sector after the 2008 crash, the Orwellian nature of New Labour's mass surveillance programme and the ever-creeping power of multinational corporations. And he portrays them all with uncomfortable realism. As the character Plato says in the book:
The rulers of today are the men and women who have all the power but don't seem to have any answers. If democracy was an experiment then human beings make for the worst scientists.
Maybe there's more fact in the fictional novel Spark than Dreyfus would care to let on.
Get Involved!
– Buy Rupert Dreyfus' other novel, The Rebel's Sketchbook.
Featured image via Rupert Dreyfus
Support us and go ad-free
We know everyone is suffering under the Tories - but the Canary is a vital weapon in our fight back, and we need your support
The Canary Workers' Co-op knows life is hard. The Tories are waging a class war against us we're all having to fight. But like trade unions and community organising, truly independent working-class media is a vital weapon in our armoury.
The Canary doesn't have the budget of the corporate media. In fact, our income is over 1,000 times less than the Guardian's. What we do have is a radical agenda that disrupts power and amplifies marginalised communities. But we can only do this with our readers' support.
So please, help us continue to spread messages of resistance and hope. Even the smallest donation would mean the world to us.
Support us