A journalist turned author is about to hit the big time with his latest book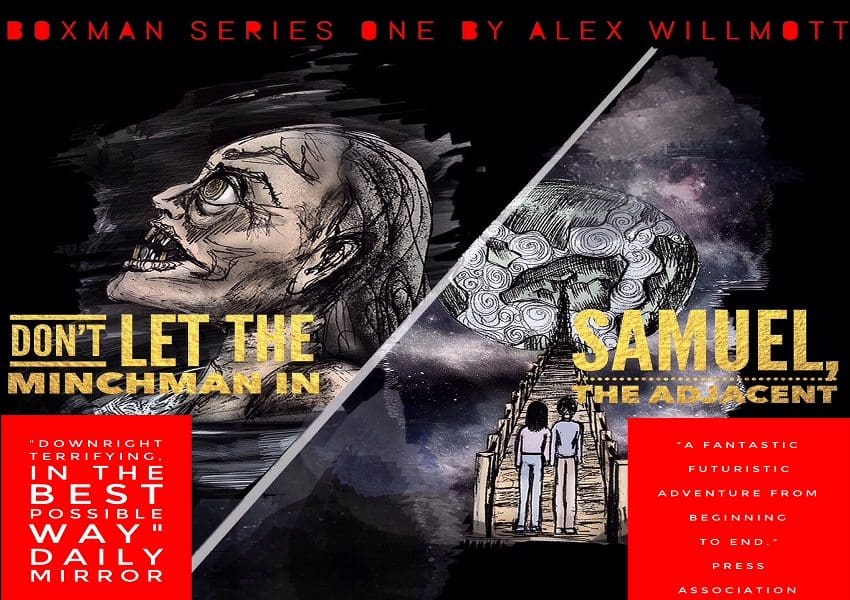 Support us and go ad-free
A journalist turned author is ramping up the fear factor in his two latest short stories, and has spoken exclusively to The Canary about life, his inspiration, the media and politics.
Alex Willmott, from Merthyr Tydfil in Wales, has released the Boxman Series One in a pre-publication format to journalists. And The Canary was lucky enough to be given a copy. Consisting of two short stories, Don't Let the Minchman In and Samuel, the Adjacent, they are a far cry from his first published work, a trilogy entitled Selah. In the Boxman Series One, Willmott flirts heavily with the horror and science fiction genres, but his debut was specifically fantasy-driven. He says it's because at the moment, he's more passionate about creating short, character-led stories that keep within the 'rules' of sci-fi and horror. And 'rules' are something both works adhere to well, making the Boxman Series One a well-formed set.
Art imitating life?
Don't Let the Minchman In is a horror story seemingly inspired by graphic novels such as The Walking Dead, Locke and Key and Adamtine. The central character, Jon Deacon, has just quit his job as a celebrated journalist, after losing all faith in the industry. Looking for a complete change, but one that still fits with his skills, he takes an unexpected job offer. To be a Communications Director for a luxury hotel chain. The job seems perfect, until is assigned to sort out a twenty-year-old PR problem at the Wishing Waters Hotel. From there, his new role quickly becomes hell on earth.
There are obvious correlations between the central character, Deacon, and Willmott himself; both former journalists who turned to communications as a "purer" industry to work in. But Willmott says the character isn't actually based on him. As he told The Canary:
His occupations definitely intertwine with my own, but his character is actually based on a reporter I worked with back in East Lancashire. He's a top quality guy and a close friend still. His sense of humour just cracked me up in the newsroom, and we saw eye to eye on most things. He was a far better reporter than me, and probably as good as me on the football pitch.
It was in Lancashire that Willmott was a journalist. He previously worked as a reporter for The Lancashire Telegraph, a job he looks back on with some unease:
I was a reporter [at the Telegraph] for two years. It was without doubt a great lesson in creating content quickly, alongside many reporters who are now at nationals. That wasn't a path I wanted to go down though. I think when I was told to f*ck off over one hundred times in twenty minutes in Burnley town centre, during a news survey on how people intended to vote in the upcoming general election; I lost my zeal.

Read on...

Support us and go ad-free
An unfinished trilogy
It was from here that Willmott went into communications, or "fell into" it as he prefers to put it. Starting in the third sector, and then moving into representing international brands, he says although it doesn't have the thrill of the newsroom "it's good when you find some creative leaders who want to take risks". Risk-taking is something Willmott isn't averse to, either. He first launched into fictional writing aged just 20, a feat many writers would shudder at. It was here he found inspiration for Selah, his debut:
When I was in my early twenties, I dreamt about this crazy world with some of the most leftfield ideas I'd ever encountered. I wrote it down over the space of six years and published it as an e-book. I ended up selling the rights to a film company, but as of yet, it's still in their pile. It almost came out in print too, but the whole thing fell down like Humpty Dumpty. Only this time the king's horses were out at Chepstow. Shame really, it's a bloody good read.
Selah is actually a trilogy, with the first two instalments available on Amazon. When asked why there isn't a third one, Willmott pauses, then responds with a wry comeback:
I'll finish the third one when readers get so angry with me that they begin to feel actual thoughts of negativity. At that moment, it'll begin. It'll need to be written in the Hebrides though, with a few bottles of whisky and enough tobacco to block up a chimney.
The feeling is given that Willmott is a man who likes to write in his own good time. This may come from his natural progression as a writer. He's not someone who studied at university to pursue a career as an author; he's done it through passion. As he recounts to The Canary:
My grandfather is the most well-read man I've met. As I'm writing this, he'll be smoking his pipe and reading either a fictional book the size of the doors of Moria, or a historical account that's most likely a lot bigger. His influence of fictional storytelling continues to affect my approach to writing.
Starting at a young age
Willmott says he "fell in love with words before I fell in love with women or rugby". From an early age, he captured the imagination of his peers and teachers with his bizarre ramblings about a fantasy world that often took his attention away from his schoolwork. At 15, Willmott co-wrote a fantasy play, which was later produced by a large Welsh theatre company in Brecon. That same year he became one of the youngest finalists in the international poetry competition, The John Tripp Award for Spoken Poetry. But as Willmott told The Canary: "I was up against actual war poets though, so my teenage tale of unrequited love didn't really stand a chance".
At 18, he left South Wales to study contemporary performance in the north of England, where he began to work on his visually-driven approach to creative writing. Turning down a position at a Manchester theatre company, Alex decided to sharpen his writing skills and was offered a scholarship to train as a newspaper reporter. It was during a news placement in York that Alex began penning the Selah trilogy.
This early influence in a media environment is apparent in Don't Let The Minchman In, with Willmott taking regular, acerbic swipes at the corporate press. When asked about the current state of the media in the UK, he doesn't hold back:
I'm glad you picked up on that. The media should never drift from its purpose, to act as a watchdog for the people in any given locality, especially in today's capitalist UK. And when the people are getting screwed, the watchdog should become the guard dog. However, this idea has been p*ssed upon by almost every national paper that scrapped the watchdog approach, and even the guard dog approach, and just became attack dogs.
Money, money, money
Willmott is clear in his reasons for the decline of the national press as tools to hold power to account. "Money, money, money" he resignedly says, "and power corrupts; absolute power corrupts absolutely. Even our regional papers are now owned mostly by foreign moguls who couldn't give a tomahawk toss what's happening in towns like Burnley". He asserts that if corporate owners have power over what goes on at a local level, then:
magnify this by ten light years when considering mainstream press. They are products owned by billionaires that don't even have to work hard to sell grotesque versions of the truth. All to ensure the people act in the ways that most profit the billionaire owners. It'll collapse, as everything does in the end. I'm not sure what else needs to happen for the UK to wake up and see that their national newspapers have spat in their coffee. 
It's not only the corporate media that Willmott takes aim at in the Boxman Series One. There's a heavy dose of politics in Samuel, the Adjacent; albeit cleverly interwoven into the story in such a way, you'd be forgiven for missing it. The central character Samuel works for an intergalactic agency called the Adjacents. Sent to South Wales to track down a criminal who is charged with manipulating time travel, what he finds makes him question everything he once believed about his, and the rest of humanity's existence.
The themes of inequality, climate change and corruptible power feature heavily in undertones in Samuel, the Adjacent. As Willmott says about it:
Politicians, in every corner of this world, are becoming increasingly forgetful of the fact that they are servants of the people. Through the book I felt it necessary to highlight how the majority still falls second place to the minority when it comes to power and wealth. But all of this is dwarfed by the glaring reality that we have enough food and resources for each and every human being, and yet this truth still feels like fiction in itself.
Politically-minded
Willmott himself is politically active in life. A strong supporter of Jeremy Corbyn's Labour Party, he is becoming well known on social media for his passionate vlogging. He says of the current, chaotic situation in Labour:
We're in new ground, and it's scaring some people. But for me, it's exciting. To the naysayers and prophets of doom, I point to the lawyers, plumbers, teachers and doctors, sparkys, engineers and all those from different religions, races, genders and sexual orientations who stand in the p*ssing down rain to watch Jeremy Corbyn. What I've learnt through it all is that when the people stand up for something, it's hard to ignore them. I believe that if people actually read up what Corbyn stands for instead of relying on the agendas of strangers, eyes would be opened.
After writing about Wales in the Boxman Series One, he is somewhat guarded when asked about possible Welsh independence however, and says it feels a long way off. Willmott says it needs to be about a lot more than just "we want out", and that there has to be common ground found across all political spectrums on just what an independent Wales would look like. "The power of Westminster seems to be growing, despite the expressed desire of further devolution," he says. "Strange that, isn't it? The government says one thing, and does another. We need Welsh Labour and Plaid MPs to get their hands dirty and meet their voters, properly." Something which most would surely agree with.
A gloriously painted picture
But it's his love of writing that obviously comes before politics with Willmott, and it's a passion that shines through in the Boxman Series One. The characters are gloriously fleshed out in minute detail, even those that are fleeting figures. He has a real talent for painting a picture of the world he wants us to be transported to; whether it be a dystopian 'Adjacent' universe in the familiar collieries of South Wales, or a decrepit, weather-worn hotel in Don't Let The Minchman In. The latter is an especially compelling work, and Willmott has a keen eye for graphic violence, which leaps out of the page in full colour at you.
The Boxman Series One is a delight to read and could easily transfer to the screen, such is the vividness of the writing. Both stories are well-crafted pieces of work; suspenseful, intriguing and shocking in varying forms, but in equal measure. Willmott immediately stands out as one of the UK's most promising new fiction writers; although he seems shy to admit it. "It's new for me, and I love it," he says. "It's probably me 'growing up' as a writer, but I tend not to think too much about that…" If the Boxman Series One is Willmott growing up, then the future is indeed looking very bright for this writer from South Wales.
Get Involved!
– Get the first two installments of Willmott's fantasy trilogy Selah here.
– Contact Willmott via his website or Twitter account.
– Read all of The Canary's book reviews here.
Featured image via Alex Willmott
Support us and go ad-free
We know everyone is suffering under the Tories - but the Canary is a vital weapon in our fight back, and we need your support
The Canary Workers' Co-op knows life is hard. The Tories are waging a class war against us we're all having to fight. But like trade unions and community organising, truly independent working-class media is a vital weapon in our armoury.
The Canary doesn't have the budget of the corporate media. In fact, our income is over 1,000 times less than the Guardian's. What we do have is a radical agenda that disrupts power and amplifies marginalised communities. But we can only do this with our readers' support.
So please, help us continue to spread messages of resistance and hope. Even the smallest donation would mean the world to us.
Support us