Jeremy Hunt is destroying lives – yet no one is noticing [OPINION]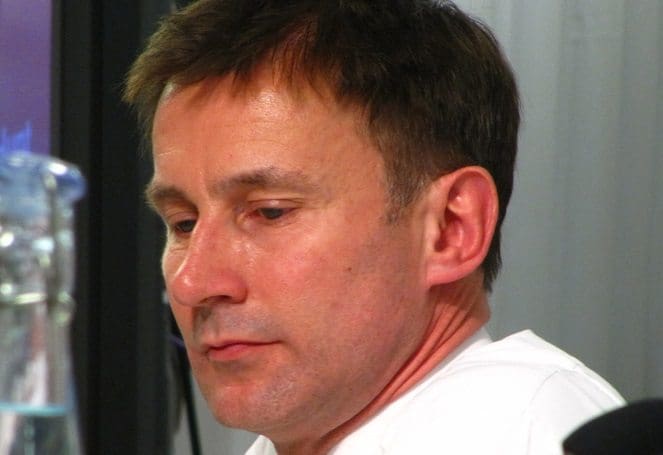 Support us and go ad-free
Health Secretary Jeremy Hunt's cuts and reorganisation of the NHS are destroying lives. While some of the impacts of  austerity on the NHS, and society more broadly, are well documented, there is one area which is often overlooked. But it's one which is becoming a crisis in the UK. And that crisis is addiction; specifically, to alcohol.
All personal details in this article, except the writer's, have been changed to protect contributors' identities. Neither The Canary nor the writer endorse any treatments mentioned in this article. If you feel you have a problem with alcohol, your first point of contact should always be your GP.
A poverty problem?
This week is Alcohol Awareness Week. If you know me, or are aware of my writing, then you'll know that I'm an alcoholic, and a very public one at that. I don't shy away from discussing or writing about it, as I feel that the subject is still treated as one of the last taboos in society. And the more people that are vocal about the subject, in my opinion, the better.
But the UK is in the midst of a crisis. It has a chronic drink problem. And while alcoholism affects all demographics in society, it is the poorest that are bearing the brunt of this crisis.
Figures released by the Nuffield Trust in December 2015 show a 63% rise in the number of alcohol-related hospital inpatient admissions since 2005. The trust says there has been a 104% rise in the number of A&E attendances due to alcohol poisoning in the past six years. Overall alcohol consumption in the UK is now above the OECD average, and the NHS cost to every taxpayer is £120 per year.
But when you delve deeper into the statistics, some worrying trends appear. Rates of A&E admissions due to alcohol poisoning were nearly four times higher among those living in the 20% most deprived areas of England than those in the least. And the gap is widening. Across the seven defined socioeconomic statuses (SES), 24% of all alcohol-related deaths were in the bottom category ('routine occupations'). Also, these individuals are nearly three times more likely to develop alcohol-related liver disease than those in the top.
A new best friend
I first became aware that I had a problem with drink in around 2006. Initially, as so many people do, I dismissed the issue. Me and alcohol were old friends who went way back. I started drinking when I was about 14, at weekends and during school break times. My reasons for drinking? Being bullied and ostracised at school; lonely; a problematic family life; high-functioning social anxiety and having rock-bottom self-esteem. Factors which I've only recently come to realise.
Read on...
Support us and go ad-free
It became a 'habit' from about the age of 16 onwards, insomuch that every social occasion was marked by drinking heavily. But it started becoming problematic during my mid-twenties.
The long-term relationship I was in was unpleasant, at best. My partner was also a heavy drinker, we were always in financial trouble, and the area we lived in was one of the 10% most deprived in the UK, so many of our friends were in similar circumstances. Co-dependency is one of the most horrific aspects of alcoholism. Both people get dragged down by one another; yet, ironically, you cannot be treated together for your mutual problems. Life slowly began to spiral out of control. But neither of us was truly aware of it.
Then in June 2008 everything came crashing down. In the space of two weeks, we were declared bankrupt, had our house repossessed (literally from underneath us, waking up one morning to the door being broken down) and we both lost our jobs. We were homeless, workless and penniless.
Rock bottom?
Medical professionals and alcoholics alike say you have to hit a 'rock bottom' before you can truly begin to scrape yourself back up again. For most, the 14 days I experienced in 2008 would have been that rock bottom. But for me, that was just foreplay.
I spent the next eight years on and off benefits; living in some of the most deprived areas of the UK; trying to stop drinking but persistently relapsing, and falling deeper and deeper into the mire of the problem. The help I received from the NHS was sporadic, at best. My GP had described me as a 'high-functioning alcoholic'; in my world, that meant I could drink two bottles of vodka a day, plus the rest, and still run a 110-bedroom hotel (I was, then, a hotel manager by trade).
I was offered help by numerous charities via my GP. One in particular stands out in my mind; they asked me, an alcoholic, how much I would like to be drinking a day. To say that was one of the most ridiculous questions I had ever heard may well be an understatement. If I had the chance, I would've just binge drank. But this in itself is highly dangerous.
The wrong advice
A study for the BMJ showed that people with the highest SES consumed alcohol more regularly than the most deprived. But the pattern of consumption showed the poorest were the most frequent and heaviest binge drinkers; that is, consuming at least double the guideline limits in a single day. And bingeing accounts for the majority of alcohol-related A&E attendances, of which over 50% are at weekends.
I saw other organisations which offered group 'therapy', but they were often just peer-led. The obligatory referral to Alcoholics Anonymous (AA) was given. One organisation did provide the services of a nurse to come into your home. This was while you were self-detoxing, as the process of reduction can be extremely dangerous. As I found out to my horror in 2011.
I had been drinking non-stop for six months. Literally, no other fluids were entering my body except alcohol. The temporary job I was doing as a hotel manager in Loughborough finished. It was then I tried to stop drinking by myself. I went from consuming around 70 units of alcohol a day (the equivalent of nearly three bottles of vodka) to just ten units (about four cans of Stella).
My body went into shock, and I suffered a severe psychotic episode. Some of the details are vague to me. But I do remember thinking that people were trying to kill me, and that I was suffering a heart attack induced by demons who were stalking me. I ended up being detained for five days under a Deprivation Of Liberty Order (DOLO); another way to say "sectioned" under the Mental Capacity Act. But still, this was not enough to stop me drinking, and nor did I receive any aftercare following the incident.
A wake-up call
Relapse after relapse followed, until May of this year. When you're an alcoholic, sometimes you stop blaming everyone else and a light bulb switches on. And 100 watts suddenly glared into my life. Several things brought me to the resolution that I needed to sort myself out, once and for all. A mixture of the fact my mother is not in the best of health, and as I previously wrote for The Canary, reflecting on the tragic life of Amy Winehouse, and the very real prospect of the next relapse killing me. So I went, crying and screaming, to my psychiatrist for help, whose care I had been under since November 2015.
She performed a minor miracle, and I have since been treated under what's known as a "dual diagnosis"; that is, where not only do the physical and mental aspects of addiction get treated, but the underlying mental health issues that cause you to drink get treated as well. I now see a therapist once a week, and I'm still under the care of my psychiatrist.
The NHS, on this occasion, has transformed my life. I have a job I love and a partner I hope to spend the rest of my life with. And moreover, I'm beginning to properly feel at peace with myself for the first time in my life. But the problem is my story is one of the lucky ones. Because the treatment for alcoholism in the NHS is, essentially, a postcode lottery. I hear horror stories of how people are left to rot, with no support from the health service. And many people simply die because of this.
A postcode lottery, attacking the poor
So I asked readers of The Canary to get in touch with their own stories. And what I heard was of little surprise to me.
I spoke briefly with Jane, from Swindon. Last year she lost both her parents to alcoholism. Jane highlighted a very real problem in the NHS; that there is often little "joined-up thinking" surrounding people's treatment:
Unfortunately my dad tried many times to recover, and was hospitalised a few times due to severe withdrawal. But they only ever dealt with what I saw as the symptom (drinking) and never looked beyond that (his depression from being unemployed for three years). He was by no means a perfect human but I wonder if things could have been different for us, including my mum, who drank in response to his problems, had he received help with his mental health.
Giving people quick fixes to alcoholism is often the easiest, and cheapest, answer for the NHS. And when you factor in that due to austerity over a third of NHS trusts have cut addiction services, it's little wonder people slip through the net. And these people are frequently the poorest in society. A pertinent example is Liverpool. The Clinical Commissioning Group (CCG) in the city announced in August that £2m is to be cut from addiction services. Liverpool is the third most deprived place in the UK.
Seeking oblivion with alcohol
Mike from Tottenham got in touch. He lives with mixed affective bipolar disorder, and says he was an alcoholic for over a decade. Mike thinks he fell into his position because of genetic predisposition, family and wider UK culture, and in an attempt to escape his problems. He told me:
I first got drunk in Spain at age nine at a barbecue. My parents were wasted and I happily drank a few bowls of Sangria. A lack of understanding of myself certainly contributed. I did not understand that I have certain triggers, that I will seek oblivion when something is upsetting me. Me? I was never a bottle of spirits in the morning drinker but I was certainly an alcoholic. Friends when I was in my twenties often thought I wouldn't make thirty.
It's this "seeking oblivion" which many alcoholics realise is the reason they drink. Most addicts drink or take drugs because they are trying to escape from something. There's always an underlying feeling; a torment; a profound sadness and wrench in your gut that just cannot be tamed.
I imagine the majority of people, if asked, would probably say that they all have demons that haunt them. But most people don't have to throw a substance into their bodies in excess to keep those demons at bay. They would probably say they just "get on with it". If you have an addictive personality, it's different. In your desperate clamour to gather enough inner peace just to carry on with your life, you find a crutch to help you through.
Dual diagnosis
Mike says that undiagnosed mental health problems are a big issue with addicts. And as The Canary has constantly reported, cuts to mental health services have been drastic. Mike says his GP's ignorance was a large part of the reason he initially didn't get the mental health diagnosis he needed:
The old 'get back to work, you'll feel better' nonsense with depression. It's only since I moved back to Tottenham that I have started to get the help I needed. Stigma too has played its part. If I had been diagnosed earlier I may not have needed to self medicate. Many people with mental health problems do this. Giving up alcohol was difficult because it contributed to isolation, increasing anxiety and severe depression.
"I like myself a lot more, now", Mike says; "why hate myself when I did not create the world?" He's been sober for ten years: "I've been through a long process and I'm not so full of self pity and self loathing. I don't need to drink myself to oblivion any more".
Sadly, Mike's story, and mine, are not the 'norm'. Alcohol-related deaths rose by 4% in 2014-15, and by 13% for the decade. Cancer deaths due to alcohol consumption are expected to hit 135,000 a year by 2035. And all while the NHS is being forced to make cuts of over £20bn.
The UK needs to love its addicts
The UK drink problem is spiralling out of control. And it would appear that politicians like Hunt fail to acknowledge that with addiction, prevention is better than the cure. But the stigma surrounding addiction makes funding that much easier to cut. Politicians and society still pose the questions: "should addicts get our money? After all, it's their own fault, isn't it?" Can you imagine the outrage if we were to stigmatise any other patient group accessing NHS services in this way? If we were to question people seeking our help and support when they are at their most vulnerable?
But addiction, especially to alcohol, is still 'that' problem. And it's one which is hitting the poorest the hardest. The country needs to wake up and realise alcoholics don't choose to be the way they are; ignoring the problem won't make it go away; funding cuts will just make things worse, and early, dual diagnosis intervention gives people the best chance of success.
Alcohol would have killed me. But it didn't. Tragically, thousands of people aren't so lucky. These horrific and unnecessary deaths are a stain on society, and the Tories' relentless drive for austerity is making the situation worse. Hunt may well have the blood of thousands of alcoholics on his hands.
Get Involved
– If you, or someone you know, are living with alcoholism you can call Drinkline on 0300 123 1110 (Mon-Fri 9am-8pm, weekends 11am-4pm).
– If it is a medical emergency call 999.
Featured image via Flickr
Support us and go ad-free
We know everyone is suffering under the Tories - but the Canary is a vital weapon in our fight back, and we need your support
The Canary Workers' Co-op knows life is hard. The Tories are waging a class war against us we're all having to fight. But like trade unions and community organising, truly independent working-class media is a vital weapon in our armoury.
The Canary doesn't have the budget of the corporate media. In fact, our income is over 1,000 times less than the Guardian's. What we do have is a radical agenda that disrupts power and amplifies marginalised communities. But we can only do this with our readers' support.
So please, help us continue to spread messages of resistance and hope. Even the smallest donation would mean the world to us.
Support us