One librarian's battle cry against government cuts is making people feel things this Christmas [TWEETS]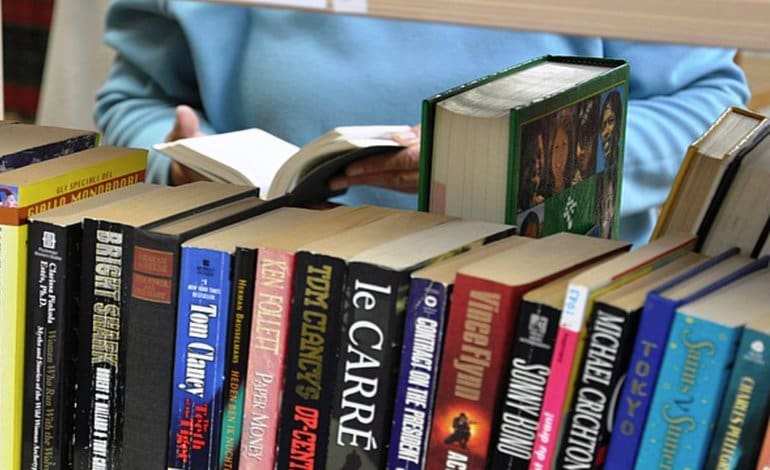 When librarian Dawn Finch tweeted in fury at people's "self-justification for their lack of support" against government cuts, she probably didn't imagine the reaction. But the tweet went viral, triggering feelings people didn't know they had about their local library.
The tweet heard round the world
There were 14 million fewer books available in libraries by 2016 than when David Cameron came to power in 2010. Cameron cut £180m from library funding, alongside dramatic cuts in services. Theresa May has continued the cuts regardless. Half of Bristol's libraries are set to close soon, along with countless others around the country.
Despite these efforts, libraries remain at the heart of many communities. According to the Reading Agency, over 282 million visits to British libraries take place each year.
Dawn Finch is an author and librarian. A trustee of the Chartered Institute of Library and Information Professionals (CILIP), she also campaigns to save Britain's libraries from government cuts. On Friday 15 December, she tweeted:
I'm angered by people who use the phrase "I haven't used a library since I was a kid" as selfish justification for their lack of support. Millions of people do! I haven't used maternity services for 24 years, doesn't mean I want them removed for others. #savelibraries

— Dawn Finch 📚 (@dawnafinch) December 15, 2017
And before long, the tweet was viral.
It resonated with people who'd been making the same statements themselves:
Thank you, have to admit being guilty as charged & having a re-think.
But can i just say I'd like to see more book action – recycling, not piling up on shelves, ignored at car boot sales etc. Schools, prisons, communities need books. + I realise #Libraries about more than books.

— Loud Hayley (@LoudHayley) December 17, 2017
As well as with fellow library workers: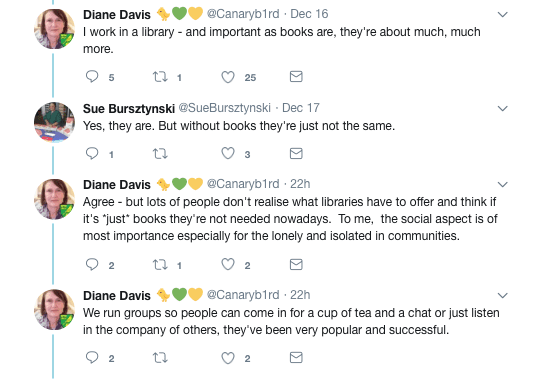 It also impacted young people, who know that the argument 'young people don't do libraries' simply is not true.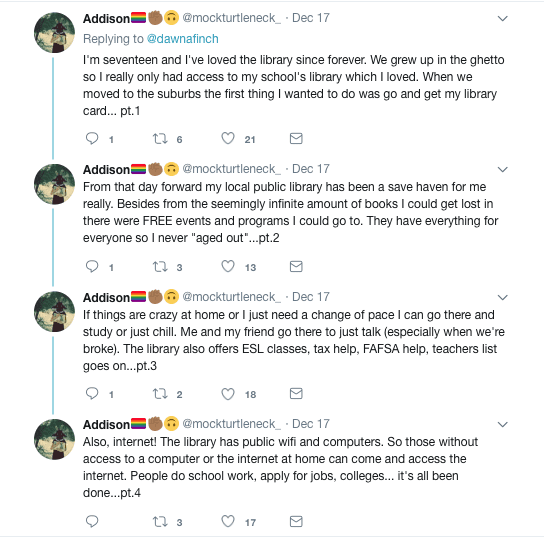 Speaking to The Canary, Finch said:
I'm not surprised at all that people feel passionate about their libraries. This is far from a nostalgic thing. This is about right here, right now. Libraries and their staff are daily changing and saving lives and people know that. Library cuts hit the most vulnerable, and the people with the quietest voices. This thread is filled with people taking the opportunity to be heard. It's been very moving.
And she's right.
It's about equality, stupid
People visit libraries because they need them; and for reasons that might not make much sense to those at the higher end of the wealth pyramid. As award-winning social affairs writer and author Mary O'Hara explains in The Guardian:
There is so much more at stake than people not being able to take home some books. The UK's library service has for decades been one of its great, tangible symbols of social justice and has adapted admirably to changing demand. It is something we should all stand up for, whether we use what's on offer or not. I still have my first library card. What have we become if in the years ahead far fewer people are able to say the same thing?
And this is why Finch doesn't just rail at the cuts. She goes after the mentality used to defend them. We've all heard the arguments: I've never had a heart attack, so why am I paying for NHS cardiologists? I don't have kids, so why am I funding the education system? I have a job, so why am I paying the rent for someone who doesn't?
I recall arguing with an old boss of mine because she didn't feel she should pay for education, she had no children, I asked if she had been born an adult. She said nothing. Empathy was obviously not a lesson she'd
learned.

— Sue Hardy-Dawson (@SueHardyDawson) December 16, 2017
Our roads, our hospitals, our schools and our libraries were not built by magic. They were built by our predecessors, with their hands and their taxes. And we not only inherit their usefulness, but responsibility for their upkeep. Hopefully, we hand over more and better than we inherited.
At this rate, we'll be handing future generations a shattered society and a thousand apologies. And this is why Finch's tweet resonated with people. Christmas is coming. What will we leave behind us?
Get Involved!
– Find out how you can support your local library at the CILIP website.
– Join public service union Unison's Save Our Local Services campaign.
Featured image via Wikipedia
Fund our Investigations Unit
You can help us investigate corruption, expose injustice and uncover the truth.
As one of the only independent investigations units in the country, we work for you – but we need your help to keep going. We need to raise £10,000 to continue our groundbreaking investigations. Can you chip in?
Fund us