'All that blood is on their hands' – an eyewitness calls out the arms industry's role in Turkey's attack on Afrin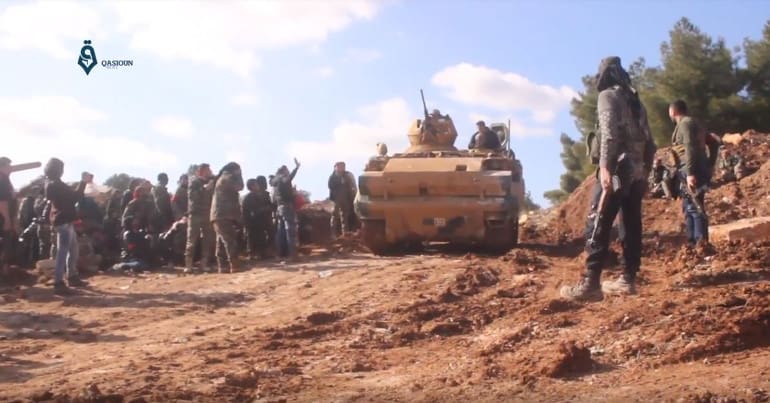 Support us and go ad-free
An internationalist volunteer has spoken to The Canary about joining the armed resistance against the Turkish invasion of Afrin in northern Syria last year.
In 2012, a revolution began in the majority-Kurdish region of Rojava in northern Syria. People organised themselves into communes, declared autonomy, and began practising stateless direct democracy. The revolution, however, was under threat from the very beginning and has faced invasion by Daesh (Isis/Isil) and Turkey. Hundreds of women and men from around the world have volunteered to join local people in defending the revolution.
Originally from the US, Argeş travelled to Rojava in 2016 to join the Kurdish-led People's Protection Units (YPG) in a fight against Daesh in Raqqa. He joined Rojava's social revolution after the liberation of Raqqa.
Argeş volunteered to fight again in January 2018 to help defend the revolution against Turkish invasion in Afrin. This is the second part of his eyewitness account. In part one Argeş described the war crimes that were carried out by the Turkish military and its proxies. In this interview, he describes the weaponry that was used in the attack and the complicity of Western states and the companies that supplied it.
What were the weapons that Turkey and its proxies were using? And where were did they come from?
The proxies had NATO weapons. The majority were small arms. G3 [rifles], which are produced in Germany. They had M16s which are American, and of course, Kalashnikovs. For sure these were all [supplied to them] by Turkey.
The majority of casualties were coming from Turkish air strikes and drones, and then artillery, in that order.
F16s were conducting the air strikes and then three types of drones. Two were unarmed surveillance drones… [including the] Turkish Aerospace Industries Baykus, and then there was one armed drone called the Bayraktar which is produced in Turkey [by Baykar Makina]… The Bayaktar fires rockets: the Roketsan MAM-L smart micro-munition.
Read on...
Support us and go ad-free
The drones, especially the surveillance drones, could stay in the air for about fifteen hours… I have the name of one surveillance drone: the TAI Baykus.
Did you personally witness the drones being used?
Yes, I have seen all different drones being used… The Turkish strategy was heavily reliant on drones, and the drones would either directly strike you or coordinate the targets to artillery. The artillery… [which is] like a Howitzer, is on a tank called the T155 Firtina – that has a range of 40km. They can hit really accurately using the drone coordinates, and the ammunition for that is actually produced in Turkey and it's very cheap for them to fire, so they would just be continuously firing artillery into our positions. The drones were pretty much in the air 24/7.
They had access to so much NATO weaponry that there were some Israeli and American drone designs that were probably used by them too, but I don't know exactly which ones.
Did you also witness a Turkish Aerospace Industries drone in use?
Yes, the TAI Baykus was most commonly used because the Bayraktar is expensive to fire. So what they would do is have those unarmed drones up in the air all the time… [to use] for targeting.
They would use a strategy with the drones called 'Rabbits Out'. 'Rabbits Out' is where they expect the target to be in a certain area. So what they will do is put an unarmed, or sometimes armed, drone above there and they'll just start firing artillery into the area – sometimes supporting it with air strikes – to make us move… It was a psychological strategy so that we would lose our nerve and move, and once we did they could directly target us and hit us.
Were they using the drones to target F16 strikes as well?
Yes. Typically the drone would be flying above. If you were sighted it would make this movement like a spiral and then within five to ten minutes it would be followed by an F16.
Were Cobra Helicopters used in the attack?
Yes, they used that pretty frequently. The Super Cobra Bell AH1 J [manufactured by Bell Helicopter in the US].
Can you talk about how these weapons are being used?
They're being used to support the Turkish state in their ethnic cleansing and war crimes. What [the Turkish state and its proxies are] doing is systematically manipulating the demographics of Afrin and all these weapons are being used in this process.
Do you think the international companies and states providing the weaponry are complicit in what's going on?
The US is still giving them weapons. And look at Germany. They [supplied] Leopard tanks to Turkey.
There is a call, not only from Rojava but from a number of groups around the world, for the different international actors to stop arming Turkey. Because now it's abundantly clear what these weapons are being used for.
The companies should be held accountable because all that blood is on their hands.
Featured Image via Qasioun News Agency – Wikimedia Commons. The image shows the Turkish Free Syrian Army and Turkish regular troops in Afrin, January 2018.

Tom is part of Shoal Collective: a cooperative producing writing for social justice and a world beyond capitalism. Twitter: @ShoalCollective
Support us and go ad-free
Get involved
Pressure the British government to end all military cooperation with Turkey, and stop granting licenses for the export of weapons to Turkey
Join the resistance against DSEI, the world's biggest arms fair in London this September. Turkish politicians, military officials and arms company employees regularly attend the fair.
Groups from around the UK will demonstrate at the DPTRE military procurement fair on 28 March. Exhibitors include BAE Systems, supplier of weapons to Turkey.
Find out which companies are arming Turkey.
Get involved in solidarity with the Rojava revolution.
Learn about the Internationalist Commune of Rojava.
Fund our Investigations Unit
You can help us investigate corruption, expose injustice and uncover the truth.
As one of the only independent investigations units in the country, we work for you – but we need your help to keep going. We need to raise £10,000 to continue our groundbreaking investigations. Can you chip in?
Fund us