Dr Julia Grace Patterson tells the Canary 'I hope this year will be different for the NHS'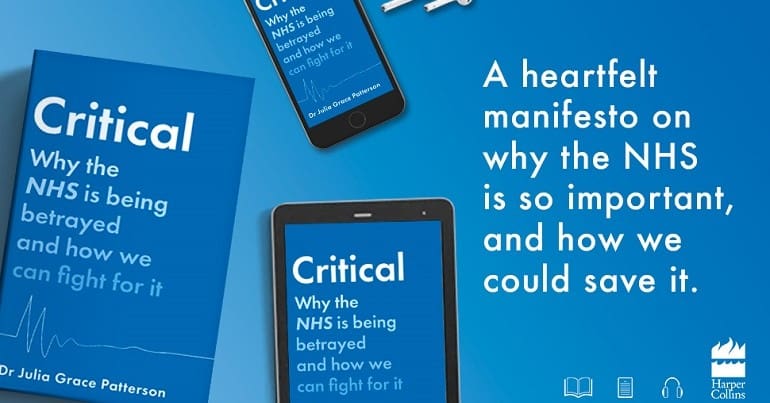 Support us and go ad-free
A new book is providing a rigorous assessment of the state of the NHS – and how politicians have led it to this point. It's by founder of campaign group EveryDoctor Dr Julia Grace Patterson – and the Canary caught up with her to discuss her work, our health service, and why it's in a critical condition.
The NHS: in critical condition
It's no secret that successive governments have been destroying the NHS. The Canary has spent years documenting politicians' stealth privatisation, cutting of budgets, and disdain for what many consider the UK's national treasure. However, it is often hard to succinctly get across the scale of the problem in an article. So, this is where Julia's new book comes in.
Critical: Why the NHS is Being Betrayed and How We Can Fight for it is her first book. It's a brisk yet informative look at the history of the NHS, with a focus on more recent times. However, the main thrust is how, as Julia notes, the NHS is:
a political football, kicked back and forth between politicians for the past 75 years.
It's unapologetically on the side of patients and staff – and damning about politicians, as well as some of the people they have charged with running our health service. The book starts its journey with a more clinical look at the NHS's history, before getting into why the NHS is on its knees. Julia documents politicians' "betrayal" of our health service, the methods they used to do this, the impact this has had on both patients and staff, and finally what she sees as the solution to all this.
The Canary spoke to Julia about Critical. You can watch the full interview on our YouTube here. She said:
It was quite hard deciding what to write about, because there's so much going wrong with it all. I think a lot of people don't understand how all the tendrils of privatisation are getting in there. It's insidious, and its becoming normalised. Why are we accepting MPs are accepting thousands of pounds from private companies? The whole system is just being infiltrated with all of this.

Read on...

Support us and go ad-free
The public and NHS staff
For many members of the public, the NHS is something that's there when we urgently need it. People's experiences often involve A&E, routine GP appointments, or more serious treatments for things like cancer. This may mean that they're not really aware of just how badly things are going wrong in the NHS. Julia noted that:
People who have conditions that require lots of support over long periods of time, have probably identified a lot of the changes and problems within the system. If you just use the NHS for a one-off intervention, you're not going to see that same step-wise degradation of the service. The problems within the service will be an inconvenience, and irritation – but you might not realise it's the system that's being changed, and altered because of what politicians have been doing.

The idea was to create a book for somebody who didn't really know a lot about the situation, so they would quickly get a sense of what was going on. I hope it's achieved that.

What's really interesting about a book is that it's different to the corporate media. It's not a snapshot – if people can read a book, absorb those ideas, then give it to somebody else – those are the ideas that stick with people.
Of course, many frontline staff are all too aware of what's going wrong in the NHS. Recent waves of strikes by nurses, paramedics, and junior doctors have not only centered around pay but also successive governments' trashing of the NHS, and the impact on patients. So, it would be easy to think there was a consensus across the NHS from staff over the state it's in. However, Julia highlights that this isn't always the case:
The NHS staff workforce have been treated appallingly by successive governments. However, over the past four decades, the reforms that have been put in place that are moving the system towards corporatisation, are favouring the advancement in careers of people who will further that agenda. So, people who are sympathetic to the private healthcare industry, some of which might be profiteering, are naturally being moved into positions of responsibility.

Then, there are other people who are neutral, who don't consider themselves political and may not have a view. Medicine is an established profession – the sort of one that people take great pride in being part of. And there's great pressure not to speak ill of the profession, for fear of what that's going to do in undermining relationships with patients.

So, there's lots of examples of people in senior positions are having doubts about what's going on, but whether they're struggling to find a forum to speak up about those doubts, or concern about making the profession look bad, it stops them speaking out. We hear about both these groups of professionals at EveryDoctor – and we're setting up a whistleblowing portal to allow staff to be able to do that.
Herein lies a major problem. When senior NHS staff are seen to be on board with toxic government agendas, it then makes it difficult for other staff to affect change. But what of the main opposition party in the UK, Labour?
The Labour Party
Julia has concerns about Labour's direction. Currently, under Keir Starmer's leadership, it has plans to use the private sector to increase capacity in the NHS. Shadow health secretary Wes Streeting said in 2022:
If Labour were in government, we would… be using spare capacity in the private sector to bring down waiting lists. Private providers have capacity for 130% of the procedures they were doing for the NHS before the pandemic, but the government hasn't utilised it.
This is on top of "reforms" to the NHS – which EveryDoctor has already critcised. Julia herself also hit back at Labour's plans, telling the Canary:
Labour's policy proposals for the NHS – the idea the private sector is going to save it – is a nonsense. We only have one pool of healthcare professionals in the UK, and only a tiny number of them work full time in the private sector. Also, the vast majority of training is done in the NHS. So, if we're to utilise the private sector to alleviate pressure in the NHS, we're just going to be poaching staff who could be working in the NHS.

I'm not saying that to criticise NHS staff. They should be paid better to do their jobs in the public sector, then we wouldn't need the private sector. That's why all this stuff we hear from politicians about saving the NHS and not wanting to privatise it falls flat. If that truly was their belief, then their policies would be about investing in the public system.
However, she also noted that there has been a shift in Labour MPs' attitude to EveryDoctor, and the NHS, since Starmer took over from Jeremy Corbyn:
I'm saying this from the perspective of a campaigner. But when I started talking about all of this, back in 2015, it felt like there was a groundswell of support for people who were willing to speak up publicly about the need to invest in public services in general. There was a real sense of a movement building up. I don't think it was all to do with Corbyn, but there was a strength of feeling out there and a lot of politicians very vocal about it. Then, there was a period of time when Starmer became leader and we weren't quite certain about the way the rhetoric was going to go – and it coincides with the pandemic.
Julia continued:
However, what we've noticed in the past six to 12 months, when we're sending emails to Labour MPs we're now receiving stock responses; centralised messages, echoing the party's stance. This winter was the worst ever in the NHS – up to 500 people a week were dying because they couldn't access urgent NHS services. EveryDoctor organised a series of emergency meetings with frontline doctors to find out what was going on. We emailed MPs – and got almost pushback from some, who didn't want to talk about what was going on right now, but instead talking about future proposals beyond the next election.
She added:
I found that incredibly concerning. Because if you have an unfolding crisis – what we were calling a human catastrophe – if you're a politician, your job is to serve the public. So, instead of sending out a stock response setting out proposals for three-to-four years from now, you should be reacting in an emergency way.

That was enormously concerning, and I talk about it in the book, because it horrifies me. There's this politicking going on – because the current government are not doing anything to help the NHS. But the one kernel of hope a lot of us had is that their tenure would come to an end and a new government would come in. I'm terrified that's not going to be the case – because in my view the behaviour of some of these politicians has been shocking in recent months.
The corporate media
Then, alongside all this is the corporate media. Invariably, the majority of the press has right-wing leanings – with the likes of the Guardian and the Mirror presenting more left-wing arguments. Consistently, papers like the Express the the Times have intentionally furthered right-wing narratives about the NHS not working and staff being the problem – all with a view to furthering successive governments' privatisation agendas.
Julia argues that:
I think the media has played an enormous role. It's so powerful, and people are looking to get news – realising that political choices impact their lives – and then, what they're fed about the NHS does not tell the full picture.

I talk in the book about how EveryDoctor has quite a high profile and we're approached a lot for media pieces. But its of a very specific nature: when there's a crisis going on, we are called incessantly by media outlets across the political spectrum, who are keen to detail the collapse of the NHS, the impact on patients, and the human tragedy. That's important, because the public needs to know what's happened. We try to use those opportunities to hold the government to account.

We always hope that the media interest will continue beyond the winter months and the crises – but it never does. The focus of articles is very narrow: they focus on the problem, but don't usually ask what the cause of that problem is – it's all very broad strokes. Any quotes from political parties are more and more about slinging mud, particularly from Labour. I really dislike the way Streeting is attacking the Tories – his focus is very rarely about the welfare patients or staff. The focus is on getting the Tories out of power. I think it's a turn-off for a lot of people.
However, overall she thinks there is still hope for the future of the NHS. She told the Canary:
What gives me hope is that there's a disconnect between what the corporate media and politicians are saying, and what the public really want. We spoke about that groundswell of feeling that was brought up in the last decade. It may not have a name, or be in the Labour Party, but that feeling and those people haven't gone anywhere – and I think more and more people are speaking about how they feel let down, and politicians aren't giving them the answers they need. So, I'm hoping that groundswell will build up again.
A happy birthday for the NHS?
It's the NHS's 75th birthday this year. Julia believes this could be a time for the public, campaigners, and staff to unite to save it:
I really hope this year will be different. EveryDoctor is in contact with a lot of campaigning organisations; there's lots of plans going on where we'll make a real push of speaking up about all of this. Sometimes these milestones get hijacked by politicians for positive PR, where they go out with their NHS badges, saying they love the service.

I hope that this year will be different. I've already seen some nonsense PR stuntery that's coming out from NHS England that's using it as a 'let's all celebrate this with bunting and not ask any questions'. It's a real problem. We do need to use this as an opportunity to ask politicians what they're doing and why they're not making it a publicly-run publicly-funded, organisation – eliminating all privatisation. That's why Critical is coming out just before the anniversary.

People are starting to change their opinions. The tide is turning, people have had enough – and people are feeling the effects of everything these politicians have done. I really hope that people have had enough and they stop tolerating all of this. It's appalling what politicians are getting away with – and I'm concerned it will continue into the next government, unless enough of us say we don't want it to happen.
Critical is a superb, concise, yet informative and passionate piece of work from Julia. It neatly outlines just why politicians and successive governments have vandalised and decimated our NHS. However, more importantly, it shows the reader that there is another way – and that there is also something still left to fight for. It's a fitting tribute to our health service in its 75th year – and essential reading for everyone, as the future of the NHS affects us all.
Watch the Canary's full interview with Julia:
Featured image via Harper Collins
Support us and go ad-free
We know everyone is suffering under the Tories - but the Canary is a vital weapon in our fight back, and we need your support
The Canary Workers' Co-op knows life is hard. The Tories are waging a class war against us we're all having to fight. But like trade unions and community organising, truly independent working-class media is a vital weapon in our armoury.
The Canary doesn't have the budget of the corporate media. In fact, our income is over 1,000 times less than the Guardian's. What we do have is a radical agenda that disrupts power and amplifies marginalised communities. But we can only do this with our readers' support.
So please, help us continue to spread messages of resistance and hope. Even the smallest donation would mean the world to us.
Support us