Netanyahu is called out as a 'bully' for banning Omar and Tlaib from entering occupied Palestine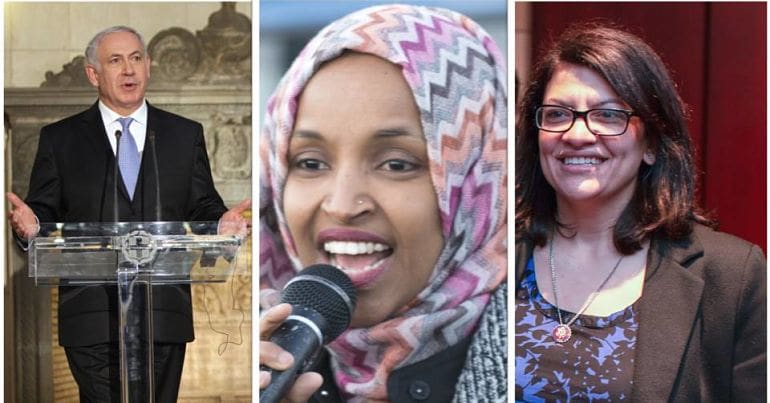 Feminist Gloria Steinem called Israel's prime minister Benjamin Netanyahu a "bully" for banning US congresswomen Rashida Tlaib and Ilhan Omar from visiting occupied Palestine. Steinem's message reminds us how important it is to stand against right-wing racists and bullies.
The congresswomen respond
This is how congresswoman Omar responded at the time:
It is an affront that Israeli Prime Minister Netanyahu, under pressure from President Trump, would deny entry to representatives of the U.S. government.

My full statement: pic.twitter.com/v00ESmehXT

— Rep. Ilhan Omar (@Ilhan) August 15, 2019
When Tlaib was granted permission to travel to Palestine she rejected the "oppressive" offering stating:
Read my full statement on my heart wrenching decision to not travel to Palestine or Israel here: https://t.co/tlf054f7bU. pic.twitter.com/6TpZaU9RB8

— Congresswoman Rashida Tlaib (@RepRashida) August 16, 2019
The statement and response
So when Steinem made her announcement online, it was a definitive statement. It left people in no doubt about her feelings on Netanyahu or, his partner in crime, Donald Trump.
— Gloria Steinem (@GloriaSteinem) August 17, 2019
With a hint of irony, Steinem called out Netanyahu's decision:
a welcome sign that I never have to enter any country or place under your authority.
People soon expressed their support for her announcement:
— Joanna (@JoannaCocoGrove) August 18, 2019
I stand with you @GloriaSteinem

— Anthony Varrecchia (@AVarrecchia1) August 18, 2019
I always admired Gloria Steinem for everything that she has done and has and continues to stand for.her voice has moved me as well as so many in ways that leave me speech-less.

— Andrew Butler (@AndrewB54368089) August 18, 2019
Steinem had more
Steinem made it very clear that she feels Netanyahu and Trump are as thick as thieves when it comes to bullying.
I know that Donald Trump, the accidental occupant of the White House, is drawn to successful bullies
This comment led to further responses online. People couldn't hide their true feelings.
"The accidental occupant of the White House"
F- PRICELESS😂

— Mimi Wright (@Mimi1Wright) August 18, 2019
Steinem signed off on her brief but powerful message, with her wishes for the two men:
If you and Trump continue to imitate each other, you will eventually be alone together at the table. I could wish both of you no greater punishment than that.
Enemies of Trump and Netanyahu
As reported by The Canary, both Tlaib and Omar had been previously barred from entry to Israel as a result of their support for the Palestinian-led boycott movement. Omar described Netanyahu's buckling to Trump's pressure as "an affront". Tlaib said it showed "weakness".
Tlaib and Omar are outspoken critics of Trump and Israel's treatment of Palestinian people. As a result, they have had to endure Trump's racist and unapologetic tweets. So on this occasion, Trump put pressure on Netanyahu to deny both congresswomen entry.
Stand against bullies
Tlaib, Omar, Steinem, and many others, are standing up to right-wing, racist bullies. And while they aren't the only or first to do so, they remind us of the importance of taking a stand against racist bullies. It's the only way to deal with them.
Featured image Αλέξης Τσίπρας Πρωθυπο/Flickr, Flickr/Fibonacci Blue and Flickr/MPAC National
Fund our Investigations Unit
You can help us investigate corruption, expose injustice and uncover the truth.
As one of the only independent investigations units in the country, we work for you – but we need your help to keep going. We need to raise £10,000 to continue our groundbreaking investigations. Can you chip in?
Fund us