BBC's HARDtalk turned into a cosy chat about how to run a coup in Venezuela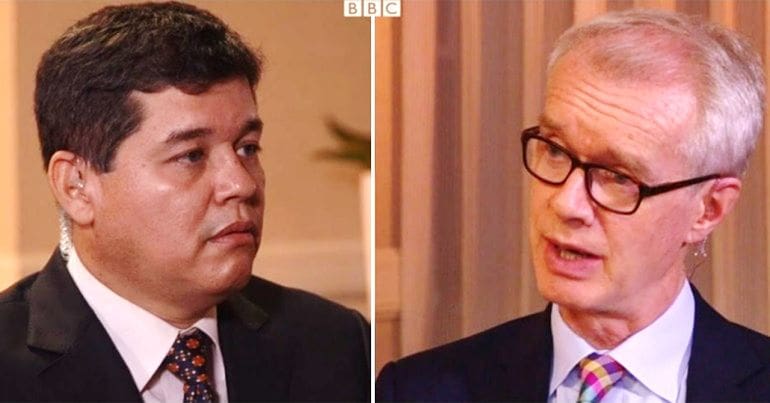 Support us and go ad-free
The BBC's HARDtalk aired a shocking interview late on 5 February. Stephen Sackur interviewed Christian Zerpa, a former Venezuelan Supreme Court Justice. Zerpa is now in Florida after 'fleeing' Venezuela in January. Sackur's tone, statements, and questions during the interview all but accepted the 'regime change' narrative pushed by the US and Britain. But perhaps the most shocking aspect of the interview was Zerpa's support for the ongoing Western-backed coup attempt in his country.
Zerpa accused the government of President Nicolás Maduro of corruption. He said the situation was so bad that his fellow judges wouldn't dare make rulings against the executive branch. Yet this still doesn't explain why he thinks 'collaborating' with the US-led coup is the best option for his country.
Western-backed military coup, for 'democracy'
Zerpa's support for the coup in his native country was unequivocal. He 'urged' "military officers to restore democracy" to Venezuela. He did say he'd "prefer" Venezuelans to handle the situation internally and that he "would not like" a US "military intervention". But then he says:
Nevertheless it is important to state that this decision [to use military force] should only be made by the United States government.
A coup is 'the right way'
Sackur also asked him if he supported the actions of the US-backed opposition figure Juan Guaidó. Zerpa said:
Totally. Absolutely, [Guaidó] is doing things the right way. He's going down the right path and I support his initiative to save Venezuela's democracy.
On 23 January, Guaidó, the newly elected president of Venezuela's opposition National Assembly, declared himself to be "interim president". Donald Trump and his right-wing international allies immediately recognised Guaidó's new self-declared role.
Read on...
Support us and go ad-free
Zerpa's support for the coup is not the only reason to doubt his credibility.
'Respect for dissent'
Zerpa said he fled Venezuela because:
in Venezuela there is no respect for dissent. Chavistas prosecute anyone that dissents from the way they rule, and there's an infinite amount of cases of public figures and Chavistas that have been incarcerated, and many have died in jail.
Chavistas have prosecuted other Chavistas? How is this evidence of 'prosecuting dissent' when the main opposition is actually right-wing and anti-Chavista? Were none of these prosecutions legitimate? In what way are the charges targeting dissent? It's unclear what Zerpa means and Sackur never bothers asking him. This is not to say that there are not human rights abuses. But we must be very careful about the information being channelled our way at this time. Especially if it's coming from former state employees who've joined the 'regime change' chorus.
There is also the fact that Venezuelan newspapers, radio and television channels, are mostly right-wing and openly hostile to the current government. Furthermore, lawyer and journalist Dimitri Lascaris recently reported from Caracas during anti-government protests. He said he saw "absolutely no evidence" of a crackdown on the anti-government protesters. This is especially significant because the protesters publicly back:
the self-proclaimed president [Juan Guaidó who] is openly asking the military to rebel against the elected president Nicolás Maduro.
How do we think American or British authorities would react to protesters openly backing calls for a military coup, led by a major foreign power that was also destabilising the economy?
How would you react?
Objection! Leading the witness
Another disturbing feature of the video was how Sackur would repeatedly ask Zerpa leading questions.
Is it your impression that [the Supreme Court and Maduro] will do everything in their power to destroy Guaidó, right now?
It was almost as though Sackur was feeding Zerpa with the answers he wanted.
Counselling the coup
As if this wasn't enough, Sackur asked:
Would you accept that Mr Guaidó has to be careful. He's already spoken to Donald Trump by telephone. We know that today, here in Miami, other Venezuelan dissidents are meeting Vice President Mike Pence. If the Venezuelan opposition is seen to be too close to the Trump administration, and the United States, that may well raise suspicions back home in Venezuela.
What's going on here exactly? Has Sackur forgotten this discussion is being filmed? Sackur's comments and questions are apparently accepting the legitimacy of an illegal US-led coup attempt in a sovereign nation. He is essentially advising a former state official on the best way to conduct said coup. Furthermore, the question assumes that most Venezuelans remain clueless as to the links between Guaidó, his far-right opposition, and the US. As The Canary previously reported, Guaidó has been 'groomed' by US "elite regime change factories" for years. And his self-declaration as president was actually orchestrated by the Trump administration.
Journalistic malpractice?
Sackur did criticise Zerpa. But this was for his acceptance of the 2018 presidential election result, when Zerpa was still a judge. Sackur said:
Every international observer said that the [2018 Venezuelan] vote was rigged. That it was completely illegitimate.
But that statement is entirely false. As The Canary has explained:
there were four different groups of observers who monitored the election, and they concluded it was clean.
Do you renounce 'socialism'?
Sackur's biggest challenge to Zerpa happened at the end of the interview.
For many, many years you were a loyal member of the socialist government, which in many parts of the world is described as a dictatorship. You served that dictatorship. Now you talk about democracy. Are you saying to me that as far as you are concerned the socialist revolution, and the authoritarian government in Venezuela, is basically over; it's finished?
This is perhaps the most revealing part of the interview. Sackur starts with an unexamined claim that Venezuela is a "dictatorship". In the following sentence it's no longer a claim. It's now a fact. He also deliberately conflates 'socialism' with 'dictatorship' and 'authoritarianism'. This may be because the term 'socialism' is regaining popularity both in the US and UK – especially among the young. Although, as I have written elsewhere, while Venezuela has instituted many radical and impressive social democratic reforms, 'social democracy' is not 'socialism'. As such, Venezuela's problems are still very much rooted in the capitalist system. This is a fact that Sackur doesn't seem interested in examining.
'Smash the workers and the peasants'
It is difficult to overstate the gravity of the situation and the outrageous nature of BBC reporting on the 'Venezuela crisis'. The real objectives and consequences of the US-backed coup should be clear to everyone. As journalist Ben Norton wrote:
In the immediate wake of the US anointing Juan Guaidó as Venezuela's supposed 'president', there are already rapid moves to privatise Venezuela's oil and open the door for multinational corporations.
Jorge Martin, of Hands Off Venezuela, explained the coup objectives as:
wholesale privatisation of state property, return of the land to the former owners, mass layoffs in the public sector, the abolition of all social programmes of the revolution.
Martin also told The Canary:
In order to establish such a regime, they would have to smash the organisations of the workers and peasants and destroy their active cadres.
Hands Off Venezuela
Venezuela is in an economic crisis. It has both domestic and international causes. But does the above description sound like something that will improve the lives of the masses there? Maduro's current approval ratings are low. But the right-wing opposition is "equally or more unpopular" than Maduro. Incidentally, what kind of 'dictatorship' permits opposition parties to publish regular approval ratings that show high disapproval of the government?
By ignoring the nature and objectives of the US-led coup, the BBC is effectively complicit in yet another 'regime change' war. The time to speak out against the coup attempt in Venezuela is now. Before it is too late.
All Spanish translation by the BBC
Featured image via BBC iPlayer
Support us and go ad-free
Get involved
–  Read how an establishment expert confirmed that the purpose of US sanctions is to "make the economy scream"; and a millionaire investor said the policy of the US-led coup 'all about oil'.
– Write to or call the BBC to tell them what you think about the failings of this interview. Be sure to be concise, specific and polite in order to be effective.
BBC Complaints:
Phone:03700 100 222*
03700 100 212* (textphone)
*24 hours, charged as 01/02 geographic numbers
– Read about Jeremy Corbyn's proposals to reform UK media, and write to your MP and tell them if you support Corbyn's media reform proposals.
We know everyone is suffering under the Tories - but the Canary is a vital weapon in our fight back, and we need your support
The Canary Workers' Co-op knows life is hard. The Tories are waging a class war against us we're all having to fight. But like trade unions and community organising, truly independent working-class media is a vital weapon in our armoury.
The Canary doesn't have the budget of the corporate media. In fact, our income is over 1,000 times less than the Guardian's. What we do have is a radical agenda that disrupts power and amplifies marginalised communities. But we can only do this with our readers' support.
So please, help us continue to spread messages of resistance and hope. Even the smallest donation would mean the world to us.
Support us