A leaked document exposes the shameful propaganda being handed out in English schools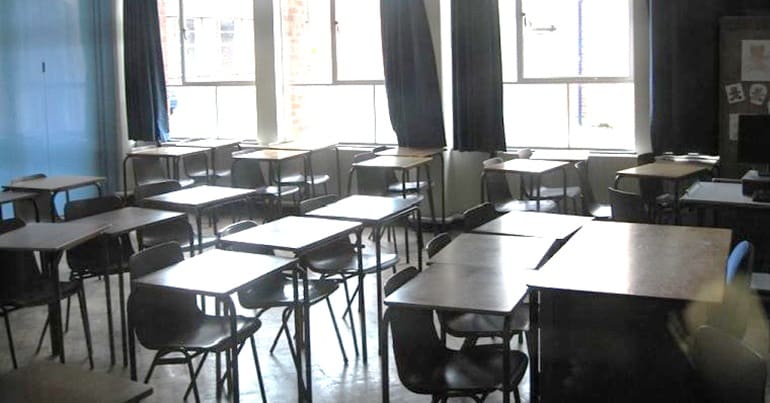 Support us and go ad-free
A history professor has posted on Twitter a leaked worksheet used in a secondary school. It reveals the shameful propaganda some English schools may be exposing students to on the issue of immigration. Furthermore, the professor says a teacher used the worksheet, which targets Polish immigration, in a class with a Polish student in it.
The student is reportedly "extremely upset" by the situation. That's not surprising. Because it shows the UK's 'hostile environment' in all its horrible glory.
Blame game
Prof Tanja Bueltmann is a migration and diaspora historian. On 5 February, she posted a detailed and uncomfortable thread on Twitter that tore the worksheet apart:
The worksheet was presented as a case study for consideration of the effects of migration. While the worksheet does not just focus on negative impacts, they are a key concern. The top point made is the most shocking: migration does not cause racial tensions; racists do. 2/ pic.twitter.com/zuVusoUWzT

— Prof Tanja Bueltmann (@cliodiaspora) February 5, 2019
Read on...
Support us and go ad-free
The worksheet featured a case study, looking at the 'positive' and 'negative' impacts of immigration. In particular, it highlighted immigration from Poland to Peterborough in the UK. As Bueltmann explained, however, the top point under negative impacts on the UK of Polish immigration was that it has "caused some racial tension" in the country. The professor noted the obvious flaw with that reasoning:
migration does not cause racial tensions; racists do
Coming over here
But that wasn't the worst of it. In a section titled "Impacts on Peterborough", the worksheet goes into some detail about what immigration has supposedly brought to the area. It's a list that Donald Trump would be more than willing to reel off. Social unrest, drug dealing, muggings, assault, and dangerous diseases. According to the case study, these are all the delightful things Peterborough got once Polish people moved in.
The "baseless" anti-immigration propaganda left Bueltmann "speechless":
It happens rarely, but I truly am speechless about all of this. This is completely unacceptable. The best bits are misleading, the worst bits are lies employing a shameful rhetoric – one that could potentially serve to directly stir hate against the Polish community. 6/

— Prof Tanja Bueltmann (@cliodiaspora) February 5, 2019
Meanwhile, the professor says this isn't the first time worksheets have pushed anti-Polish rhetoric on their students:
To single out one community of EU citizens is, of course, problematic in any case. But what worries me the most is that this is the third time that the Polish community has been singled out on a school worksheet in this way. Look at this previous case: https://t.co/0YEC2jGbdn 7/

— Prof Tanja Bueltmann (@cliodiaspora) February 5, 2019
And this one: https://t.co/DUZ90niVDM 8/

— Prof Tanja Bueltmann (@cliodiaspora) February 5, 2019
Sign of the times
Bueltmann's exposing of the worksheet led to the discovery of its origin. It was user-generated content that someone uploaded onto the Tes Resources website. Thankfully, it's not there anymore. Tes, a global digital education company, took it down after the furore:
Thanks for alerting us to this @JakubKrupa – our customer services team is taking the resource down and we at @TesResources will be investigating. Will reply to your email when we've learned more.

— Michael Shaw (@MrMichaelShaw) February 6, 2019
But the fact that any teacher in the UK thought this was an appropriate resource to hand out to students, including one who is Polish, beggars belief. As Bueltmann says, it raises important questions about England:
More generally, however, there is a wider question here: we do need to ask where this society is heading at this juncture. Migration is, demonstrably, a good thing for this country. There can be some impacts in local contexts, but migration is not normally the root cause. 11/

— Prof Tanja Bueltmann (@cliodiaspora) February 5, 2019
But this is a country where the government has no qualms about stoking anti-immigrant tensions. It's also a nation whose tabloid media is about as racist as it gets. So if we want to get to the 'root cause' of why some teachers are indoctrinating our kids with anti-immigrant materials, the Conservative government and our right-wing media might be a good place to start.
Featured image via Vincent Li/Flickr
Support us and go ad-free
Fund our Investigations Unit
You can help us investigate corruption, expose injustice and uncover the truth.
As one of the only independent investigations units in the country, we work for you – but we need your help to keep going. We need to raise £10,000 to continue our groundbreaking investigations. Can you chip in?
Fund us