As the world weeps with Paris, we must not allow our grief to be moulded into hate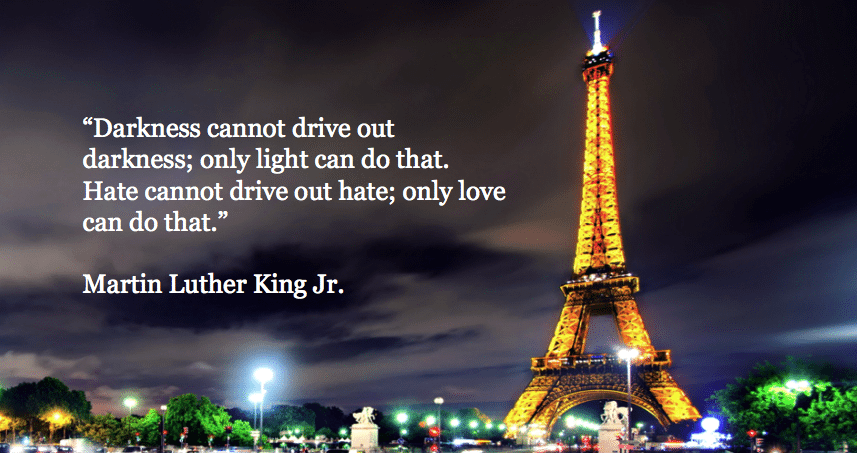 Support us and go ad-free
As terror strikes the streets of Paris, we must not allow our grief to be moulded into hate.
It was Friday 13; the laughter of friends, the clinking of outstretched wine glasses, the loud hum of a million conversations happening at once – these are the normal sounds of Friday night in Paris. But that night, these sounds were interrupted. They were interrupted by sounds that are mostly alien to cities in the West. The rumble of detonated explosives, the sharp percussive blasts of grenades, the ka-ka-ka of automatic gunfire, and the desperate screams of civilian men and women whose Friday night became hell on earth.
In the aftermath, there is shock, sadness, and rage. So much rage, I was scared to look at my Facebook newsfeed this morning. I did not want to see the people I know and love – people who fill their days with work and friends and family – morph into angry, vengeful, blood-thirsty creatures bent on the destruction of anyone, even innocents, who might share some superficial qualities with the people responsible for the attacks on Paris.
Why? Because it is that exact sentiment which drove men to commit the attacks in the first place. We are caught in a cycle of violence. What happened in Paris was not a random act of terrorism. It was an act of war. A war in which the majority of us only see one side. We only become aware of the fact that we are at war, when the war is brought to our doorstep; our restaurants, our workplaces, our concert venues, our tube stations, our streets.
But this war has been raging since at least 2001, and in earnest since the invasion of Iraq.
Millions of people have fled Syria, Afghanistan, Iraq and other countries where this war is raging daily, as their schools, homes, and cities were blown apart. Many of those who didn't suffocate in overcrowded trucks, or drown as they attempted to cross the ocean, are now stuck in refugee camps like the Jungle of Calais.
Not only have these refugees suffered, survived and fled the same kind of terror inflicted on Paris – now, the most reckless of right wing media sources are holding them responsible for it.
Read on...
Support us and go ad-free
Exporting Death and Destruction
When Lee Rigby was murdered on the streets on Woolwich in May 2013, London Mayor Boris Johnson has said the killing had nothing to do with British foreign policy – as if it foreign policy was some fanciful, far removed and abstract thing. This was nonsense.
One does not have to condone such atrocities as the Woolwich murder, or the attacks on Paris, in order to appreciate that they may well be impacted by foreign policy decisions in a very real way.  The un-tempered rage that can result from egregious injustice can and does drive people to extremes.
The US has engaged in extra judicial killings on an industrial scale. So long as UK and EU foreign policy is indistinguishable from that of the US, we will continue to reap the whirlwind for it. The might of the NATO forces make them almost immune to conventional warfare, which means civilian locations become the arena for perceived 'payback'.
For instance, the US deploys unmanned, weaponised drone aircraft into the airspace of sovereign countries and assassinates citizens from the sky. A pro-drone Republican Senator in the US stated recently that at least 4,700 people had been killed by these attacks in recent years – equivalent to almost one hundred 7/7's.
Worse, a recent study by the Stanford and New York University Law Schools revealed that there have been 49 civilian deaths for every 'known terrorist' killed by drone attacks in Pakistan – that means just 2% of more than 3,000 Pakistani people killed by drone attacks have any evidence or suspicion against them. But nevertheless, the drone has become the US's weapon of choice.  In June 2011, the US launched a drone attack a day on Yemen.
That's all pretty terrifying.  Yet, a recent Gallup poll revealed that whilst the majority of US citizens opposed drones in US skies, even if aiming for suspected terrorists, 65% approved the use of drones on foreign soil.
Regular people like you and me, living in Yemen, Afghanistan, Pakistan and elsewhere are terrified to attend family weddings, funerals and other community events in case the US military strike:
This is what that looks like from the air….

Worse, when they are not being killed by the West, they are being killed by Al Qaeda, or ISIS, or another group of militia men. This week we saw blood on the streets on Beirut, Baghdad, and Yemen – committed against Muslims, by the same terror groups that attack Paris, London, and New York.
The Quest for Justice
For those families outlined above, there has been no justice. Those who killed them have not been held to account, and the methods used to kill them are still in operation on a daily basis. These drone strikes and militia attacks are happening every day.
If we can understand, and (judging from the naked, vengeful rage on social media streams today) share outrage at the unprovoked death of innocent civilians in Paris – then how on earth can we not understand the outrage at these deaths on the streets of Yemen, Afghanistan, Pakistan, Syria and beyond?  It is utter hypocrisy that one person's genuine anger at constant, unpunished murder is deemed radical, and that another person's upset at rare, unlawful, punished murder is deemed rational. Their feelings of outrage stem from the same quest for justice – a hunger for the world to be righted when wronged. This is common humanity.
Those who cannot see a parallel in terror between 7/7 and these drone attacks on civilians have a skewed view of justice. They weigh the value of life in an imbalanced way – some lives are more worthy, more real than others. This is the dangerous thinking that we should all be focussed on stamping out. The misguided premise that some people are less equal, less worthy than others has been the root cause of most of history's blackest pages, from slavery to the holocaust. It is this that needs to be dealt with – not any individual religion, race, or political ideology.
Bringing the Peace
Dr Martin Luther King Jr spoke beautiful words on the need to retain our love for all people if our commitment is to make the world a better place: "Darkness cannot drive out darkness; only light can do that. Hate cannot drive out hate; only love can do that".
Sadly, the majority of people in the UK today are failing to hold their government to account for its brutal treatment of their own fellow citizens, let alone of those in faraway lands who they will never meet. The price of this, is that we leave others to advocate on their behalf. Some of those people will use courts, some of them will use guns. If we want to see less hatred, death and destruction, then we must each be more loving, respectful of human life and involved in building communities that thrive.
There is a petulant, jingoistic, easy patriotism that demands violence be met with more violence. Then there is another sort of 'patriotism' that asks more of a person; the patriotism of community spirit.  It motivates people to reach out to their fellow citizens; to ensure the streets are safe and tensions are calmed; it holds one's tongue before making knee jerk comments defaming entire communities for the actions of individuals. Community spirit begs us to ask the question 'How can I help?'
In conclusion, these are the words that we should each keep in our minds in the coming days, months, weeks and years:
We cannot have peace at home while we export death and destruction across the globe. This is not the threat of some murderous lunatic, it is a social law as valid as the physical law of gravity.
We must not allow enemies to be constructed for us – or value their lives less equally.
We must not allow the misrepresentation of the balance of terror in the world to deter us seeking equal justice.
We must not abandon the quest for justice to those with hate in their hearts.
Featured Image via EasyOffer
Elements of this article were originally posted at Scriptonite Daily.
Support us and go ad-free
We know everyone is suffering under the Tories - but the Canary is a vital weapon in our fight back, and we need your support
The Canary Workers' Co-op knows life is hard. The Tories are waging a class war against us we're all having to fight. But like trade unions and community organising, truly independent working-class media is a vital weapon in our armoury.
The Canary doesn't have the budget of the corporate media. In fact, our income is over 1,000 times less than the Guardian's. What we do have is a radical agenda that disrupts power and amplifies marginalised communities. But we can only do this with our readers' support.
So please, help us continue to spread messages of resistance and hope. Even the smallest donation would mean the world to us.
Support us