The truth behind the Labour coup, when it really began and who manufactured it (EXCLUSIVE)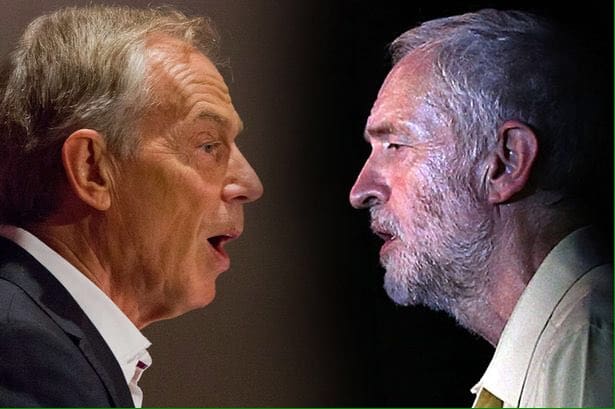 Support us and go ad-free
An exclusive investigation by The Canary can reveal that the current Labour 'coup' being instigated against Jeremy Corbyn appears to have been orchestrated by a PR company where Tony Blair's arch spin-doctor, Alastair Campbell, is a senior advisor.
He sits alongside several other figures, all of whom have direct links to the centre-right of the Labour party, and the Fabians at Portland Communications.
Portland Communications is a political consultancy and public relations agency set up in 2001 by Tim Allan, a former adviser to Tony Blair and director of communications at BSkyB.
The firm works globally on campaigns for numerous companies, institutions and governments, and describes its activities by saying:
we help our clients find their way through this new faster, noisier and contested landscape. We design and deliver communications strategies – and are trusted by some of the highest profile organisations, governments and individuals in the world.
Its corporate clients include Barclays, Morrisons and Nestle, and it say their team is made up of "former senior advisors from the highest level of British government and politics, the EU, the UN and the World Economic Forum".
However, Portland came to The Canary's attention after an incident surrounding abuse being thrown at Jeremy Corbyn, while he supported Pride in London on 25 June.
Read on...
Support us and go ad-free
He was heckled by apparent Labour party activist Tom Mauchline, who jeered at him that:
it's your fault! When are you resigning? It's your fault! I had a Polish friend in tears because you couldn't get out the vote in Wales, the north and the Midlands. You need to resign. […] Take control Jeremy and resign […] stop using the gay movement as a shield to protect your weak leadership.
The video was quickly up on the BBC website, which also included an interview with Mauchline afterwards, explaining his reasons for the verbal diatribe he gave to Corbyn. The piece of footage is accredited by the BBC as being "Courtesy of Tom Mauchline".
Mauchline is a Senior Account Manager for Portland Communication, previously working for the campaign group 38 Degrees. But oddly, Mauchline appears to not be the only 'Labour activist' working for Portland. In fact, the majority of its staff have direct links to the party.
Stephen "Steve" Race says in his Twitter bio that he does "a lot of #LabourDoorStep". Race also works for Blue Rubicon (consultants who often provide commentary on the Labour party) as a partner, and was a senior researcher for Labour MP Ben Bradshaw.
Gregor Poynton describes himself as "Formerly @ScottishLabour @UKLabour @bsd […] Quite a bit of digital, politics". Poynton is head of content and brand at Portland.
Kevin McKeever's Twitter header is an image of Labour pin badges. He also works for Portland, as a partner.
The three men all share two things in common. They are all acquaintances of Tom Mauchline, but furthermore two of them stood as PPC's in the 2015 general election for Labour. Poynton hoped to be nominated, but was eventually caught up in the Falkirk fiasco. None of them were elected, and none of them supported Corbyn in the leadership contest. McKeever supported Andy Burnham, Steve Race backed Liz Kendall and Poynton (who incidentally is married to former Labour MP Gemma Doyle) appeared to back Kendall as well, as he is a supporter of the centre-right Labour faction "Progress".
Their Twitter timelines show they are all actively promoting the campaign against Corbyn. Retweeting each other, sharing the same video footage of Alastair Campbell – with McKeever writing in his local newspaper and even creating a short film of the Momentum rally at Parliament Square on Monday:
https://twitter.com/kevinmckeever/status/747503961519816704
But this is just the tip of the iceberg surrounding Portland Communications and its links to the Labour party.
Steve Morris, managing partner was formerly head of communications for both Tony Blair and Gordon Brown; Mark Flanagan, senior partner, was head of digital communications for Brown; Justin Kerr-Stevens, partner – former communications advisor for both Blair and Brown; Rebecca Gwilliam, director – former special advisor (SpAd) for both Blair and Brown.
Ailsa Williams, associate director, was a former researcher for two MPs in Blair's government and Robert Watkinson and Toby Orr (both partners at Portland) were also involved in "Africa Practice" where another former Blair MP, Tony Colman, is a director. Jonathan McClory, partner, used to work for Blair's preferred think tank Policy Exchange
Also, another three partners at Portland were previously producers for both ITN and BBC.
But go higher up the food chain at Portland, and the links are even stronger.
Its advisory council is made up of three members: Alastair Campbell, Blair's infamous spin doctor; Jimmy Leach, Blair's former head of communications and previously executive editor at the Guardian, and Kitty Ussher, former Labour MP for Burnley, parliamentary private secretary to Margaret Hodge and a writer for Peter Mandelson's "Policy Network".
And at the top of the Portland tree are the likes of Tony Ball, former CEO of BSkyB and Fox; George Pascoe-Watson, former political editor of the Sun; Jim Rosenberg, former head of communications for the World Bank, Lisa Shields, vice president of the Council on Foreign Relations, and Sir Stephen Wall, former EU adviser to Tony Blair.
Furthermore, Laura Kyrke-Smith (formerly of Portland) is currently head of communications for David Miliband at the International Rescue Committee, was previously chair of the Labour Campaign for International Development (LCID) and a speechwriter for Glenys Kinnock.
To spell it out in layman's terms, Portland Communications is a company organised, fronted and controlled by a plethora of apparatchiks of Tony Blair and the centre-right of Labour.
But how does all this directly tie-in with the current attempted coup against Jeremy Corbyn?
As The Canary reported, it would appear that 15 of the shadow secretary of states and nine of the shadow ministers who resigned were affiliated to the Fabian Society. And it still appears that the Fabians are at the heart of this.
Sky's Sophy Ridge tweeted on Monday:
I'm told the Labour MP co-ordinating & choreographing the resignations is @ConorMcGinn – significant as he's in Jeremy Corbyn's Whips Office

— Sophy Ridge (@SophyRidgeSky) June 27, 2016
Ridge went further, saying that:
He's ringing shadow cabinet members and ministers, organising the timings and co-ordinating the resignations to try to cause maximum impact. This is significant because he's one of Jeremy Corbyn's Whips – tasked with ensuring party discipline.
As The Canary said:
McGinn was appointed chair of the Young Fabians, and is still active in the society […] And of course, Margaret Hodge, who co-penned the no-confidence motion, is vice president of the society. Take into account, also, Fabian journalists like Polly Toynbee calling Corbyn "dismal, spineless and lifeless" – and you may have your "committee of war". Furthermore, former prospective parliamentary candidate and Fabian Will Straw called for Corbyn's resignation – in his position as director of "Britian Stronger in Europe".
In a separate article by our International Editor, Nafeez Ahmed, it was highlighted that:
in May, McGinn told PoliticsHome.com that Blair's government was the most "transformative government in the last 100 years of British political history," and described himself as a pro-interventionist […] McGinn had formally joined the pro-EU cross-party campaign, Britain Stronger In Europe, as a "political champion", alongside Hilary Benn.
Furthermore, Ahmed also went on to describe the relationship between McGinn, Benn and Will Straw, via the latter's role as executive director of Britain Stronger in Europe. Straw was also a director of the blog Left Foot Forward, alongside one Marcus Roberts. Roberts was previously deputy general secretary of the Fabians, and also runs Zentrum Consulting.
As The Canary described:
In 2011, the Labour Party had also hired Marcus Robert's consultancy outfit, Zentrum, to run the 'refounding Labour' campaign at the behest of Lord Peter Hain, another Cabinet minister under Blair. Effectively, then, the Fabian Society had been hijacked into a Blairite 'refounding' Labour process under Roberts' leadership. According to Dan Hodges, citing "senior party officials," Zentrum was "being used to effectively bypass the party." "Someone is refounding Labour," concluded Hodges. "But who?".
So what we can deduce is that a previous "refounding" of the Labour party was attempted – but seemingly failed.
However after Corbyn's successful leadership election, those who wanted the party to return to, as Ahmed described it, a "pro-war, pro-corporate model of the Democrat Party's neocon hawks", decided the need for rapid transformation was paramount.
Enter Portland Communications.
It surely can be no coincidence that so many of the employees of this company are affiliated to both Labour and the Fabians. Nor is it a coincidence that the parent company of Portland, Omnicom Media, was contracted to do PR work under Tony Blair's leadership and that of Ed Miliband. But what has seemingly been the game changer with this attempted coup, is Portland's countless links to the media.
I'm sure if most ordinary members of the public sent some mobile footage of them abusing Jeremy Corbyn off to the BBC – the organisation wouldn't look at it twice. Yet, strangely, Tom Mauchline's was posted almost immediately. Furthermore, while the Tory party has itself been imploding, the media have given their full attention to the state of the Labour party.
This is not a string of random acts. This is a coordinated attack on Corbyn's leadership (because let's be frank, that's what it is), and it is coming from one source. The Fabian Society. A society who are funded by the likes of HSBC, Cuadrilla (who, oddly, Portland do PR work for) Barclays and Lloyds – while masking themselves with the veneer of advocating " social progress […] gradualist, reformist and democratic means in a journey towards radical ends. We are a pluralist movement and create space for open debate."
That, in itself, is debatable.
The Fabians have mobilised their assets in both the parliamentary Labour party, in the media and in the sphere of public relations, namely via Portland Communications – to inflict as much damage as possible on Corbyn. And thus far, it appears to be working – albeit utterly against the will of the party membership and trade unions.
Unfortunately for them, one thing stands in their way – grassroots supporters.
And with over 200,000 having signed a petition calling on the membership to support Corbyn – the Fabians and their shadowy mercenaries may well have a fight on their hands.
Update:
This article originally said that Steve Race worked for Portland Communications; this was incorrect. He is an associate director of Blue Rubicon, whose former director of strategy, Spencer Livermore was campaign director for Labour's 2015 election. Livermore was previously director of political strategy for Gordon Brown, and his colleague at Blue Rubicon, Patrick Loughran, was a SpAd for Lord Mandelson.
This article also stated that Gregor Poynton stood as a PPC in Falkirk. This has since been amended to reflect that Mr Poynton (married to former Labour MP Gemma Doyle), did not stand, but was embroiled in some controversy in Falkirk, after it was alleged he had paid for 11 people to join the Labour party.
Get Involved.
Sign the petition of support for Jeremy Corbyn, if you agree.
Featured image via The Buck Stops Here
Support us and go ad-free
We know everyone is suffering under the Tories - but the Canary is a vital weapon in our fight back, and we need your support
The Canary Workers' Co-op knows life is hard. The Tories are waging a class war against us we're all having to fight. But like trade unions and community organising, truly independent working-class media is a vital weapon in our armoury.
The Canary doesn't have the budget of the corporate media. In fact, our income is over 1,000 times less than the Guardian's. What we do have is a radical agenda that disrupts power and amplifies marginalised communities. But we can only do this with our readers' support.
So please, help us continue to spread messages of resistance and hope. Even the smallest donation would mean the world to us.
Support us