Fresh revelations show how a Blairite PR company manufactured the Labour coup (Exclusive)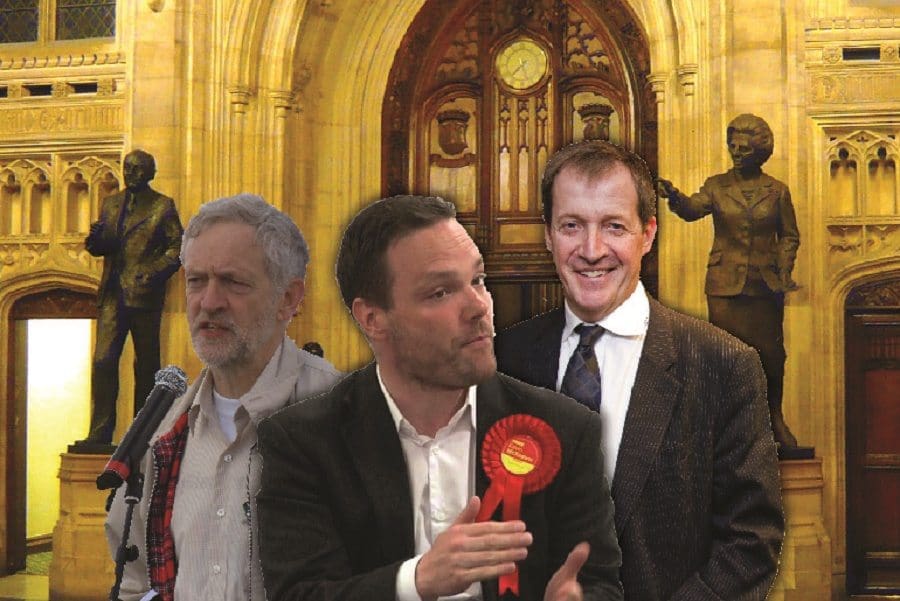 Support us and go ad-free
In recent weeks, The Canary has investigated the role of Portland Communications (a Blairite PR company) in the coup against Labour leader Jeremy Corbyn. Today, we reveal major developments in this investigation.
A senior executive of Portland Communications, the PR agency founded by a former spin doctor for Tony Blair, had a meeting at the headquarters of a major trade union during the height of internal discussions on backing or opposing Jeremy Corbyn's leadership of the Labour Party, The Canary can exclusively confirm.
On Sunday, following the call by Len McCluskey, General Secretary of Unite, on the BBC's Andrew Marr show for an investigation into Portland's connections to the parliamentary coup against Corbyn, the PR firm tweeted out the following:
Len McCluskey's comments on #Marr. This is a ridiculous conspiracy theory and completely untrue. He should withdraw.

— Portland (@PortlandComms) July 3, 2016
Read on...
Support us and go ad-free
But contrary to Portland's denials of being involved in Labour Party efforts to oust Corbyn, The Canary's sources confirm that Kevin McKeever, a Partner and Head of Local at Portland Communications, had a lunchtime appointment at Unison headquarters in London on Tuesday 28 June. Senior sources in the PR industry have told The Canary that the meeting may have breached industry lobbying guidelines.
The meeting occurred as a group of unions (including Unison) were deciding how to respond to the parliamentary vote of no confidence in Corbyn's leadership of the Labour Party.
Despite multiple requests for comments, Portland – which has not denied the meeting – has offered no explanation about McKeever's activities.
McKeever's public statements following the meeting demonstrate that he was privy to various union discussions about Corbyn's leadership, and show that he believed the unions' final statement distanced itself from the incumbent Labour leader.
The statement from a coalition of trade unions (including Unite and Unison) on the attempted Labour coup although broadly supportive Corbyn, ended ambivalently:
While we have stated that we believe a Leadership election would be an unwelcome distraction at this time of crisis, if one nevertheless occurs through the proper procedures we would expect all parts of the Party to honour the result and pull together in the interests of the country, and working people in particular. The only party that can win for working people is a strong and united Labour Party.
On Wednesday, the day after McKeever's meeting at Unison HQ, the Portland executive took to Twitter about the statement as follows:
Trade unions creating space for removal of Corbyn https://t.co/eij0nTH5zv

— Kevin McKeever (@kevinmckeever) June 29, 2016
He also said:
Note nuanced shift in 24 hrs: "shouldn't be challenged" to "shouldn't be challenged except.." > which is happening https://t.co/StJmDrWJlT

— Kevin McKeever (@kevinmckeever) June 29, 2016
But the most telling tweet was this:
Senior sources in two affiliated trade unions telling me they're preparing to drop Corbyn > "we're not being left holding the ball"

— Kevin McKeever (@kevinmckeever) June 29, 2016
So by McKeever's own admission, he was meeting with senior trade union officials and discussing with them preparations to "drop Corbyn." The Canary can confirm that one of these meetings took place at Unison HQ on Tuesday, 28 June.
However, Unison is not logged as a client for Portland on the register of Association of Professional Political Consultants (APPC).
According to the Chief Executive of another PR firm whom The Canary spoke to (who wished to remain anonymous), Portland Communications may have broken rules 4 and 10 of the Public Relations Consultants Association (PRCA) guidelines. The two pressing issues are:
If McKeever was visiting Unison on behalf of a client and in work time, which client was it? He's required under clause four to be open.
If McKeever was visiting Unison in work time and on behalf of a client but also doing anti-Corbyn activity, that would be in breach of clause 11 – that is, mixing up professional and personal business.
The Canary emailed Kevin McKeever, asking him to confirm the nature of this meeting, and also called his office at Portland Communications. No response was given directly by him. The Canary then directed its inquiry at Portland's press department, who assured us they would provide comment on Monday evening. Despite further inquiries, they have failed to provide any comment.
The revelation that a Partner at Portland Communication met with senior union officials while the decision was being made as to whether or not to "drop Corbyn" – in apparent breach of industry lobbying guidelines – confirms the PR agency has played a direct role in events of the last week.
Since The Canary's rolling investigation was published on Tuesday 28 June, and the follow-up piece on Thursday 30 June, the public and the press have been asking whether the links between this secretive firm, founded by one of Tony Blair's closest aides, and elements of the Labour party who want Corbyn deposed, actually exist.
In the process, some pundits have even accused The Canary of being "lazy" and peddling "conspiracy theory". Yet the new revelations about Portland's meetings with union officials to oust Corbyn are only the latest facts on the firm's strange behaviour in the run-up to, and after, the Labour coup.
The facts
1) Tom Mauchline, a senior account manager at Portland, filmed himself heckling Corbyn at London Pride, conducted a brief interview afterwards and got it published on the BBC website.
2) Countless numbers of Portland employees have been actively engaging in anti-Corbyn rhetoric and campaigns on social media.
3) There are numerous ties between Portland employees and the current Labour party, including via former employment.
4) There are very strong ties between Portland and the Blair/Brown administrations, with some being personal relationships as well as professional.
5) Members of Portland's advisory board and counsel have strong connections to both the media and big business.
6) Tim Allan in recent months has donated to both Liz Kendall and Tristram Hunt.
7) Two of Portland's senior advisors, Alastair Campbell and George Pascoe-Watson have been actively denigrating Corbyn in the media since 26 June.
Politically coincidental?
Among the claims of journalists reluctant to bother investigating Portland's connection to the Labour coup is the lazy assertion that the PR industry in London is generally crammed-full of ex-Blairite advisors, supporters and go-to men. That it is something across the sector, and not just confined to Portland. As the Huffington Post commented:
to be fair to [author of the article Steve] Topple, he is right to detect that Portland has a few active Blairites on the payroll. But on that basis, the entire British lobbying industry might also be behind Labour's coup.
But this is a baseless theory. To make our point, The Canary used the PR consultancy MHP Communications as a litmus test – on the Association of Professional Political Consultants (APPC) register, they are the only company that is similar in size, in terms of employees and clients. They are, in fact, the largest, with Portland coming in second.
Portlands' breakdown of staff and their political ties were:
two Liberal Democrats
nine had worked in the media for either the BBC/ITN/Sky
11 Conservatives
47 Labour party, including 21 who had worked for them under the Blair or Brown administrations
50 appeared to have no political leanings at all.
Juxtapose this with MHP:
one Liberal Democrat and one SNP
five had worked in the media for BBC/ITN/Sky
nine Labour party
13 Conservatives, including 12 having worked in the parliamentary sphere at some point, but all bar one as interns.
101 appeared to have no political leanings at all.
Portland is the exception, not the rule. The Canary stated on 28 June that:
To spell it out in layman's terms, Portland Communications is a company organised, fronted and controlled by a plethora of apparatchiks of Tony Blair and the centre-right of Labour.
This is fact, and one which cannot be denied – and to say it is the same "across the entire British lobbying industry" is wholly misleading.
Nothing to see here
What's most unfortunate about the response from many pundits is that Portland Communications has form – and questions about the firm's secretive links to Blairites in relation to lobbying scandals within Parliament have been asked by journalists before, with few answers. As Private Eye documented in 2006:
Allan was […] the victim of a leak when, in February, documents advising Sky's head of communications Matthew Anderson on how to ingratiate himself with culture and media minister Tessa Jowell ended up in the papers (see Eye 1155). Allan is also a close friend of pensions minister James Purnell – they were flatmates and Purnell was best man at Allan's wedding – who was identified in April as the man behind a story in the Guardian accusing Gordon Brown of trying to oust Tony Blair from power.
At the time nine backbench MP's tabled questions on just how far Portland and Allan's influence had seeped into Tony Blair's government, namely:
what meetings officials in the [their] department have had with representatives of the public relations company Portland; what contracts Portland has with his Department and agencies for which he has responsibility; and what the nature of the contract is in each case.
No firm answers were ever given, aside from that two advisors had attended a garden party hosted by Portland. But what was interesting was that most of the MPs questioning the firm's coziness with the Prime Minister were allies of Gordon Brown, seemingly demonstrating the loyalty that Allan and his company have to Blair and the centre-right.
Fast forward to the present day, and we suddenly witness the appearance of former and rather inconsequential Labour MP Gemma Doyle. She served but one term in parliament, from 2010-2015, yet appeared no less than three times on mainstream news channels last week.
Appearing on both BBC and Sky News, and also the Scotland edition of the 'Sunday Politics' show, she even managed to get herself into the headlines of Scotland's The National newspaper – after tweeting disparaging comments about a pro-Corbyn MP.
Gemma Doyle is not a particularly well-known figure in Labour. But she is the wife of Gregor Poynter, a communications and campaigns strategist at Portland Communications, who previously worked for 7-years for the Labour party in Scotland.
Portland's impartiality
Furthermore, Portland influence is notable elsewhere. The Blairite PR agency is sponsoring the forthcoming Progress conference "Governing for Britain" in July. Alastair Campbell on the 30 June at a Portland event entitled "A Vote to Leave: What next for British Politics?" with Kitty Ussher, said this about Corbyn:
That guy is not, and never will be, a Prime Minister. [If Corbyn wins another leadership contest] then we're dead, we're finished, we're finished as a political force […] That must not be allowed to happen; if it does happen it will have happened as a result of what we've always know about people like Jeremy Corbyn […] it's an act of vanity; it's an act of self-indulgence […] Those people who were out on Parliament Square the other day […] belong to organisations which have existed to destroy the Labour. I say to Jeremy Corbyn […] leave the Labour party to grown-up's who can win elections.
Campbell's assertions on the subject could not be any clearer – and not on a news channel, but at a Portland event.
On Sunday, The Canary's International Editor, Nafeez Ahmed, had an exclusive interview with a senior Labour Party insider who confirmed that much of the planning for the coup was led by MPs involved in Progress, the Labour Party organisation described as a pro-Blair "party within the party" by the late former Cabinet Minister Michael Meacher.
Now we know from this prospective conference that Progress has a longstanding working relationship with Portland. And Margaret Hodge, the MP who tabled the motion for a vote of no confidence against Corbyn, sits on the Board of Patrons of Progress, alongside Kitty Ussher, Portland's Chief Economics Advisor.
These overlapping networks of influence between the worlds of PR, lobbying, and politics should make anyone concerned about the integrity of Britain's democratic institutions pause for thought and demand transparency. Instead, we are seeing the very journalists who should be asking the questions going out of their way to avoid doing so.
Conspiracy theory?
A popular claim on social media amongst some pundits is that to discuss Portland Communications's connections with elements in the Labour party who want Corbyn removed is "conspiracy theory"; that snippets of information have been loosely strung together, to arrive at a "2+2=5" scenario; one that infers some clandestine, secretive operation afoot.
The Canary are not making the inference that, say, Angela Eagle has been spotted in a underground carpark with a pack of dobermans and some heavies, meeting a baseball bat-wielding Alastair Campbell – to discuss how to get Corbyn found at the bottom of the Thames with a pair of concrete boots.
Nor that backroom deals have been done in an MI5 substation in the depths of Millbank – with Chuka Umunna bugging Jeremy's mobile, members of Progress using long-lens cameras to keep track on Diane Abbott, and Lord Mandelson preparing watches that explode when the right button is pushed. A James Bond movie this isn't.
The evidence on its face is simple. That a PR company, whose undue influence inside the Blairite faction of the Labour Party is already in question, is doing what a PR company does – acting in the interests of its clients. Clients who appear to be, on this occasion, the anti-Corbyn coup plotters.
"Conspiracy"? No. "Coincidence"? Highly unlikely. "Collaboration"? Highly probable.
As Nick Laitner of MHP said in an interview surrounding the election of Corbyn as Labour leader:
Most commercial organisations, engaging on issues that matter to them, will clearly be treated with a greater level of hostility than they are used to […] picking off individual MPs and factions within the Party will be crucial to ensure support for an issue or policy. The realist wing of the party (led by Chuka, Liz and Tristram, among others) will become a safe space for those for whom business is not a dirty word.
Ultimately, the current campaign against Jeremy Corbyn boils down to the very basest elements of modern politics. The blurred lines between business and government.
The "old guard" in Labour are worried about Corbyn losing the party money, and smashing the glass on that revolving door between a career as an MP and the succession when you leave into a comfortable, corporate job. The likes of Portland will be worried that their corporate clients will not be able to have the same influence over the party as before. And the corporate clients themselves will be open to deploying all sorts of methods to ensure that they can still hold sway and power over members of parliament.
This is a tale of money, power and political influence, and the threat Corbyn poses to all three.
Featured Image by John Shafthauer/The Canary OTP.
Support us and go ad-free
We know everyone is suffering under the Tories - but the Canary is a vital weapon in our fight back, and we need your support
The Canary Workers' Co-op knows life is hard. The Tories are waging a class war against us we're all having to fight. But like trade unions and community organising, truly independent working-class media is a vital weapon in our armoury.
The Canary doesn't have the budget of the corporate media. In fact, our income is over 1,000 times less than the Guardian's. What we do have is a radical agenda that disrupts power and amplifies marginalised communities. But we can only do this with our readers' support.
So please, help us continue to spread messages of resistance and hope. Even the smallest donation would mean the world to us.
Support us