One of Britain's newest Labour councillors is taking on the far right, and she may well win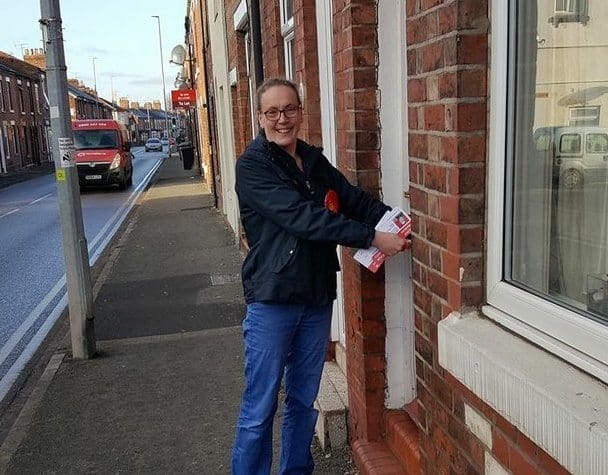 Support us and go ad-free
Britain's newest Labour councillor has called for "unity" among left-wing organisations, to counter the threat from the far right (and UKIP in particular). In an exclusive interview with The Canary, Natasha Maroni – who was elected councillor in Crewe West on Thursday 1 December – talks about what inspired her to get involved in politics, what she thinks of Jeremy Corbyn, and why Labour needs to get a grip on the immigration debate.
The sweetest of victories
As The Canary previously reported, Maroni stood in the Crewe West by-election against both UKIP and Conservative candidates. The election was marred by controversy, as UKIP candidate Brian Silvester seemed to think he had it in the bag. And he took to Twitter to tell the world he thought so.
Silvester, currently a parish councillor, appeared to think that having a lot of Twitter followers would give him the edge in the by-election. So he took to social media to brag about this:
I have 9737 followers
My Lab opponent @tasha4ctc has a massive 17.
Tory Candidate is a paper candidate only, with no chance of winning. https://t.co/WODmUPsGnB

— Cllr Brian Silvester ❌ (@CllrBSilvester) November 14, 2016
Read on...
Support us and go ad-free
The response from Twitter users was swift. Maroni now has 14,037 followers. And she ended up winning the sweetest of victories. Maroni won with 736 votes. Edgar was second with 228. And Silvester? Third with 215. So the Labour councillor won the election with a landslide 62% of the vote. She previously told The Canary:
I'm a mum, and I live in the ward, so I really want to work for the community. I think I won because I put in a lot of work on the ground and I actually was concentrating on local issues. While he who shall not be named was trying to drive his campaign based on moaning and, of course, Brexit.
Grassroots focus
And it's this grassroots focus which is so important to Maroni. She says that when she first became involved in politics, she never actually set out with the idea of becoming a councillor. Maroni is an activist at heart, and it is this sense of community which still continues to drive her. She says of her interest in politics:
It kind of evolved. The bedroom tax had me fuming and I helped people to fill out the forms and fight it. Also, I had previously worked with young offenders and children with learning disabilities when all the cuts in the social system happened. My son is disabled so I really know first hand just how tough things can be. So, I was always aware of social injustice and busy fighting against it.
Maroni says that while being a community activist does achieve things, it has its limitations. "I realised that while you can get a lot of things done as a community activist, you do need to have more of a political voice to be heard and to do more", she says. "It pretty much evolved naturally".
A challenging ward
The ward of Crewe West is a diverse area [pdf]. The majority of people are on low incomes, twice as high as the county average. The average income in Crewe West is well below that of Cheshire East and the UK as a whole, and crime rates are also higher. Education is also an issue, with Crewe West featuring [pdf] in both the 'top tens' for the highest number of so-called NEETS (young people not in employment, education or training) and the lowest number of pupils with GCSE passes. Crewe also has some of the highest levels of poverty in the county [pdf].
Maroni is pretty forthright as to where she thinks the blame for the deprivation in Crewe West lies:
The blame lies with the government for allowing predatory employers to get away with murder. For example, companies in the area have horrendous contracts with some of the poorer eastern European countries. Their accommodation is tied to their work and the other way round, with the result that we have bed sharing; people are sleeping in shifts. Due to these contracts they are also unable to leave. They won't get a British person to work for those wages. And they aren't interested in them, so they don't even offer the jobs to Brits.
She says that if the government would invest into Crewe and "weed out" the "predatory employers", she thinks everyone would benefit from it.
Facing challenges
She admits that Crewe West faces a lot of challenges. Maroni says there has been a dramatic rise in the number of Houses in Multiple Occupation (HMO). She says this may have resulted in increased fly tipping, parking and safety violations. "People moving in and out at such a rate", Maroni says, "that residential areas are getting destroyed". But ultimately she lays the blame firmly with the government, and austerity's door. After launching a campaign to try and address modern poverty, she also told The Canary:
Another issue is there is little to do for young people. We are dealing with a lot of anti-social behaviour, which I think is due to frustration. If you have nowhere to go, nothing to occupy you, you hang around in groups on the street. Obviously, this is not the best environment.
Looking out for young people
But Maroni is not someone who dismisses the challenges facing young people. Far from it, in fact. She is passionate about working with young offenders and trying to rehabilitate them, to give them the best chance in life. Maroni says:
I worked with young offenders. A lot of them make mistakes. They don't set out to become criminals, it's more that there isn't anything to do for them or they see no other chance. I think it's much better to avoid that they fall into that trap and end up with a criminal record that will influence their future negatively and remove even more chances. If they have a hard time finding work, how much harder is it with a criminal record? If they feel that they have nothing to lose, they really do become desperate and reckless.
Maroni says it's not just about compassion. She says it's also cheaper to work with young people before they get into serious trouble. Because by catching the challenges early, it avoids all sorts of legal costs and stops young people ending up in prison:
It stops them coming out as hardened criminals that will then cause more crime. If you have a cavity in a tooth, you go to the dentist, you don't wait until the tooth rots away and you might actually end up with an infected jaw.
And Corbyn…?
Britain's newest Labour councillor is refreshingly honest and passionate. You can tell when speaking to her that she has come from a background which means she actually understands the everyday problems people face. She has integrity. And this is a trait which she also believes Jeremy Corbyn has:
I have to admit I like Corbyn. I know he has his faults but I think he has integrity, which seems a rare commodity in politics. I'm not a fan-girl, though…! I don't agree with absolutely everything he says, but I'm happy with his general ideas and the plan he outlined during the last conference.
She is also clear on what she thinks the Labour leader needs to do:
His publicity and his work with the media need improving. I understand there is quite a bias in the press. But by ignoring them, he makes it so much easier to attack him. Yes, he gets misquoted quite often, so he needs to make sure that the comments can't be taken out of context. I know that's difficult but I think that is where his staff comes in.
But it is perhaps her views on the left more broadly, and how to counter the rise of the far right, which are most refreshing.
Unity is needed
Maroni sees the Conservative government attacking small groups on the left, one by one. It's this 'divide and rule' strategy which is so damaging. And one which the left is not effective at dealing with. Maroni told The Canary:
We need more unity. When the Tories start to attack different groups, if we stand by and don't stand in solidarity with them, then they weaken us, as the left. You know, as the saying goes: 'first they came for…' Divide and rule has been a Tory policy for a very long time. But we can't let them divide us anymore. We can't just ignore things, even if they don't concern us directly.
She also believes that the Labour Party have to look at cooperating more with other left-leaning parties, to form alliances and look at coalitions. And her views on UKIP?
We have to address them head-on. Correcting the distorted facts UKIP use as scare policy. The party's policies are basically Tory ones with a xenophobic slant. Sure, they modified them a bit to appeal to the traditional working class. But if you look at what their leaders said, for example, about the NHS previously, that they'd be happy to have it privatised. And now all of a sudden they claim they are fighting for the NHS? Hardly consistent.
Defeating the far right
Maroni says that informing the public is the key to defeating UKIP. "I hear so often that foreigners take our jobs, benefits and social housing", she says, "but that's absolutely not true. First of all, England has very low benefits, compared to other EU countries, so I don't think coming to a country that pays little benefits is attractive". What Maroni says we need, is laws to stop companies from paying exploitative wages.
She is also clear on what the Labour Party need to do about the constant debate around immigration:
Labour must address the whole immigration and migration policy debate. Again, UKIP is trying to blame foreigners for everything. We must hammer home the statistics that migrants put more into the system than they take out. Look at the NHS. So many highly qualified staff are foreigners. People that didn't cost the UK a penny to educate and who contribute massively to our NHS. The social housing crisis is not due to foreigners, it's due to the Tories and years of under-funding and not building social housing. If you own an apartment block and you don't maintain the building, let it fall to ruins, no new roof, and all that, you can't blame one of your tenants!
Maroni: a breath of fresh air
Whether the Labour Party will listen to people like Maroni remains to be seen. But Britain's newest councillor is a breath of fresh air. She's straightforward, no-nonsense and honest. All rare qualities in politicians, these days. And she genuinely seems to care. It also seems Maroni is in politics for the right reasons. As she told The Canary:
I'm working on a local level, only. I don't pretend to be an MP. I don't have any ambition to become an MP. And I think far too many councillors mess up, by playing big politics and ignoring local issues.
Maroni is one refreshing new addition to the Labour Party. And judging by her success in the election, and her positive and down-to-earth attitude, her constituents would appear to have fallen on their feet.
Get Involved!
– Read other articles by The Canary on the Labour Party.
– Support The Canary so we can keep bringing you the news that matters.
Featured image via Natasha Maroni
Support us and go ad-free
We know everyone is suffering under the Tories - but the Canary is a vital weapon in our fight back, and we need your support
The Canary Workers' Co-op knows life is hard. The Tories are waging a class war against us we're all having to fight. But like trade unions and community organising, truly independent working-class media is a vital weapon in our armoury.
The Canary doesn't have the budget of the corporate media. In fact, our income is over 1,000 times less than the Guardian's. What we do have is a radical agenda that disrupts power and amplifies marginalised communities. But we can only do this with our readers' support.
So please, help us continue to spread messages of resistance and hope. Even the smallest donation would mean the world to us.
Support us