The Lords just quietly declared war on the government while we were all looking the other way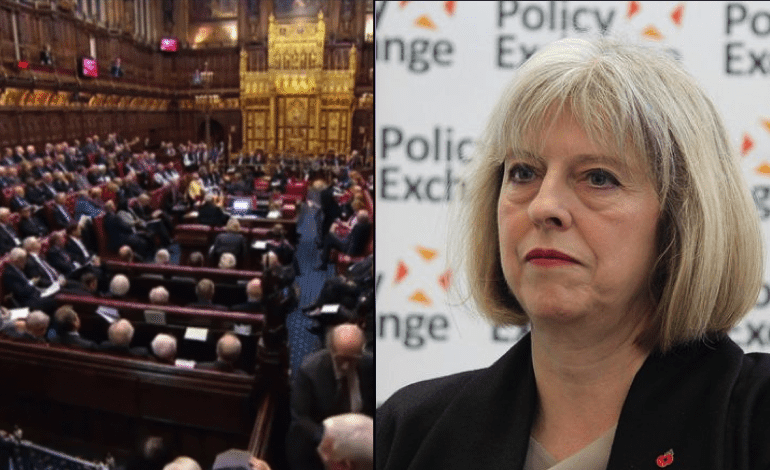 Support us and go ad-free
While the media has been busy engaging in its frenzy about Corbyn's 'new image', the government has suffered a humiliating defeat in the House of Lords. On Monday 9 January, peers debated plans to extend the privatisation of higher education. And across parties, they voted for an amendment to the higher education bill to safeguard the quality and autonomy of universities.
In what is looking to be a tough ride for the government's bill, this is just the first of around 500 amendments peers are proposing to the bill.
The higher education bill
At the heart of the bill are plans to further privatise universities. According to the government, the bill aims to:
Deliver greater competition and choice that will promote social mobility, boost productivity in the economy and ensure students and taxpayers receive value for money from their investment in higher education, while safeguarding institutional autonomy and academic freedom.
But as critics point out, this means a greater drive for profit rather than actual improvements to universities. Writing to The Guardian, the General Secretary of the University and College Union, Sally Hunt, said:
The higher education bill sets out the government's argument that insufficient competition and lack of informed choice are the primary weaknesses of the higher education system in England, and that opening up the market to new providers will drive improvements in quality. In reality, competition increases the pressure on institutions to spend money on cosmetic improvements and gimmicks rather than front-line delivery.
And Hunt also argues that plans for opening up competition and allowing more profit making companies to award degrees will water down the standard of education:
Read on...
Support us and go ad-free
Making it easier for new private providers to obtain degree-awarding powers is at odds with the primacy of academic quality and the protection of students' interests, since new institutions will not have to prove their quality and robustness through building up a track record.
University autonomy
There are also concerns that the bill will reduce university autonomy. The bill will create a new regulator, the Office for Students. This regulator will be able to determine who is allowed to award degrees. And universities are concerned that this will stifle freedom of speech.
Lord Willets, a Conservative peer and Universities and Science Minister until 2014, stated:
Perhaps the biggest is about the autonomy of our universities. Some of the earlier government documents could have been read by some as implying that universities were a kind of poorly performing part of the public sector that needed a bit of a doing over.
And Baroness Wolf expressed concerns that the bill:
will have a knock-on effect on institutional autonomy and critical thought and inquiry, and it will corrode the willingness of universities to speak truth to power.
The amendment
But the Lords voted for a five-point Labour amendment to safeguard the quality and autonomy of universities. The amendment stated:
UK universities are autonomous institutions and must uphold the principles of academic freedom and freedom of speech.
UK universities must ensure that they promote freedom of thought and expression, and freedom from discrimination.
UK universities must provide an extensive range of high quality academic subjects delivered by excellent teaching, supported by scholarship and research, through courses which enhance the ability of students to learn throughout their lives. 2 Higher Education and Research Bill Before Clause 1 – continued.
UK universities must make a contribution to society through the pursuit, dissemination, and application of knowledge and expertise locally, nationally, and internationally; and through partnerships with business, charitable foundations, and other organisations, including other colleges and universities.
UK universities must be free to act as critics of government and the conscience of society.
The future
As Liberal Democrat peer Lord Goddard pointed out, this first amendment took 2 hours and 27 minutes to debate. And this is the first of hundreds. The government has a long way to go before it convinces peers that its plans for higher education are a good thing.
University autonomy and rigour are essential. And this bill must be fought on every level to ensure they are guaranteed. In the meantime, the Conservative government has faced yet another defeat in the House of Lords. And it is down to all of us to ensure they suffer many more.
Get Involved!
– Support the National Campaign Against Fees and Cuts.
Featured image via Flickr and YouTube screengrab
Support us and go ad-free
Fund our Investigations Unit
You can help us investigate corruption, expose injustice and uncover the truth.
As one of the only independent investigations units in the country, we work for you – but we need your help to keep going. We need to raise £10,000 to continue our groundbreaking investigations. Can you chip in?
Fund us