A rapper-turned-activist is flipping the music scene on its head [VIDEO]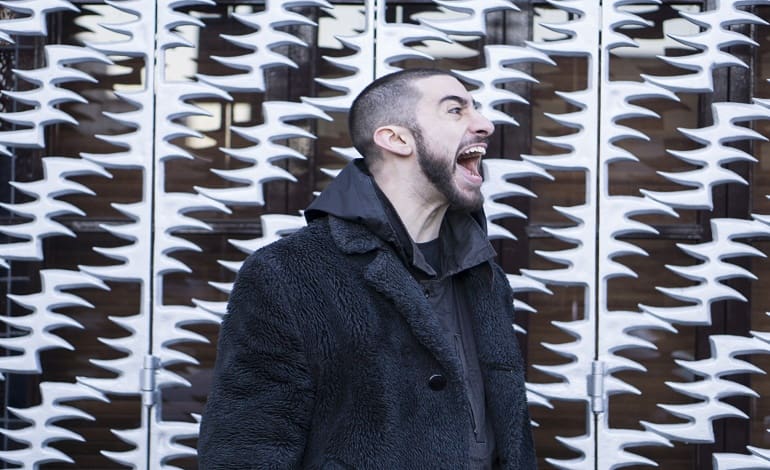 Support us and go ad-free
With 2017 looking set to be a year of more political upheaval, music is perhaps the one thing that can cross into all walks of life. And a rapper from south-west London is doing just that. With some of the rawest and sharpest politically-motivated grime around. The Canary caught up with the man, 'Potent Whisper', for a chat. About class, council estates, and Harrods.
Reading between the lines
Potent Whisper (aka Georgie Stephanou) has been making waves in the music scene since 2008. He was originally part of the heavy-bass collective We Are Dubist. But Whisper really started breaking through, as a solo artist, in 2012, releasing the singles Between The Lines and The Boom Bap Bounce, featuring Congo Natty (aka Rebel MC). Both tracks got significant airtime on BBC Radio One. But Whisper is not naturally a mainstream musician. Coming from a single-parent, working-class family on a council estate in south-west London, it's politics and social issues which really shape his music.
But as he told The Canary, this doesn't mean he's not adverse to something a bit more 'populist':
I'll tell you a secret. Don't tell anyone. I quite enjoy writing pop music. I'm pretty good at it too. I have written at least an album's worth of material without putting too much effort into it. It seems to come quite naturally to me. But I can't justify putting any time or money into recording and releasing that music because I know that my time and art is better spent elsewhere. Because the days of creating something beautiful for the sake of creating something beautiful have passed.
Going underground in the mainstream
Whisper says that it's the current political and social climate that drives what he does. "People are suffering realities that I can only imagine," he muses. "And I couldn't live with myself knowing that I was giving my time to something arguably meaningless or egotistical, when there is so much suffering in my community, and the world." He believes we don't need the mainstream. But he still acknowledges it's important to take every opportunity that's offered to get his message out there. As long as his work is not diluted or censored.
This 'crossing-over' from the underground to the mainstream is evident with artists like Akala, and to some extent Lowkey. And Whisper feels that they still use their influence for good. But when asked whether he thinks the industry tries to silence dissenting artists like himself, he's fairly blunt in his response:
There will be always be people using their power to prevent my visibility and success. Whether that comes in the form of being arrested, or being continuously denied entry to mainstream platforms.

Read on...

Support us and go ad-free
A hot topic among activists is "being arrested". As The Canary previously reported, on Saturday 7 January United Voices of the World union (UVW) and Class War held a major protest at Harrods, over staff pay. Campaigners believed the police presence was over the top. And Whisper, who was at the demo, agrees:
It seems to me that the police are always more interested in protecting private assets than facilitating people's right to protest peacefully. The eight arrests that day were undoubtedly political policing. And it's something that we're increasingly seeing.
At Saturday's demo, he took the opportunity to record a video for his upcoming EP. Called New Radical, it features four tracks. And he has given The Canary a sneak preview.
A new radical
Whisper's music is grime-led. But the production values have a distinctly East Coast hip-hop feel. The tracks, like New York-led hip-hop of the 90s, are generally sparse, using mainly synths, the signature swooping grime bass, and cymbals and high hats. This gives plenty of room for Whisper's flow, and lyrics, to breathe. He also spits out words at an impressive rate.
His rhythmical flow personally reminds me of Biggie Smalls. Insomuch that he allows the lyrics, and their meaning, to guide his rhythm in and out of the music, not sticking to a set pattern. Much like B.I.G. on tracks like Notorious Thugs. Neither artist generally pauses their rapping for more than a beat. Also, Whisper and B.I.G. tend to flip where their sentences begin and end, in terms of the musical bar, often avoiding the first beat. And both rappers often take rhythmical groups and flip them across sentences. Hence they both do flow.
Deep Cuts is the most grime-led of the four tracks. Whisper deals with the austerity-driven agenda of the Conservative government. He spits: "They tax you, then cut you. They jacked you, they moved you. They had you. They done you. They don't have to – they choose to" over a trance-like string and vocal arrangement. The breakbeats work well to emphasise Whisper's point about the Tories: "They never loved you. They only f*cked you."
Whisper releases the full EP on 21 March.
Saving Cressingham. Just for starters
The subject of gentrification features a lot in Whisper's discography. He says that he's been hugely inspired by the 'Save Cressingham Gardens' campaign:
Not only have residents gathered and maintained the energy to tell Lambeth Council that what they are doing is wrong, but they have actually put forward alternative proposals that come in form of 'The Peoples Plan'. The plan has been developed by residents at Cressingham with technical support from a team of architects, surveyors, sustainability and financial experts as a realistic alternative to the council's proposals to demolish the estate. The plan consists of various innovative solutions that would enable both refurbishments across the estate, where needed, and the construction of 37 new homes, which could largely be offered at council rents; all without uprooting the community or pressuring the housing list.
The Canary asked Whisper if he thinks the tactics used in the Runnymede dispute, where activists occupied a plot of land, might be worth considering. "I would imagine that if these diplomatic means of opposition became exhausted without securing a victory," he says tactfully, "you would start to see a more physical approach."
To vote, or not to vote
It often appears that the democratic approach to the issue of gentrification, via the ballot box, doesn't work. In Newham, for example, just 9.1% of the electorate voted, on average, for Labour councillors. Even though the borough has a massive problem with gentrification. The Canary asked Whisper why he thinks people aren't voting:
I can only speak from personal experience. A lot of people I know don't vote because either they don't believe that their vote will make a difference, or they believe that all politicians are the same in that none are interested in truly representing anything other than their self-interests. But as the housing crisis worsens, many of us are now becoming what I call 'accidental activists'. That is, people who are forced to fight to defend their homes and their very existence. These accidental activists are now leading groups like Focus E15, Sisters Uncut, and they are winning victories all the time. Once people realise that they have the power to represent themselves and win, I think they will be doing a lot more than just voting.
A thousand hours of practice
Whisper does his 'accidental activism' through music. But he says his ability to rap didn't come easily. He doesn't remember any moment where he first thought to himself "wow, I'm a good rapper". He says he always rapped simply because he "loved it". And he admits he wasn't very skillful at the beginning of his artistic journey. "But after a few thousand hours of practice," he says, "I now find myself delivering poetry and rap workshops from London to Africa."
He went to the BRIT School, a free, state-funded performing arts college open to anyone. It has produced artists such as Jessie J and Katy B. And Whisper says he wouldn't have been able to attend if they charged a fee. It obviously helped nurture his raw talent. But US-based artist Immortal Technique also influenced Whisper. He says:
Tech is a rapper from Harlem who makes revolutionary hip-hop music. I wouldn't say that he influenced my style or delivery, but he inspired me to make the transition from theatre to music – from writing scripts to writing lyrics. Much more than influencing my style, he influenced my direction as an artist.
And this direction has taken an interesting turn. As Whisper is also renowned for his Rhyming Guide To… series.
Rapper-turned-poet
His spoken word pieces aim to translate key social and political issues into a language that everyone can understand; deliver complex information in an engaging way that people want to listen to – through rhyme; inspire people into action, and offer some guidance on ways that people can become active and defend themselves. Whisper said he got the idea for the guides after reading a CND article on Trident. The cost to the public shocked him; so much so that he did a spoken word collaboration with the CND. Whisper says this was:
At a time when I was not especially interested or engaged in politics. But after the CND collaboration, I was suddenly being invited to perform the piece at community meetings, conferences and on national news channels. I found myself in a completely different world. And I felt empowered. Soon enough, though, I hit a wall. In this new world of politics, occupied largely by academics, I realised that I didn't speak their language. I had no f*cking idea what they were talking about. And I know I wasn't the only one who was excluded and deterred by the language that the world of politics employs.
Whisper says that revolution should speak the language of the 'common' person. Because the state has not given most people "the luxury of a life of academia":
People work overtime on their overtime and don't have the energy or time to address anything beyond immediate survival for themselves and their family. They don't have the time to read about Marxism or new housing legislation or planning policy. And those who do often find that they are greeted by a language that they were never taught. If people don't understand who/what is attacking them, then they can't fight it effectively.
Breaking barriers
Campaign group Momentum has used his most recent work, The Rhyming Guide to NHS Privatisation. And The Canary can exclusively premiere Whisper's latest work.
His latest is The Rhyming Guide To Housing. And episode one is called The Estate Of War. Whisper deals with the issue of councils "regenerating" housing estates, such as Cressingham Gardens and Central Hill. But he succinctly and often wryly explains that all is not what it seems with "regeneration".
He told The Canary:
The video was produced by Jaya Klara Brekke and Ross Domoney, creator of the award winning film Uprooted, a thirty-minute documentary following residents in their final days before estate demolition. Two very talented film makers, who have really given my words a new life with this visual.

My writing process is pretty straightforward, but the process begins long before the actual writing begins. Almost all of my spoken word material is purpose built, so the process usually begins when I learn of an issue or injustice and decide that I would like to address it. Once I have decided what I would like to write about, I do considerable research on the topic. Enabling me to write a fully informed piece. Research takes a lot of time, but the real work comes in translating the information, key points and statistics into rhyme – and adding my own opinions and angles to the facts. The whole process can take anywhere between thirty and sixty solid hours. And that's before we have even begun recording it and shooting visuals.
Intricate work
In his spoken word, Whisper uses very intricate rhyme patterns. His form is not quite vers libre, but it extends beyond the conventional 'AB' layout. For example:
I don't wanna win the war swinging swords
The fight's inside myself and so I delve into my inner force
Change begins within your thoughts
Would translate into:
AB AB
CC D D AB
AA B
This gives Whisper's spoken word an almost conversational tone. And as he said:
There is a big difference between inviting people into a positive, welcoming or interesting discussion, and preaching to them. Which creates an instant 'I'm not going to listen to you'. I find that in order to connect with people, you simply have to talk to them on a level. The only difference is that I do that, in rhyme.
Watch Whisper's brand new Estate of War:
Art is power
Whisper encapsulates everything that is good about activism and music. Articulate, passionate and talented, he gives a voice to millions of people across the UK. And he deserves those millions to hear him, as well. He has a new spoken word series out in the spring. Called A Call to Arts, it explores the role of art in education. But the series also urges artists to consider their power and social responsibility. And calls on them to act on it. As he says in it:
Art is power. If you're an artist then you have power. I just wanted to ask if you knew that power and whether you ever considered how you use that power. What would happen if I proved that power? What would happen if you knew that power? If we used that power. Grew that power. Can you imagine if we fused our power?! As artists.

We could create a change in the world for the audience!

What other creation could be more glorious?
Get Involved!
– Find out more about Potent Whisper.
– Support the UVW union.
Featured image via Potent Whisper/Ty Faruki
Support us and go ad-free
We know everyone is suffering under the Tories - but the Canary is a vital weapon in our fight back, and we need your support
The Canary Workers' Co-op knows life is hard. The Tories are waging a class war against us we're all having to fight. But like trade unions and community organising, truly independent working-class media is a vital weapon in our armoury.
The Canary doesn't have the budget of the corporate media. In fact, our income is over 1,000 times less than the Guardian's. What we do have is a radical agenda that disrupts power and amplifies marginalised communities. But we can only do this with our readers' support.
So please, help us continue to spread messages of resistance and hope. Even the smallest donation would mean the world to us.
Support us